Our favorite family-friendly NOON Year's Eve events in Tampa Bay!
There are so many unique and FUN ways to ring in 2022 with a Noon Year's Eve celebration with the kids! We've put together this list of some of our favorite family-friendly parties!
If you're looking for a night out without the kiddos, our media partners at TampaBayDateNightGuide.com are sharing some top events here.
Keep in mind that the Omicron variant is spreading rapidly within our community. (See our Q & A with Dr. Juan Dumois, a pediatric infectious disease physician at Johns Hopkins All Children's Hospital here.) We know many families still want to celebrate after a tough nearly 2 years of dealing with the pandemic. It's a good idea to bring face masks and hand sanitizer for everyone in the family ages 2 and older.
*We'll continue to update this post as new events are announced. Events and dates are subject to change, but we're all used to that by now.
---
Noon Year's Eve events in Tampa Bay for kids
A * indicates the event is outdoors.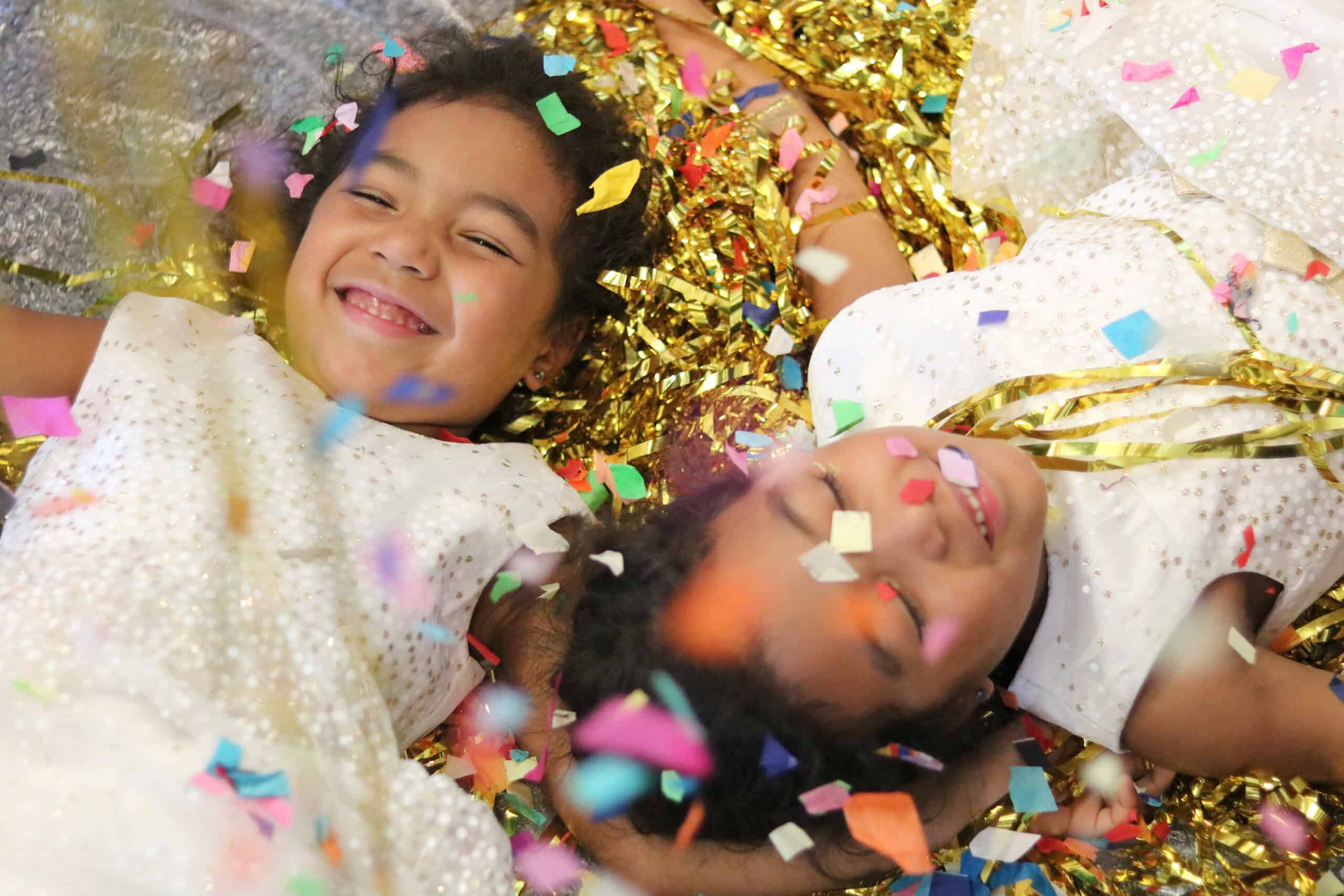 Downtown Countdown at Glazer Children's Museum | Dec 31, 2021 from 10:00 am-3:00 pm
Ring in the New Year at the Glazer Children's Museum with countdowns, family play projects, and socially-distant celebrations throughout the day. You can celebrate as a family by day and still have time for evening festivities. Downtown Countdown is included with museum admission. Glazermuseum.org 
*Celebrate the New Year at ZooTampa | Dec 31, 2021 from 11:00 am-7:00 pm
Kids don't have to miss out on the big countdown just because of bedtime! The family can ring in 2021 (early) with a celebration every hour from 11am-7pm in the new Saunder's Pavilion. You will need a reservation and space is limited. Details and reservation info is coming soon. ZooTampa.org
*Noon Year's Eve on the Lost Pearl Pirate Ship | Dec 31 at 11am 
For Noon Year's Eve, the Lost Pearl will ring in the new year at noon so the younger kids can have their own early celebration. This hour and 15-minute cruise departs at 11 a.m. and features pirate games and activities, and a cannon ball drop with complimentary champagne and sparkling juice at noon. Cruises start at $30 for kids ages 2-12 and $35 for adults. Infants are free. Book tickets here.
*Fourth Annual Noon Year's Eve at Armature Works | Dec 31 from 10:00 am-3:00 pm
Armature Works is once again hosting its FREE Noon Year's Eve event, presented by St. Joseph's Children's Hospital. Head to the East and West lawns of Armature Works for daytime fireworks along the river, inflatables, a live band, plenty of photo opps and more! You can upgrade your day with a VIP ticket which will include a candy bar for kids, private bar for parents, private viewing of the fireworks, private bathroom and more perks! Learn more here.
Morris' New Year's Eve Celebration at Great Explorations Children's Museum in St. Pete | Dec 31 at noon
Ring in 2022 a little early at Great Explorations! There will be a balloon drop, dance party and other themed activities like colorful crafts and explosive science experiments. Tickets are $12 for members and $18 for non-members. Pre-registration is not required. greatex.org
*Pint-sized Noon Year's Eve at Largo Central Park Performing Arts Center | Dec 31, 2021 at 10:30 am
This daytime event is designed just for kids featuring music, crafts and more! Only one parent per child is allowed to attend. The center will provide party blowers for tots to celebrate. Cost is $6 per child before December 26 and $8 after December 26. Playlargo.com  
*LEGOLAND Florida: Kids' New Year's Eve | Dec 31, 2021 during park hours
This celebration isn't at noon, but early enough for the kiddos to celebrate with a fireworks display at 8:00 p.m. LEGOLANDflorida.com 
*Noon Year's Eve at The Grove at Wesley Chapel | Dec 31, 2021 10:00 am-3:00 pm
This daytime event will feature a gem and beauty workshop, bubble and magic shows, kids games, activities, daytime fireworks, a confetti blast, dance party and more. And of course, a countdown to noon! thegrovenye.com
Noon Year's Eve Bash at Munchkin Town in Clearwater | December 31 from 9:30 am-12:30 pm
Join the team at Munchkin Town to celebrate 2022 with three hours of play, a photo booth. balloon drop and more! Tickets are $12 each –tickets are required for kids and adults. You can learn more and book your tickets here.
More events coming soon as they're announced!
---
Events from last year that may announce a celebration this year. We'll update as soon as we hear!
Urban Air Adventure Park New Year's Eve Events | Dec 31 from 11 a.m. to 1 p.m. or 6-8 p.m.
Head over to New Year's Eve at Urban Air New Tampa when they'll be counting down to 2021! They are offering two exclusive, limited capacity events from 11AM-1PM or 6PM-8PM. Come ring in the New Year a few hours early with adventure, fun and excitement at Urban Air! For only $19.99, get Ultimate Access*, socks, noisemaker at check-in, one free popcorn or ICEE, a balloon drop and more! Tickets available at urbanairnewtampa.com *Height or Age Restrictions may apply for certain attractions.  
New Year's Eve Celebration at Raprager Family Farms | December 31 from 6:00 pm-midnight
Enjoy the final days of Christmas lights, watch movies on the lawn, enjoy fun games and activities and more! You can ring in the new year with countdown on the 34 foot tall lighted tree starting at a 9pm for the kiddos who need to get to bed before midnight. Tickets are $15 per person. Learn more and purchase tickets here.
---
More stories we think you'll LOVE: