Gasparilla Krewe Life: Meet Alex Walter, Simon Canasi, and Dana Cura
As football season spirals closed, Gasparilla season opens with a bang. In Tampa, Gasparilla is a way of life. Below deck, there's more to Gasparilla than beads. Gasparilla is family. Gasparilla is friends. Gasparilla is a treasure chest of memories and treasure trove replete with tradition. Trod through, mates, and uncover why, for these three pirates, Gasparilla is the most cherished season.
Related: The Gasparilla Children's Parade: Everything You Need to Know Before You Go
Ye Mystic Krewe of Gasparilla: Alex Walter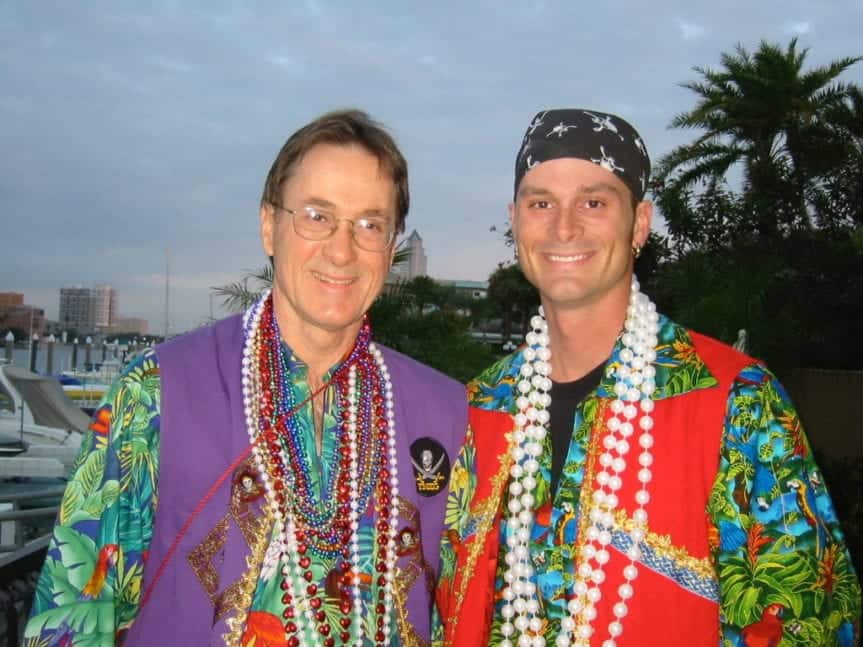 Alex Walter, Tampa born and raised, has known Gasparilla all the seasons of his life: "I'm a third generation pirate and really proud of that," shared the father of two sons (Xander, 8 and Wyatt, 5). Walter's father and grandfather were instrumental in his admission to YMKG.
"There's so much history, and I'm honored to continue carrying the flag for the Tampa Bay Area," Alex told us.Walter, who recently lost his father, Robert, is most proud to carry the metaphorical sword his father passed down to him: "I have fond childhood memories of parade day and going to the yacht club with my dad. Once I joined YMKG, he took me under his wing and we shared 14 parades as pirates."
Walter holds strong to the annual routines they established. Most recently, going to Palma Ceia, having breakfast and transforming from South Tampa gentlemen to YMKG pirates.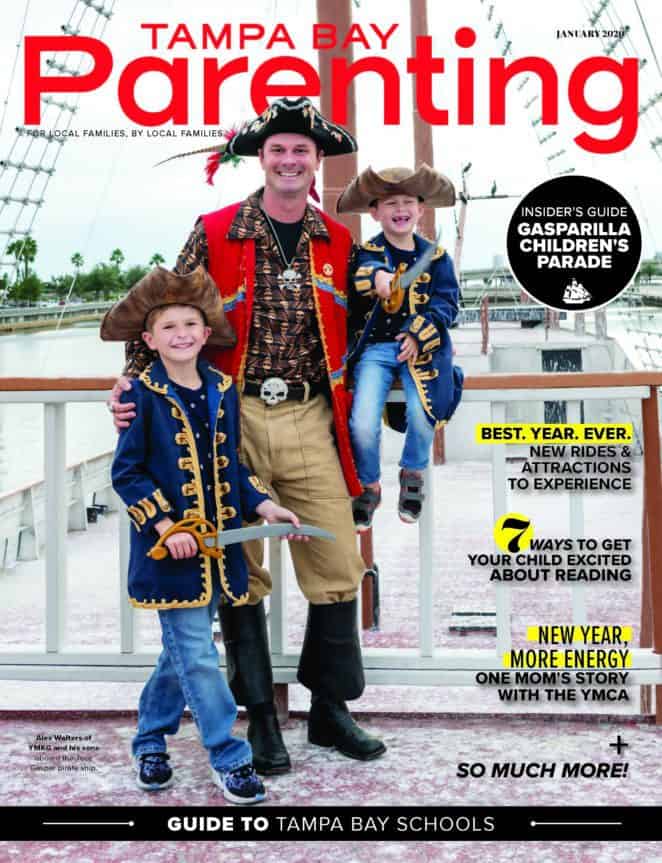 Now, Walter's goal is creating swashbuckling traditions with his sons.
"The older I get, the more I appreciate sharing YMKG with my kids," he said.
Intent on perpetuating "the gentlemanly aspects" of YMKG with his boys, Walter knows they get a kick of out seeing him get his pirate make-up and garb on.
"On children's parade day, after lunch, we get our beads, hop on a bus, get on the float, and have a blast at such a family oriented event."
Walter is grateful his boys can experience this aspect of Tampa life and of the Walter's family history.
Walter committed to demonstrating that YMKG is more than an annual guys' get together.
"YMKG has focused on growing community outreach and supporting a community that supports us."
With strong sentiments about YMKG's philanthropic arm, Walter joined the Krewe's Ye Gaspar's Grenadiers. Each year, the Grenadiers lead 40+ events.
"We attend pediatric cancer events, invade hospitals, and visit schools," Walter explained. "When we hand out coloring books and beads to hospital bound children, there's nothing like lighting up their faces. As a parent, I appreciate cheering up kids on a new level."
For Walter and mates, YMKG extends beyond financial commitment. A parent's passing serves as a catalyst for re-prioritizing and re-evaluating time.
"My dad was active in the Tampa community, and I want to lead my boys by the same example. I want Xander and Wyatt to understand that we can't sit on the sidelines and watch our city pass by," he said.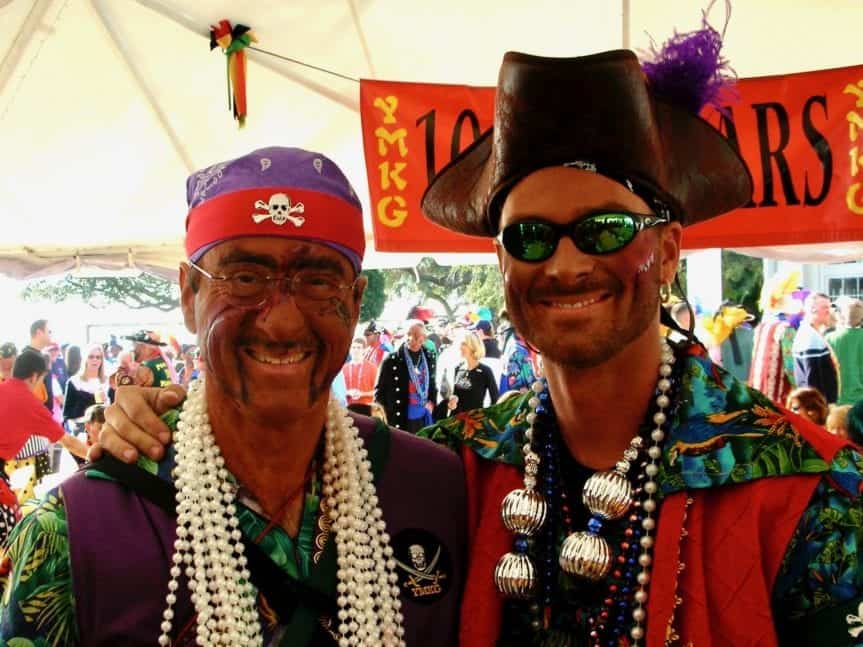 While Walter has gotten to know many people through YMKG, and even established a core group he shares parade day with, Gasparilla season entails less run-a-riggin' now that he's a dad: "My wife, Melanie, carries the load and deserves lots of credit. We place high priority on quality family time, and her support helps make it possible all Gasparilla season."
The season entails a Mayor's Raid, a lavish cocktail party—The Captain's Ball, parades, and a closing function—Sail Back. Parade day remains a perennial favorite: "It's a wild ride, and I feel like a king for a day. Why? Boarding the ship with my friends is a special occasion. Throwing out beads to elderly couples and seeing the husband give them to his pretty lady is a sweet spot. It's organized chaos and traditions dear to me."
For the Walter family, Gasparilla is a way of life. A way of being one with Tampa Bay.
The Knights of Sant' Yago: Simon Canasi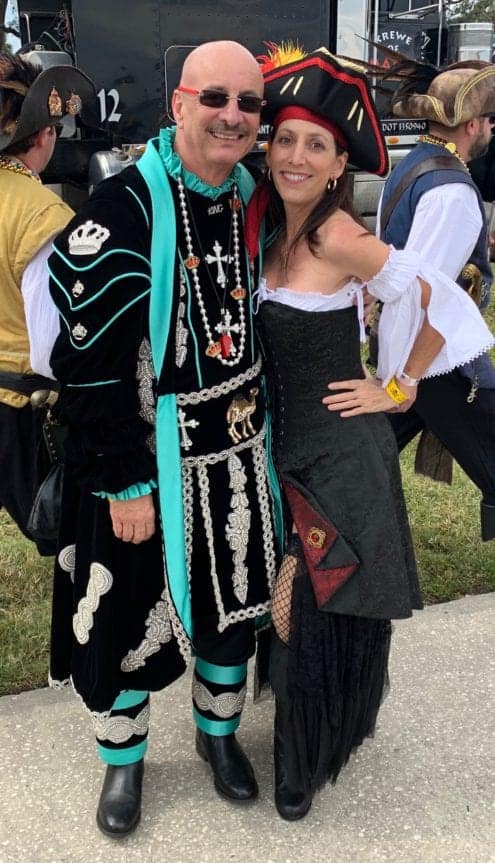 In 1982, a then 25-year-old, Simon Canasi, became The Knights of Sant' Yago youngest member. In 1992, Canasi became the Knights' youngest king.
In 2002, the Knights' baron. Canasi's story with the Knights continues.
"I've always been active with the Krewe. I've chaired every committee but debutante ball," he told us.
For Canasi, the group represents a brotherhood: "We are one huge family. We laugh and cry together. When a member has a problem, it's our problem. When a member has a great thing happen, it happens to all of us."
The Knight met his first wife through the group, as her father was his mentor. They had two children and his daughter, Ann Marie Puleo, is now in the Krewe of Queen Anne's Revenge. A new grandfather, Canasi envisions his granddaughter being an attendant with the Knights by the time she's four, a page in the ball and, eventually, a debutante.
Canasi, a Cuban immigrant, arrived in Tampa when he was five. His current costume's cape is an homage to Cuba: "Once members are knighted, costumes are elaborate—costing over $3K. They are beaded and embellished appliqués."
More important than costuming is the Knights' education foundation. A founding member, 25 years ago, Canasi is proud of the $3 million in scholarships the foundation has supplied to Latino students. Knights also visit local hospitals, around Valentine's Day, for their annual Knights for the Heart event.
"We visit children's and veteran's hospitals—giving beads and Sant' Yago horse-stuffed-animals," he explained,"Be it parades or community activism, my experiences with the Krewe continue being memorable."
Krewe of Queen Anne's Revenge: Dana Cura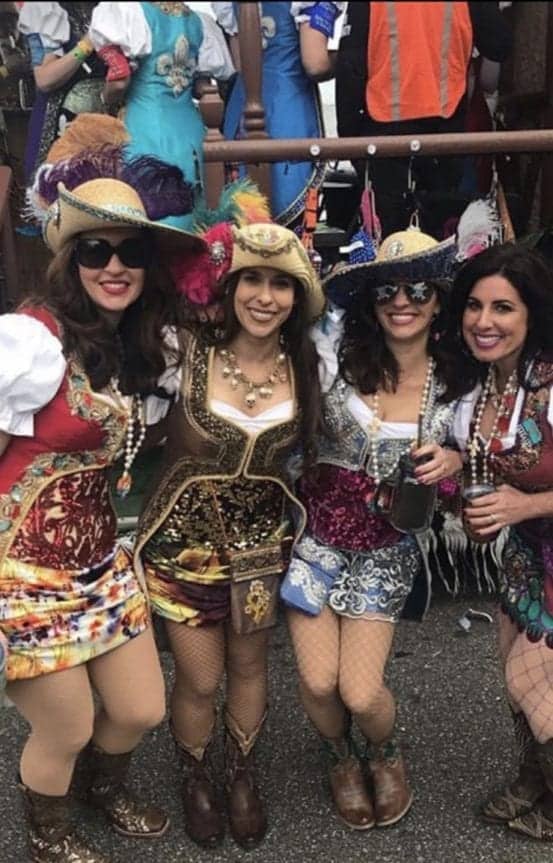 Dana Cura, mother of two, joined the Krewe of Queen Anne's Revenge to be fully be immersed in Gasparilla life—especially parade days: "My kids love being in the parade and throwing beads. They feel like celebrities!" Referred to as "Annies," KQAR members wear brightly colored costumes with tropical island flair: "Getting ready on parade days takes at least two hours. There are about seven pieces to my costume—with lots of buttons and straps. There's hair, make-up, and jewelry. My daughter loves it!" Parade days allow Dana to spend time with friends she's made since joining KQAR and, most fun, is the joy spread by tossing beads and hyping up the crowd: "It's a long day, but it's the most fun."
Tis the season for pirates' invasion of Tampa Bay. A season of ritual. A season of making memories heavy with beads and tunes of Yo Ho Yo Ho.
Related: Gasparilla Krewe Life: It's a Family Affair for Maiken Stefany of EventFest
*Story originally published in the January 2020 issue of Tampa Bay Parenting Magazine.