How to plan an epic day at Southshore Bay Lagoon in Wimauma
When you call the Sunshine State home, you need to have a long list of go-to spots to keep your cool (because it's blazing hot for most the year!) and splashing in the crystal-clear water of Southshore Bay Lagoon in Wimauma is a must-add. In fact, it's one of our favorite water parks in Tampa Bay.
Luxurious man-made lagoons are popping up all over suburban communities in Tampa Bay with Epperson Lagoon first opening in Wesley Chapel in 2018, followed by the newest lagoon to open its doors to the public — Soutshore Bay Lagoon. A day on this 5-acre lagoon is a unique adventure on the water when you're looking for something other than the amazing beaches in Tampa Bay and natural springs in Tampa Bay.
We went to explore Southshore Bay Lagoon with our kids to see what it's like to swim in a giant man-made lagoon, but we also wanted to dish on all the details to help you plan your best day ever too! So let's get to it!
What exactly is a lagoon like Southshore Bay?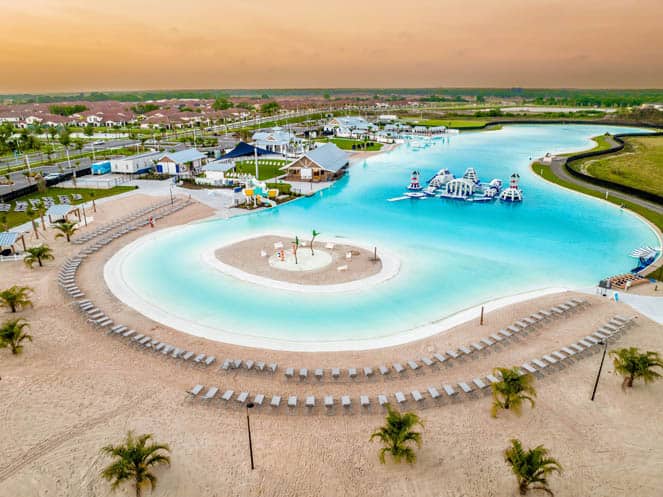 Southshore Bay Lagoon is a man-made lagoon that covers 5-acres in crystal-clear water. At the equivalent size of four football fields, it's essentially a giant-sized pool. The water depths range from very shallow for little ones to 14 feet deep.
Since it's such a large lagoon, the water is not heated, but the Florida sun takes care of that naturally. It will be cold during the cooler months, so that's something to consider as you plan your day. MetroLagoons says the water can range in the 60's December through March and then about the 70's in April, May and November. It'll be the warmest in the 80's during the hottest months of the year, June through October.
It might be best to save a trip here for the summertime since refunds are not available if the kids think the water is too cold.
Where is Soutshore Bay Lagoon
Southshore Bay Lagoon is located in the Southshore Bay community in Wimuama.  If you live close to the downtown Tampa area, it's about a 35 minute drive south down I-75, but you can also take US-301 or US-41 if you prefer. GPS often slates I-75 as the fastest southbound route.
How much is admission to Southshore Bay Lagoon
Southshore Bay residents can pay a monthly fee to access the lagoon, but for the rest of us, a day pass will cost you about $10-$30 for adults and $10-$25 for kids ages 4-12, depending on the day. Weekdays tend to have the better price points. Kids 3 and younger are free. Prices are subject to change, so use these price points as a guide.
You can also purchase a Late Day pass for admission after 3pm for $16-$24 for adults and $5-$18 for kids.
Activities like kayaking, paddle boarding, and water obstacle course are $12 each per person.
It is free to park at Southshore Bay Lagoon.
You will want to pre-purchase your tickets and activity upgrades online, especially during busier days and months.
When is Southshore Bay Lagoon open?
Southshore Bay Lagoon water activities are open daily from 10am-7pm.
What can I expect when I go to Southshore Bay Lagoon?
Once you park, gather up all your stuff and head to the check-in booth. You will need to go through a security check point, so make sure to leave outside food and drinks in the car or at home since they are not allowed. They will find it and they will ask you to throw it away or put it in the car. You are allowed to bring a personal sealed water bottle or empty water bottle to fill at re-filling stations. Sealed baby food and formula is also allowed.
On that note, we'll go over a few rules on what NOT to bring:
Large inflatable water toys and ride-on toys
Tents
Firearms or weapons
Outside alcohol or illegal substances
Outside food or beverages or coolers
Wagons larger than 35″
Glass containers (with the exception of baby food jars)
Pets or Animals (with the exception of service animals)
Recreational devices like bicycles, skateboards, kayaks, and so on…
Don't even think about wearing a thong bikini bottom or Brazilian cut bottom bathing suit–this is a family-friendly spot
One pool noodle is allowed per person and kids can bring their small water toys with them. Make sure to bring your own beach towels and plenty of sunscreen!
What is there to do at Southshore Bay Lagoon?
There is so much to do at Southshore Bay Lagoon and it's a great spot to simply sit back and relax or stay active and get all the wiggles out!
You don't have to upgrade your day to enjoy a day at the lagoon. We recommend arriving early so you can snag a beach chair somewhat close to the water's edge. As we mentioned, you can't bring your own beach tent so if you want shade, you'll want to plan on renting an umbrella for the day which is $25. They will install the rented umbrella for you.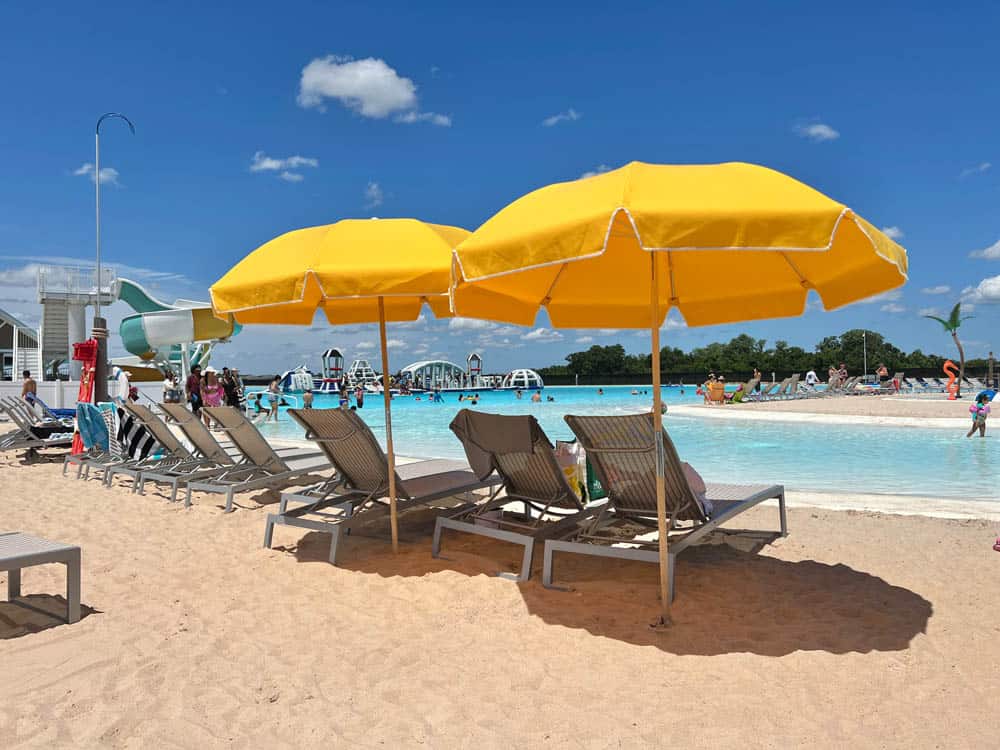 As you can see from the photo above, there isn't a whole lot of shade, so you'll want to make sure you factor an umbrella rental into your budget for the day.
Waterslide
The water slide is included with your admission and kids who are at least 42 inches tall and adults can slide down as many times as they want!
Things to Do for Toddlers at Southshore Bay Lagoon
Toddlers and younger children will love the Gasparilla Island which they can easily get to by wading in shallow water. They can play in the sand here and even cool off in the splash pad. There are also little kid sized beach chairs if they want to sit back and recharge their batteries before heading back out to play!
Kayaking and Stand Up Paddle Boarding: Ages 8 and older (kids younger than 8 must ride kayak with an adult)
For an extra $12 you can rent a kayak or stand up paddle board for a one hour session. Kids younger than 8 must ride with an adult–the adult does not need to purchase the upgrade which is a bonus.
Obstacle Course: Ages 6 and older, life vests required
The Aquaglide Obstacle Course is also an additional fee at $12 per person. Life jackets are required for everyone and kids must be 6 years old and older, at least 48 inches tall to experience it, and able to swim.
You get 40 minutes during timed sessions, so it doesn't get too overcrowded which is nice. There are all sorts of challenges and even a big slide into the water which our kids loved!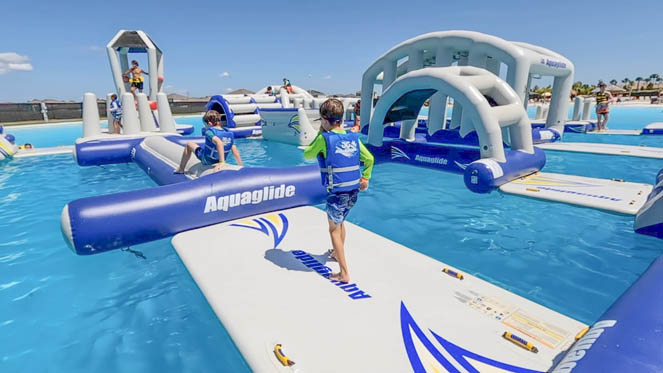 What to eat and drink at the lagoon
There are a few food and drink options at Southshore Bay Lagoon including two bars and rotating food trucks. There is a swim up Lagoon Bar where you can purchase cocktails and drinks. And, if you purchase an upgrade like a Cabana, you have access to the private bar at Cabana Cove.
What are the upgrades?
There are multiple ways you can upgrade your way at Southshore Bay Lagoon, but you will need to make sure you purchase your day pass since it is not included in the upgrade package.
Upgrade option in Cabana Cove: all include access to the private Cabana Cove bar
Premium seating in Cabana Cove:  ($25 each)
Clamshell Lounger for 2 people: ($75)
Cabana Rental for up to 8 people: ($99-$139)
Premium Cabana for up to 12 people: ($199)
Floating Aquabana for up to 6 people: ($279)
Beach Pavilion Rental for up to 8 people: ($89)
Tiki Rental for up to 4 people: ($50)
prices are subject to change, but we do recommend buying online ahead of time
Overall thoughts on Southshore Bay Lagoon.
We really enjoyed our day, however the cost of going for one day for a family of four can add up fast when you factor in necessary shade, food and drinks, and extra activities. That's the big downside. For most the most of us, it's probably a one-time visit to experience due to the price point.
Visit here to purchase your admission tickets and upgrades.
Related: Visit Epperson Lagoon in Wesley Chapel for a perfect day under the sun