Busch Gardens debuts ALL-NEW Spooktacular event just for kids!
It's going to be an exciting fall season in Tampa Bay with returning favorites and ALL-NEW ways to play! One of the most exciting new additions to the Halloween line-up is Spooktacular at a Busch Gardens Tampa Bay –a BRAND NEW event for the theme park and it's one designed for kids of all ages.
It debuted on Saturday, September 10 and will be celebrated every Saturday and Sunday from 12pm-4pm through October 30, 2022.
The best part is, it's included with admission!
Wait, is Sesame Street Safari of Fun Kids Weekends still happening in October?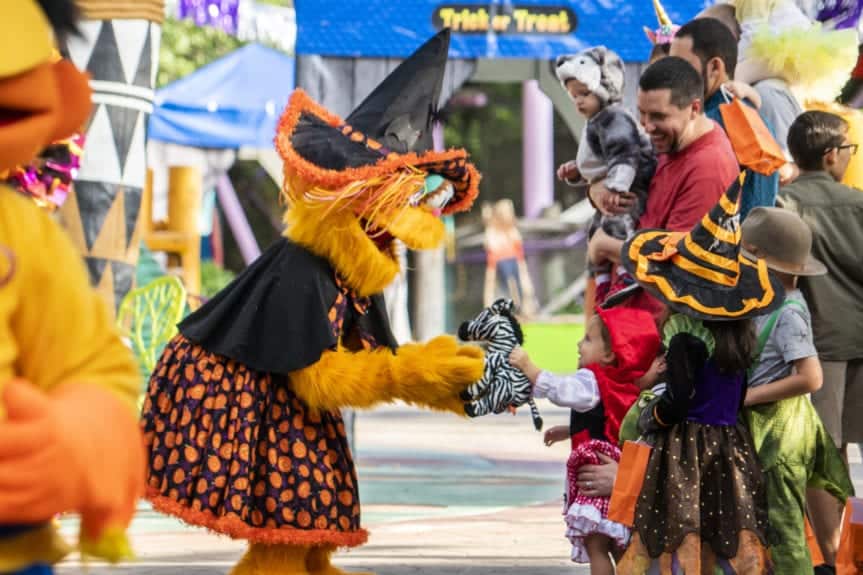 Yes! For those of you who love the Halloween themed Sesame Street Safari of Fun Kids Weekends, it is still on schedule on weekends beginning October 8-October 30, 2022. Here's the line-up on what to expect at Sesame Street Kids Weekends:
Abby Cadabby's Scavenger Hunt from 11 a.m. – 4 p.m.
Furry Friends Halloween Dance Party at 12 p.m. and 2:30 p.m.
The Not-Too-Spooky Howl-O-Ween Radio Show at 11 a.m., 1:30 p.m., and 4 p.m.
A Special Sesame Street Halloween Storytime at 12:30 p.m and 3 p.m.
What is Spooktacular at Busch Gardens Tampa Bay?
If you've been to Spooktacular at Sea World, you might be familiar with the event name, but the experience at Busch Gardens Tampa Bay will be different.
We caught up with Alexandria Irwin who is one of the masterminds behind the design of Spooktacular at Busch Gardens and she told us, it was a long time coming.
"We've had amazing opportunities for adults with Howl-O-Scream, amazing opportunities for kids in the Sesame Street Safari of Fun, but it's about time we have our own Spooktacular event," she explained. "We worked with a great team of graphic artists, scenic designers, illustrators, costume designers to make sure this world came together and that it really connected with kids and kids at heart."
Busch Gardens invited us to experience this brand-new event on opening weekend, however we do have annual passes so we would have gone anyway.
Spooktacular is a whimsical world located in the Festival Walkway area across from the Gwazi Events Pavilion.
Get ready for a fun afternoon because it's an event filled with tricks and treats!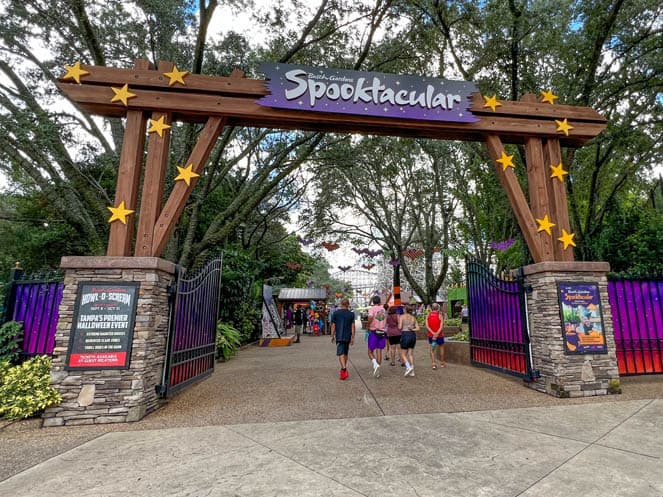 Should my kids dress up in costume?
Absolutely! We saw a few kids dress up for the occasion on Spooktacular's opening weekend, however many did not since it was pretty hot outside (we do call Florida home, after all).
Come as you are and just simply enjoy the experience!
There is a sweet Costume Parade area where kids can strut their stuff on the runway. And no, you don't need a costume to walk the catwalk. It's really sweet and it makes the kids feel pretty special and you can't beat that!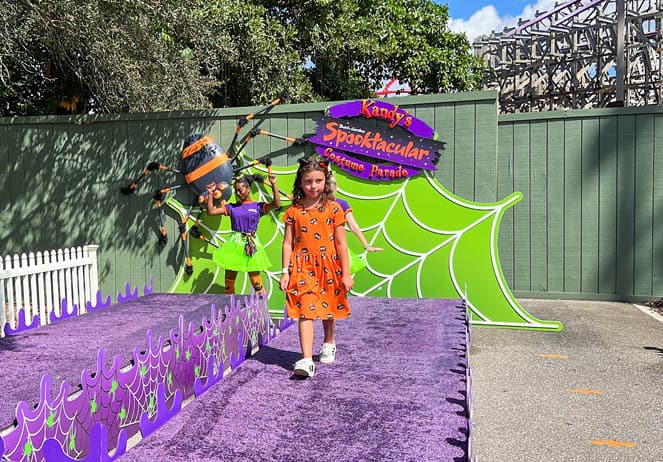 What's there to do at Spooktacular at Busch Gardens? 
This is your child's chance to go trick-or-treating, so don't forget a reusable bag for treats. You can also purchase a reusable bag in the event area for $3 if you don't have one handy.
There are six trick-or-treat stations giving out treats like Milk cookies, Smarties, stickers and even play foam.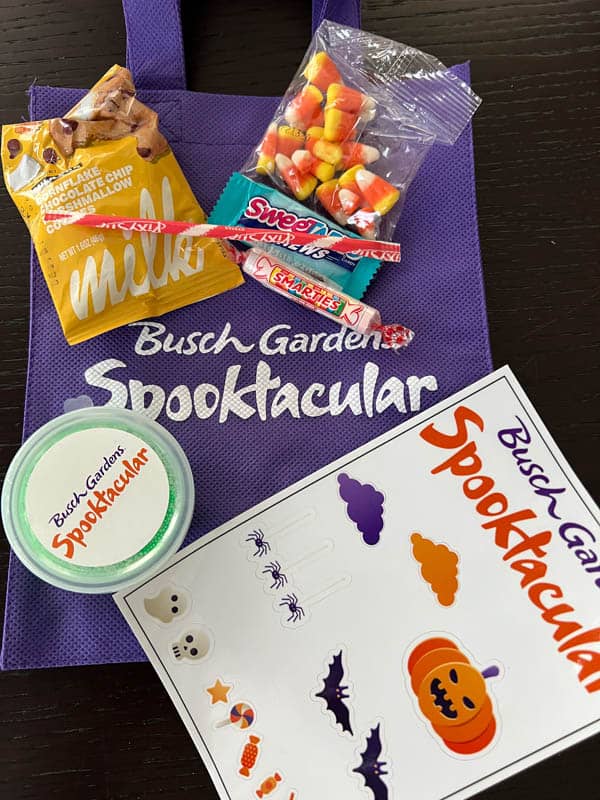 We suggest arriving right at noon so you can be a part of the opening ceremony at the front gate and walk in with Kandy the witch and her friends.
Kandy is a 9-year-old witch in training who also helps lead the Costume Parade and even takes the stage for a Halloween themed Story Time as she reads childhood favorite, "Room on the Broom".
It's a really sweet story time. As she reads each page from her own book, her friends flip through the pages of a HUGE book so kids can read along too.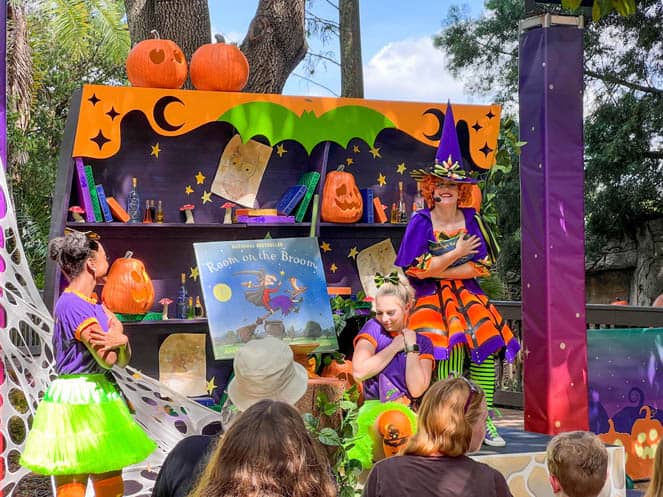 After story time, you and the kids can join Kandy for a quick meet and greet and photos, but you'll also see her throughout the event area posing for photos.
Speaking of great pics, there are several areas to capture a great photo including few spots where you can surround yourself with magical looking bubbles filled with fog. The kids loved dancing in the cloud of bubbles and popping them.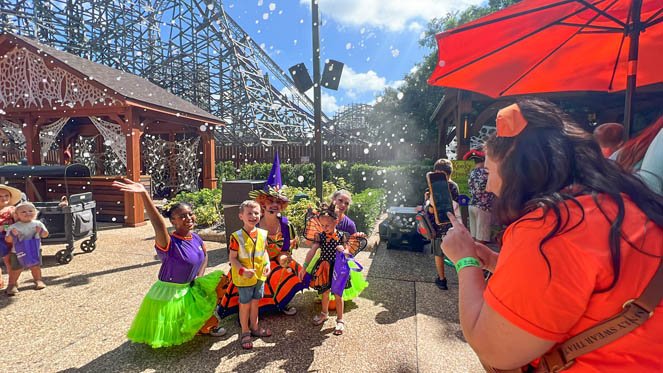 But, that's not all! You'll also get a chance to watch Spencer the Magician put on a magic show over at the Kooky Spooky Illusions booth. Be sure to snag a spot up front and you just might be called up to help Spencer with one of his tricks!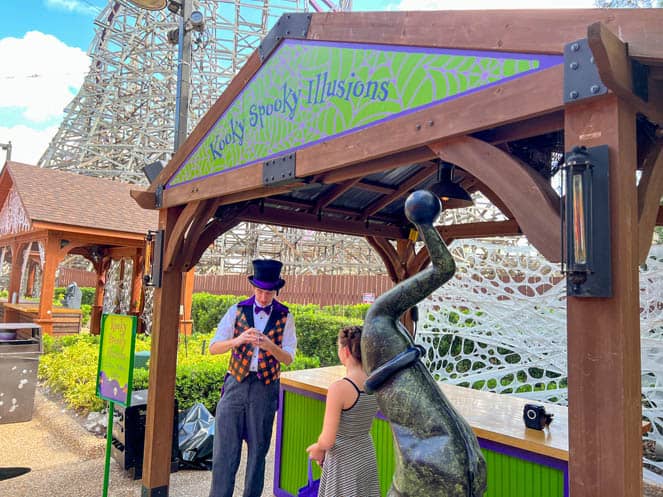 Since Alexandria Irwin was one of the masterminds behind this whimsical event, we asked her if she had any pro tips for families. Other than making sure you bring a reusable bag for trick-or-treating, she told us. "Just have fun! Try all of the different areas. We have a lot of different spaces for all ages and stages. Walk the whole pathway, interact with all of the characters. They are waiting for that."
There is a map at the entrance of the Spooktacular area so you can 'map' out your adventure. It's not a huge area, so don't be too intimidated.
Spooktacular is an event you and the kids can get through pretty quickly so you can enjoy your day at the park whether it's riding the roller coasters like Iron Gwazi, connecting with the animals, and/or heading over to celebrate Sesame Street Safari of Fun Kids Weekends in October!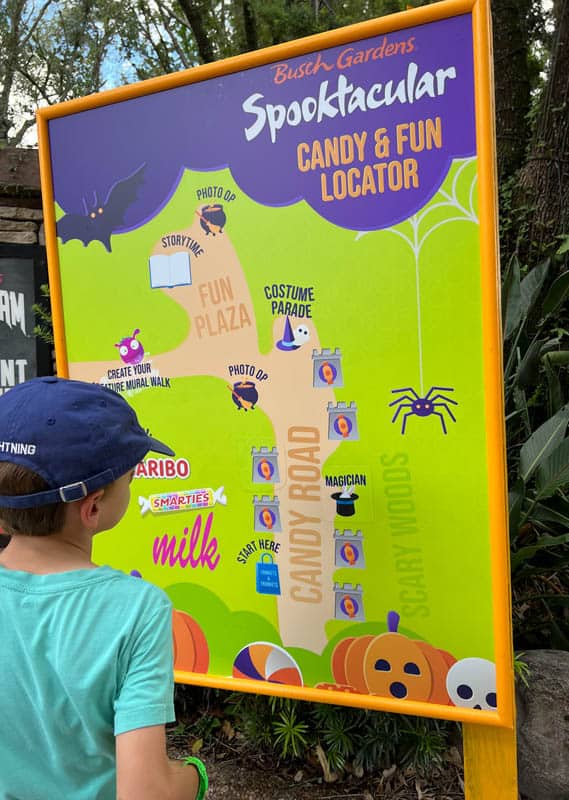 As we mentioned, the event is ready to welcome you and the kids on Saturdays and Sundays from 12 pm to 4 pm through October 30, 2022. Enjoy and have fun with it and be sure the camera is fully charged!
Learn more here about how to take advantage of a Busch Gardens annual pass to get the most out of your visit!
If you're looking for even MORE family-friendly fall fun like a pumpkin patch in Tampa Bay, head here next. And if you want to explore some of the Tampa Bay area's spookiest events, our media partners at Tmapa Bay Date Night Guide have you covered with their guide to the 20+ Spookiest Halloween Events in Tampa Bay.