AngelEye Camera System: How Cutting-Edge Technology Helps Parents Bond with their Preemies
Yana Torrez was enjoying a textbook pregnancy, so when she felt contractions at 29 weeks, she wasn't unduly worried. Still, she went to St. Joseph's Women's Hospital and was admitted for overnight observation. Everything looked fine, and Torrez was actually completing paperwork for her 4 p.m. checkout when a nurse caught the baby's heartbeat swooping dangerously low.
At 4:03 p.m., Vivian Raine Torrez entered the world, 29 weeks and 4 days old, weighing 3 pounds, 2 ounces.
Torrez and her fiancé, Wesley, found themselves in the painful position of having to resume their lives while their heart remained behind in an incubator inside St. Joseph's Children's Hospital's Level 4 Neonatal Intensive Care Unit (NICU). Although the NICU has 76 private rooms and parents are encouraged to stay on premises with their baby, that can become impractical when a baby has to stay for weeks or even months. Vivian, considered a micropreemie, would have to spend 60 days in the NICU being fed through a tube and helped to breathe, eat and regulate her temperature.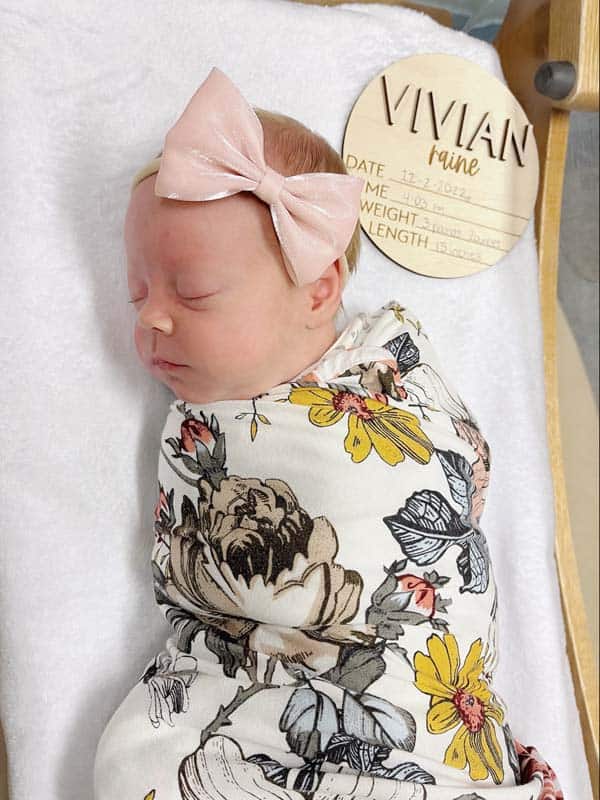 But one innovation made things a little easier for Vivian's parents.
The AngelEye Camera System 
In December, St Joseph's Children's Hospital rolled out a technology called AngelEye Camera System. Thanks to a camera and a 5-inch LCD touch screen mounted in the baby's room, parents can view their infants any time they want through an app they download on their device.
For Charles Ennis, director of patient care services for the NICU, AngelEye is another extension of the hospital's dedication to family-focused care. "Baby is the most important patient, but we consider mom, dad and the family unit our patients as well," Ennis says. "Their treatment is bonding. We balance caring for the baby but [also] strengthening that bond."
Ennis explains that the mother gets administrative power and can make the other parent an administrator. She can give access to friends and relatives, who all have to create their own passwords to view the feed. Because AngelEye is linked to the hospital's admission system, parents are assured an extra layer of security.
While nurses are actively caring for baby, they can turn off the feed with a button, and parents will see an image of a teddy bear and the message, "I am receiving my care now." Caregivers can also send messages to parents through a one-way messaging system.
The AngelEye videos and messages became a lifeline for Vivian's parents. As soon as she looked at the feed, Torrez could tell if her favorite day nurse, Elisabeth, was taking care of Vivian—the tape attaching Vivian's tubes to her face would be cut into heart shapes, and Elizabeth had a special style of swaddling. Knowing Vivian was safe and loved, Torrez could schedule a doctor's appointment, prep the nursery, eat a real breakfast, take a shower and sleep in her own bed at home.
"She took care of my baby before I did," says Torrez, who still tears up thinking about Vivian's care. "She did a better job than I could do at the time because she had the skills."
Night nurse Janice sang Bob Marley lullabies to Vivian, and to this day, recordings of those songs calm the baby. "She could have changed her diaper in silence," Torrez says. "But she spent time with her holding her and calming her down." Because preemies' measurements are often taken at night, Janice used the AngelEye app to message the results to Torrez, knowing she would wake up to pump breastmilk at 1 a.m. and be anxious for news.
In fact, thanks to AngelEye, Torrez was able to pump plentiful amounts of milk, even though Vivian could only latch on at 34 weeks. "Breastfeeding for NICU moms, it's hard to keep up the supply," Torrez says. "Being able to pump at home and look at baby helped. I was stressed, emotional, upset, yet I had an oversupply. It made me really happy."
Ennis says St. Joseph's Children's Hospital is launching a formal study into the app's contribution to breast milk production for mothers of premature infants. But he doesn't need a study to tell him the effect it's had on the hearts and minds of the babies' family members, who have cumulatively racked up 10,000-plus views since the program went live in December, from more than 30 states and from as far as Singapore and the Republic of Georgia.
"It does take a village to raise a baby," Ennis says. "Our role is only temporary in a baby's life. We work miracles, but it's so important that we do everything we can to have that strong bond as if you didn't have to go into the NICU. Our mission is to care for the community. We're always pushing boundaries of what that community means."
---
*Presented by BayCare | Originally published in March 2023 of Tampa Bay Parenting Magazine.