Celebrating Physical Therapists and Patients During October
October is National Physical Therapy Month, which celebrates the hard work of both the physical therapy team at Johns Hopkins All Children's Hospital, including Nick Hamilton and Marissa Lisenbee, and hardworking patients like Hailey Highsmith.
It's been a long road to recovery after the recent high school graduate experienced a very scary unexpected emergency.
The Emergency
On a June 2021 night, Hailey came home like on any other day. But around 1 a.m., Hailey's sister Natalie discovered her crying and went to awaken their mother, Robin, who called 9-1-1.
Hailey, who had no previous medical conditions, was taken to a local trauma center where they discovered a spontaneous brain bleed. She lost all mobility, speech and cognitive ability.
After 12 weeks, Hailey transferred to the Kennedy Krieger Institute in Baltimore, a non-profit institution affiliated with Johns Hopkins that specializes in care and research focused on pediatric developmental disabilities and disorders of the brain, spinal cord and musculoskeletal system. In Baltimore, fluid began to build on Hailey's brain, so she received surgical care at The Johns Hopkins Hospital before returning to Kennedy Krieger. In November, she returned home and began receiving care four days a week at Johns Hopkins All Children's for several hours with speech, physical and occupational therapy.
Commitment
Hailey works hard.
She might spend two hours in a physical therapy session, often in combination with occupational therapy. They may work on getting off the floor and into her wheelchair, or take a movement or functional task and break it down into pieces to achieve a larger goal.
"Hailey and her family are like a freight train," says Hamilton, who has been a physical therapy assistant at the hospital for seven years. "They are here every day."
But the work can be frustrating. Progress is slow. Still, Hailey pushes through. Having a clear goal helped her dig deep.
"I think that was definitely like a huge motivator for her on those longer days where she was like, I'm exhausted," says Lisenbee, who started shadowing physical therapists at the hospital in college and will complete her third year as a full-time employee this fall.
"She has an amazing support system. That, coupled with the fact she was motivated about doing something, has really gotten her through some of those sticking points."
Robin credits the whole therapy team — physical, occupational and speech — at Johns Hopkins All Children's with giving Hailey "her life back."
Graduation Day
Hailey's commitment allowed her to walk the stage at her recent high school graduation with Hamilton and Lisenbee by her side.
"Hailey is the most committed patient I have ever worked with in my 10 years as a therapist," says Hamilton, who also escorted Hailey. "I would describe it as ferocious."
"She really put in every ounce of effort that she could have possibly done, which has been awesome to watch," says Lisenbee.
While Hailey still has a long road ahead, walking the stage was a journey of joy.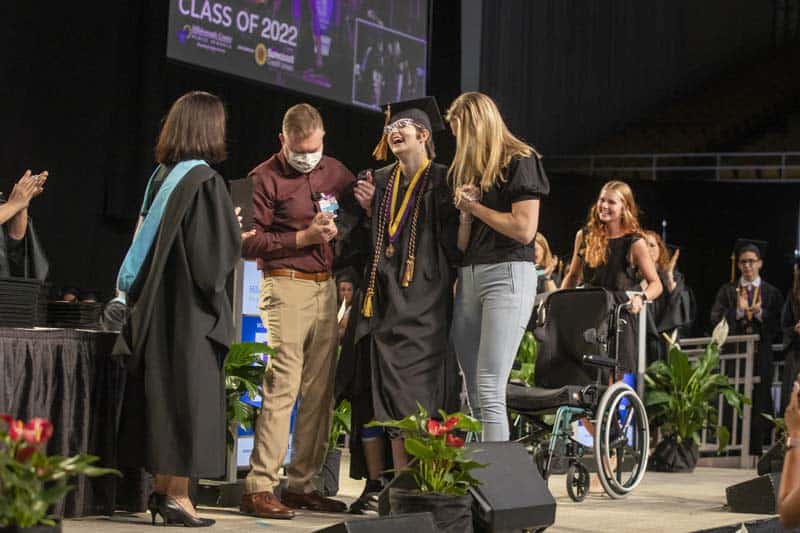 ---
*Presented by John Hopkins All Children's Hospital | Originally published in October 2022 of Tampa Bay Parenting Magazine.