Flamenco & Freedom: A Renowned Cuban Dancer now Lives the American Dream in Tampa
One year ago, flamenco dancer Irene Rodriguez took the biggest leap of her life, not on the dance floor—in real life. She left her home country of Cuba, where she was the principal dancer and director of the country's most recognized flamenco company, and moved to Tampa with nothing more than the desire and drive to succeed in a free country. The enormous gamble paid off. Today, she is once again being recognized for her talent and teaching her craft to local students.
MR: Welcome to Tampa and congratulations on everything you've accomplished in such a short time.
Irene Rodriguez: Thank you. I feel very proud and grateful for everything I have done in just one year in this incredible city. I have been teaching and choreographing for the Patel Conservatory at the Straz Center for the Performing Arts, which honored me with the Outstanding Choreographer Award. I have also taught master classes for the University of South Florida's (USF) dance and theater departments (where I was awarded the Medal of Honor) and taught and choreographed at Howard Blake High School.
MR: I have heard from local moms that you're also teaching young students, who absolutely love your classes!
Irene Rodriguez: Yes, the Brucie Klay's Dance Center in South Tampa has been the home of my flamenco classes where during the week and on Saturdays, there is no age limit to make your dream of dancing flamenco come true. I teach both adults and children 4 years old and up.
MR: What is flamenco to you?
Irene Rodriguez: For me, flamenco is one of the most genuine dance manifestations for the expression of the soul.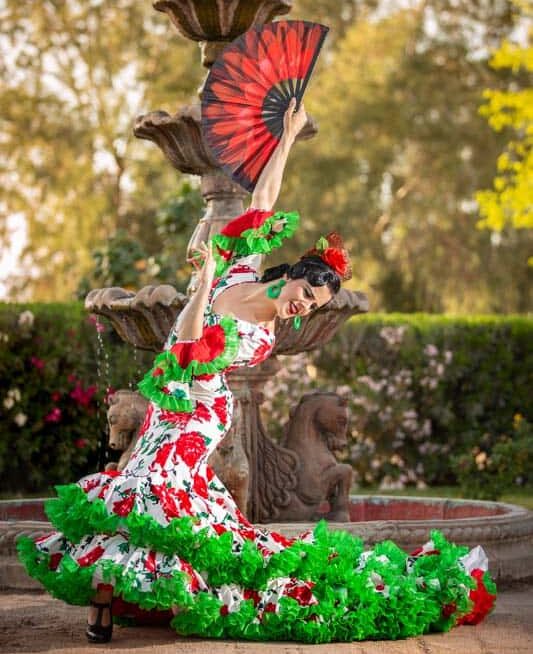 MR: I'm fascinated by the flamenco "uniform".  What's the meaning of each item?
Irene Rodriguez: Flamenco is a dance genre that uses a lot of accessories, which I love. From the throbbing castañuelas (castanets), the sensuality of the abanicos (fans), the charm of the Manila shawls and Batas de Cola (long-tail skirts), and the magic of the red flowers and peinetas (hair combs), flamenco is an endless creative universe.
MR: Besides learning a beautiful dance, what are other benefits of flamenco? 
Irene Rodriguez: There are so many! For kids, it helps develop their artistic and physical-motor skills, improves concentration, coordination [and] posture and teaches them discipline. They also tend to become more outgoing and relate better with children their age.
MR: What about for adults?  It seems like fun but challenging workout.
Irene Rodriguez: It can be, but it's a great way to stay active, release stress, control your weight and build confidence while making your dream of dancing come true. Flamenco and give yourself time to relax and do what you've always wanted!
MR: What is your best advice— both as a dancer and as someone who started over again in a new country— for anyone who wants to learn or try something new? 
Irene Rodriguez: My advice is always not to set limits, because I believe that the limits are only in our brain. Also, remember you can always start over, from scratch if necessary, if you have a dream to follow and a passion to fight for.
Follow @irenerodriguezcompania on Instagram
---
Originally published in February 2023 of Tampa Bay Parenting Magazine.