Simple ways to organize your house now for stress-free mornings with the kids
Anyely Difato, founder of The Neat Technique in Tampa, shares simple ways to organize your house for stress-free morning routines as kids head back to school!
As the new school year begins, so does the constant stress of scheduling and planning your kid's day. This includes figuring out what clothes they will wear and finding lost shoes, while simultaneously packing snacks and lunches, and hustling everyone into the car to get to school on time.
The new school year also requires parents to shop for school supplies and new clothes or uniforms. Why not get a head start on getting organized before the new school year begins?
One way of easing the back-to-school stress is to proactively implement some simple and practical organizing methods suitable to your family's daily routine. These are tips you can implement anytime, not just back-to-school. It's never too late to get organized!
Check out some of my favorite tips and tricks below and pick a couple that will work for you!
Mudroom or Backpack Station
Designate a space in the house to keep kids' backpacks, jackets, and shoes where they will be easy to grab and go. Even if you don't have an entryway or garage space to create a mudroom, having a specific spot for these items certainly helps to streamline the process of coming and going.
To create a backpack station, you can add a wall hook rack or command hooks to any wall in a hallway, closet, kitchen or even a walk-in pantry with an empty wall.
A medium-sized basket near the front door or a shoe rack in the garage can keep shoes in pairs and in one place. Think about what might work for you and your family.
Family Calendar Board
Set up a calendar board with the daily activities and school schedule in a spot where everyone in the family can see it.
From dry erase, chalk, magnetic, acrylic, or personalized boards, all are great options that can be kept in the kitchen or hallways.
If your refrigerator has a visible side different than the doors, that is a great place to add a magnetic board, while keeping the front of the refrigerator free from clutter.
Use colored markers and assign a color to a specific activity or child, if you have more than one.
Homework Station
Create a homework station to help with the homework routine. Be creative and invite your children to decorate the space with you to make a fun homework environment.
If the best homework space for your family is your dining room table, you can still keep things tidy by investing in a rolling cart or a bin with dividers, such as a divided Lazy Susan Turntable.
Organize school supplies and worksheets in bins and make sure they are clearly labeled, especially if more than one child is using the space.
Use a bin or a magazine file holder to keep the weekly school in- and- out worksheets and homework. This will help you review your child's school work and keep track of the school assignments.
Make sure the bins are labeled with the child's name in the case of multiple children.
School Supply Pouches
These are great for when your child has forgotten to finish an assignment or if you find yourselves with some extra time in the car. Put together a few essential school supplies along with a clipboard, a tray or a portable drawing board, and they can finish up their work or even get ahead.
Getting a Head Start on Snacks and Lunches
Overwhelmed by the thought of figuring out lunches every day? Plan a week or two ahead with a lunch menu.
Think simple and nutritious with maybe a surprise treat here and there. Assign a space in the fridge for snacks and place them in bins for an easy grab-and-go.
You can even prepare snack bags for the week. Creating two weeks of meal plans before the school year begins will save you some time while you are adjusting back to the daily routine.
And even better, once you have a couple of weeks of plans, you can keep alternating the same meals.
Create a Functional Kitchen and Pantry system
This might sound daunting, but a few easy steps will make your kitchen space work better for everyone.
Designate a reachable space in the pantry or in a kitchen cabinet for kids' snacks.
Keep lunch boxes, lunch bags and water bottles in the same section. Use bottle organizers for the water bottles, or if they are in a deep drawer, use plastic bins to keep them organized.
And of course,  don't forget to label everything. Creating sections in the kitchen will make it easy not only for parents but for the children, since it will help them recognize where things belong  so that they can  help pack lunches and snacks.
Memory Box
Last but not least, as your child progresses through school, you will probably find yourself wanting to keep some mementos–a piece of artwork from kindergarten, a great report card, or maybe an award.
Rather than stashing these with all the other papers, you can get a filing box to create a memory box. Label it with the child's name and organize it by grade.
This is a great way to keep the precious artwork and other papers neatly stored. However, it is very important to go through the artwork each year and make sure to keep what you really like. Otherwise, you will run out of space very fast!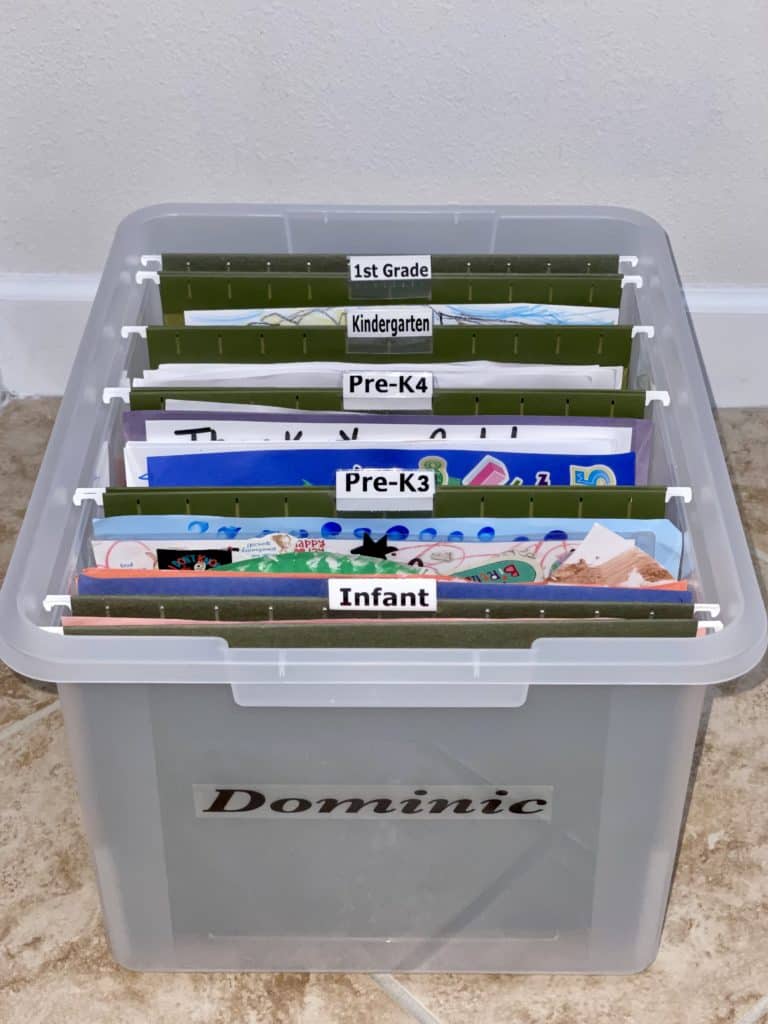 You don't have to implement all of these at once. Start with the one that would help you the most, and maybe add in a couple more as you go.
About the Author: Originally from Colombia, Anyely now lives in the Tampa Bay area with her husband and son. No stranger to hard work, the bilingual mom recently earned a degree in Marketing. Juggling home life and school led her to appreciate organization even more. This sparked the concept for helping others regain control and eliminate fuss. When Anyely isn't decluttering space or caring for her family, she indulges in her guilty pleasures of binge-watching Netflix and sleeping in.
*Originally published in the August 2021 issue of Tampa Bay Parenting Magazine. Updated for online in July 2023.