Make a Splash at Adventure Island's Island Nights!
Get ready to make a splash at Island Nights at Adventure Island this summer! Now through July 7, Adventure Island is open until 8:00 pm on Friday nights so you can have even more time to enjoy your favorite water slides!
Starting at 5:00 pm, the park transforms into an island party filled with music. Tropical dancers and entertainers are there to greet you as you come in. Both kids and adults will have a blast dancing along and taking a spin in the 360-action camera in front of the giant surfboard sign!
Our Favorite Things to Do at Adventure Island
Living in Florida, we're lucky enough to have plenty of sun-soaked days, and what better way to spend it than cooling off at a water park?  We LOVE Adventure Island for so many reasons. Besides the fact that it's located right here in Tampa Bay, it's got something for everyone, no matter your age or adrenaline level.
For the little guppies
Shaka-Laka Shores is Adventure Island's newest interactive splash and play zone. This kid-friendly splash area has 25 different play elements and a super kid-friendly play structure that are perfect for the youngest guests. There is a zero-depth area and plenty of shade sections.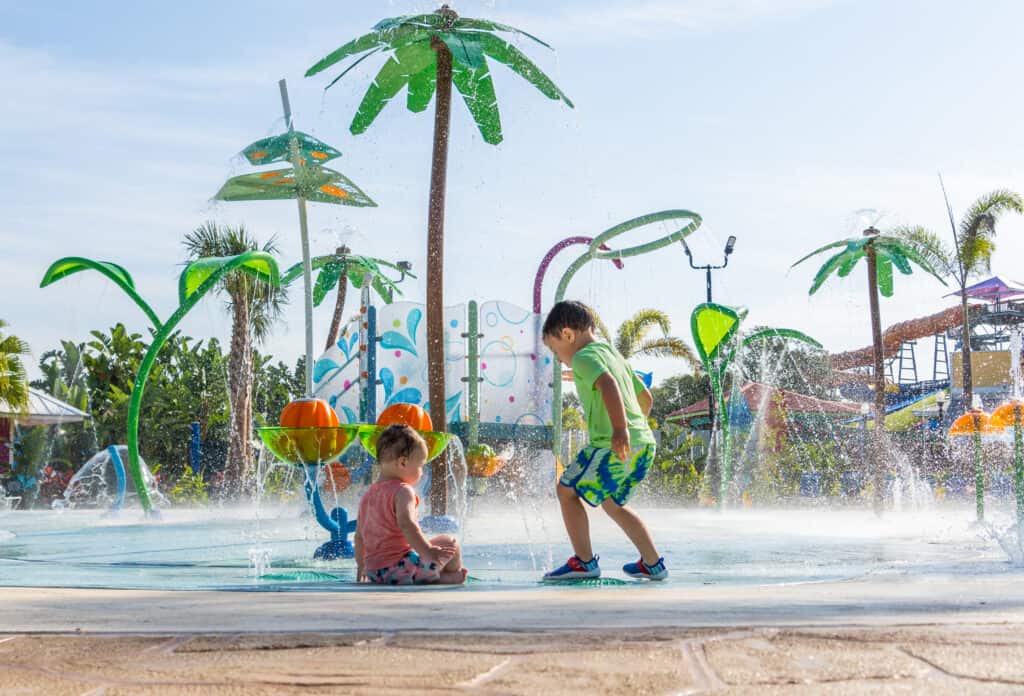 Another favorite spot is the Splash Attack, located in the back of the park. Splash Attack is great for kids of all ages and is perfect for younger kids who are out of the toddler phase but still too young for the big slides. This area is structured like a giant tree house maze filled with over 50 water toys, kid-friendly water slides, and a giant 1,000 gallon bucket that fills up and empties out every few minutes. There are plenty of covered lounge chairs situated around Splash Attack, making it the perfect spot for parents to relax while the kids splash and play.
Paradise Lagoon is a great spot for little thrill-seekers in the making. Kids can make a splash jumping off the cliff into the 9,000 square foot pool and test their skills using the overhead net to guide them as they walk across the floating pedestals.
For the thrill-seekers 
Adventure Island has some of the best water slides around! While the slides at Splash Attack do not have a height requirement, the individual slides around the park start at a minimum of 42″.
The Rapids Racer and Wahoo Remix are the park's newest slides. The side-by side Rapids Racer is the world's first dueling water slide and lets you and a buddy ride a two-person raft while racing against the sliders next to you. Wahoo Remix uses a family-style raft and features synchronized lights and music, giving ultimate party vibes.
Another family-style slide is the Colossal Curl – our personal favorite. The raft holds 2 to 4 riders and takes you through a series of corkscrews and waterfalls and slides you up the mega wall before plunging you back down.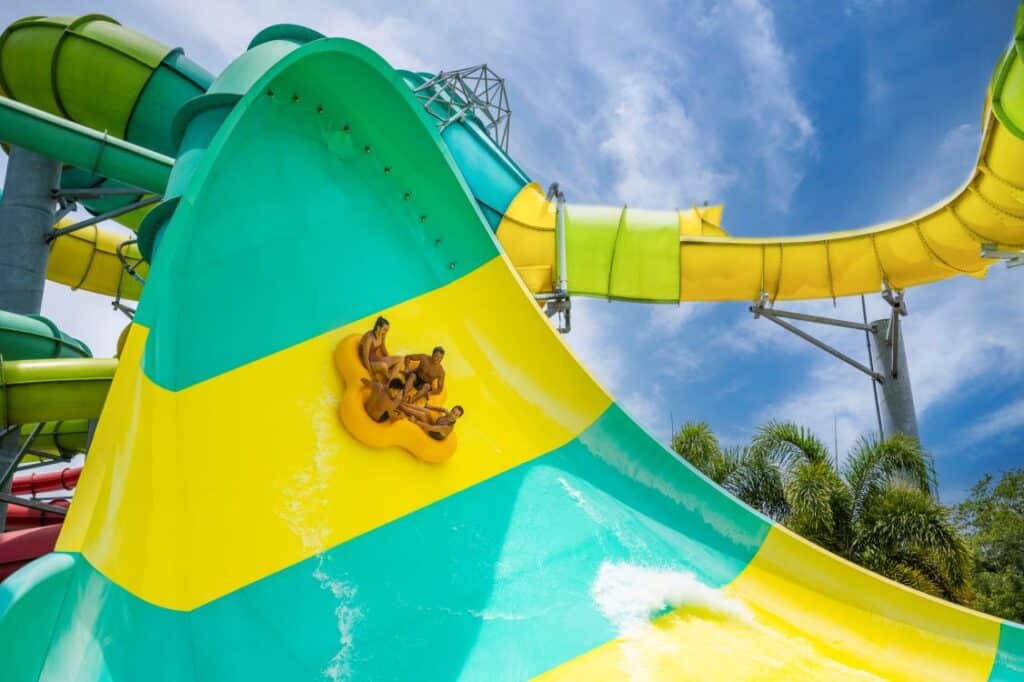 For the ultimate adrenaline rush, you won't want to skip out on Vanish Point. You start in a standing position in an enclosed skybox before the floor under your feet opens up and you drop down 70 feet. Once you're down, the adventure doesn't end there – you'll slide through 425 feet of spiraling tubes until you reach the splash run finale!
Other favorites include the Aruba Tuba, a solo or dual tube slide, the family-style Solar Vortex, Calypso Coaster, Caribbean Corkscrew, and Water Moccasin. We love the competitive fun of the Riptide, where you and four friends can simultaneously race each other down this four-lane open-air slide.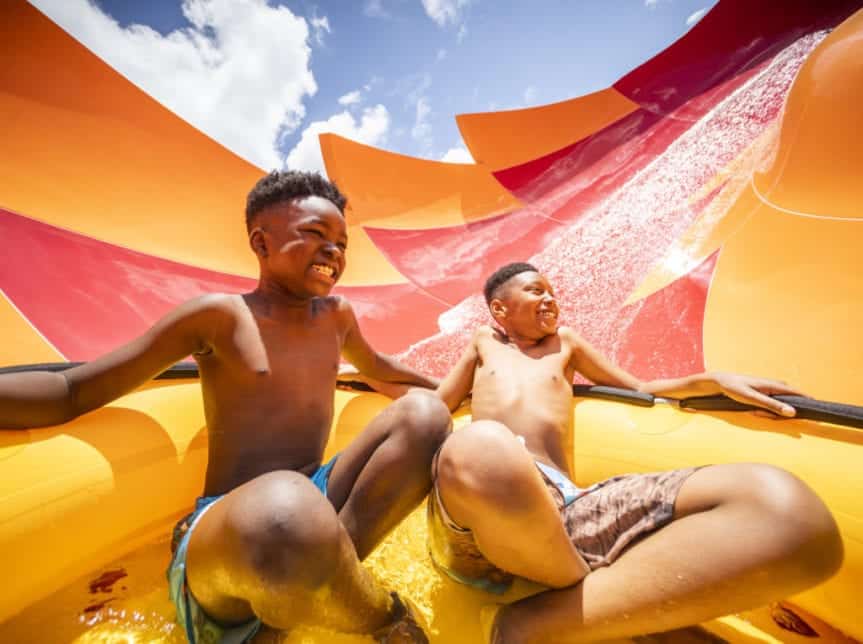 If you're looking to relax or if water slides aren't your thing, check out the Endless Surf wave pool and Rambling Bayou lazy river. However, we highly recommend that little ones and those who are not strong swimmers wear life vests, particularly in the wave pool. Life vests are available to use free of charge for all guests.
Where to eat at Adventure Island
After a long day or twisting, turning, and splashing around, you'll be sure to work up an appetite. Whether you want a quick meal from the Island Food Truck, a snack from Colossal Snacks, or a sit-down meal at Mango Joe's, Adventure Island has plenty of spots around the park to grab a bite. For the adults, we recommend checking out the Hang-Ten Tiki Bar. It's the park's first full service bar that serves up hand crafted cocktails and local beers. We suggest cooling off with a beer flight or an island themed cocktail with one of their edible sugar straws!
Tickets and Info
We highly recommend downloading the FREE Adventure Island app before you go! It will help you map out your day, check park hours, view dining locations, menus, and more.
Of course, the best way to enjoy all that Adventure Island has to offer is with an annual pass. Passes start at $10 a month where you can enjoy 12 months of access to the park!
To upgrade your day, you can purchase the Quick Queue Unlimited Pass starting at $19.99 per person to get priority access to their most popular slides throughout the day. You can also rent cabanas around the park starting at $69.99 per day as well as all-day dining deals starting at $44.99 per person.
Park hours vary. Be sure to check their site or download the app before you go. Island Nights is included with general admission and annual passes.