The Hidden Holiday Danger: Button Batteries
'Tis the season for family gatherings and gift exchanges, which includes a lot of new toys for kids. Many toys are battery operated, sometimes by button batteries, which is the common term for lithium batteries. Many kids can be attracted to these because of their size and shiny appearance, and sometimes place them in their mouth. There has been an average of 3,500 button battery ingestions per year and the incidence has increased in the last decade. Ebony Hunter, M.D., an emergency medicine physician at Johns Hopkins All Children's Hospital gives parents some pointers in case their child ingests a button battery.
Why is swallowing button batteries so harmful?
When a button battery mixes with saliva or moist skin tissue in general, it triggers an alkaline (chemical) reaction that can burn the child in as little as one to two hours. This can literally liquefy and dissolve/burn the skin and if it isn't removed promptly, the reaction can continue after the battery is removed, causing severe damage. Placing button batteries in the nose, ears or other orifices can trigger the same severe reaction. In these cases, or those of suspicion, parents need to take the child to the emergency department immediately.
What should parents do if they think their child has swallowed a button battery?
If there is any concern for ingestion of a button battery, a parent/guardian should take the child directly to the emergency department for evaluation. If the child does not have vomiting or difficulty with breathing, they can give the child honey, which has been proven to help neutralize the damage to the tissue and lead to better outcomes. However, do not give the child anything else to eat or drink in the event they need to go to the operating room to have the button battery removed. Avoid forcing the child to drink other liquids or vomit, as this can make the reaction worse.
What are some of the signs of button battery ingestion?
Some children have no signs immediately after ingestion. If a child has had a button battery stuck in the esophagus for a significant amount of time, they can have pain, drooling, difficulty with swallowing, change in voice, chest pain, coughing or spitting of blood, decreased drinking or eating and/or abdominal pain. The symptoms are broad and largely based on where the battery is positioned.
How can parents prevent button battery ingestions?
Try to avoid and keep out of reach/sight toys and household items that require the use of button batteries Keep in mind, even musical greeting cards have button batteries.
Lock spare batteries in a safe place where children cannot have access.
Tell all caregivers about the risk of button batteries so that they may secure their homes and surroundings as well.
Read a patient story about a baby who swallowed a battery. For more relevant pediatric healthcare information, visit HopkinsAllChildrens.org/Newsroom. You also can download our free Pocket Doc app, which features a symptom checker, parenting advice and other tools for staying in touch with us.
---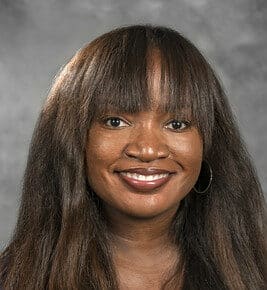 ABOUT DR. HUNTER: Dr. Hunter is a pediatric emergency medicine physician at Johns Hopkins All Children's Hospital. She joined the hospital staff in 2018. Dr. Hunter earned her medical degree from Louisiana State University Health Science Center in Shreveport, Louisiana. She completed a pediatric residency at Arkansas Children's Hospital in Little Rock, Arkansas, followed by a pediatric emergency medicine fellowship at Children's Mercy Hospital in Kansas City, Missouri.
---
*Presented by Johns Hopkins All Children's Hospital