Gasparilla: Tradition Invades Tampa Bay
Gasparilla: a series of parades, a season, a way of life. Peering in from beyond Tampa Bay's waters, the pirates, the beads and the cannons may seem unruly. But, Gasparilla is more than that. Dwelling among the Jose Gasparilla's invasion, the children clamoring for beads and the skies aglow with fireworks, tradition­­—the true treasure—runs deep. On Jan. 28, Gasparilla, known for its colorful flotilla, takes over Tampa Bay. Trey Korhn, a member of the Ye Mystic Krewe of Gasparilla since 2005, shares some the treasured memories he's made with wife, Jill, and their three children, Caroline (15), William (12) and Thomas (8). January in Tampa is high adventure.
TBPM: Why did you join Ye Mystic Krewe of Gasparilla?
Trey Korhn: Growing up in Tampa, I have so many fond memories of Gasparilla from my childhood. I remember riding on the back of my mother's bike to the parade and sitting on the curb with excitement. Our family never missed it. As an adult, I realized the impact of those memories and I wanted to create the same with our children.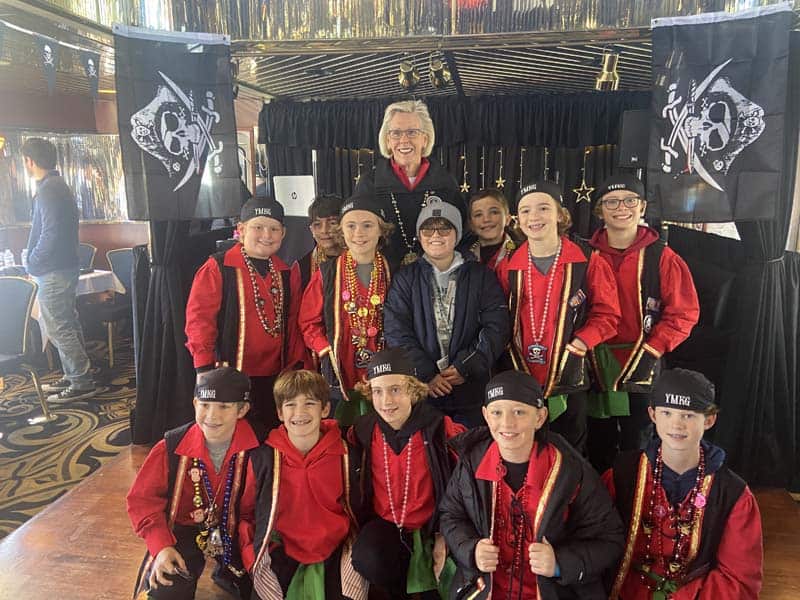 I was also drawn to the camaraderie with friends and the opportunity to meet new people. Businesswise, YMKG offers valuable networking opportunities as well. I'm thankful for the good group of people from varying aspects of the community YMKG has brought into our lives.
TBPM: Why does Tampa need the krewe?
Trey Korhn: YMKG and Gasparilla are a part of Tampa history. It's woven into the city's fabric. The Krewe also brings so many other positives to Tampa—extending beyond parade days. YMKG is iconic and, without it, parade season would lose some of the luster. We are the face of Gasparilla.
TBPM: How do you find the time to engage with the Krewe?
Trey Korhn: The Krewe is great at incorporating families. The Children's Parade, for example, is a signature family event. There are opportunities for Krewe members' children to participate as members of the royal court and daughters to participate as debutantes.
William served as a page and had a blast sharing that with friends. He participated in the 2020 Coronation Ball and rode on the Royal Barge, with Mayor Jane Castor, for Gasparilla 2022. Thomas will be a page, too. I'll let Caroline decide whether she wants to be a debutante, but I hope she does.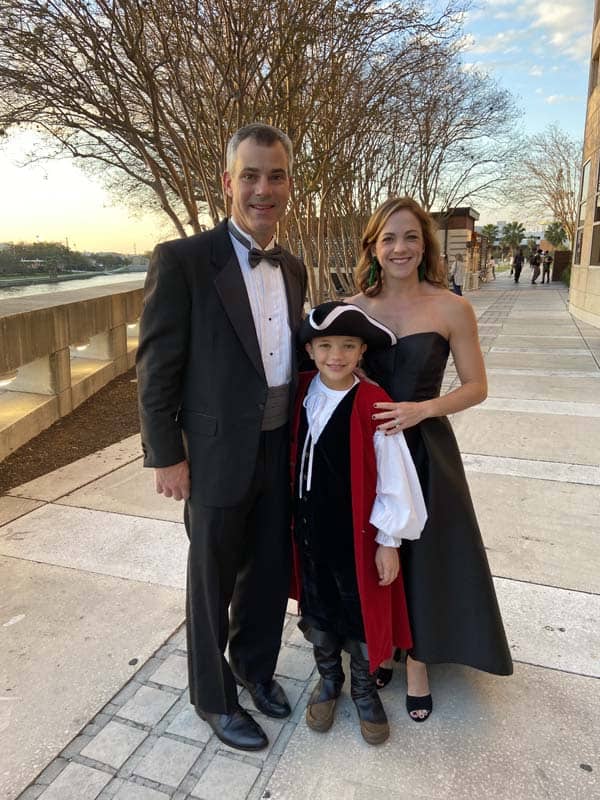 There are also philanthropic events families can participate in. When spouses and children are included, it's more feasible to make something a part of your life.
TBPM: What do you appreciate about sharing the Children's Parade experience with your kids?
 Trey Korhn: Just seeing their excitement—bonding with them. They love basking in the spotlight that day, and I love seeing how excited they are just throwing beads and riding the float.
It's a day we share with friends, doing things like visiting the staging area to look at other floats. All the activity is fun for them, and that hasn't waned as they've grown.
I especially love the fireworks that cap off the evening. It's an intense show. Seeing our three gaze at it, not moving their eyes from the sky, is special.
TBPM: What's your favorite krewe memory with your kids? What are you most looking forward to this year? 
Trey Korhn: The first time all three were old enough to participate in the Children's Parade. There weren't many years when Thomas was old enough and Caroline wasn't too old. Sharing the day with all of them was a special time.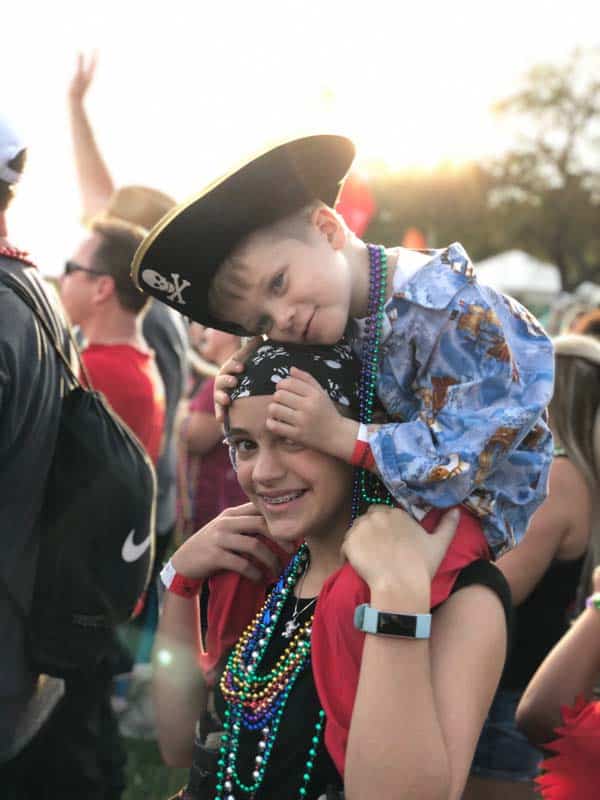 2023 marks William's last year. Seeing Thomas grow, not needing as much help throwing beads, will also be fun.
TBPM: Do you visit schools to give out beads?
Trey Korhn: I do, and I look forward to it. Not all kids get to attend the parade, and it's a chance for them to experience part of Gasparilla season. It lets kids, who otherwise might not, have a chance to see the YMKG pirates up close.
TBPM: What part of Gasparilla season do you most enjoy?
Trey Korhn: The Day parade remains my favorite. It's such a production, and the amount of attention to detail and planning is incredible.
Going through the make-up tent early in the morning, with friends, is a fun part of the process.
From leaving Ballast Point Pier to riding on the Jose Gaspar across the bay, from the Invasion to seeing how much excitement it brings the crowds … it's an amazing day.  It is great to see the city come together and have a good time. It is a signature event for the City of Tampa.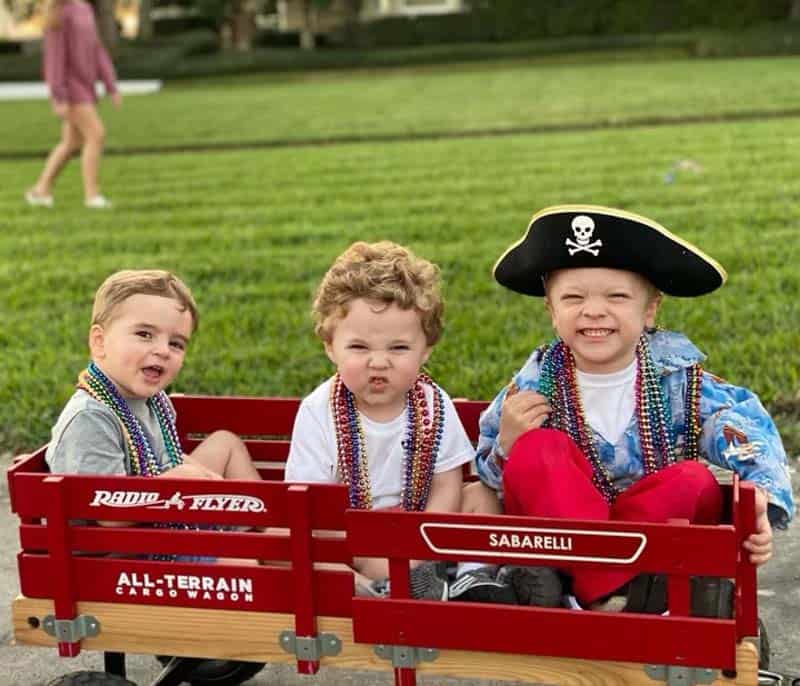 ---
Originally published in January 2023 of Tampa Bay Parenting Magazine.