1,000 Books to a Love of Reading
One thousand books might sound like a scary number, but what if you think about it as 17 books a month? That's only one book every other day or four a week at bedtime! With these odds, your family's odds of succeeding at Tampa-Hillsborough County Public Library's 1,000 books before kindergarten program are dramatically higher.
Keeping track of 1,000 books may sound like an arduous task, but the library makes this easy for you with a super easy way of signing up and logging books. You can visit HCPLC.org/kids/1000-books and sign up for this free program; this lets you log books digitally and track your child's progress. You can select any book you would like and can repeat the same book. The library will alert you to the different milestones you reach and help you celebrate them along the way.
Those few minutes spent reading each week can be worth a lifetime of improved early literacy skills. Reading to children between the ages of 0 to 5 instills a love of reading, reinforces family bonding and boosts academic performance and vocabulary.
The library recently honored one of our super readers at a small ceremony for accomplishing a massive milestone of reading 3,566 books before kindergarten! Liandromeda Sternemann is a determined young girl who loves books because they are filled with fun stories that teach her new things. She reads every day and enjoys going to the library to pick books. She wants to share her love of reading with other kids and wants them to love Pete the Cat as much as she does.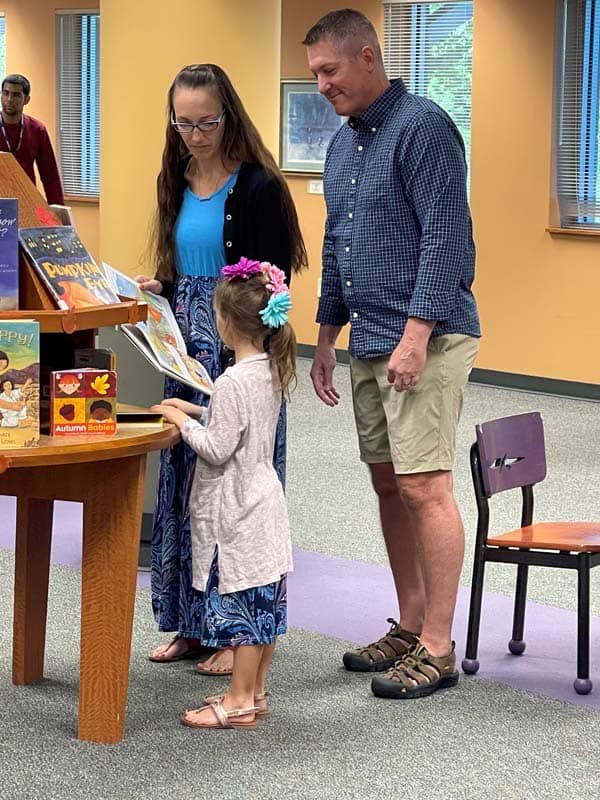 Liandromeda's parents, Corinne and Dan, attribute the accomplishment to making reading a part of their lives by having books easily accessible all over their home: "We have books everywhere—living  room table, mini library in the dining room, and two bookshelves in Lian's room…not to mention the kitchen table and wherever else we decide to read that day. With this, we've integrated it into our daily routine: Read before on the way to and from school, during homework or play breaks, in the car, at bedtime, traveling. We have made a weekly routine of stopping at the library and picking out books. If we have an event or activity coming up, we try to read about that topic ahead of time."
Their advice to parents is to keep books at arm's length, go to the library, incorporate variety, get on email lists that provide book recommendations and build reading into their routine. If you have no time to browse in person, browse online, place books on hold, transform timeout into relaxation and reading time, and most importantly, join the library's 1,000 books before kindergarten challenge.
---
Originally published in January 2023 of Tampa Bay Parenting Magazine.