World and Olympic Medalists Head to Tampa for the 2022 OOFOS U.S. Gymnastics Championships!
The Olympic Games in Paris don't kick off until 2024, but gymnasts all across the country are gearing up in hopes of representing the U.S.A. at the 2022 OOFOS U.S. Gymnastics Championships, which is being held right here in Tampa this month!
From August 18-21, fans will have the opportunity to head to Amalie Arena to cheer on some of their favorite athletes from the 2020 Olympic Games, while getting to know a new generation of gymnastics hoping to compete in Paris. Nearly 150 athletes will be competing in the event, which will be broken up into men's and women's junior and senior divisions. Champions will be crowned based on combined two-day totals with the USA Gymnastics National Teams being named at the end of the event.
In conjunction with the event, the 2022 USA Gymnastics National Congress and Trade Show will also be held throughout the weekend at the Tampa Convention Center. Over 65 different vendors from the gymnastics community will be on hand. Guests can also hear from a lineup of live educational speakers.
Keep reading to find out who will be competing, where to watch, and how you can be part of the action!
The Competition
The senior men's competition will feature 2022 U.S. Classic all-around champion and 2021 World Championships horizonal bar bronze medalist Brody Malone. Malone will compete against nearly 50 gymnasts including World medalist Donnell Whittenburg and 2017 floor exercise bronze medalist Yul Moldauer. First-year seniors Asher Hong, Red Richard, Colt Walker, and Khoi Young are just a few of the competitors challenging the men's programs veterans.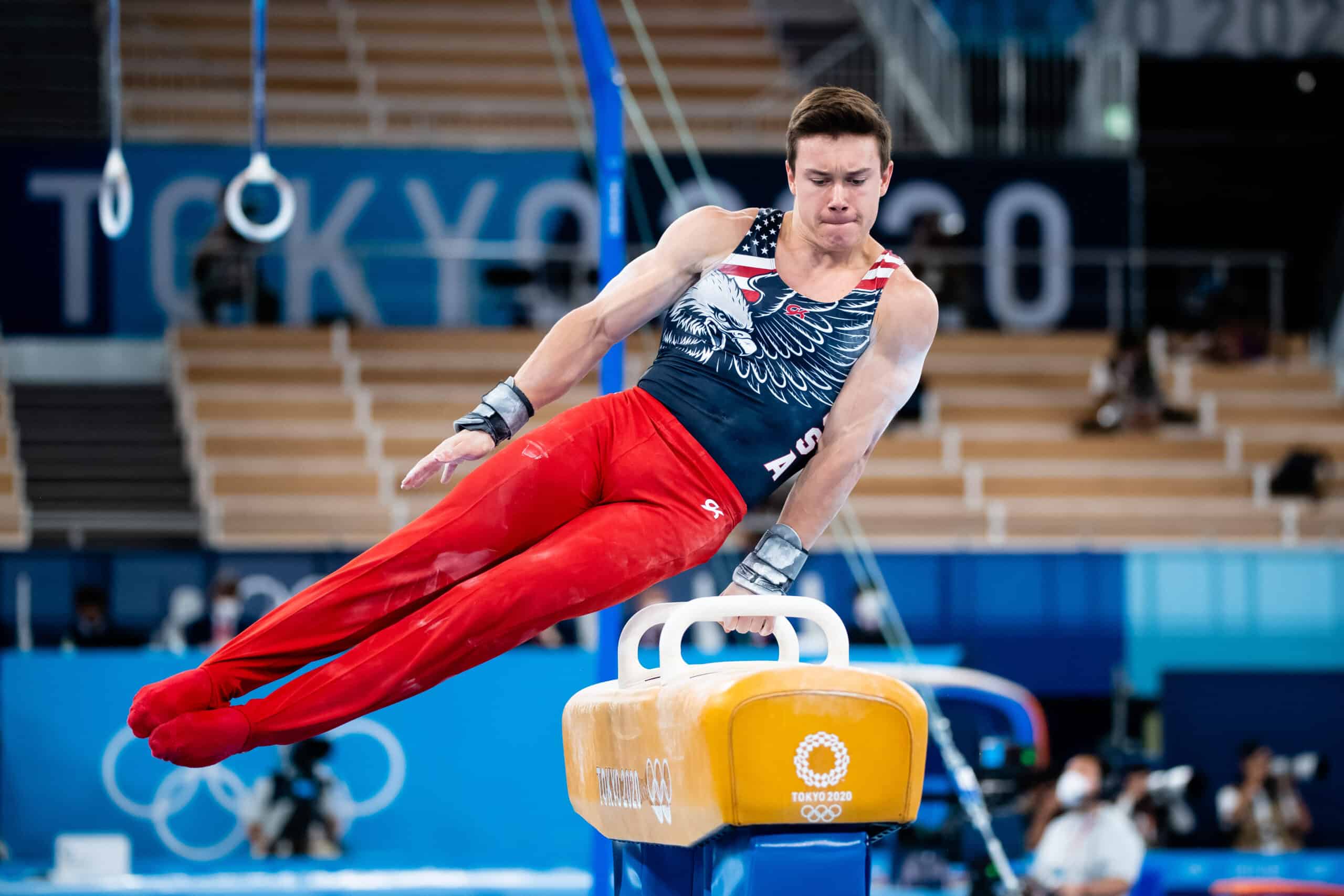 Over 20 senior women will be competing for their first individual all-around titles. Among them will be Olympic floor exercise gold medalist Jade Carey, Olympic team silver medalist Jordan Chiles, World all-around bronze medalist Kayla DiCello, and World all-around silver medalist and 2022 U.S. Classic all-around champion Leanne Wong. Other competitors include reigning Winter Cup and City of Jesolo Trophy all-around champion Konnor McClain, and Pan American Championships all-around silver and bronze medalists Lexi Zeiss and Skye Blakely.
Junior competitors will also be hitting the national stage. DTB Pokal Team Challenge junior men's team champions David Shamah and Kai Uemura will be headlining a men's field of more than 40 up-and-coming gymnasts in the 16 and 17-year-old age groups. Junior Pan American Championships all-around champion Dulcy Caylor and City of Jesolo Trophy junior all-around, vault, balance beam and floor exercise champion Tiana Sumanasekera will also face steep competition from nearly 30 of the best junior women in the country.
Fun Fact: The event will also feature several competitors with ties to Florida! One current and three future Florida Gators will take the floor. Gators standout Wong, who is balancing collegiate and elite gymnastics, will compete against the top elite athletes in the country. Future Gators Blakely (whose sister Sloane currently competes for Florida), DiCello and Shilese Jones will also be competing.
Fan Engagement
Fans will have the opportunity to not only watch the athletes compete but will also have the chance to meet some of their favorite competitors, learn about the sport of gymnastics, and engage in activities. The FlipZone fan festival will take place on Thunder Alley just outside the arena ahead of the competition on Friday, Saturday, and Sunday. Fans can visit various stations to learn about the fundamentals of gymnastics and view live demonstrations. There will also be kid-friendly activities and food and beverage options available.
Current and former National Team members including Olympic all-around champion Suni Lee, Jordan Chiles, NCAA champion Trinity Thomas of Florida, Leanne Wong, and others will be onsite for autograph sessions throughout the weekend. Members of the University of Florida women's gymnastics team will also be on hand to sign autographs from 4:30pm-6pm on Sunday.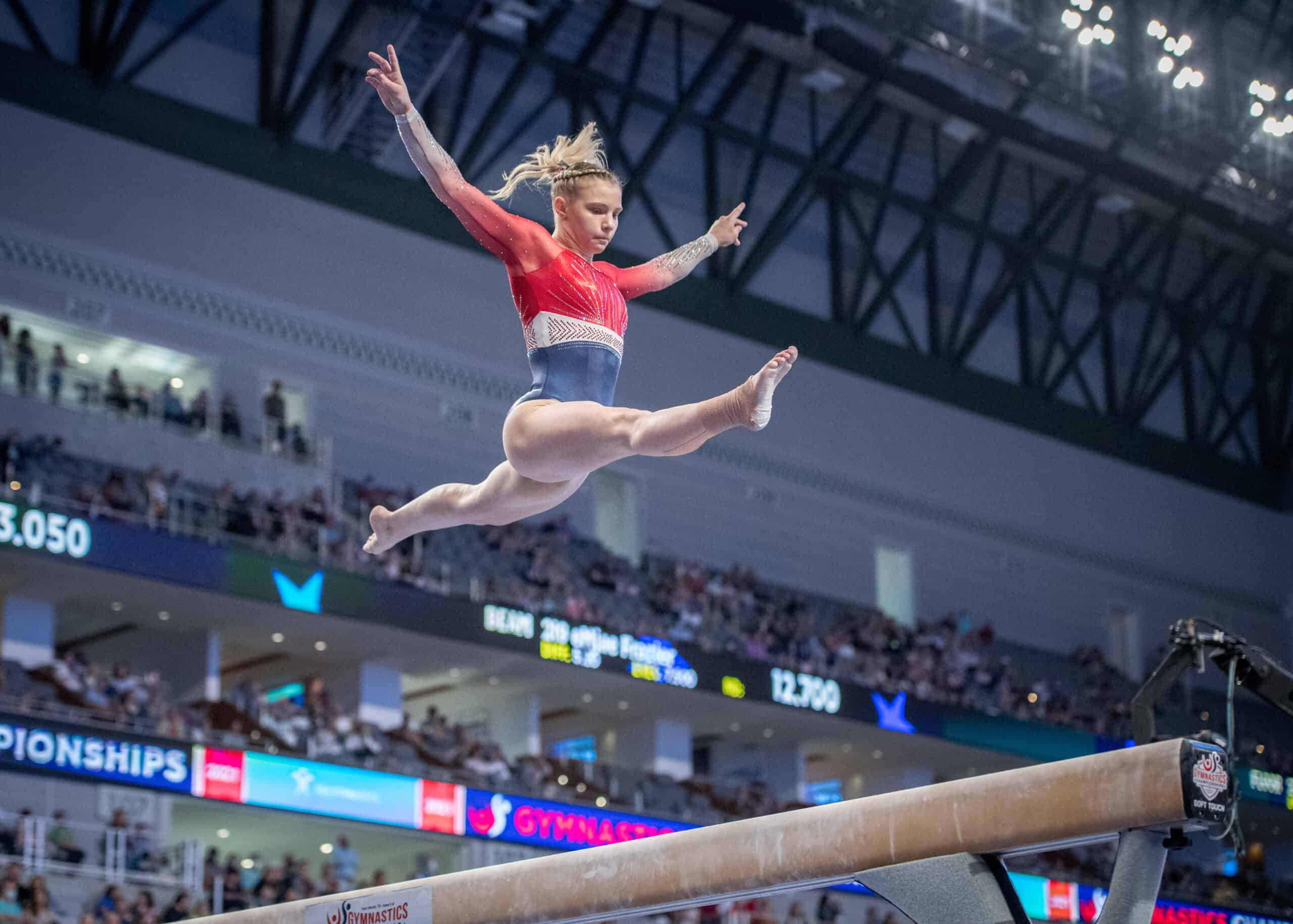 "We are excited to bring our first national championships of the new Olympic cycle to Tampa," USA Gymnastics Chief Programs Officer Stefanie Korepin said. "The sport's landscape has seen a tremendous amount of change and opportunity over the last 12 months, and we are already less than two years away from the Paris Games. With returning Olympians, exciting breakout stars, and a bonus system in place to incentivize high difficulty in the men's competition, this year's OOFOS U.S. Gymnastics Championships will be more competitive than ever."
Schedule of Events
Men's Competitions
Thursday, August 18 and Saturday, August 20:
Junior: 1:30pm
Seniors: 7pm
Women's Competitions
Friday, August 19 and Sunday, August 21:
Juniors: 1:30pm
Seniors: 7pm
Single-session tickets and multiple ticket packages are available.
Live and pre-taped recordings of the championship can be viewed on NBC, CNBC, FlipNow, and Peacock. Broadcast information and schedule can be found here.
Thursday, August 18
Registration: 11am-7pm
Trade Show Hall and Welcome Reception: 5pm-7pm
Friday, August 19 
Registration: 7am-4pm
Trade Show Hall: 7:45am-6:30pm
National Congress Lectures: 8:15am-6:15pm
Saturday, August 20
Registration: 7am-4pm
Trade Show Hall: 7:45am-5:30pm
National Congress Lectures: 8:15am-5:30pm
Sunday, August 21
Registration: 8am-12pm
Trade Show Hall: 8:30am-1pm
National Congress Lectures: 9am-12:30pm
Know Before You Go
Doors open 60-90 minutes prior to ticketed show time.
No video cameras of any kind are allowed, and cell phone recording is prohibited. Any pictures taken must be for personal use only. The use of professional equipment is prohibited.
Fans are allowed to bring signs and banners in support of the athletes and national team. Signs must not be larger than 24″x36″.
Bags larger than 12x12x12 inches, backpacks, or wrapped packages are not allowed. Be sure to check the list of prohibited items before arriving.
Pre-purchased parking passes are available. Parking passes and additional parking info can be found here.