In Studio with 'Maggie and the Moms' on WFLA's Daytime
My baby turned one recently, and I am one proud mom! I'm not talking about my son or daughter (although I'm very proud of them, too); I'm referring to "Maggie and the Moms," the parenting segment I host on "Daytime," WFLA/News Channel 8's 10 a.m. weekday lifestyle show.
Every Monday, I assemble a rotating panel of moms from diverse backgrounds and in different stages of parenting. We discuss parenting tips and trends, exchange ideas and insights, share advice and hacks, voice our doubts and fears, and even admit the ways in which we fall short of our own parenting expectations.
It's a "judgement-free" space and a reminder to each one of us—and hopefully to our fellow moms watching at home— that we all deal with the same struggles and grapple with the same questions. All we can do is our best, and that's good enough. I gathered with four frequent panelists to celebrate our milestone birthday.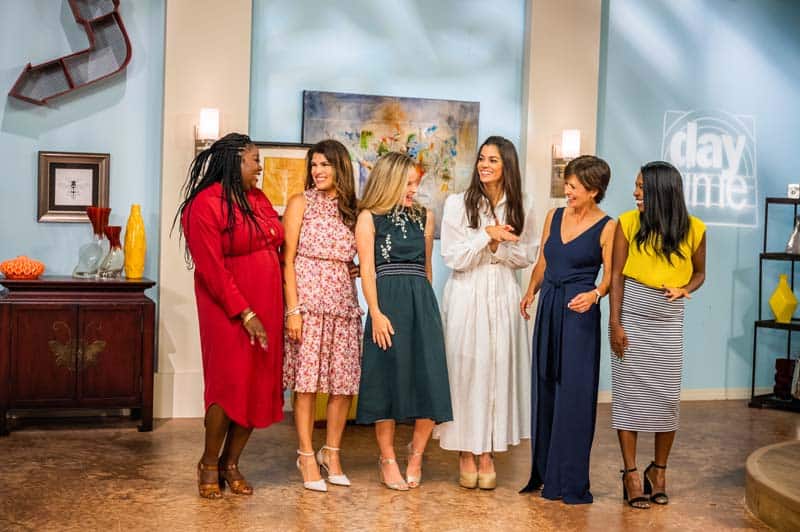 Maggie: Thank you for being part of Maggie and the Moms, which I often refer to as "my baby". I know you can relate because each one of you has passion projects that you've worked hard to bring to fruition. How do you manage to be the mom you want to be and still devote time to these projects?
Kiva Williams, Founder, Mahogany Kids: It's definitely hard and I often fall short. Luckily, my entrepreneur endeavors incorporate my kids and my family so I'm able to include them on many of my projects. I also make it clear to them that mommy is pursuing her business goals that will ultimately impact our family in a positive way.
Margaret Zakarian, Producer, Food Network's "Big Restaurant Bet": I am constantly making to-do lists. Although these lists seem endless at times, it helps me stay focused on the small steps I need to take every day. Tasks for different categories all go on the list, such as work, family, kid sports items, holidays, etc, so it helps my daily time stay balanced.
Karimah Henry, Blogger, Crafting a Fun Life: I try to set aside a specific time block to work on my projects.
Laura Byrne, Editor, Tampa Bay Parenting Magazine: I try to get as much work done as possible while my kids are at school and attending after-school clubs. After a long career in TV news, I've grown accustomed to working on tight deadlines and turning a story quickly, but it can still be stressful and often I don't get through my to-do list. I've had to learn to accept that.
Maggie: We talk a lot about the "mom guilt" that we all feel when we give our time and energy to something other than our kids. How do you deal with it?
Laura: I try to remember that there needs to be balance. And quite honestly, sometimes my kids want their independence from me too. We go to a lot of places together as a family, but we also spend A LOT of time at home in our neighborhood. If you asked what my kids thought was a perfect day, they would probably tell you riding around the neighborhood on their scooters with their friends. When they're off doing this, this is when I find those extra pockets of time to get things done, so it's a win-win!
Margaret: There is not a good way to deal with it, so I approach "mom guilt" as a good barometer.  When the mom guilt pops up, it helps me swing back into the guilt-free zone with how I am spending my time.
Maggie: When the guilt kicks in for me, I ask myself whether I'm feeling guilty for failing to meet a societal expectation of what a mom should be or whether I'm actually neglecting something that's personally important to me as a mom. That's how I know whether to shake it off or address it.
Kiva: Mom guilt is so real and it's often crippling, but I try to remind myself that as a mom I deserve to have an identity outside of motherhood.
Karimah: I remind myself that my husband doesn't feel guilty so I will be fine.
Maggie: I like that! But be honest, on the priority list, where do you put yourself? Do you make time for self-care?
Margaret: I have tried to make a concerted effort that past several years to find some more balance. Although it doesn't come naturally, I think about the type of example I want to set for my own children about self-care, and it helps me stomach carving out more personal time.
Karimah: Self-care means finding time to do something that makes you happy. I try to do something for myself at least twice a month.
Kiva: To me, self-care means taking care of yourself intentionally – mind, body and spirit. Actively unplugging from the everyday hustle and bustle. In a perfect world, yes, I try to do these things, but it mostly does not happen.
Maggie: I wake up early to get a little self-care in every day. A cup of coffee in solitude and then a run in the gym make me feel ready to tackle the day. It's hard to sacrifice extra sleep, but I never regret it.
Laura: Lately self-care to me has been simply doing the things we SHOULD be doing as women like going to get our annual medical exams, mammograms and skin checks (May is Skin Cancer Awareness Month)! I'm catching up on a lot of these appointments after the pandemic put me, and many of us, behind schedule.
Maggie: What's a parenting philosophy you live by?
Karimah: Open communication. I want my children to feel comfortable talking with me and knowing that I will always support them.
Margaret: Letting the children find independence by making their choices early and often in life. It helps them to strive towards the goals they want and stay motivated to accomplish them.
Laura: Try not to sweat the small stuff. Accidents happen. Mistakes are made. I don't make a big deal of it if my kids break a glass accident or spill something. It all boils down to choosing our battles wisely.
Kiva: "Treat your elders with respect." I'm always reminding my kids that we are not their equal and there has to be a higher level of respect given to us.
Maggie: Every day as my kids are leaving for school, I say, "Make good choices."  I remind them that the quality of their lives will be determined by the choices they make. I give them examples and try my best to model the behavior I want to see from them.
How Maggie and the Moms enjoy family time
Maggie: We love exploring the outdoors. Every weekend from now until the end of summer, you'll either find us at Pass-a-Grille beach or taking day trips to Anna Maria Island, Boca Grande or the springs near Crystal River. We're also excited to try scalloping in Homosassa for the first time this year!
Kiva: We love the Tampa Riverwalk. Either walking the strip as a family or renting an electric boat and sailing down the Hillsborough River.
Margaret: Brunch at Oxford Exchange! It's one of our favorite things to do. What can I say, we're an eating family! And if we have a bit of free time, we head to the Tampa Museum of Art. You can't beat the architecture, the art collection and the location. Be sure to check out the large sculpture "Laura with Bun" by Juame Plensa outside the main door—it's a cool photo op with the kids.
Karimah: Hang out at Sparkman Wharf.  We love going bowling at Splitsville.
Laura: We love going to the beach and especially Fort De Soto North Beach and Caladesi Island. We (okay me) are also big theme park fans, so Legoland is a favorite as is Disney which is only about an hour drive for us. We also love Zoo Tampa and indoor spots like local museums. The St. Pete Pier is another family top pick!
*Originally published in the May 2022 issue of Tampa Bay Parenting Magazine.
---
More stories we think you'll LOVE: