A Parent's Review of Orlando World Center Marriott
It should come as no surprise that Orlando has some of the best resorts around. What's so great about most of them is that you can stay put all weekend long and still have more than enough activities to keep yourself (and the kids) occupied. We recently had the chance to check out Orlando World Center Marriott and experience their amazing water slides!
In March of 2022, the newly renovated resort debuted their River Falls water park. The area features a 50-foot central tower with three thrilling tube slides, a lazy river, and an aqua playground for little ones. Along with their massive pool, a speed slide, and two twisting slides, I knew it would be the perfect weekend getaway for my family (particularly, our 8-year-old waterslide adrenaline thrill-seeker).
This was our first visit to Orlando World Center Marriott. Upon arriving, our first impression was how huge the resort was – 28 stories high, to be exact. We checked in and were taken to our room on the 8th floor, which was updated, modern, and very clean. Our room was in the East Tower, which overlooked the main pool area, Falls Lagoon. I highly recommend requesting this view. In addition to the "wow" factor, the view also gives you front-row access to their nightly laser show, which is must-see.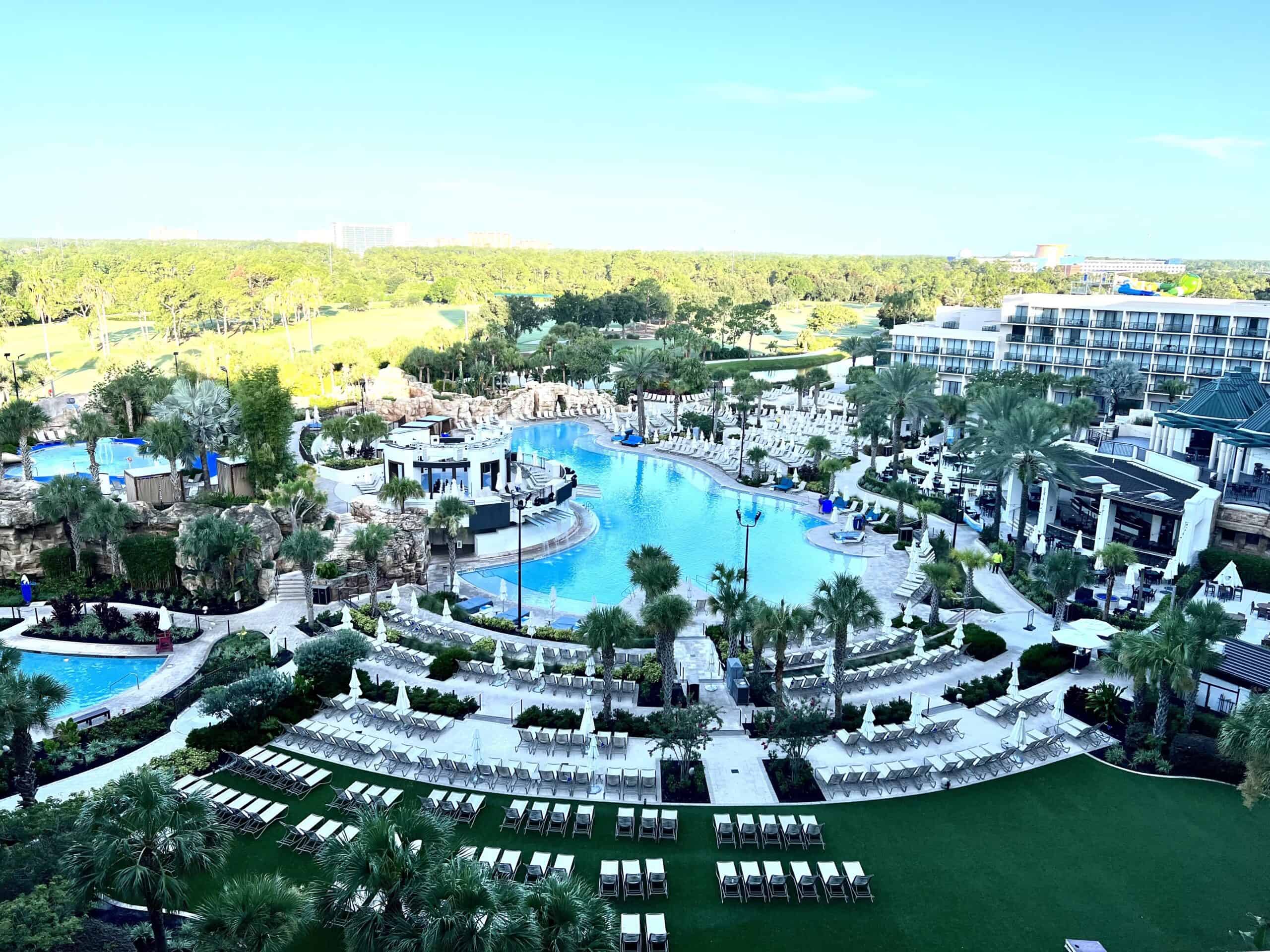 Depending on which direction your room faces, you can also catch the fireworks shows from the Disney theme parks. Our room had a clear view of Spaceship Earth (commonly referred to as "the EPCOT ball") and we were lucky enough to catch the nightly fireworks show after the pool's laser show each night. Although our room overlooked a very busy and loud area of the resort, we were pleasantly surprised how sound-proof the room was.
Splish, Splash, Slide!
Once we were settled, it was time to suit up and hit the water park! We snagged a few chairs by the pool, set down our stuff, and headed straight to River Falls. Unlike the speed and twisting slides, the slides at River Falls all require the use of tubes. River Falls is located on the west side of the resort and features poolside lounge chairs and cabanas. All three slides are unique and each one offers a different experience.
The Boomerango
This fast-paced slide propels two guests in an inner tube along 425 feet of speedy action. Riders are "boomeranged" 20 feet into the air before ricocheting toward the plunge pool. *Requires two riders – no single riders permitted.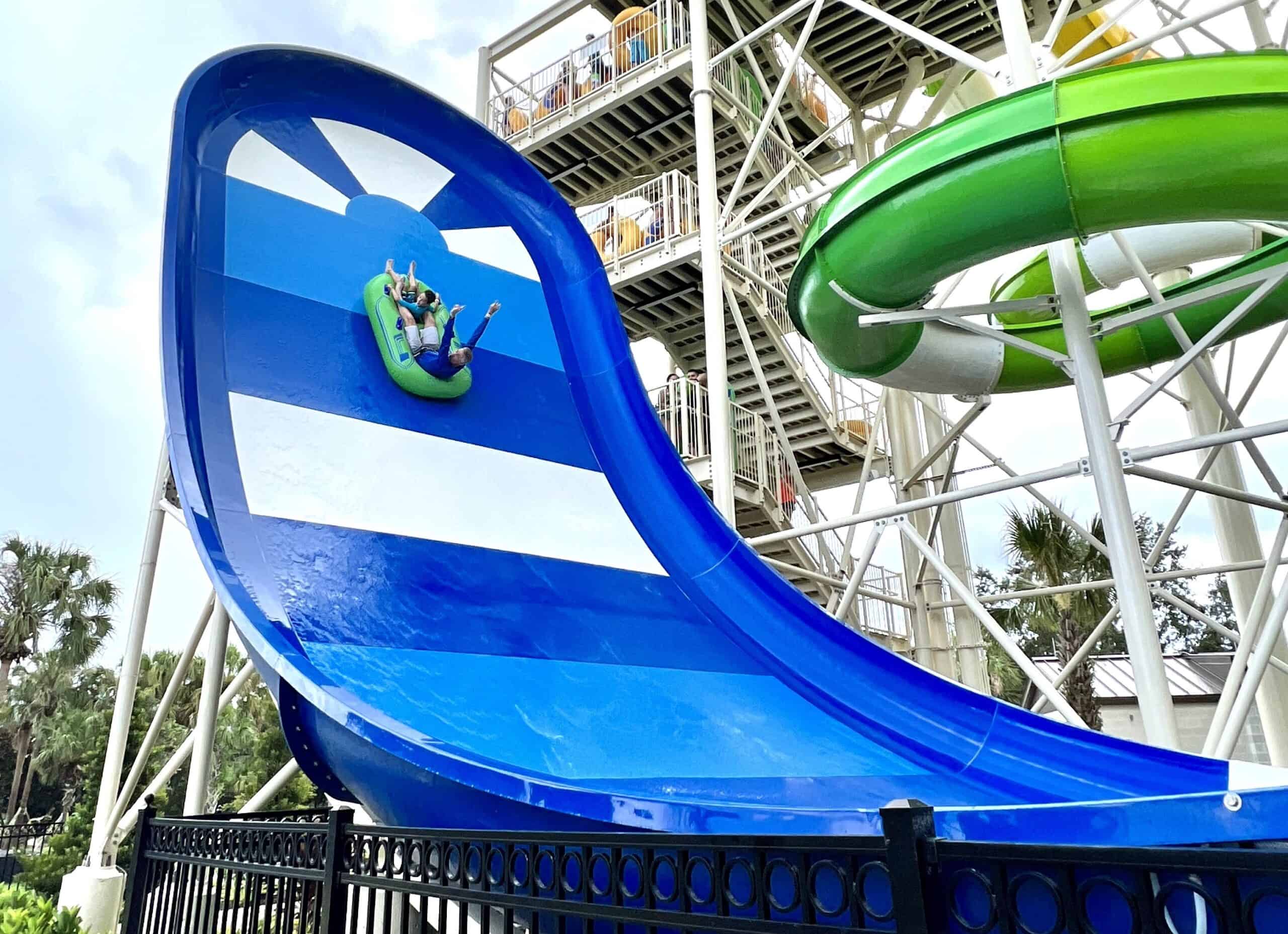 The Aquasphere
The 498-foot enclosed slide features sharp turns and an enclosed sphere that will either propel you forward or turn you backwards. There are several dips, twists, and turns as you ride through the dark before plunging into the pool. *Can accommodate double or single tubes.
The Tailspin
This whimsical slide is the longest of the three, at 525 feet. Riders are funneled into an enclosed tailspin element during this open-air ride, before splashing into the pool. *Can accommodate single riders only.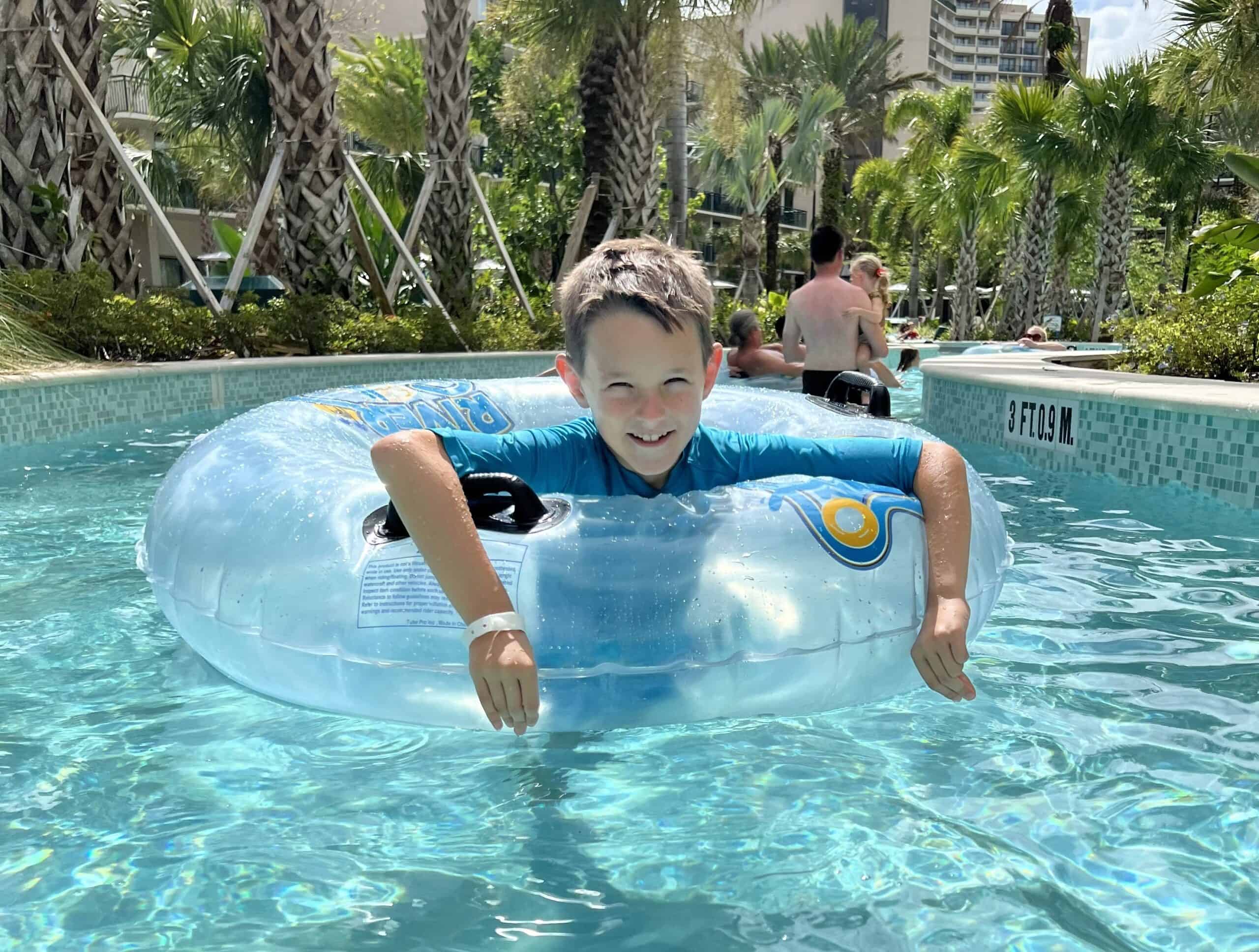 After the slides, the 575-foot Lazy Falls Lazy River is the perfect spot to relax and be, well, lazy. Swimmers can wade or float around in one of the giant innertubes. The lazy river spills into the zero-entry pool, which is the perfect area for little ones. There are eight kid-friendly bubbling nozzles at the water's edge and two tall vertical spraying leaf elements.
The main pool area, the Falls Lagoon Pool, is truly an oasis. The 400,000+ gallon zero-entry pool was even voted one of the "World's Coolest Hotel Pools" by Forbes. It's surrounded by lounge chairs, cabanas (for rent), and towering palm trees. Giant screens surround the pool's edge, which broadcasts sports during the day and kid-friendly movies at night. There is also a life-sized chess board, hot tub, and a small toddler swim area, separate from the main pool.
On the east side of the pool sits a 90-foot tower with three more thrilling slides. Unlike River Falls, these do not use tubes. Riders can take the plunge straight down on a 90-foot speed slide or twist and turn through one of the two twisting slides.
Other Kid-Friendly Activities We Loved
Besides the pool and waterpark, Orlando World Center Marriott has plenty of activities to keep the kids happy. Every Saturday, the resort puts out a weekly schedule of family-friendly things to do. Most of them are included in the resort fee, while some require an additional fee. They also have seasonal events during Easter, Halloween, Christmas, etc.
One of our favorite activities was the Gatorland Experience (free for guests). The experience takes place every Saturday at 11am in front of the Falls Lagoon Pool. This hands-on experience gives guests the change to learn about and interact with animals from nearby Gatorland. Kids are invited to hold the animals, including a real, live gator (don't worry – his mouth is taped so no one will lose any fingers)! As someone who's wary of reptiles, I was quite impressed when my son volunteered to hold a Blue Tongue Skink and a baby gator.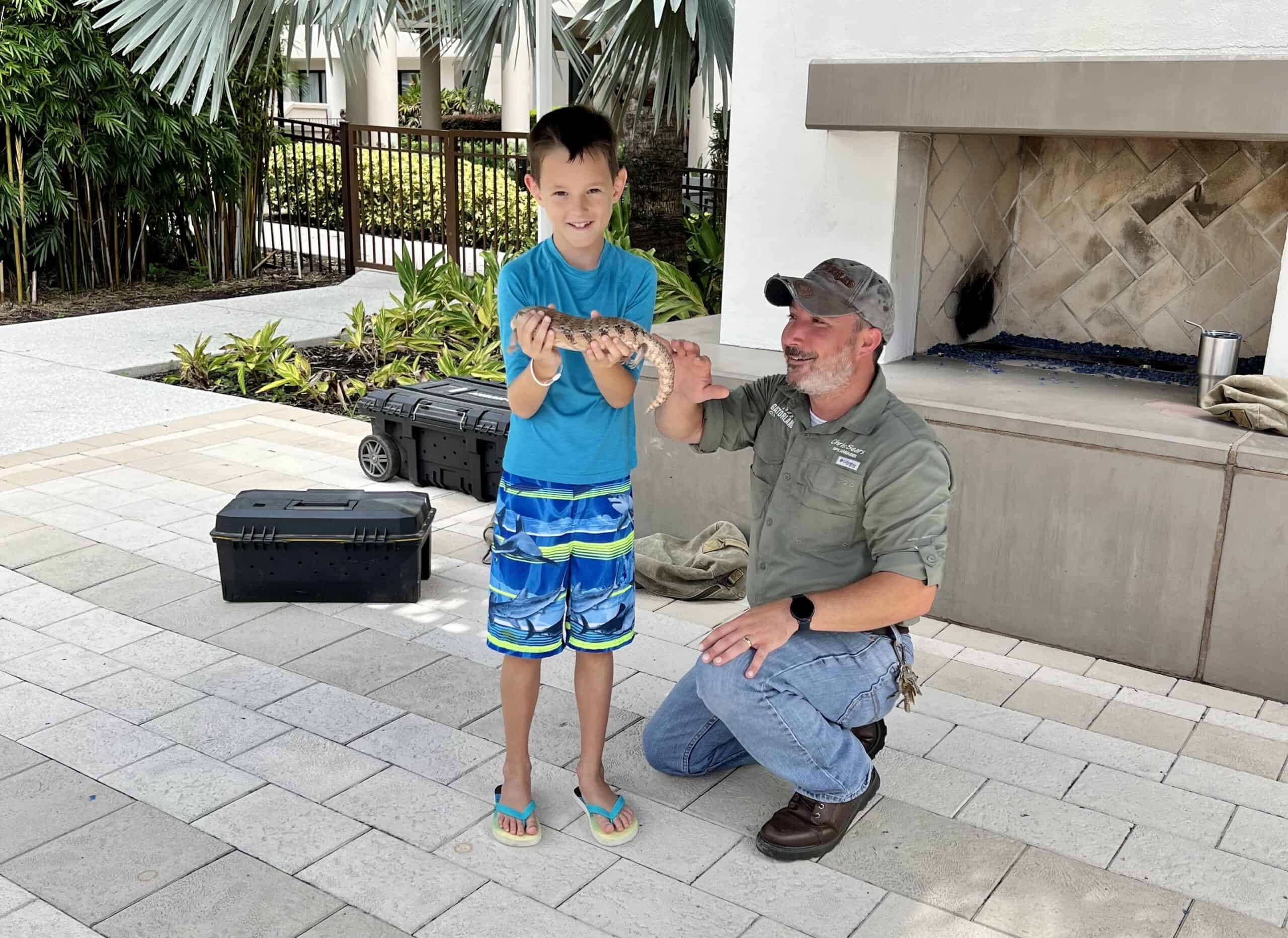 Other activities include arts and crafts, games, and trivia (on rainy days, these are moved to the conference rooms on level one). On Friday and Saturday nights at 7pm, you can catch their "dive-in" movies on the giant screens beside the pool. Fun fact: if you have a pool-view room, you can watch the movie right from your balcony if you're feeling watered-out.
At 9pm every night you can watch the Laser Light Show. Brightly colored lasers are synchronized to upbeat popular songs. What's cool about this is that every night, the music is different so it's a new experience each time you watch. Our first night there, we watched the show from our balcony and then headed downstairs to the main patio overlooking the pool area on our second night. Though both views are great, we recommend checking it out from the lower-level area just outside the lobby.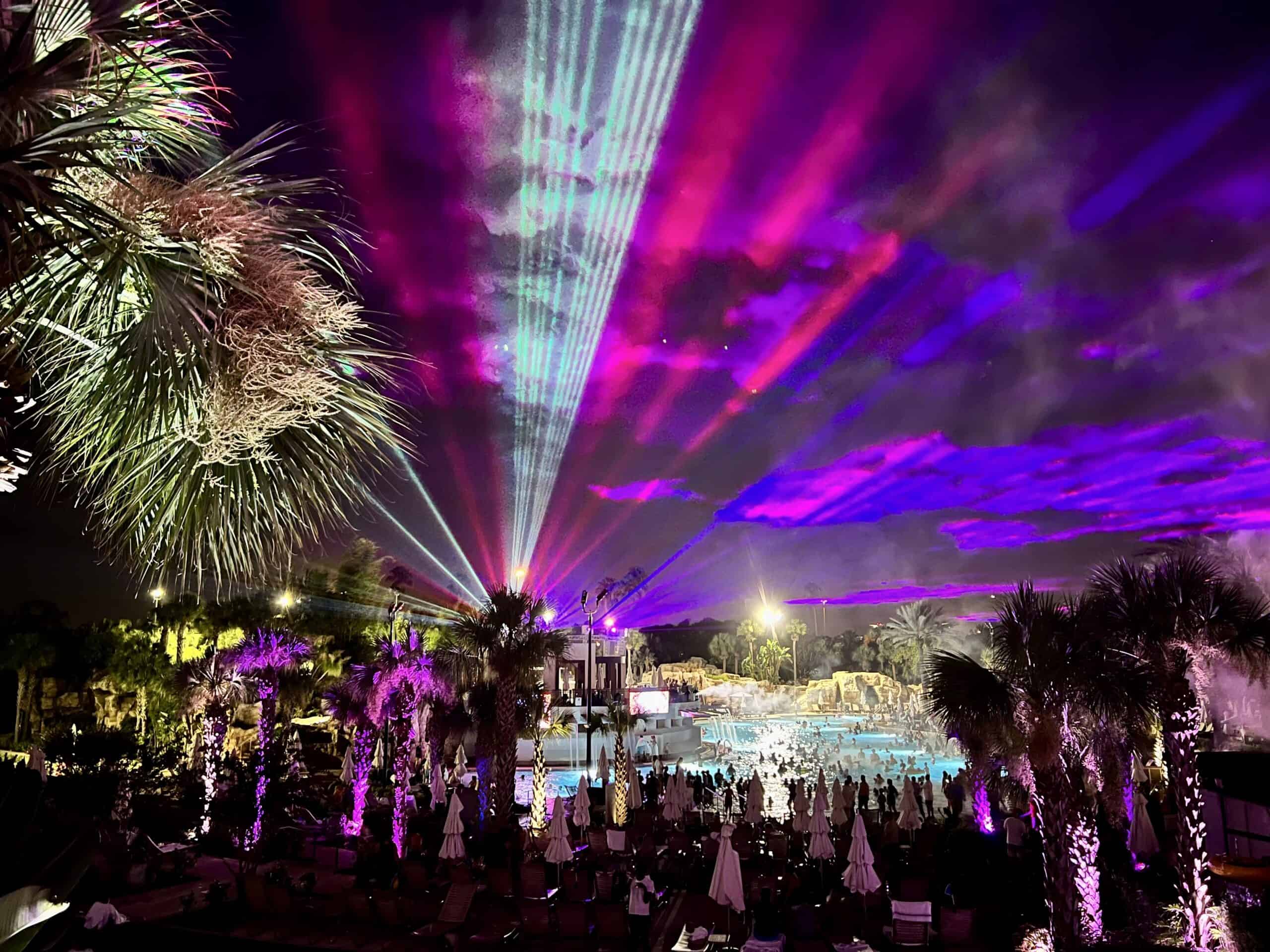 Our Overall Impression
Overall, this is a great place to spend a fun family-friendly weekend away. Everything we needed was at the resort and we did not get back in our car until it was time to go home. There are several restaurants on the property that all have kid-friendly options. We particularly loved the hibachi restaurant, The Mikado (it's like getting dinner AND a show!), and we could not go wrong with the pizza at Siro Urban Italian Kitchen.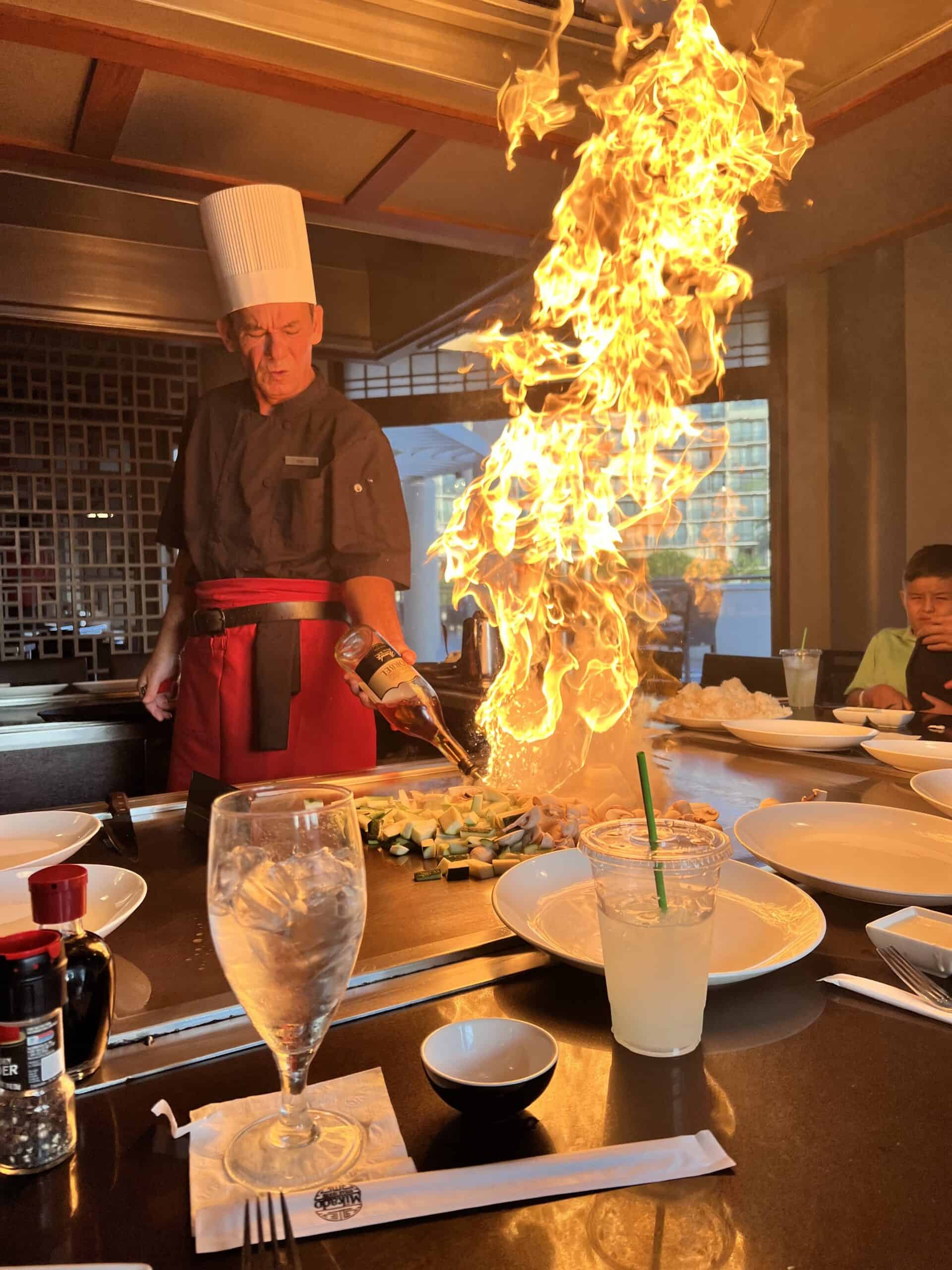 Know Before You Go
While there is no shortage of things to do at Orlando World Center Marriott, here are a few things to know if you are planning to go:
All six slides have a strict, minimum height requirement of 48″ tall barefoot. There is a small slide at the toddler pool for younger children.
No items are allowed on the slides, including sunglasses (they may not be held or placed in your pocket). Best to leave them at your chairs or they will ask you to put them away and then return.
River Falls is for hotel guests only and you must have a wristband to enter. Wristbands are given to you at check-in and can also be retrieved at the River Falls towel hut.
Pool towels are available at several kiosks around the pool area but must be kept in the pool area and returned to avoid a $25 fee. Towels are retrieved using your room key and sensors are attached to each towel to track them.
The Falls Lagoon Pool opens at 8am and River Falls opens at 10am. There are a limited number of chairs at River Falls, but Falls Lagoon Pool has plenty of space and tons of chairs (so please be courteous).
The hotel itself is quite big and it can be easy to lose your way. I recommend taking some time after checking in to explore the property and familiarize yourself and your family with the resort, including which elevator banks to use.
You have to park BEFORE check-in. Guests are permitted to use the roundabout in front of the lobby to drop off luggage but must move their cars to the parking garage. The parking garage is 600 steps from the lobby. Guests may walk or use the hotel shuttle to go to and from.
Make dinner reservations ahead of time. The restaurants fill up quickly. Though they do accept walk-ins, be prepared to wait at least 1-2 hours for a table, especially during a busy weekend. They are very efficient with their reservations – we had a 7pm reservation and were seated promptly.
This trip was generously hosted by Orlando World Center Marriott. However, they have some great deals for those looking to book a trip! We had a fantastic time and can't wait to return. Book your vacation now through the Getaway In Our World special, which includes a $25 nightly resort credit and more: Getaway In Our World | Marriott Deals