AlegreMENTE | Happy Brain: Celebrating Early Connections
Moving to the United States at the age of 6 was quite the adventure. Other than my "A B C's" or "Twinkle, Twinkle Little Star," my proficiency in the English language was slim to none. A talkative social butterfly, it was incredibly frustrating to feel like I had no voice and could no longer communicate with anyone other than my parents.
More than two decades later, I am so glad that children can experience a whimsical forest full of critters and families of all shapes, sizes and colors that make the transition to another culture fun and inclusive. Of course, I am not literally referring to an actual forest, but to traveling exhibit "AlegreMENTE | Happy Brain: Celebrating Early Connections."
This educational and playful exhibit dedicated to children 0-6 will be on display at the Glazer Children's Museum through Jan. 1, 2023. AlegreMENTE is tailored to educate families about early brain development and building healthy connections early by using language, practicing cognitive and motor skills, and demonstrating how simple, every day interactions can build healthy socio-emotional relationships in young children.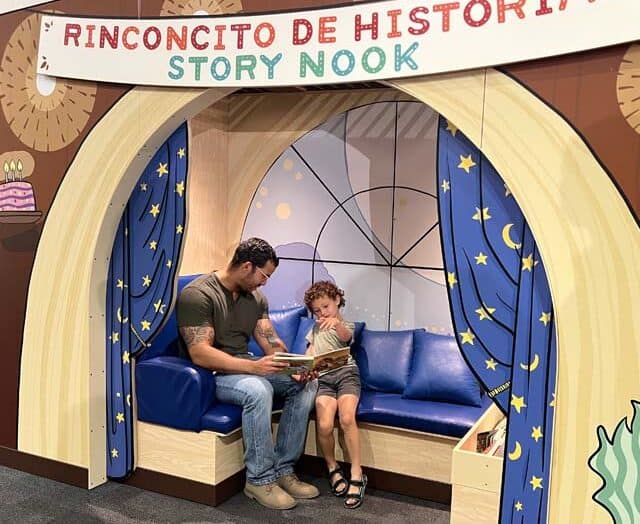 Inspiring caregivers to "get in there!" AlegreMENTE | Happy Brain encourages you and your children to engage in purposeful play together. "The brain is doing a huge chunk of growth during those first 5 years and it's important to expose children to new things, new words, new experiences all the time," says Pam Hillstead, vice president of Play & Learning for Glazer Children's Museum. "All the things most of us normally do around a baby, like talk to them and play games and smile at them, are the important things. In today's world though, sometimes people get so busy that they prop their kid in front of a screen and that doesn't work. Think really basic. It's one of the reasons breastfeeding is better, because you actually are holding and interacting with your child."
The 'A Space to Share' area in the exhibit doesn't just encourage sharing, creativity and the use of fine motor skills to make illustrations, but it motivates you and your children to talk about feelings and even have difficult conversations while having fun. The 'Show Me Happy' wheel of emotions teaches children how they show their emotions, while parents can learn how to best identify these feelings and talk to your children.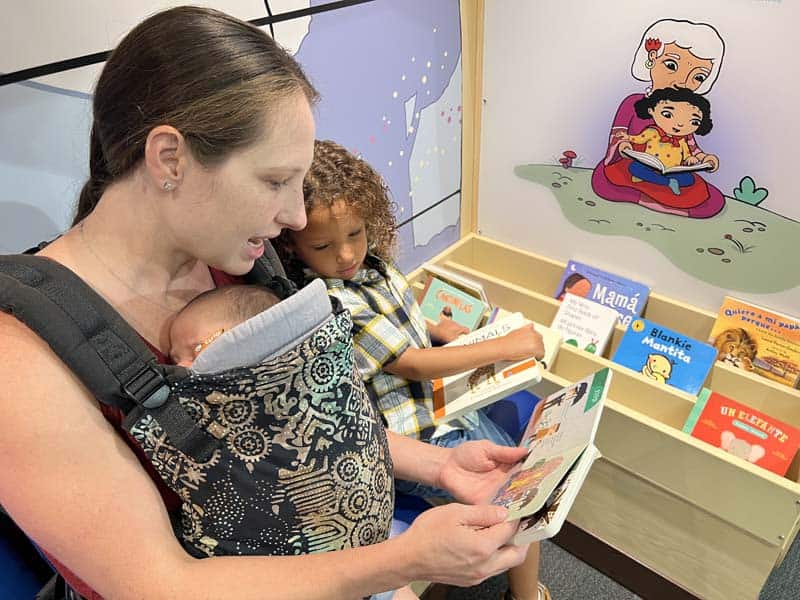 AlegreMENTE | Happy Brain is a fully bilingual exhibit promoting diversity and inclusivity for families of different backgrounds. Conveniently opening during Hispanic Heritage month, this exhibit provides representation for Spanish-speaking children, featuring illustrations and Spanish to English translations. Through playing in this bright and fun exhibit, families are encouraged to engage with one another and create connections not just among "friends," but linguistically.
"Speaking multiple languages doesn't confuse a child at all; rather, it allows them multiple ways to interact and express themselves," explains Sara Arias-Steele, Ph.D., Director of Learn & Play Tampa Bay. "This becomes much more difficult the older they grow when brain circuitry slows down and a child develops their OWN preference for a language and only decides to speak in one language."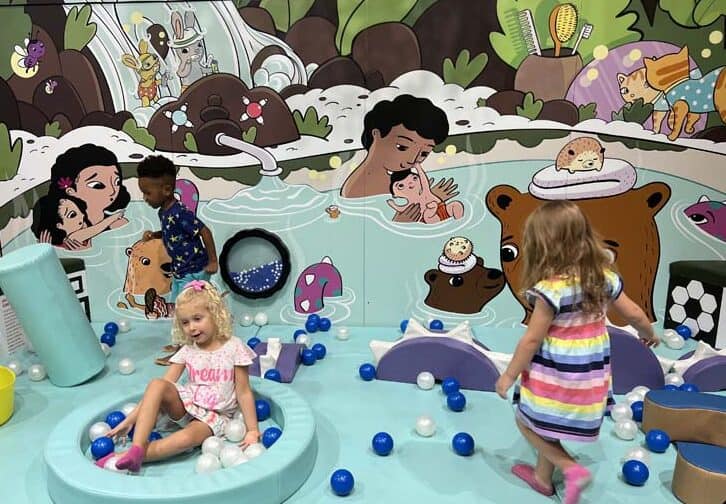 Arias-Steele explains that through repetition and reinforcing positive caregiver-child interactions when introducing new languages, you can learn your children's linguistic "cues" and respond appropriately to their needs. This causes neural connections to grow and strengthens neural pathways, particularly in the early stages of life. Dr. Arias-Steele explains: "Research has supported that the first six years of a child's life is when the most critical growth of the brain occurs. During that time, every interaction with people, every experience and sound and smell around them, and everything that goes in their mouth is being investigated, processed and analyzed in their brain. The critical time between birth and 3 years is when the majority of neural connections are formed in the brain and the majority of learning is occurring."
I am so glad that caregivers and children today have access to such a fun and educational exhibit, where they can learn through play and feel included. We invite you to share your adventures with us on our social media and tell us how you practice purposeful AlegreMENTE-inspired play at home.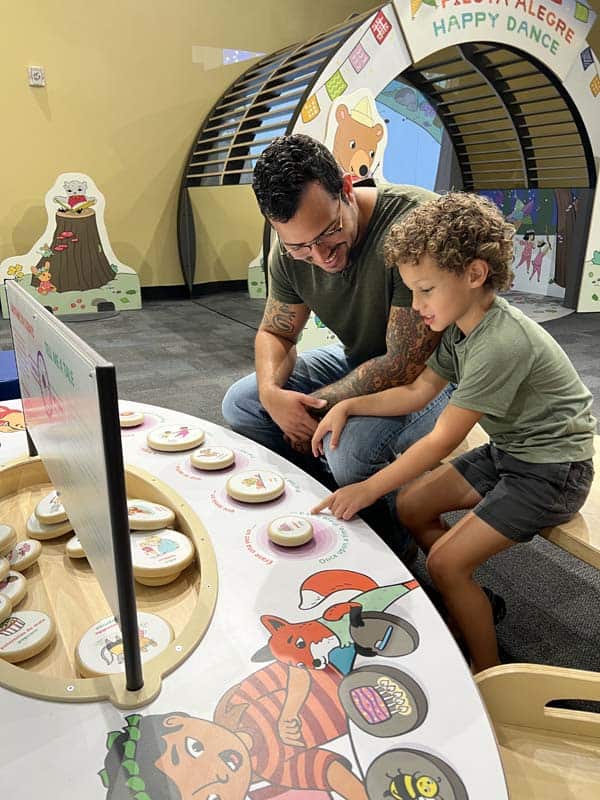 ---
Photos provided by Glazer Children's Museum | Originally published in November 2022 of Tampa Bay Parenting Magazine.