Balancing it All as a Working Mom & Children's Health Care Leader: Getting to Know Alicia Schulhof
Alicia Schulhof joined Johns Hopkins All Children's Hospital in 2021 as the organization's first female president. She has worked in a variety of health care leadership positions for the past 20 years, but her most important roles are wife to her husband of 20 years and mom to their four children.
Like many of the parents of the children treated at the hospital, Schulhof has been up in the middle of the night feeding a newborn. She's worried about developmental milestones and a diagnosis during an inpatient hospital stay, and she has comforted her kids when they've been sick. She knows parenting can feel overwhelming, especially when it comes to caring for a sick child. That is why she has made it her mission to improve care for all kids. In fact, she insisted on spending the night at the hospital during her first week on the job.
"One of my first mentors taught me the best way to learn more about our families and the way we deliver care is to immerse ourselves into the patient experience and see our teams in action," Schulhof says. "Our families are often understandably stressed while they stay and spend time at the hospital. It is awe-inspiring to watch our teams calm nerves and provide exceptional care."
Schulhof still walks the halls, talking to families and staff, observing care and looking for ways to improve. She discusses what fueled her passion for health care, how she's helping children in the Tampa Bay area and ways she juggles life as a working mom.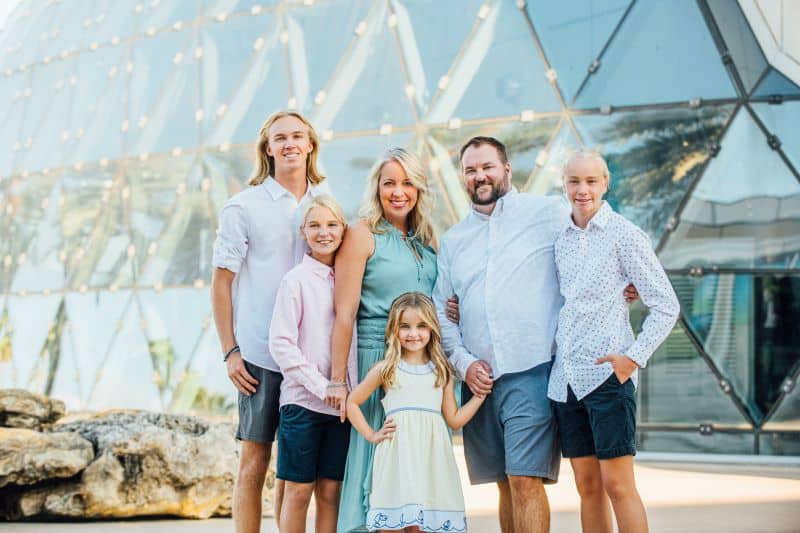 Why did you choose a career in health care?
Alicia Schulhof: In high school, my friend Chad was diagnosed with cancer in his freshman year. He made his mark on everyone, was incredibly smart, had a big heart and dreamed of becoming a doctor. He introduced me to my (now) husband, and we both walked by his side through his four years of treatment, until he passed. I knew from that point on I was meant to work in health care. I will never forget Chad because he is a big piece of my "why." He's the reason I strive to connect with our team and our patients each day in hopes of finding ways to make the future a little brighter, just as his care team did for him.
How do you balance being a working mom?
Alicia Schulhof: It can be demanding to keep up with work, the kids' activities, help with homework, exercise and squeeze in quality time with my family! Instead of trying to balance it, I try to focus on ways to integrate activities. I bring my family to our hospital's community events like our annual Run for All Children. It gives me an opportunity to support the organization, and I also get some exercise in and quality time with my family.
Like many other parents, I know if I don't take care of myself, I can't be the best wife, mother or leader. So, I try to carve out time early in the morning to jump on my bike, clear my head, catch up on emails and get ready for the day ahead. I have a similar end to my day. We make an effort to have family dinners, and I often jog with my husband at night after the kids go to bed so we can catch up on our day before we tuck into bed.
How are you improving health care for children in Tampa Bay?
Alicia Schulhof: Whether your child is coming for a checkup, emergency visit, surgery or has long-term, complex health needs, our expert team of providers are all in one place working together to meet each child's unique needs. Experts here are constantly researching ways to prevent childhood disease and utilizing the latest therapies and technologies to provide the best possible care in the safest way. We also have 500+ research studies seeking to improve the health of children and provide access to clinical trials.
We've recruited top pediatric experts from around the world and grown several key programs, including our nationally recognized neurology and neurosurgery program. Our neonatologists care for critically ill newborns, providing the highest level of care (Level IV) available.
We also have the first and only dedicated inpatient unit in the U.S. for babies born with a serious defect in their diaphragm, called congenital diaphragmatic hernia (CDH). While some families are given low chances of survival by other providers, our CDH program brings together an expert team to repair baby's diaphragm and help them breathe better, offering survival rates of more than 90 percent.
Additionally, we care for pediatric patients with the most common to complex cardiac issues and are the only pediatric heart transplant program on Florida's west coast.
Through these programs and other services, Johns Hopkins All Children's has become a leader in pediatric care throughout Florida. We're also the only pediatric hospital in the Tampa Bay area verified as a Level 1 children's surgery center by the American College of Surgeons, and we're recognized as a top children's hospital for our quality care, safety and outcomes by U.S. News & World Report and The Leapfrog Group, a standard setting group for health care safety and quality.
How are you helping improve care and access to these services? 
Alicia Schulhof: In addition to our main campus in St. Petersburg, we also have eight outpatient care centers stretching from Pasco and Tampa over to Lakeland and all the way down to Sarasota and Fort Myers. This allows us to provide care for patients closer to their homes. Also, you may not realize it unless you see their Johns Hopkins badge, but several of our experts also provide neonatal, cardiac, surgical and other specialty care through many of the community hospitals in the Tampa Bay area that do not have specialized pediatric care.
Additionally, as part of Florida's Specialty Hospitals for Children, we work with the only other specialty-licensed children's hospitals in Jacksonville, Miami and Orlando solely dedicated to caring for kids in Florida. Approximately 70 percent of our patients receive Medicaid, and because the children we treat have the most critical illness and injuries, our hospitals are the only options for care. Through this effort, we've continued advocating for funding so all children in Florida have access to world-class, specialized pediatric care.
Any advice you have for parents?
Alicia Schulhof: My kids span from elementary to high school. If there is anything I've learned from being a parent and leader in health care, it is to enjoy and embrace the moments with your family and give grace along the way.
---
*Presented by Johns Hopkins All Children's Hospital | Originally published in May 2023 of Tampa Bay Parenting Magazine.