Baby Registry Top Picks: Strollers, Bottles and High Chairs, oh my! 
There are endless things to consider when you are expecting, and putting together a baby registry may take the cake as one of the most overwhelming. With all the products on the market, and new ones coming out every day, it is no wonder we look to experts and friends when trying to make the best decisions for our little one. Let us take off a little of the pressure and give some of our top picks to get you started!
---
ON THE GO
Mockingbird Single-To-Double Stroller
If you have done much research, you know there are not a lot of single-to-double strollers on the market that truly do it all. The Mockingbird has become a favorite as it is not only a great option for one child, but with the 2nd Seat Kit and infant accessories, you can accommodate a growing family through every stage. The best part? This stroller rivals top brands in functionality while keeping the price affordable!
The Mockingbird single-to-double stroller starts at $450 and you can add on the second seat kit for $145. They also have car seat adaptors for nearly all the top brands as well as a bassinet option if that is more your style.
It also features a one-handed fold that allows the stroller to stand upright when folded, UPF 50+ all-weather canopy, tilting handle bar, options for forward or rear facing, and the list goes on! Learn more at hellomockingbird.com.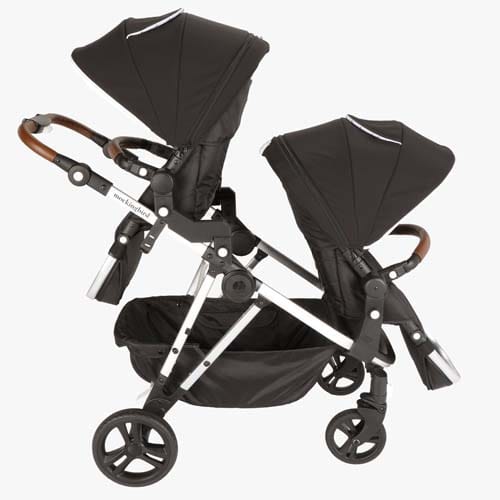 Cybex Platinum Coya Stroller
Foldable within seconds, lightweight and boasting a carry-on compatible design, the Coya is perfect for travel days or when you just need something a little more compact. Features include a trifold design, near-flat recline, snug one-pull harness, and a beyond smooth glide. It comes with an integrated shoulder strap, but you can also purchase a travel bag to make carrying even easier. Starting at $499.95 – cybex-online.com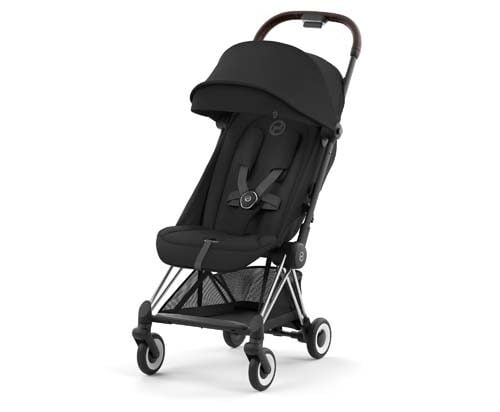 Chicco OneFit ClearTex All-In-One Car Seat
From birth through booster, this car seat does it all! You can feel good knowing that their ClearTex fabrics include no added fire retardants and are also Greenguard Gold Certified, which means fewer toxic chemicals for you and your baby without compromising on safety. This car seat also features a 9-position recline and a slim space-saving design. $299.99 – chiccousa.com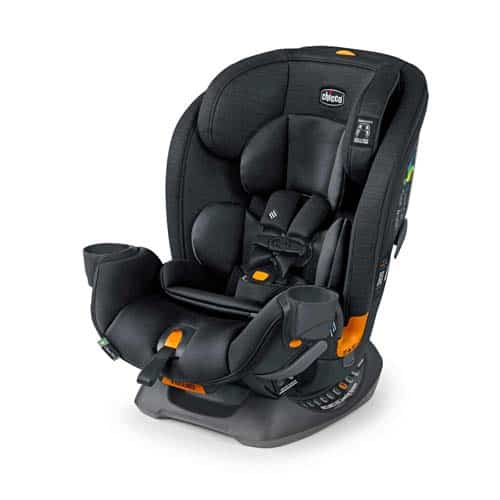 White Elm Gemini Convertible Backpack
White Elm was started by a mom who couldn't find what she wanted in the market, so she decided to create her own. The designs have been a hit! One White Elm top seller, The Gemini, is the bag that can do it all. You can wear it as a backpack, tote or cross body. It features a laptop sleeve, numerous pockets, premium vegan leather exterior and a water-resistant interior lining. $195 – shopwhiteelm.com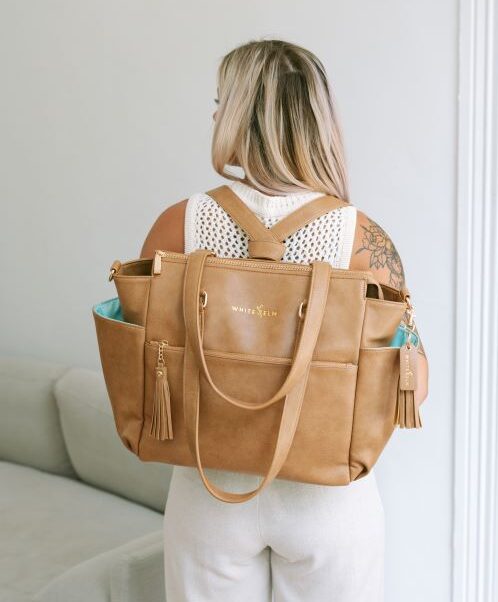 Dagne Dover Indi Neoprene Diaper Backpack
Perfect for Mom or Dad, this backpack packs quite the punch! We love the soft, neoprene fabric and that it comes in small, medium and large to fit your needs. All sizes come with an insulated bottle holder, changing mat, washable zipper bag, neoprene pouch and stroller clips. $165-$215 – dagnedover.com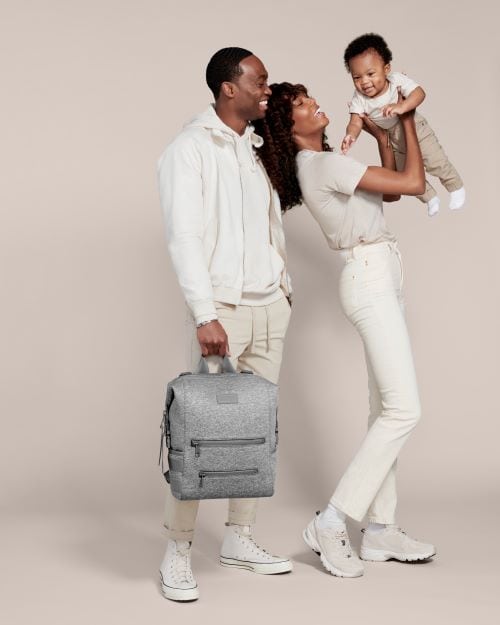 Lalabu Dad Shirt + Simple Wrap
Lalabu is well known for their innovative Dad Shirt which allows dads and caregivers to tuck newborns into the front pouch with no complicated wrapping! The pouch is also lined with a mesh to further increase bonding and skin to skin contact. If your partner doesn't like the idea of wearing a wrap, this shirt is a great option.
The Simple Wrap is just that, simple! It features a waist clip closure, soft yet durable fabric and double rings that keep the wide straps in place and ready to go. The wrap also has a super soft built-in head rest for when your baby falls asleep and is easily height adjustable with a flip of the waistbelt. $139.95
The Dad Shirt safely holds newborns up to 15lbs, the first 3 to 5 months. The Simple Wrap is ideal for babies from 3 months up to 2 years of age, 13-28lbs. shop.lalabu.com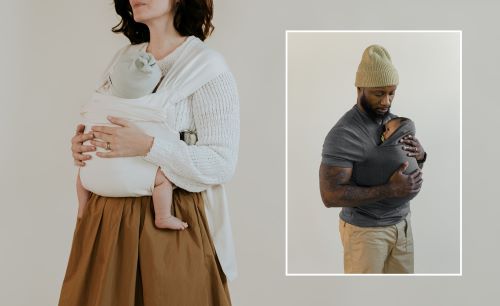 ---
FEEDING
Stokke Tripp Trapp
A registry favorite for decades, the Tripp Trapp has been around since 1972! Its ergonomic design allows for adjustment of both the foot plate and seat, and it can be pulled right up to the table to keep kids included in family meals. Its simple design is easy to clean and comes in a variety of colors to fit any style. Pair it with a range of accessories including the newborn or baby set, tray and cushions. Starting at $239 – stokke.com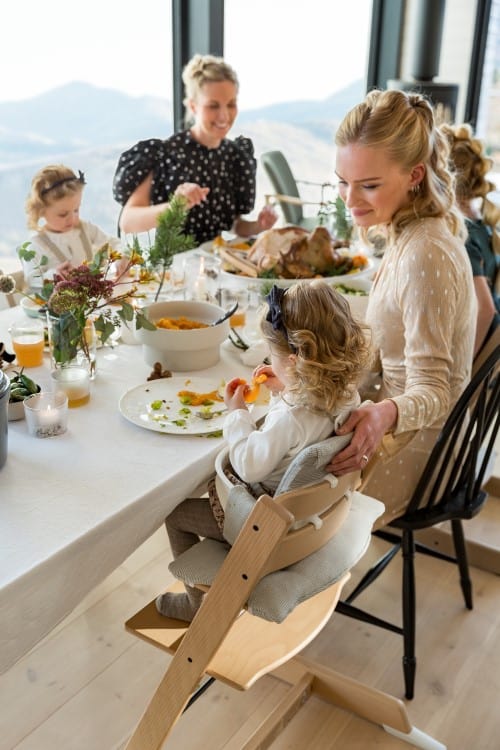 Babycook Neo® Baby Food Maker Processor
For baby food making at its finest, our favorite features of this tool include the use of soft steam to preserve nutrients, as well as the glass bowl and stainless-steel steam basket for healthy, non-toxic cooking. The processor steams, mixes, defrosts and reheats and features a large capacity basket to prepare four 150-gram portions. This means fewer dishes for you and less time spent in the kitchen! $259.95 – beaba.com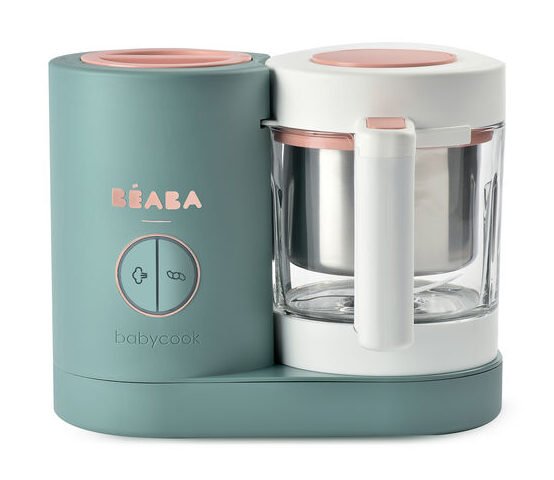 Mila's Keeper
Perfect for the mama on the go, this stylish breast milk cooler system can be used both cold and hot. It can keep milk safe for up to 20 hours with use of the attachable ice packs, and just add hot water to the thermos to warm when it's time to feed. The glass bottles that fit perfectly inside the cooler come in both narrow and wide mouth options to attach directly to a range of breast pumps and nipples. This means there is one less thing to bring with you and one less thing to clean! A variety of gift sets, colors and combinations are available at milaskeeper.com starting at $67.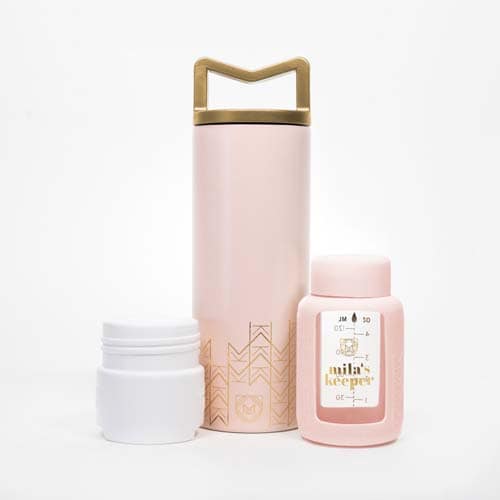 Comotomo Baby Bottle Bundle
This 7-piece set is the perfect gift for new parents. Comotomo's beloved bottles feature an innovative design that closely mimics breastfeeding and are made of food grade silicone, making this a great non-toxic option. The bundle comes with both 5- and 8-ounce bottles, as well as slow, medium and fast flow nipples to grow with your baby. $59.99 – comotomo.com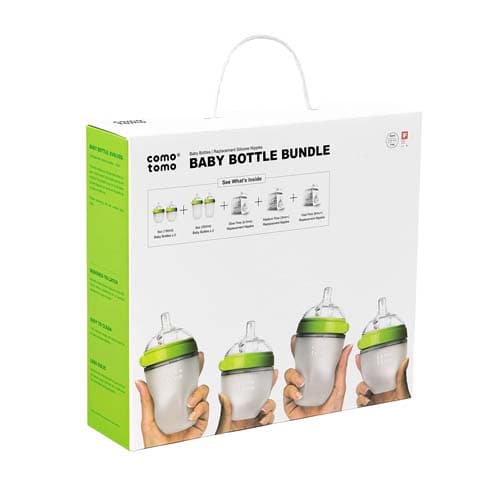 Baby's Brew Bottle Warmer 3.0
Attach your favorite bottle straight onto the warmer and let it do the work! Smart sensor technology warms to the ideal temperature with no risk of overheating. Fully portable, with no need for water or an outlet, the stainless steel, leak-proof design means you can easily carry it in a diaper bag, purse or cup holder. $114 – thebabysbrew.com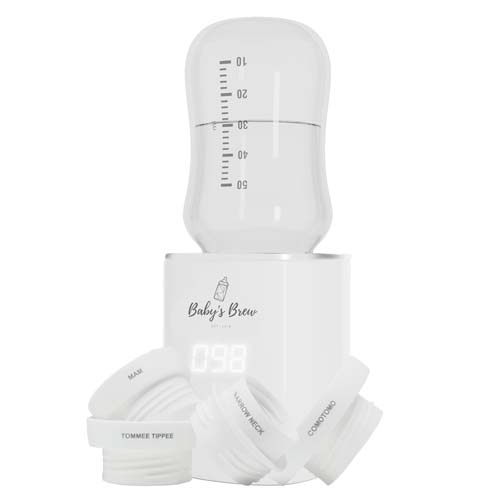 BabyBrezza One Step™ Baby Bottle Sterilizer and Dryer Advanced 
This handy device automatically sterilizes and dries bottles, pump parts and accessories. Using natural steam, it kills 99.9% of germs and can hold up to eight bottles and two pump part sets, making cleaning a breeze! Select from four functions including sterilize and dry, sterilize only, dry only or use for storage. $139.99 – babybrezza.com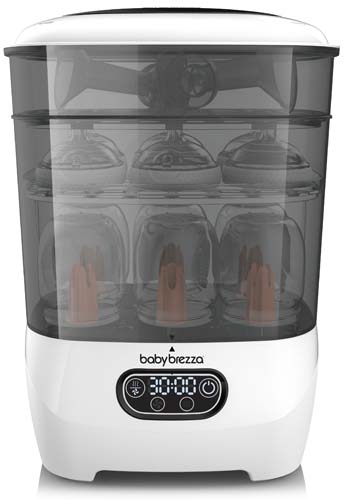 ezpz Mini Feeding Set
As your infant transitions to toddlerhood, they are ready to start practicing new mealtime milestones. The ezpz Mini Feeding Set provides all of the developmental tools you need for independent mealtime with your toddler. Available in a variety of fun colors. $34.99 – ezpzfun.com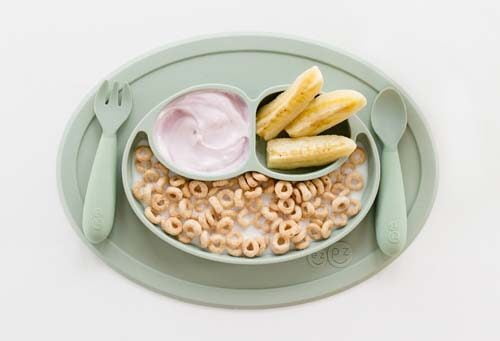 Mushie Feeding Essentials
Mushie's line of feeding essentials are made from non-toxic, food-grade silicone and are dishwasher safe, making it a no-brainer for feeding your little one. From the favorite baby bib, to utensils, plates, bowls and cups, Mushie has you covered! Prices vary by product – mushie.com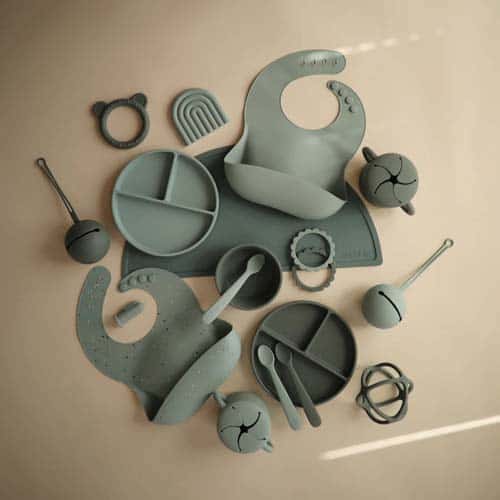 ---
CLOTHING
Little Unicorn Cotton Muslin Squares
Approximately half the size of their best-loved swaddles, Little Unicorn's Squares are 27 inches by 27 inches and fit neatly into any diaper bag. Made from 100% premium cotton muslin, the Squares are designed to handle any need while on-the-go. Use as a lightweight blanket, nursing cover, drying cloth, and more! $30 – littleunicorn.com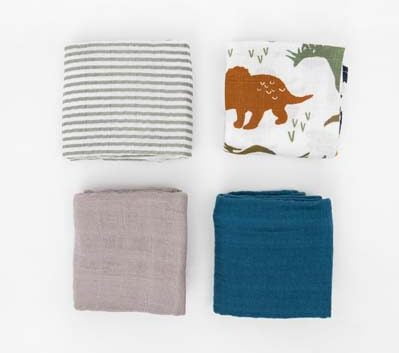 Kyte Baby Zippered Footie
Cut from silky smooth bamboo rayon, these soft and snuggly footies are at the top of our list! They come in a variety of colors, and the stretchy material gives you the option of a snug or loose fit. Footies feature a dual zipper, fold-over cuffs for babies 0-3 months, and sole grips for babies 6-12 months and older. $36 – kytebaby.com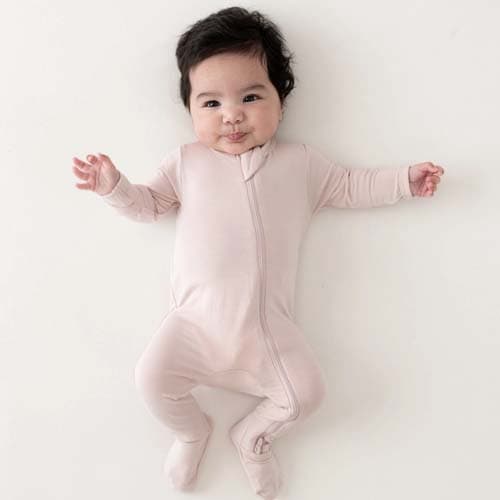 Norani Newborn Footie
We love that these onsies are 95% GOTS certified organic and come in a variety of fun colors, patterns and sizes. They also won't break the bank! Featuring a two-way zipper and soft organic cotton, these onsies can be paired with a matching baby beanie and Snugababe Swaddle™. $28 – norani.com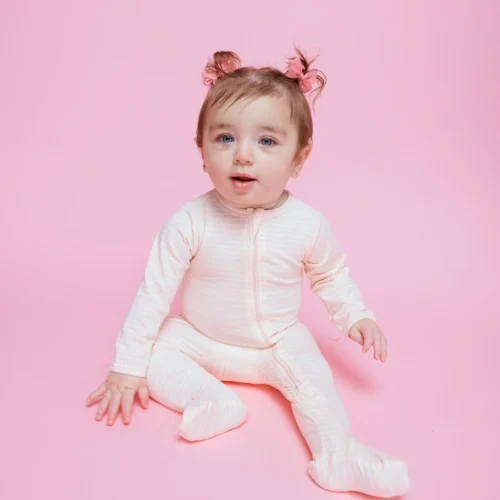 Dreamland Baby Dream Weighted Sleep Sack
Designed to help your baby feel calm, fall asleep faster, and stay asleep longer. The sack features Dreamland's exclusive CoverCalm® Technology, which evenly distributes weight on the front of the sack to naturally reduce stress and give your baby the feeling of security and comfort. $89 – dreamlandbabyco.com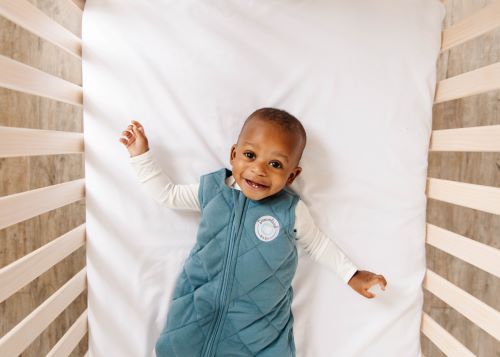 ---
PLAYING
LovEvery Play Gym
Designed to grow with your child from newborn to toddler, this play mat provides stage-based activities that engage them throughout their first year. It features five developmental zones, four detachable activity toys, four sets of cards and a play guide with stage-based tips and activities developed by experts. $140 – lovevery.com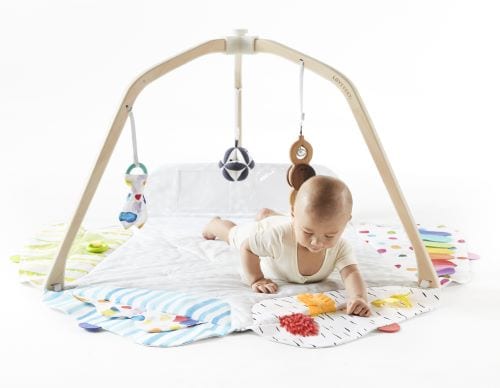 The Looker Play Kit by LovEvery
Designed for age appropriate development and play, the Looker Play Kit is the perfect gift for new parents. For ages 0-12 weeks, the kit includes high-contrast images and sensory toys to help with baby's developing eyesight and brain connections. The kit also includes a play guide that provides the "why" and "how" behind each thoughtfully designed item. Subscriptions start at $80 every two months for the first year. Learn more at lovevery.com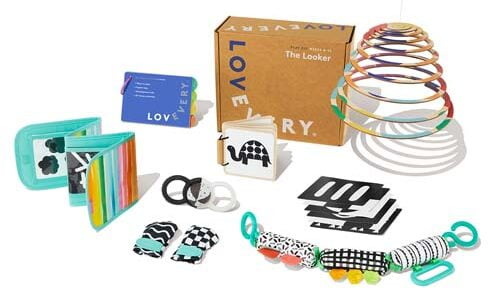 Toddlekind Playmats
No need to compromise on style with these "prettier" playmats from Toddlekind. Their puzzle playmats are made from biodegradable foam and provide a plush and cushioned surface for playtime. The puzzle design also makes it easy to adjust the size to fit your space. Starting at $124.99.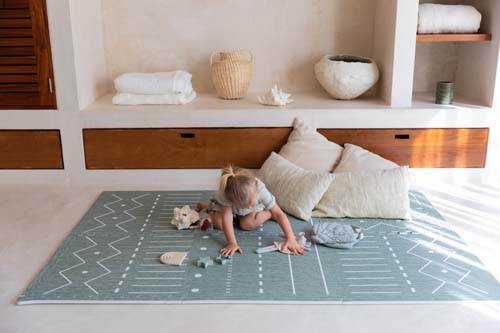 We also love Toddlekind's quilted cotton reversible playmats perfect for baby at home or on the go! $79.99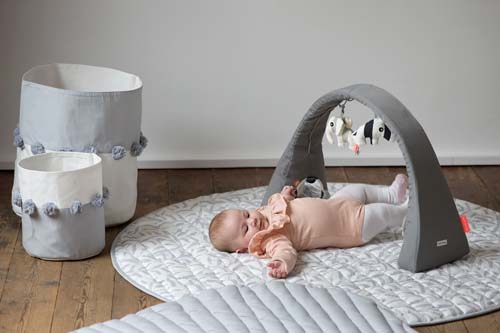 Merritt™ Travel Crib & Playard
Designed to be the ultimate portable playard, this travel crib can be used right from birth. Featuring a breathable mesh surround, fold-away changing station and an adjustable bassinet perfect for newborns, the crib also folds with one hand and includes a backpack-style storage bag for easy transportation. $249 – gladlyfamily.com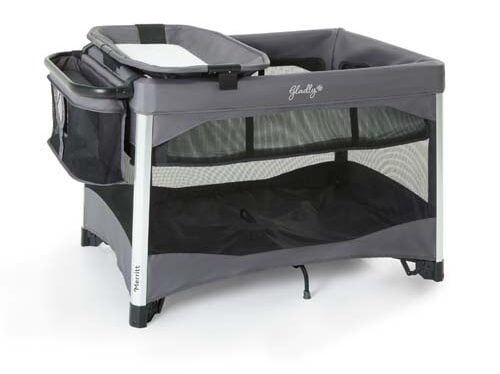 ---
NURSERY
Nanit Pro Camera
The most awarded, connected baby monitor and app on the market, Nanit gives you peace of mind with their innovative technology. At home or on the go, use your Nanit data to support your baby's wellness and get your best rest. One of our favorite features is their sensor-free breathing band. The camera tracks the pattern on the band to ensure your baby's wellness without the risk of them kicking it off. Available in a wall mount, floor stand or flex stand for travel. Starting at $249 – nanit.com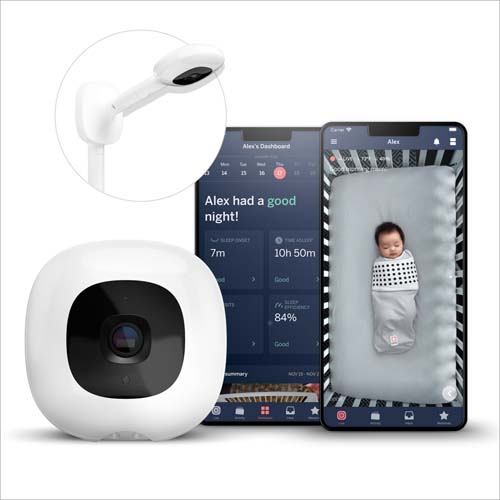 Nanit Sound and Light Machine
This smart nursery must-have combines a sound machine with a night light to help children fall asleep, stay asleep longer and build healthy sleep routines. Featuring a wide range of volume and light levels, it's easy to set your favorite routines and control them from your mobile device or the machine itself. $99.99 – nanit.com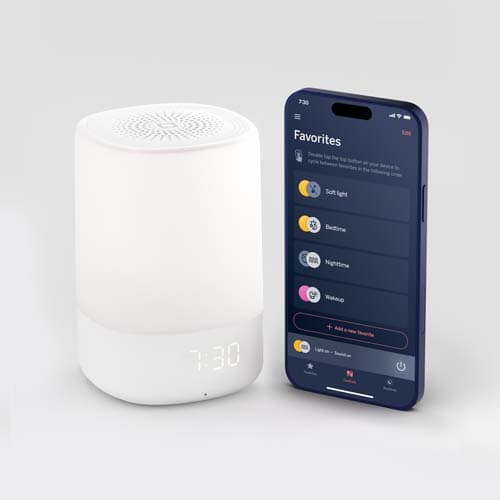 Delta Children Breathe Mattress
Have peace of mind knowing your child is breathing easy. Greenguard Gold Certified and hypoallergenic, Delta Children has a new mattress on the market. It features a 100% breathable cover and cloud core, two-stage design for infants and toddlers, waterproof barrier and washable cover. $139.99 – deltachildren.com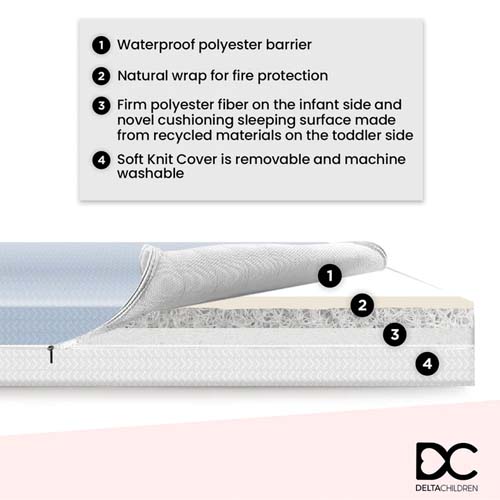 Dékor Diaper Pail
Step. Drop. Done. This diaper pail has the hands-free convenience every parent needs and features a self-closing whisper lid, continuous bag system and dual rubber seals to keep those smells where they belong! The pail also comes in three sizes and multiple colors to fit your space and needs. Starting at $29.95 – diaperdekor.com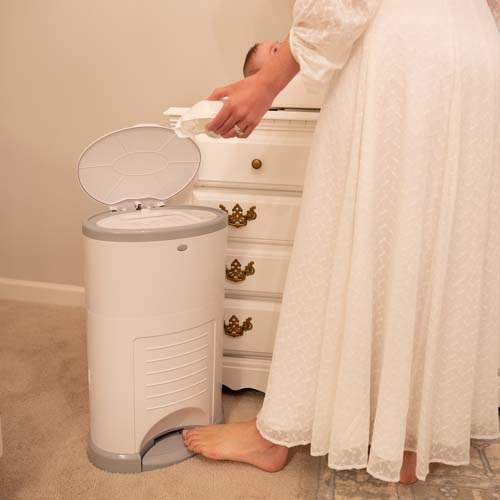 Terra Diapers + Wipes
Terra is the new kid on the block that you want to check out! Recently hitting the U.S. market, Terra is a line of premium, plant-based diapers and wipes that are gentle on you and gentle on the planet. Terra focuses on transparency and sustainability and aims to "use the best of nature and technology to create innovative and sustainable personal care products."
Their wipes are made from 100% Bamboo (not viscose), 99.7% pure New Zealand water, and come in 3 options: Pure Water, Manuka Honey, and Kiwifruit. $5.95 per pack.
Their diapers are 85% plant-based and contain no chlorine, fragrance, latex, parabens, phthalates or bleach. Featuring 12+ hours of breathable dryness, a plant-based wetness indicator, food-safe ink only on product & packaging, 3D leak guards and a super absorber pad that is sustainable and compostable! $13.95 per pack.
Visit terragentle.com for more information on their products and their story.