A Parent's Guide to the BEST Rides at SeaWorld Orlando
SeaWorld is known for its animal education programs, research and rescue of aquatic animals and entertaining shows. And yet there's even more fun with the best rides at SeaWorld Orlando.
Keep reading for our firsthand tips, including a step-by-step itinerary for enjoying SeaWorld Orlando rides and encounters.
Updated July 2023 by Dani Meyering
SeaWorld Tips from a Mom
As a mom of a nine year old and six year old, each time we go to the park my number one goal is to keep them entertained and busy as long as possible. We try to pack in as many rides and activities as we can, and create memories they will talk about after we leave.
Something that has helped tremendously is the official SeaWorld app. The app is free to download and use. It has ride wait times listed, a park map and special showtimes to help plan out your day.
My oldest son loves using it and planning out which ride we will go on next or which show we need to go see. It is also the best place to find the most up-to-date information about park happenings.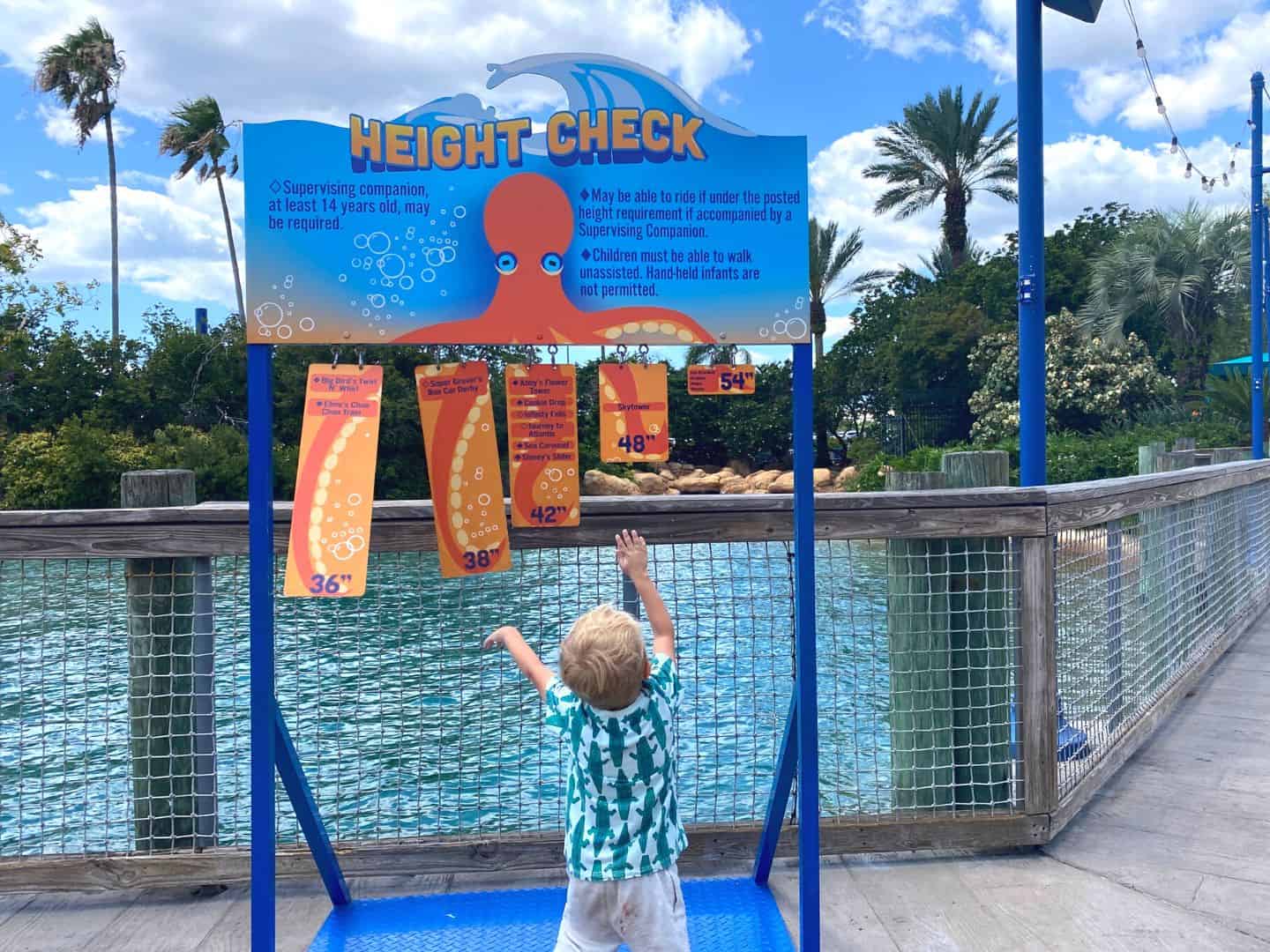 Rides at SeaWorld – Quick Queue
There are currently 18 different rides at SeaWorld Orlando as well as four sit-down shows. From family friendly, kid friendly, and extreme – there is a ride or show for anyone in your family to enjoy.
There is a program called Quick Queue that helps families fit in as much in their day as possible. This is the key to bypassing the regular lines for the rides at SeaWorld. Naturally, there is an extra cost.
There are three different options to choose from and they allow you and your group to get to the front of the line without waiting behind everyone else.
Each person that has a ticket needs their own Quick Queue ticket, fees are below.
$14.99 per person – The most affordable ticket option. Valid for unlimited front-of-the-line access for six participating attractions for one day. This does not include Ice Breaker.
$19.99 per person – If you are interested in reserved seating at shows you might consider this ticket. Valid for unlimited front-of-the-line access for six participating attractions for one day. Also valid for one time reserved seating at the most popular shows.
$29.99 per person – If riding Pipeline, the newest roller coaster, with no wait is on your list this is the only Quick Queue ticket that will allow you to skip the line once. It also includes the six other attractions and reserved seating the previous tickets have.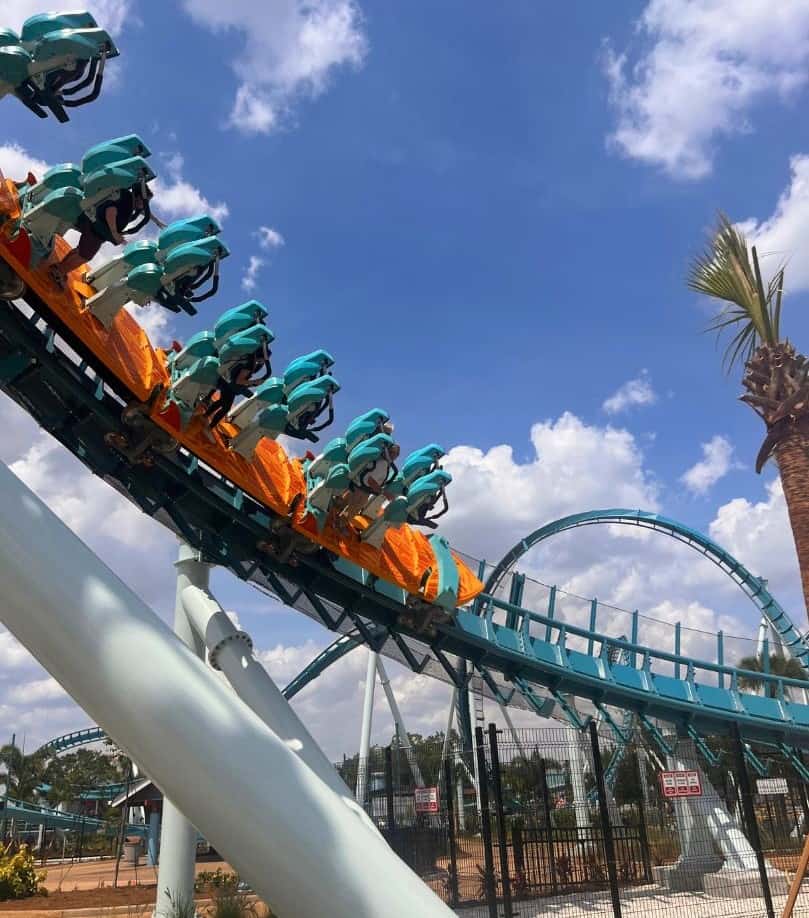 Once you purchase your Quick Queue ticket show it to a SeaWorld employee stationed outside each ride entrance. This will allow you to enter a separate line area that will get you to the front of the ride line.
Sesame Street Land Rides and Activities
No matter what time of the day we get to the park, our first stop is always Sesame Street Land. None of the rides there are on the Quick Queue options list.
The special thing about Sesame Street Land is that it was specifically designed for younger aged children and their grownups. As soon as you cross through the entryway, everything is perfectly themed and like you really are there. Parades, character interactions and rides.
All of the rides in Sesame Street Land are family and kid friendly and the lines never seem too long. Most times when we are there, my boys insist on staying in this section of the park for hours. They love the independence of the rides. They are at the height at which they can ride by themselves and I can safely watch them.
Rides at SeaWorld for all ages
Sky Tower (near the center of the park)
Sunny Day Carousel
Rubber Duckie Water Works (Don't forget your bathing suits for this splash pad.)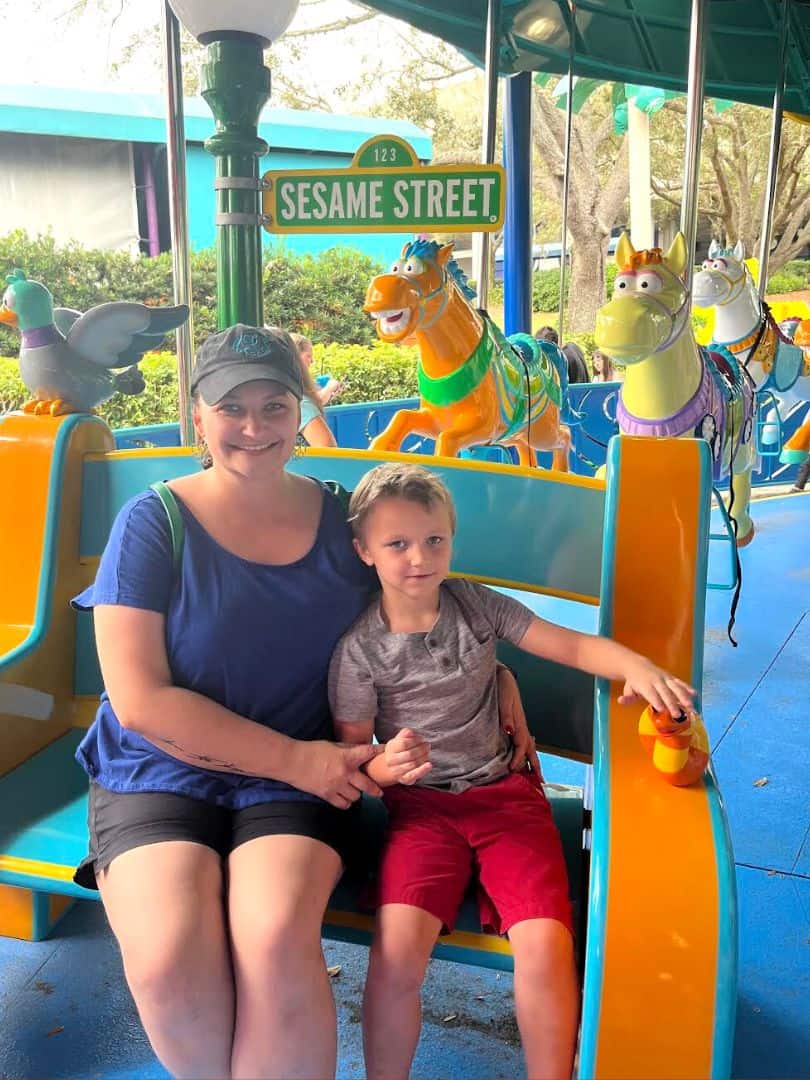 Surprisingly most rides at SeaWorld's Sesame Street Land have a fairly tall height requirement. When you think of the average toddler and preschooler, a significant amount of rides aren't available to them. So double check your little one's height before you go and set the right expectations.
A supervising companion must accompany guests below 36 inches.
Big Bird's Twirl 'n' Whirl
Elmo's Choo Choo Train
Guests must be at least 38 inches. Guests 38-40.9 inches must be accompanied by a supervising companion.
Super Grover's Box Car Derby
A supervising companion must accompany guests below 42 inches.
Abby's Flower Tower
Cookie Drop!
Slimey's Slider
Super Grover's Box Car Derby is the perfect "first" roller coaster for the family to go on together. It is a little rough, but not overly scary. It's also over pretty quickly so if it is a little much for any riders, it doesn't last long.
My favorite ride in Sesame Street Land though is Slimey's Slider. I love that it slides back and forth and spins at the same time. Not great if you are prone to motion sickness, but will keep you and your kids laughing non stop.
Related: New Rides and Shows Coming to Walt Disney World
Sample Itinerary for SeaWorld Orlando with young kids:
Park Open Dolphin Nursery and Sky Tower
11:00 AM Boardwalk to Sesame Street Land, enjoy the rides
12:00 PM Snacks at Sesame Street Trucks or Mama's Pretzel Kitchen
1:00 PM Rubber Duckie Water Works splash area (pack a swimsuit, restrooms near the splash pad)
1:30 PM Lunch at Waterway Bar & Grill
2:00 PM Infinity Falls
3:00 PM Sea Lion Point and Feeding
4:00 PM Antarctica Penguin Encounter
5:00 PM Manatee and Turtle Rescue
6:00 PM Dolphin Encounter and Sting Ray Feeding
If your kids are a little older (and taller) there are plenty of other options too. This itinerary is based on regular park hours.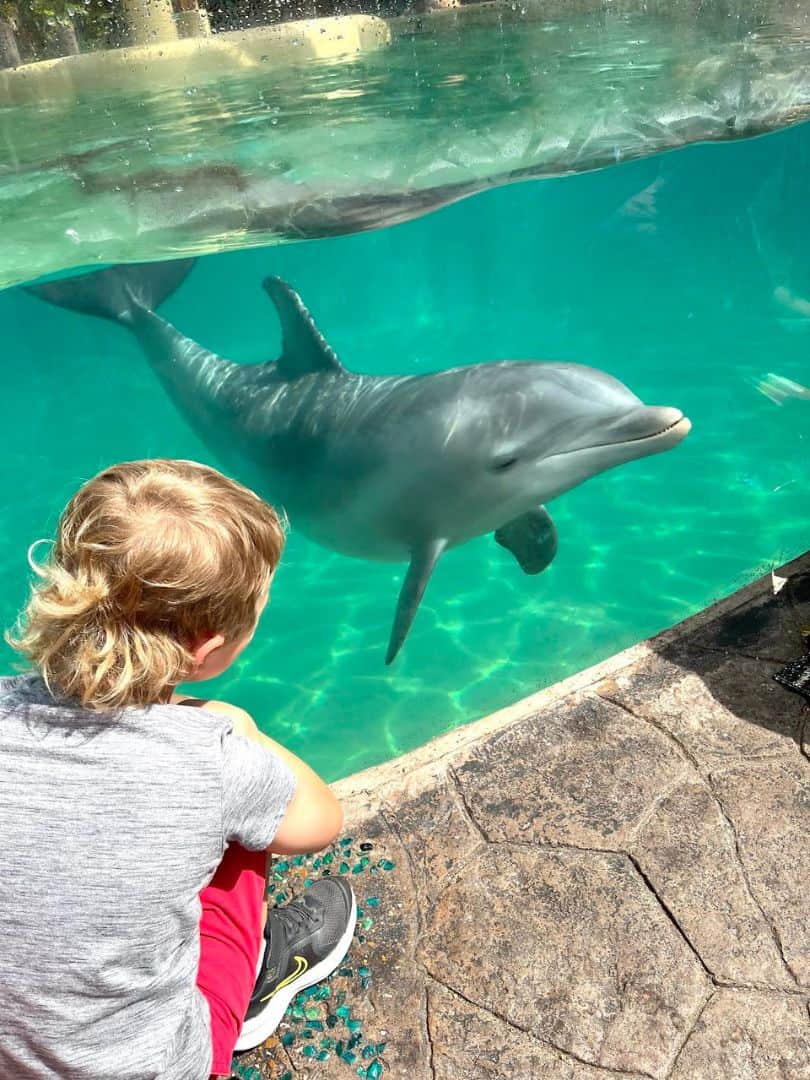 Journey to Atlantis and Infinity Falls – 42" height requirement, and you will more than likely get wet.
No matter what the weather is when we are at the parks, Infinity Falls is a must ride. Even if you don't like getting wet on rides, it's worth it. The ride vehicle is a circular raft that can fit up to 12 people. It is a favorite river raft ride among many theme park fans.
Fair warning it has a large drop that I did not expect the first time around.
Journey to Atlantis is an interesting combo ride. Some parts of the ride are like a mild roller coaster, and other parts are a boat ride. Naturally, the boat ride segment features a major drop and a few other small hills.
And as the name Journey to Atlantis suggests – you will get wet. It is one of the most thrilling rides at SeaWorld, even if it is a little long in the tooth.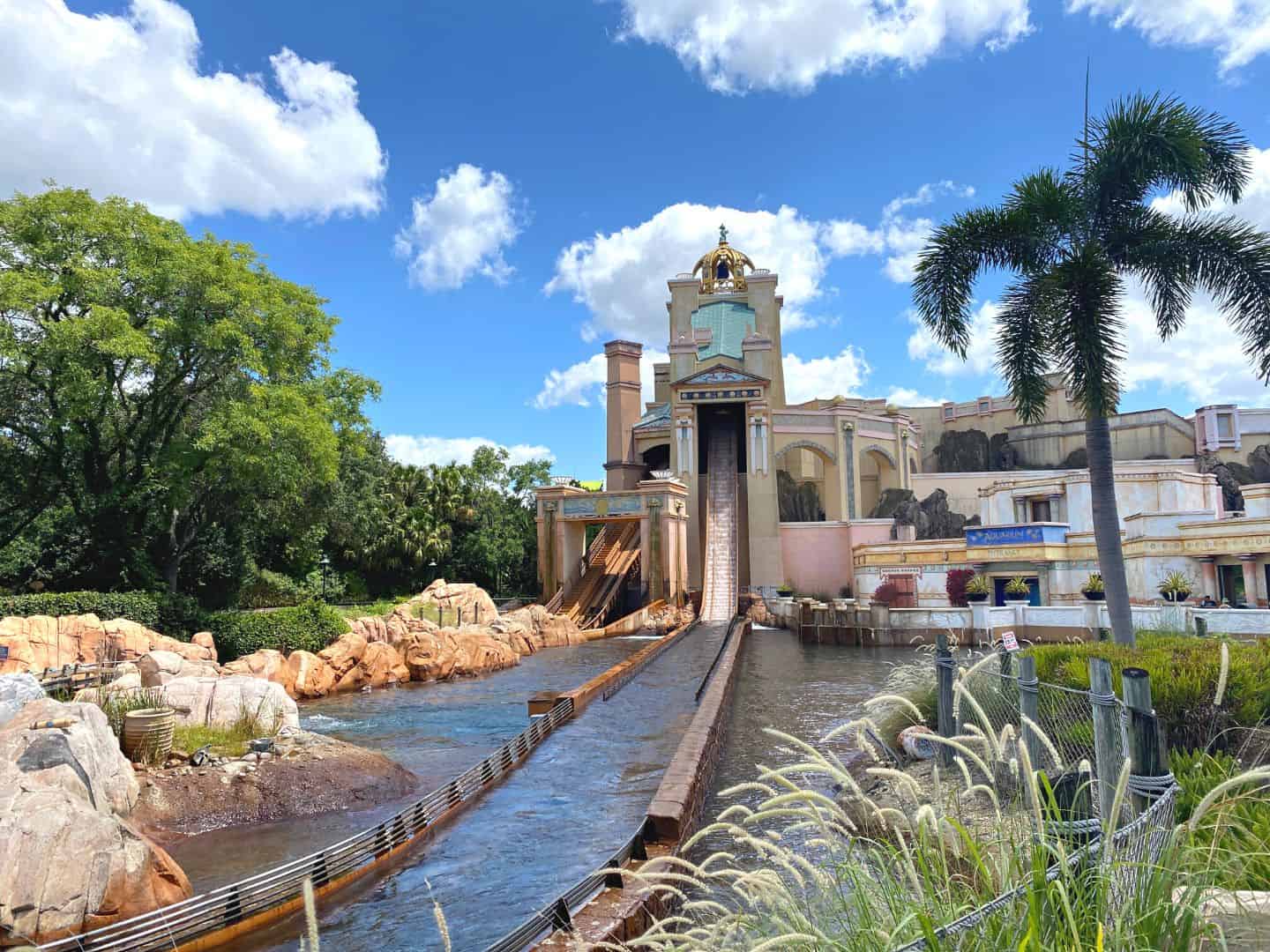 Parenting Pro Tip: If any members of your party aren't embarking on Journey to Atlantis head to the super cool aquarium. This somewhat hidden aquarium is in the back left corner of the ride's gift shop. The Atlantis theme of this aquarium is beautiful and there are multiple exhibits that are on kid level. So little kids will enjoy it and parents will appreciate the air conditioning.
Pipeline, Ice Breaker, Mako, Kraken, Manta – 54" height requirement
SeaWorld Orlando likes to claim itself as the Coaster Capital of Orlando, and it is easy to agree.
Even though Pipeline Surf Coaster is the newest roller coaster, the ride that everyone can see as they are driving to the park is Kraken. I have never been brave enough to ride this one and with good reason. It is the most intense, and a little rough. Some claim Kraken is the scariest ride at SeaWorld – others say Manta.
I don't see myself boarding anytime soon. Kraken is the only floorless coaster in Orlando, reaches speeds of 65mph, has 7 inversions and a 144 foot drop.
One thing is for sure, Orlando and Florida as a whole are full of fun and thrills. Prior to Pipeline, the latest coaster to arrive was Ice Breaker which features a reverse launch and a beyond-vertical drop thanks to the tall spike at the start of the ride.
Another option that your family might see while walking through the park is the Flamingo Paddle Boats. Make sure to take a little extra money for these. Rides are $6 per person for a 20-minute ride. A great choice for younger kids or to take a break on the water.
Coming to Sea World in Spring 2024 – Penguin Trek!
The eighth (and cutest) coaster to join Sea World Orlando is opening next spring! Designed as THE ultimate family launch coaster experience, the all-new Penguin Trek will feature a unique snowmobile styled ride car where once aboard, riders will embark on an exhilarating journey through the breathtaking vastness of Antarctica as they join a penguin research mission unlike any other.
Featuring two exhilarating launches and a maze of twists and turns, Penguin Trek will move at speeds of up to 43 mph across a 3,020-foot track that traverses both indoors and outside. The final part of the ride is what sets this experience apart: as the coaster comes to a halt, guests find themselves not in a simulated penguin colony, but in the very heart of SeaWorld Orlando's own penguin habitat! The ride will accommodate riders from 42-inches to 77-inches. 
Sunny Day Guarantee
Summer storms are very common in Orlando and sometimes the rain just won't go away. So, SeaWorld Orlando's commitment is if the rain ruins the fun at the park, guests will receive a complimentary return visit to be used within one year of their initial visit.
They just need to stop by the Guest Services Counter or submit their information online.
Guests will need their original admission ticket or order number to receive a Sunny Day Ticket. Annual Pass Members and certain ticket packages are not eligible for Sunny Day Tickets.