Best Resort Staycation Ideas for families traveling from Tampa Bay
I absolutely LOVE hotels. I grew up as the daughter of a mariachi band singer and we would travel to hotels in the greater Milwaukee area as my Papi toured with his band, singing at hotel brunches and weddings. My sister and I made friends in hotel swimming pools, loved to race in hotel lobbies and loved sleeping in hotel beds on the weekends. The idea of waking up and exploring still fuels my soul, and now with four kids in tow, I'm the first one up on any of our vacations, ready to explore before sun rises!
When my kids were younger and we had more time and fewer obligations, I fell right back into my childhood memories as we traveled all over the state exploring Florida and beyond and staying in more than 100 hotels all over the country! My love of travel (and a good hotel) was rekindled, and I now consider myself a hotel connoisseur.
With resorts adding so many amenities that you don't need to leave the property to have a good time, staycations have become more popular. It's a nice change of scenery from your home too! Hotels have definitely upped their game in cleanliness, so feel free to ask ANY hotel about how they are keeping guests safe.
With Spring Break 2021 upon us and the kids begging for something to do, I've put together a list of "tried and true" hotel staycations for any family. I truly love a staycation because you don't have to travel too far from home, no flights are required, and by having your car, you'll be able to take short road trips from the hotel to explore something else nearby!
---
Orlando World Center Marriott
The Orlando World Center Marriott was a complete surprise to me. Located slightly off the beaten path in Orlando, it stands hidden in between Kissimmee and Disney, close enough to everything yet far enough away to be an escape.
Known as one the world's largest Marriott hotels, the property has a sprawling array of amenities with restaurants galore. It's also super close to Disneyworld, Universal Studios and SeaWorld too.
We LOVED the pools and the water areas for the kids (as well as adults too!) The slides were built by the same designer as Atlantis and this kids had a blast riding them. Even the toddler play area was enough to entertain my daughter for an entire afternoon. She loved the slide and the shaded LEGO LAND play area during our full days at the pool. My bigger kids loved the space of the pool and the waterfall grottos. This is the biggest pool I have ever seen at a hotel.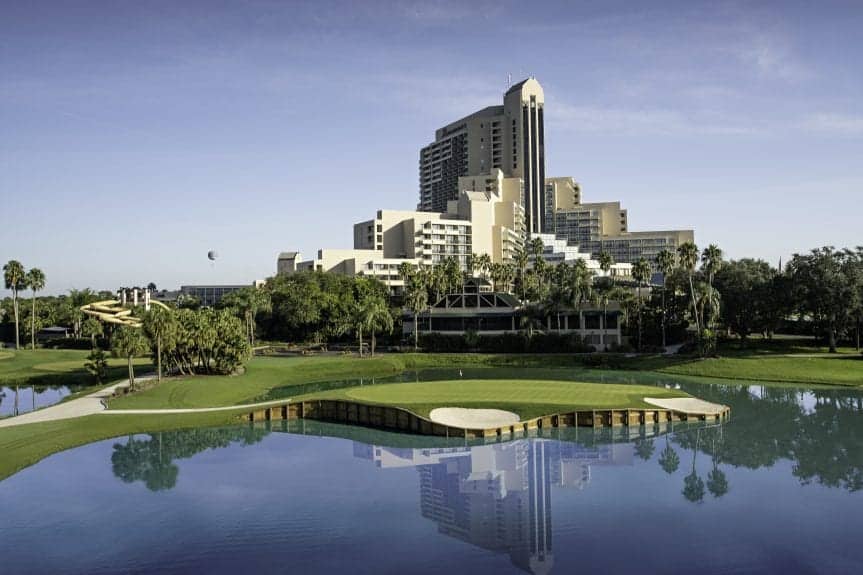 Marriott Orlando World Center, Photographer: Jeff Herron
---
The Ritz-Carlton Orlando, Grande Lakes
If you are searching for the ultimate luxury hotel for your family getaway, The Ritz-Carlton Orlando, Grande Lakes is THE hotel for you. From start to finish, the staff is truly excited about your stay and wants to make every moment memorable. Every staff member we encountered was more pleasant than the one before. It truly set the mood for your stay when your hotel staff seems so excited about seeing you.
My girls were over the moon thrilled about everything! They were given blue bracelets and told by the staff that they could have free ice cream whenever they wanted! We even had it for breakfast one morning. Of course, the pools are amazing. Because they share the Grande Lakes property with the JW Marriott Orlando, Grande Lakes, you'll also get to enjoy their Lazy River Pool, one of my favorites in all of Florida.
We booked In-Room Camping for our stay and it was so fun! The girls couldn't wait to sleep in the tent! The set up comes with books, stuffed animals and lanterns, so make sure to ask about this and add it on for your stay. We booked an early-morning excursion called Sunrise Safari that allowed us to explore the 500-acre property with a Certified Florida Master Naturalists on via a golf cart. It was amazing to see Florida's flora and fauna up close as the sun rose over the property.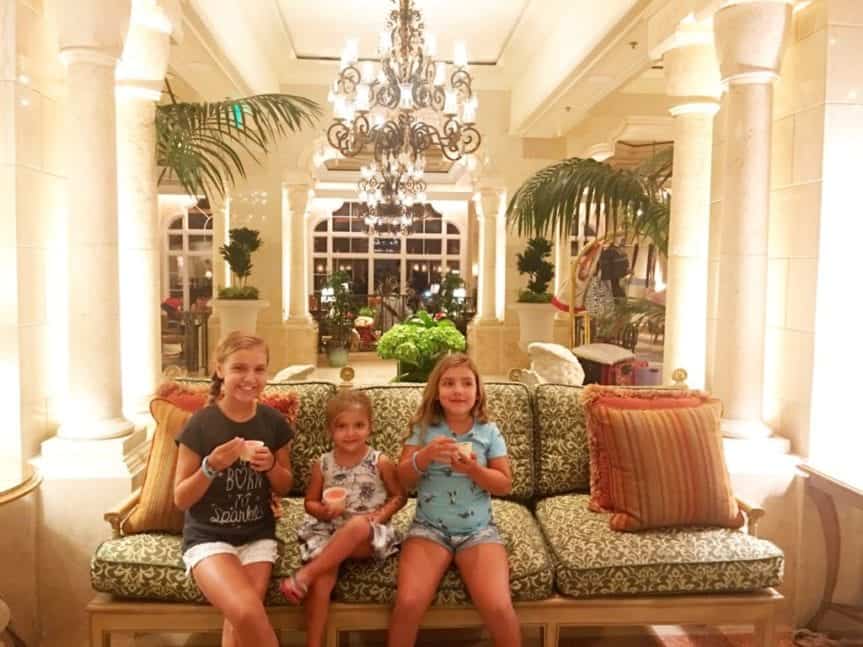 ---
Wyndham Grand Clearwater Beach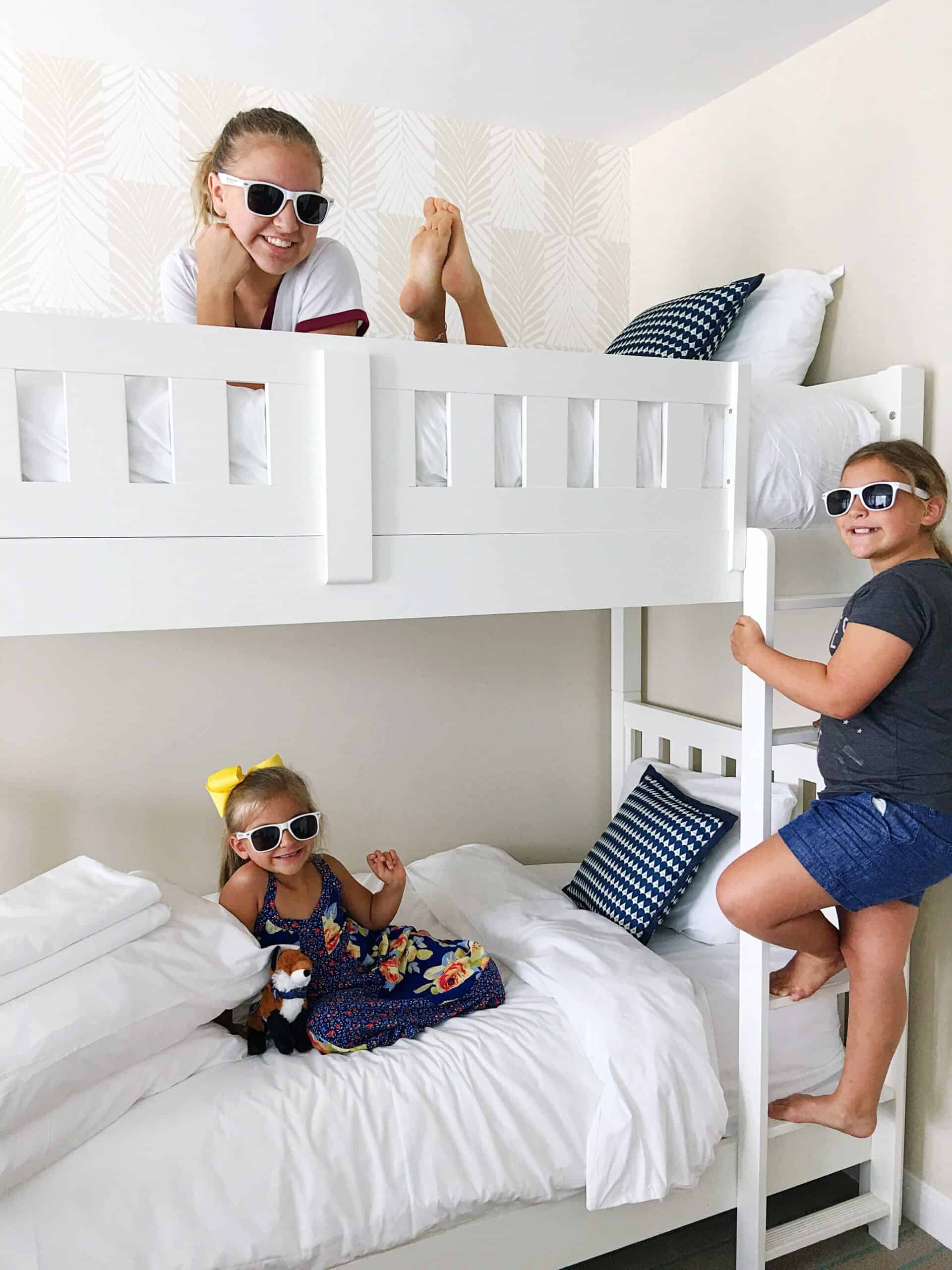 The Wyndham Grand Clearwater Beach is perfectly situated across from Pier 60 on Clearwater. It's the PERFECT staycation if you live in Tampa or are wanting that ideal beach vacation in Florida! You are steps away from the beach and can pool/Gulf hop all day long! At night, a sunset show put on by Mother Nature will rival any island sunset you've seen. From your balcony view, the pool looks as luxurious and inviting as the waves in the Gulf of Mexico. It's vacation at its best.
Pro Tip: Florida residents always save! Ask when you book!
---
Universal Studios Cabana Bay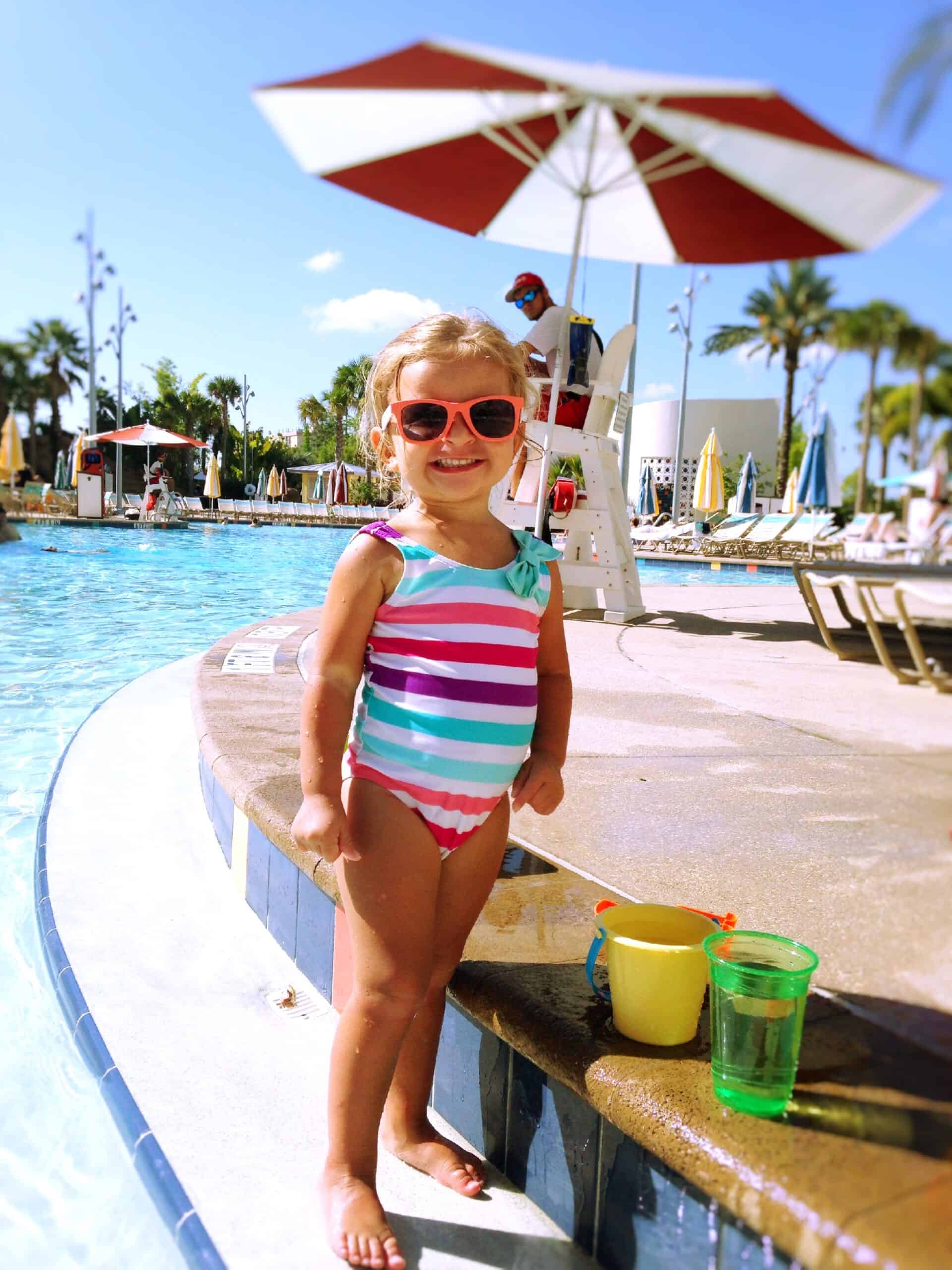 Universal Studios Cabana Bay Resort is offers perks and proximity to nearby theme parks, but Cabana Bay is also the perfect place to reminisce about your own family vacations from the good ol' days when life was simple and a vacation meant you relaxed. The 1960's vibe carries throughout the entire hotel—you'll be jammin' with the Beach Boys as soon as you walk in and watching "I love Lucy" reruns in the Swizzle Lounge while grabbing a cold one. Going bowling with the kids at the retro Galaxy Bowl or trying out the arcade games at Game-o-Rama are great ways to unplug with everyone.
The spacious suites have room for six, a mini kitchen with microwave, fridge, sink, bar sitting area and coffee maker, as well as a sitting room that can be closed off by an adjoining door. This made our stay so much more enjoyable because we got to relax after the kids went to sleep and could watch TV on the 40″ flat screen in the living room.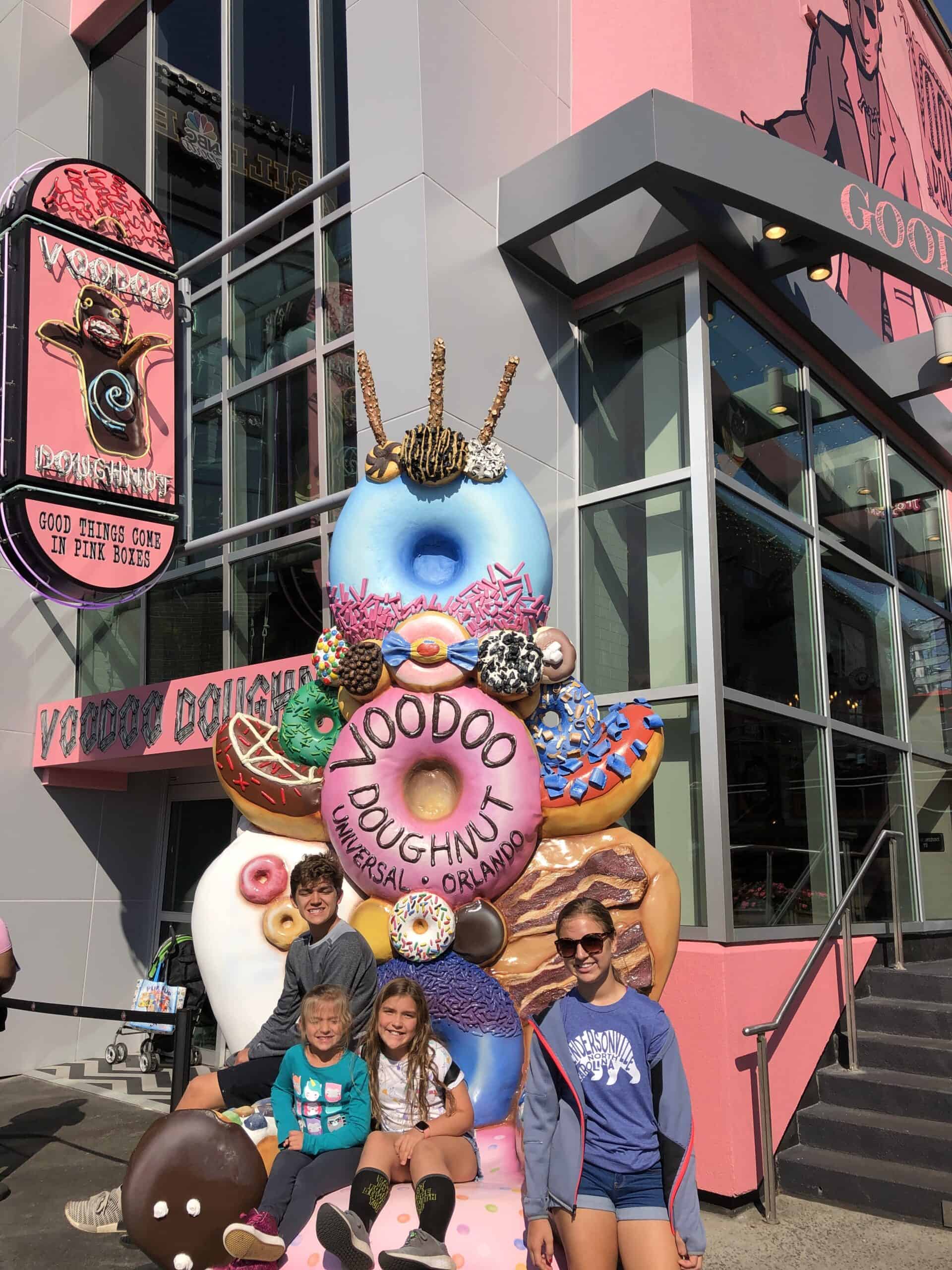 Pro Tip: With dining and entertainment for the whole family, Universal CityWalk is a great place to visit for an afternoon or evening to dine or see a show—and feel like you're at a theme park without actually being inside one. We loved that Cowfish has a menu that everyone could agree on, with sushi for adults and edamame, sweet potato fries and burgers for the kids! Grab some Voodoo Doughnuts and bring them back to the hotel for breakfast!  Don't forget to stop and buy an inner tube or raft to bring when you visit. You can buy them there at The Tube Shack for $8.
Universal's Cabana Bay Beach Resort guests also enjoy early park admission to The Wizarding World of Harry Potter™ one hour before the theme park opens (of course, valid theme park admission required).
---
Anna Maria Island Beaches
Quietly tucked away on the island, The Waterline Marina and Resort puts you in a spacious 2-bedroom villa with plenty of space and quiet rooms for your kids to relax in after a full day of sea shell hunting and sun bathing in the sugar sand beaches. A quick ride on the Anna Maria Island Trolley to the SandBar around 6 p.m. gives you time to get a reservation and watch the sunset from beaches while you wait for your table. Guess the right time of the sunset and win a bottle of champagne!
The spacious rooms that fit up to eight make relaxing here a true vacation. We loved being able to bring our own food and drinks, which also helps save on costs. We were one block from the beach; no parking required!
Pro Tip: The more nights you book, the more you save. Inquire when booking a 3-night stay or longer.
---
Gaylord Palms Resort and Convention Center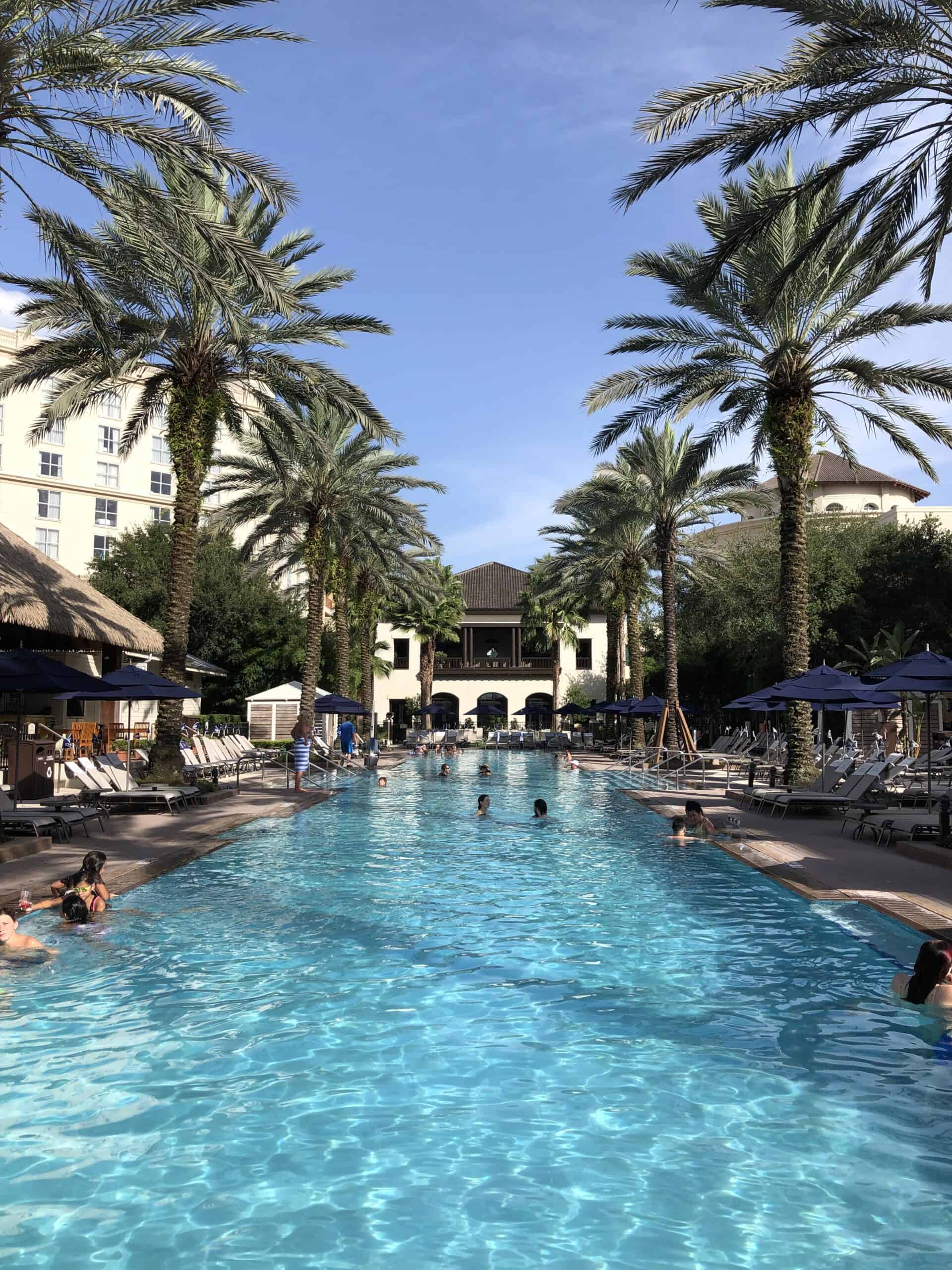 I truly LOVE the Gaylord Palms Resort and Convention Center.  We stay at least three times a year for a Mom-and-girls weekend, whether for their Christmas celebration or just for fun. It's located in the heart of Kissimmee and a hop, skip and a jump from Disney. The indoor atriums are stunning, and there is just something about an "indoor" hotel that is so fun to experience. The real Florida thematic atriums are amazing to explore. You can visit a replica of the Castillo de San Marco in the St. Augustine Atrium, feed the alligators in the Everglades Atrium or "sail away" on a sail boat in the Key West Atrium while you dine at MOOR. You can explore pools, water parks and a wide array of restaurants for poolside snacks or evening fine dining at Old Hickory (another one of my personal favorites). There is literally no reason to leave this resort. And make sure you download the Marriot Bonvoy App before you go to use all the contactless features for check in and Mobile Key features!
Pro Tip: Attention all teachers! There is an amazing discount for you when you book your room via the Teacher Appreciation or Military Appreciation codes! Learn more at GaylordPlams.com
---
Disney Springs Resort Area Hotels
Disney can be a mammoth of a vacation to plan, but what if you just want a fun, quick getaway to get your Disney fix by not even going to the Disney Parks? Staying in a Disney Springs Resort area hotel might be just what you need to get your Disney fix! Take advantage of special deals from six neighboring hotels, all within walking distance of Disney Springs. Just by booking, you'll receive an exclusive savings passport to select Disney Springs merchants and restaurants.
Disney Springs has so many unique places to explore that you'll want to keep coming back as you find new hidden hot spots! Check out the new donut shop, Everglazed, that will have you craving more than just their awesome donuts—try the Funky Chicken Sandwich with Spicy Fries that will blow your socks off! We love dining at places like Boathouse Morimoto Asia, Chef Art Smith's Homecomin' or the Polite Pig! We love to check out the new Disney merchandise at Disney Style, score some sweet treats from the newly opened M&M store, or try the new Gideon's Bakehouse for a delicious half-pound cookie. Flavors change monthly so it's a MUST DO to go back! Grab a fancy custom art latte from Joffery's or a $5 Margarita on Mondays from Frontera Cocina or a Froscato from Wine Bar George (think dole whip frozen cocktail). You'll have a wonderful time just walking around and enjoying the vibe.
---
Plantation on Crystal River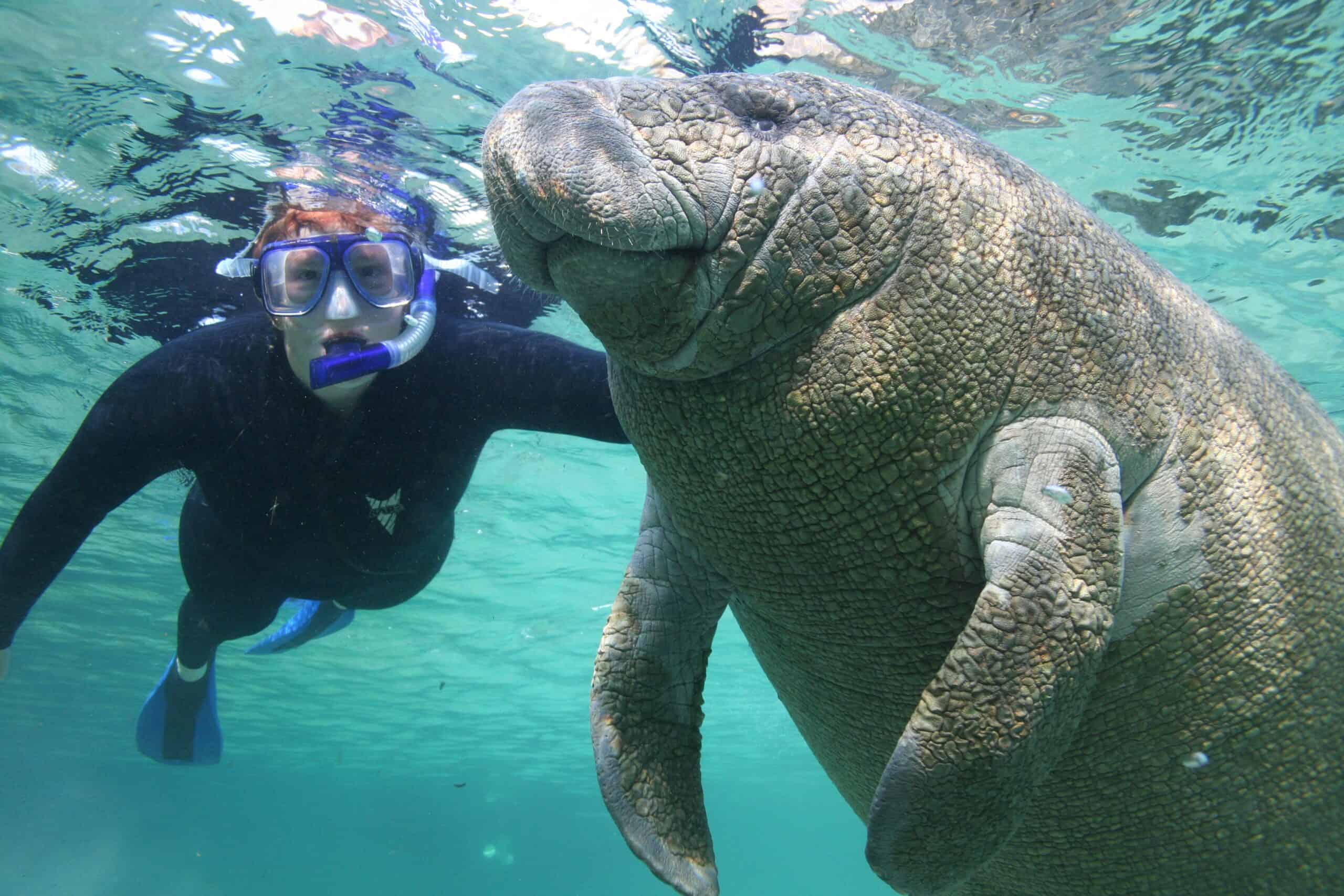 If you are up for a once-in-a-lifetime adventure, stay at the Plantation on Crystal River and enjoy swimming with the manatees as these gentle "sea cows" make their way from the cool waters of the Gulf of Mexico to the warm waters of Crystal River's network of pristine springs. Leave on your excursion from the Plantation Adventure Center and Dive Shop just a short walk from your room. Enjoy the small town of Crystal River or venture out on their abundant waters for an adventure of another kind: paddle boarding, fishing, kayaking or snorkeling. Definitely fun for all ages!
Pro Tip: Manatees begin to migrate back in March, so this month will be your last chance to see them until next January!
---
LEGOLAND Florida
LEGOLAND Florida Resort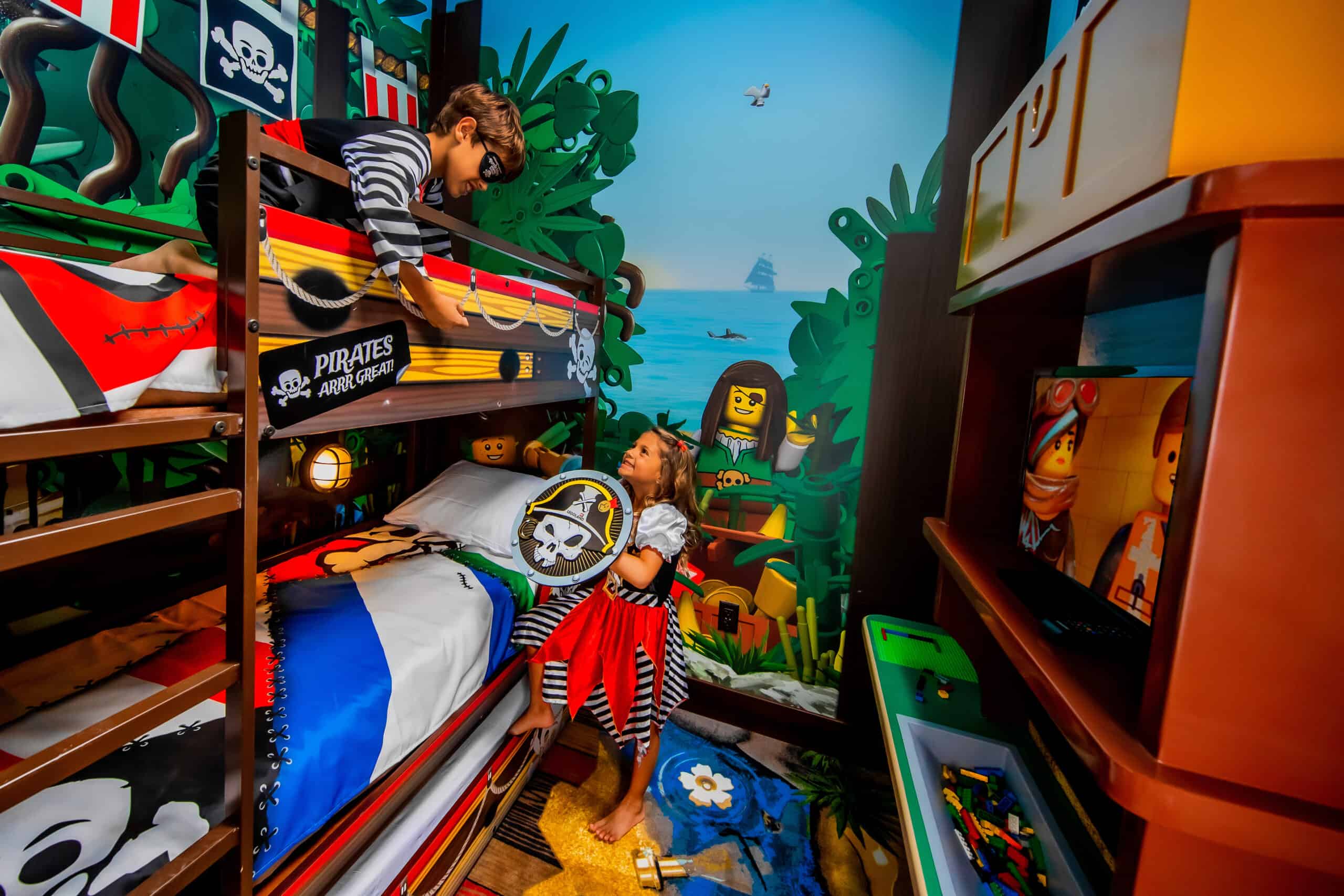 boasts three different hotels on its property, each with its own unique design and offerings. The newest is the Pirate Island Hotel which is attached to the main LEGOLAND Hotel. While there is a shared lobby, once you make your way over to the Pirate Island Hotel side of the resort, you're fully immersed into the world of pirates! There is a play area and bar with scheduled activities like a story time and more! The restaurant offers family style meals for dinner and breakfast along with a great kids menu which is included. The rooms at all of the hotels are most definitely kid-friendly with bunk bed nooks with their own TV's where the kids can catch non-stop LEGO movies as they rest for the night.
Be sure to sign up for LEGO building classes when you check-in and carve out some time when you first get to the room so the kiddos can do the in-room scavenger hunt with a special prize in the safe!
Related: INSIDE LOOK: LEGOLAND Florida Beach Retreat Resort 
The Beach Retreat is a super cute area across the street from the theme park–transportation is included. It's a collection of the most adorable bungalows with circle of houses having its own playground area. The main part of the Beach Retreat also has a play area and cool pool!
Be on the lookout for special deals, especially if you happen to be a pass holder!
Originally published in March 2021 issue of Tampa Bay Parenting Magazine.