How Brea Brings Smiles and Comfort to Hospitalized Children
She's not just a furry, lovable 4-year-old Labrador retriever who enjoys visiting with kids. Brea (pronounced Bray-UH) is the first-ever facility dog at Johns Hopkins All Children's Hospital. Facility dogs are a bit different from therapy dogs in that they are trained to assist with goal-oriented interventions and address the physical and psychological needs of patients, families and staff. Brea provides comfort, support and serves as a friendly distraction for children during procedures and throughout their hospitalization.
Brea was trained by Canine Companions, and she assists Child Life specialist Leah Frohnerath, M.S., CCLS throughout the hospital. Frohnerath practically grew up in the hospital herself, undergoing surgeries and therapies as a child for hereditary spastic paraplegia. The condition affected her leg muscles and her ability to walk, but she was introduced to animal assisted therapy early on, which helped her physically and emotionally. Frohnerath's own health care experiences inspired her to pursue a career as a Child Life specialist, and once she arrived at Johns Hopkins All Children's, she knew the benefit a facility dog could bring.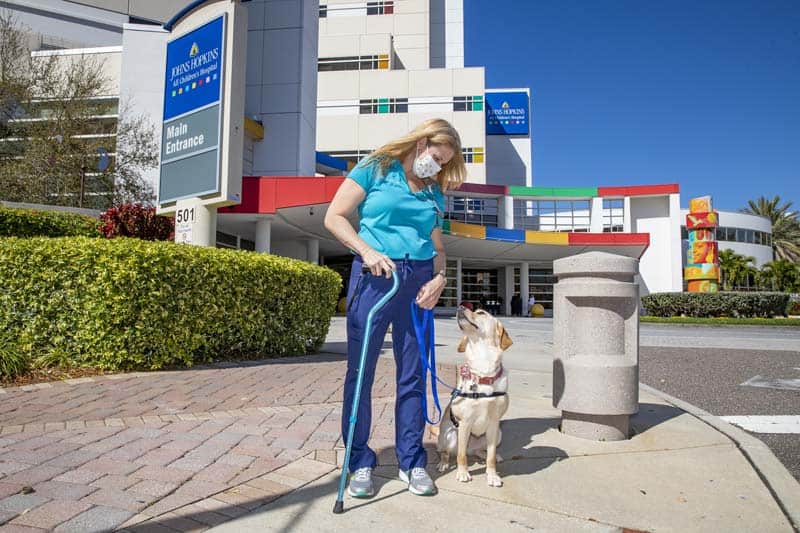 "A patient's motivation to connect with Brea is often strong enough to give them the courage when they need it the most," Frohnerath says.
This spring, Brea celebrates her 2-year anniversary at the hospital. She currently works 40 hours a week, calming and comforting patients through various procedures, blood draws, CT scans, MRIs and more. Eight-year-old Petra is just one of the many patients who have been impacted by Brea's services. Petra was diagnosed with Ewing's sarcoma in September 2022, and Brea has often been by her side during chemotherapy and other hospital stays.
"Brea is the nicest dog and Petra talks about her all the time," says Ingrid, Petra's mom. "When she was getting her port accessed for her chemo, Brea came and visited and it made her smile, and she didn't even think about the pain. Brea is very patient, goes on the bed, lays down, is very calm and projects her calmness to Petra and makes her smile."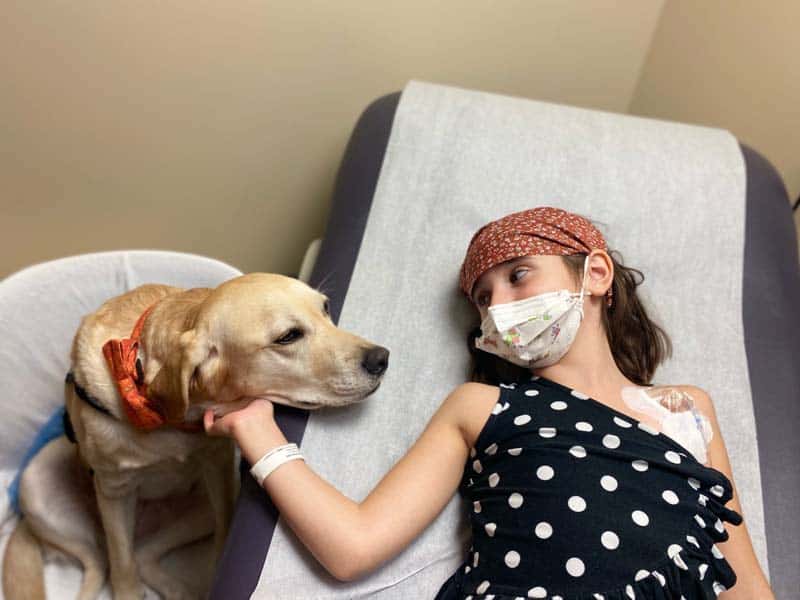 Brea has inspired Petra's family so much that they are planning to welcome a therapy dog in their home later this year. For now, instead of being scared for pokes and procedures at the hospital, Petra has a bit more courage when visiting the hospital, thanks to Brea.
Frohnerath hopes to spread the snuggles by adding another facility dog to the hospital staff one day. More than 15 generous donors have already made the hospital's facility dog program possible so far by paying for Brea's services as well as her food and other work-related expenses. For now, Brea continues to spread as much "paws-a-tivity" as she can.
Learn more about Brea and other Child Life programs and services at HopkinsAllChildrens.org/ChildLife
---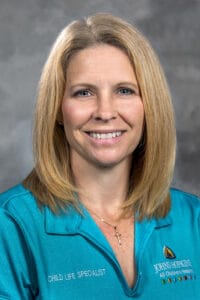 BIO: Leah Frohnerath is a certified child life specialist of 24 years. She joined Johns Hopkins All Children's Hospital in 2013. Since February 2021, Leah has worked with a Labrador Retriever facility dog named Brea (Bray-uh). Together, they provide child life services to children in radiology, the Infusion Center, the pediatric intensive care unit, the cardiac intensive care unit and the cancer and blood disorders unit. Frohnerath earned a bachelor's degree in Family and Consumer Sciences from Florida State University, followed by a master's degree in Healthcare Administration from the University of St. Francis in Joliet, Illinois.
---
*Presented by Johns Hopkins All Children's Hospital | Originally published in March 2023 of Tampa Bay Parenting Magazine.