Celebrating Hispanic Heritage: Two local moms share their deep roots in Tampa Bay
National Hispanic Heritage Month is celebrated from Sept. 15 to Oct. 15. Tampa is rich with Hispanic Heritage. Two Tampa moms, originally from Puerto Rico, share details about their roots and raising their own children with Hispanic heritage in Tampa Bay.
Meet Dr. Millie Cortes, DMD  
Can you share details about your Hispanic heritage?
MC: I was born and raised in Puerto Rico. My brother, parents and I were always surrounded by our large extended family. Uncles, aunts and cousins attended every holiday, birthday and graduation. The entire family showed up for school plays because that's what Puerto Rican families do. Mom always made extra food for the expected, unannounced guests.
Tell us about your education.
MC: I'm a pediatric dentist and attended undergraduate and graduate schools in Puerto Rico—graduating from what was the island's only dental school. Annually, only four students are accepted into the pediatric dental specialty program.
I also completed a residency in Advanced General Dentistry at NOVA Southeastern University, followed by a hospital-based dentistry program at Miami Valley Hospital (a major trauma center in Dayton, OH).
Pursuing a better future, in 2006, I made the difficult decision of leaving my family, my country and my culture. With opportunities for professional growth and geographically near Puerto Rico, I chose Florida. Adjusting to a different country, without family and friends, was tough.
During licensure testing in Gainesville, I met my husband, a dentist, William Wang.
Are you raising multilingual children?
MC: William, Taiwanese, speaks Mandarin and English. We're teaching our kids Spanish and Mandarin so they're comfortable traveling the world.
Bilingualism lets me help Hispanic patients who, despite English fluency, feel more comfortable communicating concerns in Spanish.
How do you teach your children about their Hispanic heritage in Tampa Bay?
MC: Strong family relationships and frequent visits to Puerto Rico. Celebrating with family in Puerto Rico helps them learn about our roots. We travel the island sharing my childhood stories. It's important that they develop a genuine love for Puerto Rico and our traditions.
Professionally, have you faced any challenges because of your Hispanic heritage?
MC: Dentistry, traditionally male dominated, has proven challenging for Latinas. I'm proud to be a female Hispanic pediatric dentist who's making a difference by educating children in oral health. I love what I do.
My husband and I started our practice, Wang and Cortes Dental, in a 900-square-foot building with one pediatric patient. With family and community support, coupled with hard work, we've grown into a multi-specialty practice offering cosmetic, implant and pediatric dentistry and orthodontics.
Advice for young Hispanics pursuing their dreams?
MC: Embrace your heritage. Keep your traditions alive. Use your culture to help achieve success in your profession and realize your dreams.
Any Latino role models?
MC: Supreme Court Justice Sonia Sotomayor. She came from humble beginnings and overcame barriers in a male dominated profession.
Favorite ways to celebrate your Hispanic heritage?
MC: Three Kings Day. My family gathered at my parents' house—a sleepover with cousins. Before bedtime, we gathered grass and water for the camels and bourbon for the Three Kings. At morning, we'd find presents from them. It was magical and innocent. Witnessing my kids' innocence and magic with the tradition is amazing.
Spanish restaurant recommendations?
MC: La Casona and Tostones Inc. But there's nothing like a homemade, Puerto Rican meal. My family loves dishes my mom taught me, like carne guisada—beef stew with carrots and potatoes. Comfort food. My mom's cure for el catarro, the common cold
A Latin song that always gets you dancing?
MC: Anything by Marc Anthony.
Meet Dr. Soli Salud, M.D.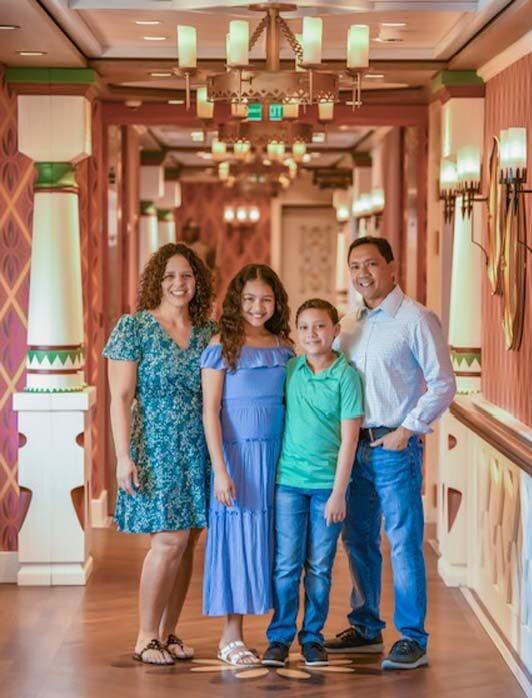 Can you share details about your Hispanic heritage?
SS: When my twin sister and I were 3 years old, my parents moved us from Puerto Rico to a small Texas town. We lasted two years; I learned English before moving back to P.R. Within a year, my parents chose moving back to the United States for better opportunities.
Our move landed us in a high-crime Orlando suburb. Ultimately, we found my parents' dream neighborhood and forever home in Winter Park.
What does your Hispanic heritage mean to you?
SS: A Hispanic household meant extended family was often present. My grandmother regularly visited from Puerto Rico, staying for months. We attended Spanish church services and being among other Hispanic families felt familial.
I still recite most prayers in Spanish, and I'm grateful my kids learn the same prayers at school. I have fond memories of rice and beans at dinner, Spanish music playing during weekend chores and dance filled parties.
Are you raising multilingual children?
SS: I'm fortunate to speak, read and write Spanish. Spanish isn't our home's primary language, but the kids hear it with grandparents and learn it at school.
Has being Latina proven a career advantage?
SS: I'm a pediatrician with Baycare Medical Group and graduated from Rollins College and USF's College of Medicine. I'm fortunate I can speak Spanish and connect with my Spanish speaking patients, advantageous in Tampa.
Any Latino role models?
SS: My parents. They sacrificed much to give my sister and I the best opportunities and remain our biggest supporters—encouraging us and always proud of our accomplishments.
Did you inherit any Spanish recipes?
SS: Arroz con gandules reminds me of home. As a kid, I'd pick out all the gandules (pigeon peas) and just eat the rice…my kids keep that tradition alive.  
Spanish restaurant recommendations?
SS: Gio's and El Cafetal. Both serve delicious Latin food.
Favorite ways to celebrate your Hispanic heritage?
SS: My favorite traditions are at Christmas time. We celebrate Noche Buena (Christmas Eve). After mass, we eat traditional Puerto Rican foods: pork, arroz con gandules, pasteles and tostones. Honoring the Three Kings' visit to baby Jesus, our Christmas tree stays up until Jan 6. I feel fortunate continuing these traditions with our children.
---
Feature Image: The Wang (Cortes) family, Millie (mom), Alexander (son), Ana Sofia (daughter), and William (husband); Image credit: Sara Jin | Originally published in September 2023 of Tampa Bay Parenting Magazine.