Cleft Lip and Palate Awareness Month: One in a Million Bree
July is National Cleft Lip and Palate Craniofacial Awareness Month.
Five-year-old Bree Brown is very special. So special, in fact, that she is literally one in a million.
"Bree wasn't breathing when she was born," reflects an emotional Areen, Bree's mom.
During Areen's pregnancy, Bree wasn't measuring properly on sonograms. It was discovered that she would be born with one of 460 different possible skeletal dysplasias, with the possibility of other complications.
Bree was born at a local Tampa hospital and admitted to their neonatal intensive care unit (NICU), but her breathing problems persisted. When she was just 5 days old, she was flown to Johns Hopkins All Children's Hospital.
"The way they had everything set up for Bree, she looked like she was finally resting for the first time," says Areen.
In the NICU, Bree had genetic testing that showed her diagnosis: a rare, one-in-a-million skeletal dysplasia called Kniest dysplasia. This is when they also discovered hearing loss and a cleft of the soft palate.
Ernesto Ruas, M.D., who specializes in plastic surgery and cleft and craniofacial surgery, met with Areen and her husband, Boyd, to discuss the process of repairing her palate.
"Cleft palates happen in about one in every 800 live births," Ruas says. "It's a fairly common condition. The first thing I always tell the parents is to please don't go on a guilt trip. This is not your fault. I try to approach it in a positive fashion because it is a bump in the road, but I always reassure them that this is a fixable problem."
Most cases don't have a known cause, and at least half of cases of cleft lip and palate are diagnosed via ultrasound prenatally, although cleft palates are more difficult to see.
"It was very scary, but he was very reassuring about how simple the operation was," says Areen.
Bree was about 6 months old when she had her surgery, and within a few weeks, no longer needed assistance from her gastrostomy tube (a feeding tube often known as a g-tube) and was bottle feeding by mouth.
Frequently with an incomplete cleft, it's only one operation. However, Bree, now 5, is a special case who may need a follow-up surgery because of air affecting her speech with "S" and "Sh" sounds.
"Ten percent will need further surgery to improve their speech, and she's one of them," says Ruas.
While the family is in discussion with Ruas about a possible surgery, Areen and Boyd are so proud of what their little girl has already overcome.
"We know she's going to face way more challenges than most of us are," says Boyd. "Our biggest hope is that she is fiercely independent and has a heart full of love for the Lord."
Here are Ruas' top 3 tips for families:
Don't go on a guilt trip. It's not your fault.
Choose your surgeon carefully and get multiple opinions. Do your homework and educate yourself.
Question your surgeon. They should be comfortable answering questions.
Visit HopkinsAllChildrens.org/CleftLipPalate for more information.
---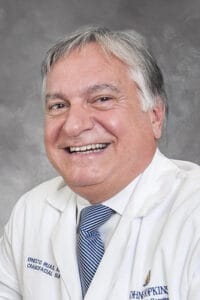 Dr. Ernesto Ruas specializes in plastic surgery and cleft and craniofacial surgery at Johns Hopkins All Children's Hospital and is the director of plastic surgery resident education. He joined the hospital staff in 1990. He is board certified by the American Board of Plastic Surgery and is a clinical professor in the Department of Surgery at the University of South Florida Morsani College of Medicine. Dr. Ruas earned his medical degree at the Johns Hopkins University School of Medicine and completed general and plastic surgery residencies at The Johns Hopkins Hospital. He completed a fellowship in maxillofacial trauma and microsurgical lower extremity reconstruction at The Maryland Institute of Emergency Medical Systems Services (MIEMSS) and a craniomaxillofacial surgery fellowship under Dr. Fernando Ortiz-Monasterio in Mexico City. Dr. Ruas is fluent in Spanish.
---
*Presented by John Hopkins All Children's Hospital | Originally published in July 2023 of Tampa Bay Parenting Magazine.