The Best Life for Logan: Bilateral Cleft Lip and Palate
Sometimes it would seem you can look at a child's photos and tell in an instant whether they are well loved. Logan's baby pictures are like that.
There are other distinctions in those photos too. In Logan's first precious months of life, he looked different from other babies. Logan was diagnosed with a complete bilateral cleft lip and palate – the result of a failure of the bones and tissues that form the nose, lips and roof of the mouth to fuse during development in the womb.
Cleft lip and palate can affect feeding, hearing, speech and dental development, as well as a child's self-image.
Jodi remembers holding Logan in the days after her twins' birth (Logan and Lindsay), completely in love and making promises to her newborn son.
"I remember whispering to him and telling him we were going to do the very best for him," Jodi says.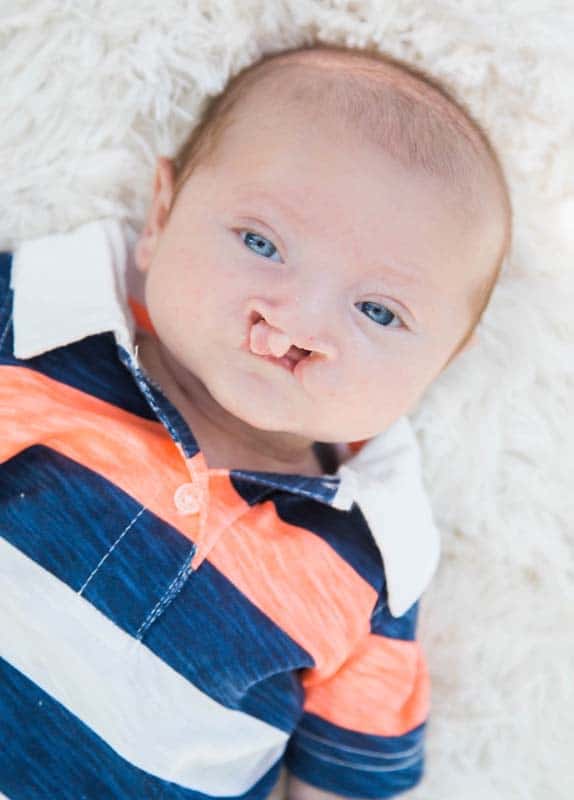 The Best Care
Jodi and Logan's dad, Joe, wasted no time making good on their promises. They had done their research and arranged for Logan to be treated by Alex Rottgers, MD, a highly skilled pediatric plastic surgeon at Johns Hopkins All Children's Hospital in St. Petersburg.
Rottgers is the chief of the division of plastic and reconstructive surgery at All Children's. He's served two terms as president of the American Cleft Palate–Craniofacial Association (ACPA), and currently works with a team of experts—the only ACPA accredited team in the Tampa Bay area—all of whom are focused on the goal of helping babies like Logan receive the best possible outcomes.
"We treat these children for about 20 years," Rottgers says. "We're looking at their speech and development, at dental growth and at surgical impacts on the growth of facial bones. We're really not done until they're finished growing as teenagers."
The Game Plan
Rottgers shared a "game plan" with Logan's parents, carefully outlining each step and answering their questions.
At three months old, an orthopedic device called a Latham was surgically attached to Logan's palatal bone and periodically tightened to help pull the cleft together to allow for a more successful repair.
At four months old, it was time for Logan's lip repair.
Saying goodbye to Logan's special smile was surprisingly emotional for Jodi and Joe.  But they knew it was time to welcome in his "forever" smile.
Rottgers and the surgical team performed the complex lip repair as well as a primary nose reconstruction on baby Logan.
"I looked at his face … and it was wonderful, wonderful work," Jodi says. "He looked amazing."
But Logan still didn't have a normal palate (roof of the mouth, separating oral and nasal cavities). Just before Logan's first birthday, Rottgers performed the cleft palate repair surgery (palatoplasty), closing the opening in the roof of the mouth and delicately arranging the muscles and tissue to support normal function.
As Logan began to heal, his development was dramatic. He was able to learn to eat normally and had fewer gastro-intestinal issues. He began to learn to talk. He was a giant step closer to living life with normalcy.
Promises Kept
Today, Logan is a happy, healthy 6-year-old. His speech is perfectly normal, and he is social and active. He still has surgeries in his future, but he's come a very long way.
"We never want him to be ashamed of his cleft lip and palate," Joe says. "We show him his baby pictures. This just makes him extra special."
Learn more at HopkinsAllChildrens.org/CleftLipPalate
---
Dr. Rottgers practices in the pediatric plastic and craniofacial surgery programs and is chief of the division of plastic and reconstructive surgery at Johns Hopkins All Children's Hospital. He is board certified by the American Board of Plastic Surgery and is a full-time assistant professor of plastic and reconstructive surgery with the Johns Hopkins University School of Medicine. Dr. Rottgers completed a clinical fellowship in craniofacial surgery at Harvard Medical School and Boston Children's Hospital. He earned his medical degree from Baylor College of Medicine in Houston, and followed with an internship and residency in plastic surgery at the University of Pittsburgh. He graduated from medical school with highest honors and received the Leighton L. Hill Excellence in Pediatrics Award.
---
*Presented by Johns Hopkins All Children's Hospital | Originally published in December 2022 of Tampa Bay Parenting Magazine