An ALL NEW Coachman Park is Coming to Clearwater!
Coachman Park in Clearwater is getting a massive makeover! The project, called Imagine Clearwater, is designed to connect the waterfront and the Downtown Clearwater community. Renovations include a new park space, gateway plaza, pedestrian promenade, scenic overlook, playground, splash pad, and performing arts venue.
Daily recurring events will include health and fitness classes, food and beverage experiences, exhibitors, children's games, as well as activities and park amenities, walking trails and more.
Related: 10 Things We Love About the NEW Bonnet Springs Park in Lakeland
The newly imagined family-friendly park has been in the works since September 2021 and is set to open this June. While the park is still under construction, here is what you can expect and how you can experience the park starting this summer!
Stay tuned for more details as we get closer to the Grand Opening!
The Sound
One of the biggest highlights of the park's redevelopment is the construction of a new 9,000-capacity covered outdoor performing arts venue. The goal of this addition is to help establish the area as a premier location for diverse live entertainment with a year-round performance schedule.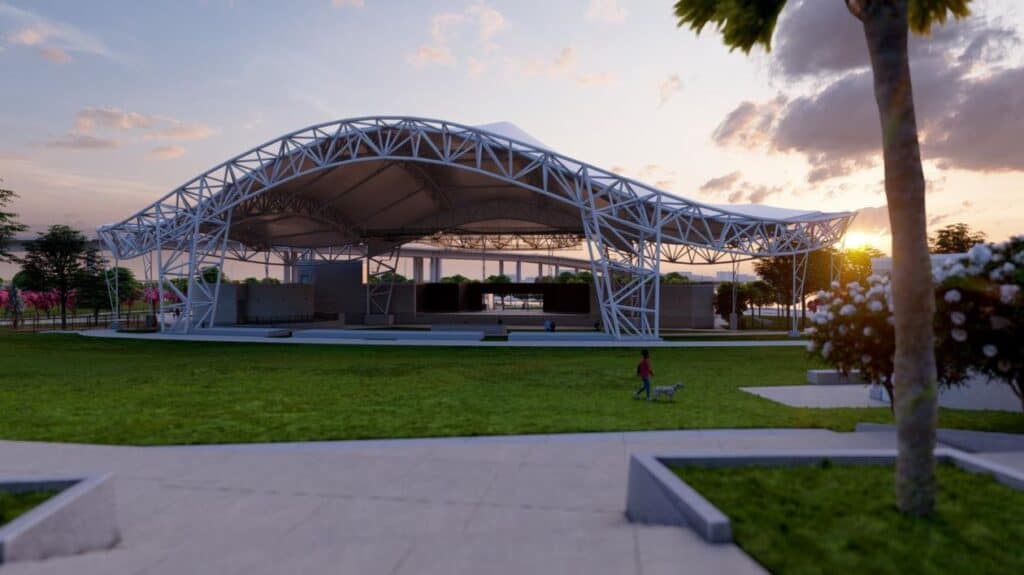 Playground and Splash Pad
A fenced-in pirate-themed playground will be situated along the waterside and will include multiple climbing structures, a wooden bridge, a giant enclosed slides. Right behind the playground, kids can cool off by running through the large splash pad area.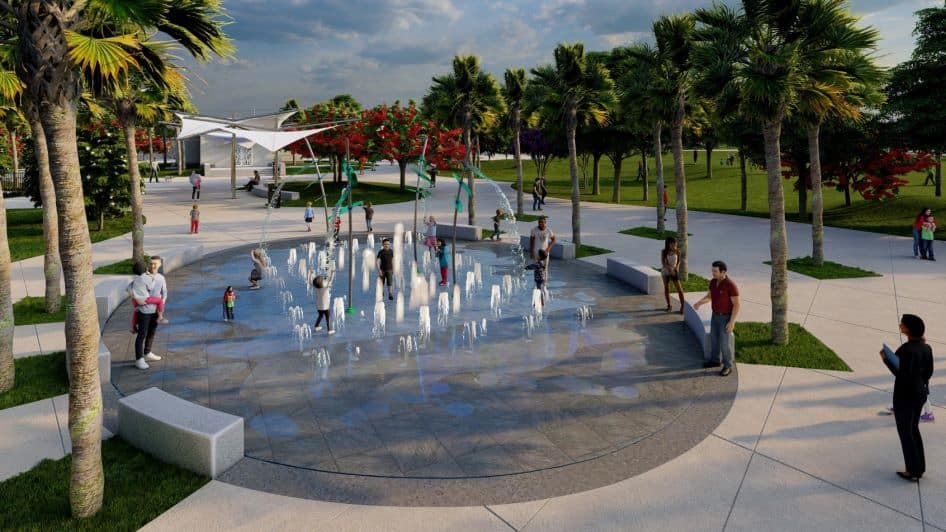 The Green and Coachman Gardens
The area will feature 19 acres of park space for guests to wander and enjoy. The Lake will feature a pedestrian bridge and several covered picnic table areas along with a 320-foot scenic lake overlook with solar powered rentable pavilions.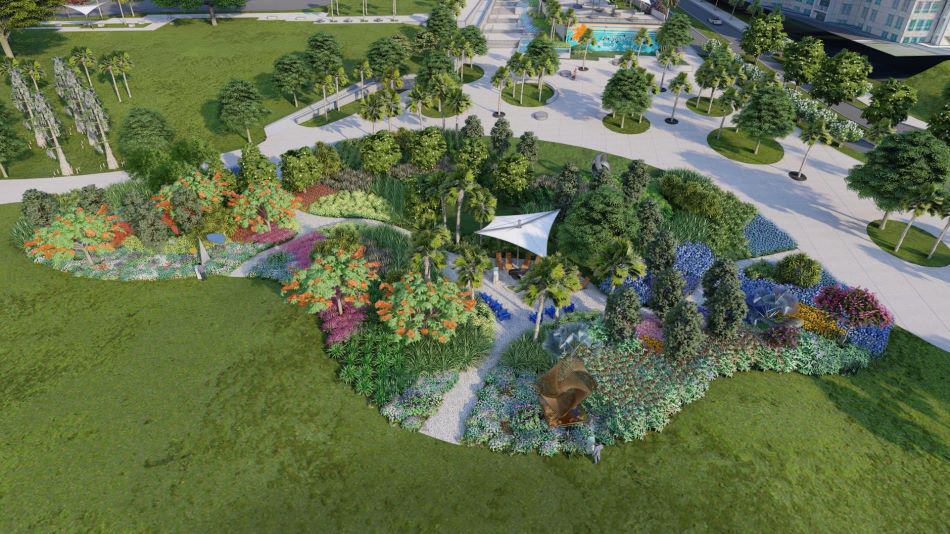 Gateway, Upper Plaza, and Dockmaster
A tree-lined gateway plaza and bluff walk will connect the park to downtown Clearwater. The upper plaza area will feature a public art wall and a shaded pedestrian promenade overlooking the intracoastal waterway. A marina amenity building will be located in the dockmaster area.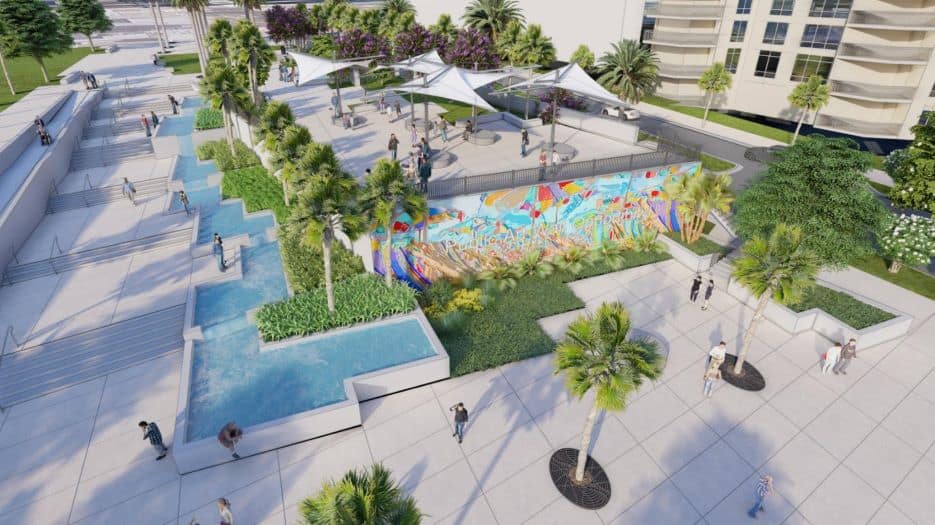 Coachman Park Grand Opening
On June 28, the city of Clearwater and Ruth Eckerd Hall will host a weeklong grand opening celebration packed with events, concerts, and the return of "Clearwater Celebrates America" Independence Day fireworks over Clearwater Harbor.
"I am thrilled to kick off my first day as mayor by sharing the exciting week of events and activities planned for the park, which marks a significant milestone for our city," said Mayor Brian Aungst Sr "The grand opening of Coachman Park and The Sound represents a new era of entertainment and recreation in Clearwater."
Each day will be themed to highlight a different aspect of the community and feature musical performances such as The Black Honkey's Band, Rumbero's De Tampa Bay, Colbie Caillat and Gavin DeGraw, Dave Koz Summer Horns Tour with Special Guests Candy Dulfer & Eric Darius, Peter Frampton, The Florida Orchestra and more.
Susan M. Crockett, Ruth Eckerd Hall President & CEO said, "Clearwater will truly be celebrating with a wonderful grand opening week that offers something for everyone.  We are very excited to play our part in bringing world-renowned artists to the festivities."
Coachman Park Grand Opening Schedule of Events
Wednesday, June 28
The weeklong grand opening celebration of Coachman Park will begin with "Clearwater Celebrates Coachman Park." The ribbon-cutting ceremony for the park will occur at 5pm followed by the first concert at The Sound. Artist is TBA.
Thursday, June 29
The theme will be "Clearwater Celebrates Diversity & Culture" and will celebrate the rich diversity that exists within Clearwater, with a focus on promoting inclusivity and understanding across all communities. There will be a multicultural market and crafters, as well as dance troupes and musicians showcasing their talents. The day will end with a free community concert at The Sound featuring Tampa Bay's favorite local group, The Black Honkey's Band.  
*General admission for shows on June 28 and 29 are free and will be on a first come, first served basis. Chairs are limited – bringing blankets for the lawn is encouraged.
Friday, June 30
Friday's theme will be "Clearwater Celebrates Music." Guests can enjoy a craft beer garden, local musicians on The Green and street entertainment. The day will close out with a concert at The Sound, featuring Grammy winner Colbie Caillat and Grammy nominee Gavin DeGraw, starting at 7pm.
Saturday, July 1 
"Clearwater Celebrates Community" will begin with a 5K running event. Following the race, participants can enjoy the craft beer garden, performances on The Green, a farmers market and events honoring Clearwater's neighborhoods.
Sunday, July 2 
"Clearwater Celebrates Hispanic Culture" is dedicated to celebrating the large Hispanic community that makes up the fabric of Clearwater. The day will feature dance classes with professional instructors, musical performances on The Green, such as Rumbero's De Tampa, DJs, and delicious Hispanic cuisine from local food trucks.
The night will end with a concert at The Sound featuring Grammy winner Peter Frampton at 7pm. Frampton returns to Clearwater for the first time in seven years on his Never Say Never Tour.
Tickets for shows on June 30-July 2 range from $9-$129.59 and go on sale Friday, April 14 at Ruth Eckerd Hall at 10am. Tickets can be purchased by calling 727-791-7400 or visiting TheSoundFLA.com. 
Monday, July 3 
"Clearwater Celebrates Wellness" will be a day highlighting the passive recreation areas of Coachman Park and promoting healthy and active living. Participants can join a community volunteer cleanup or host their local meet-up group outings at the park. To prepare for the Independence Day Celebration, there are no large events or concerts planned for July 3.
Tuesday, July 4
To end the weeklong celebration, "Clearwater Celebrates America" will include a classic car show featuring vintage cars and trucks. Shop local at the farmers market, enjoy the sounds of street entertainers and let the kids burn off energy with family-friendly entertainment.
As the day comes to a close, witness the grand finale – the largest fireworks display in Clearwater's history accompanied by The Florida Orchestra. Following the fireworks, stick around for an immersive silent disco party to keep the celebration going!
Tickets are required for the free concert on July 4 and are available in advance at TheSoundFLA.com beginning Tuesday, May 2. General admission is first come, first serve.  Chairs are limited, bringing blankets is encouraged. 
All renderings and images are provided by the city of Clearwater. 
Looking for more family-friendly things to do? Check out 20+ Awesome Things to Do this Weekend in Tampa Bay.