The Power of Play: How Corbett Prep is incorporating PLAY in the classroom
There's serious play happening in Corbett Prep's PreK4 class on "Not a Box" day. Piles of craft supplies—stickers, glue, ribbons, markers, colored paper—are scattered around the classroom suite as students transform cardboard boxes into cars, rockets, houses, tunnels and even a unicorn.
The Study of Play: Not a Box
Inspired by the book "Not a Box" by Antoinette Portis, students flex their creativity and curiosity to turn everyday boxes into whatever they want. They step into their boxes and blast off to space or speed around like race cars. They cut out windows, tunnel through narrow openings and decorate with mosaics of construction paper.
The activity is full of fun, but it's building their brains, too. The pre-kindergartners are empowered to decide what they want to do with their boxes and how to accomplish it, and their unique interpretations reveal their perspectives and interests.
Playtime boosts brain development, according to the American Academy of Pediatrics. It gives children the chance to resolve conflicts, advocate for themselves and practice making decisions in fun and healthy ways.
Different types of play offer different benefits, wrote Peter Gray, a psychology research professor, in a 2017 article. Challenging physical games can increase fitness and improve coordination and also encourage risk-taking and build courage.
Pretend play prompts children to think outside the box as they build fantasy worlds where they set the rules and see how different scenarios unfold. Games with other children help students with social skills, teamwork and cooperation.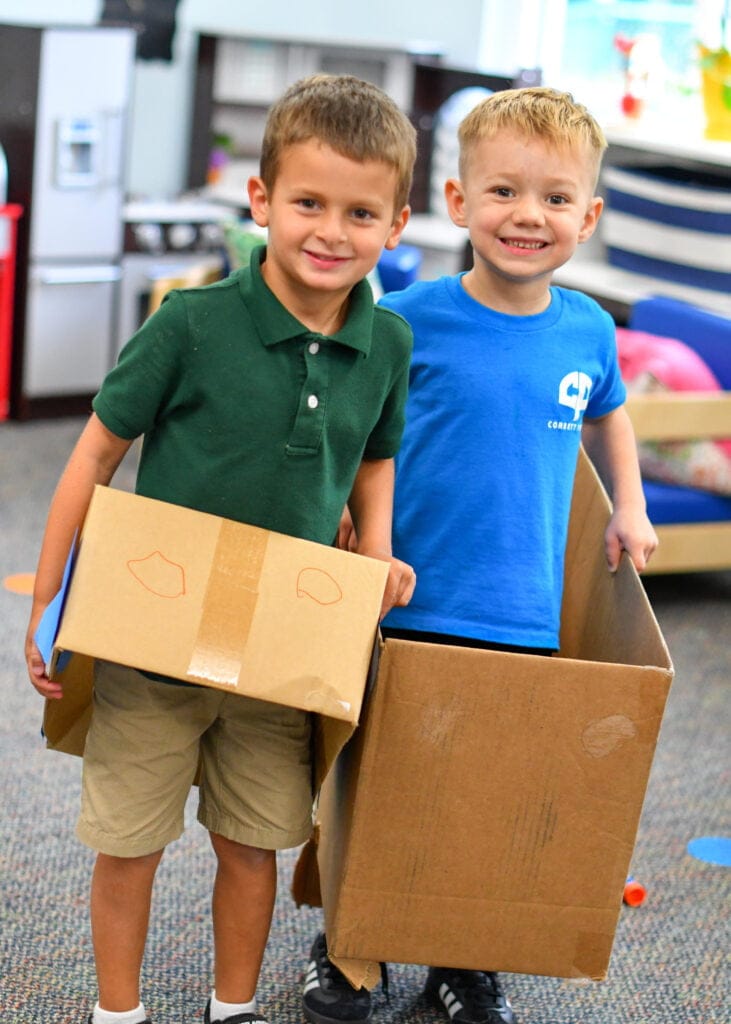 At Corbett Prep, playing is also an opportunity to study individuality and the value of creativity.
PreK4 examines the central idea that people can learn and express themselves through creativity and play as part of the International Baccalaureate transdisciplinary theme "How We Express Ourselves." During the unit, students see how playing and curiosity can inspire people's creativity and help them develop ideas or solve problems. They talk about respecting classmates' creations, such as leaving a block structure up to admire instead of knocking it down.
They also see that it's OK if their friends follow another path or come to a different conclusion.
The students discuss what it means to play, from building with Legos to reading books to spending time with friends or pets, and that the act of playing also means taking care of your toys, making safe choices and treating friends respectfully.
They explore deeper questions as well. Can play help people? Is there always a winner in a game? Do kids in other countries play differently? Why do some people choose to paint and some people make up stories?
And most importantly in the IB unit, the PreK4 students play. The teachers enjoy watching students' ideas come to life, and they gain insights into how students think and the connections they make. For the students, learning through play is engaging, holding their attention and helping them better understand and retain what they learn.
---
*Presented by Corbett Prep | Originally published in November 2023 of Tampa Bay Parenting Magazine