INSIDE LOOK: "Daniel Tiger's Neighborhood: A Grr-ific Exhibit" at Glazer Children's Museum
I can hear my daughters playing together in the other room. As often happens when young children are learning and growing, their sweet giggles subside and are replaced by sounds of frustration. I pop my head into the room and start singing:
 "When you're feeling frustrated

Take a step back, and ask for help"
They stop playing and look at me. I sing it again, and this time they join in.
"When you're feeling frustrated

Take a step back, and ask for help"
With calmer voices now, they start to discuss what went wrong. The youngest is struggling to express her feelings. "Use your words," I remind her.
When she explains that she can't get the crayon box open, her big sister simply reaches over and opens it. Problem solved.
As I leave the room, quietly congratulating myself on handling that conflict, I realize that I can't take credit. Daniel Tiger solved this problem.
In fact, Daniel Tiger helps me with a lot of parenting challenges and teachable moments. His simple and thoughtful songs and phrases address many of the big feelings that my little ones experience every day.
At the Glazer Children's Museum, we love that Daniel Tiger's Neighborhood teaches life's little lessons. And we are thrilled to announce that Daniel is coming to our neighborhood this summer!  "Daniel Tiger's Neighborhood: A Grr-ific Exhibit" is opening at the Glazer Children's Museum on May 29.
This exhibit brings to life the themes presented in the PBS series like community, communication, and emotions, helping young children to understand their feelings and those of their neighbors.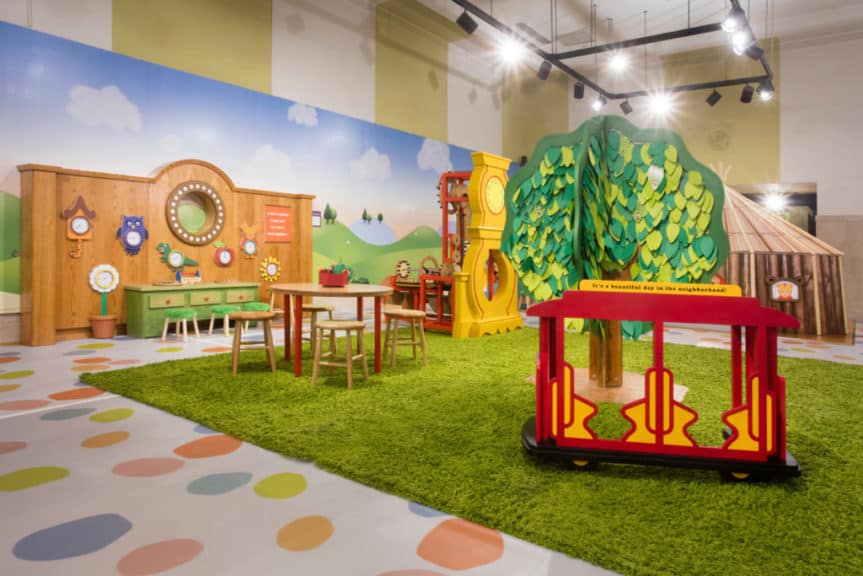 In this exhibit, you enter the world of Daniel Tiger and friends to explore the Neighborhood. Collaborate to solve problems, use your imagination to transform your surroundings, and play along with Daniel's singable strategies for learning life's little lessons.
Sing with Daniel, work together to solve problems, and even experience the contagious nature of kindness.
Along with the social and emotional lessons gleaned in the Neighborhood, you can:
Compose a song or play along with one-of-a-kind instruments
Visit the Post Office and sort, deliver, and receive packages and letters
Create stories through the Movable Character Mural
Step inside the Clock Factory to play with a variety of clocks
Identify spots in one's own neighborhood on the interactive world map
Write or draw thank-you notes and put them on the Thank You Tree
Cozy up with a good book in O the Owl's Reading Nest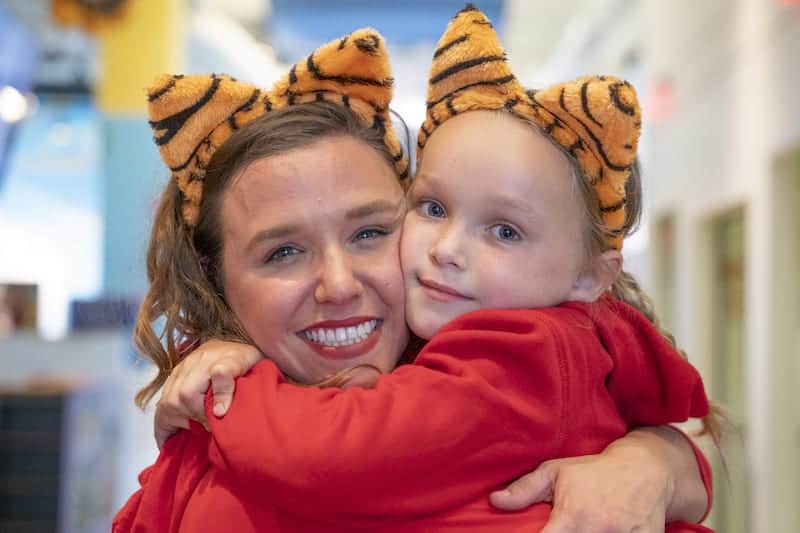 I loved Mister Rogers' Neighborhood as a child. I remember feeling like he understood me, that he cared. The Neighborhood of Make Believe captured my imagination and led to hours of pretend play.
Now that I'm grown with children of my own, we watch Daniel Tiger's Neighborhood together. As soon as the song begins, a wave of nostalgia passes over me. I am transported back to the Neighborhood of Make Believe, and this time I get to share it with my daughters.
"It's a beautiful day in the neighborhood
A beautiful day for a neighbor
Would you be mine?
Could you be mine?
Won't you be my neighbor?"
*Photos provided by Glazer Children's Museum
Originally published in May 2021
WATCH our tour of "Daniel Tiger's Neighborhood" with Kate White at Glazer Children's Museum: