Local Mom, Delilah Dawson, Pens New Novel Based on Star Wars: Galaxy's Edge
Delilah Dawson is a New York Times best-selling author and mom of two whose most recent novel is a must-read for those of you planning to visit Star Wars: Galaxy's Edge at Disney's Hollywood Studios!
Her novel, Star Wars Galaxy's Edge: Black Spire will introduce you to the world of Batuu and the fierce Resistance spy Vi Moradi who you'll get to meet when you immerse yourself in the world of Star Wars: Galaxy's Edge.
We met up with her and her family to talk more about how she became involved with Star Wars and Lucas Films and learn more about what inspired her to become an author in the first place…moms, you'll totally relate!
TBPM: Tell us about yourself! How did you get your start as an author? Tell us about your family.
DELILAH: I grew up a visual artist, got my art degree, and worked in non-profit art centers. When I was 31, my 9-month-old son stopped sleeping, and so did I. I was hallucinating talking rats in the walls! My husband Craig helped me get more sleep and suggested I write a book so I'd have something to do while staying home with two young children.
My brain was so broken that I said, "Sure! Why not?", and in three months, I had a manuscript. Within six months I had a literary agent, and in another year, I had my first book deal with Simon & Schuster.
Craig and I are still married, and my son Rex is ten. My older daughter, Rhys, is thirteen.
TBPM: How did you get involved with the Star Wars brand?
DELILAH: I've always been a huge Star Wars fan, so when I saw my friends Chuck Wendig and Kevin Hearne writing Star Wars, I asked my agent to send some of my books to the editors at Del Rey. My first project was a novella called "The Perfect Weapon" that came out right before "The Force Awakens."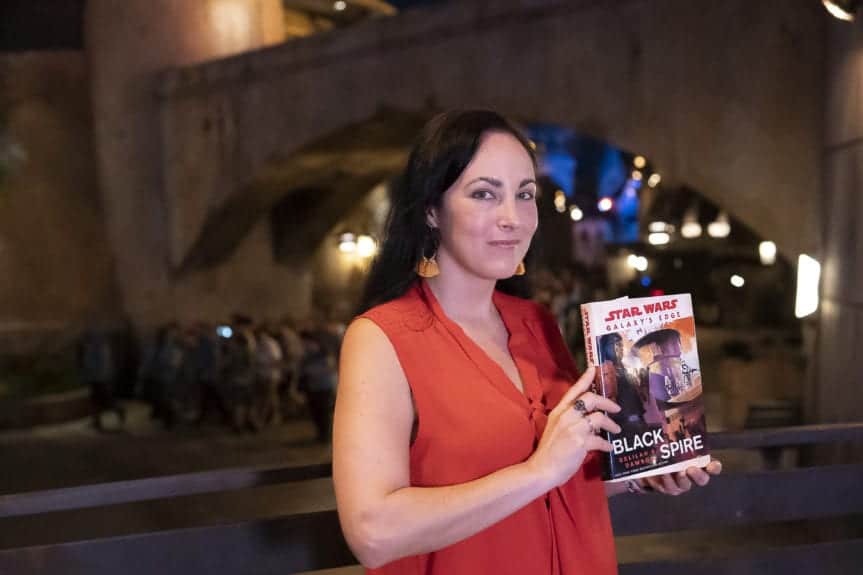 TBPM: Your most recent novel is an (unofficial) sequel. Tell us more about your books and your character Vi Moradi.
DELILAH: I was so delighted when we received the news that Vi, first appearing in my novel Phasma, would be part of Star Wars: Galaxy's Edge. Vi's story continues in "Star Wars Galaxy's Edge: Black Spire," and although reading "Phasma" first will inform the relationship between Vi and Archex, you definitely don't have to read any other Star Wars books to enjoy "Black Spire" and learn the history behind what you'll see at Black Spire Outpost.
Vi is Leia's best spy, dedicated to fighting the First Order. She's tough but compassionate, snarky and sarcastic but optimistic, and she firmly believes that everyone has gifts that can help the galaxy become a better place.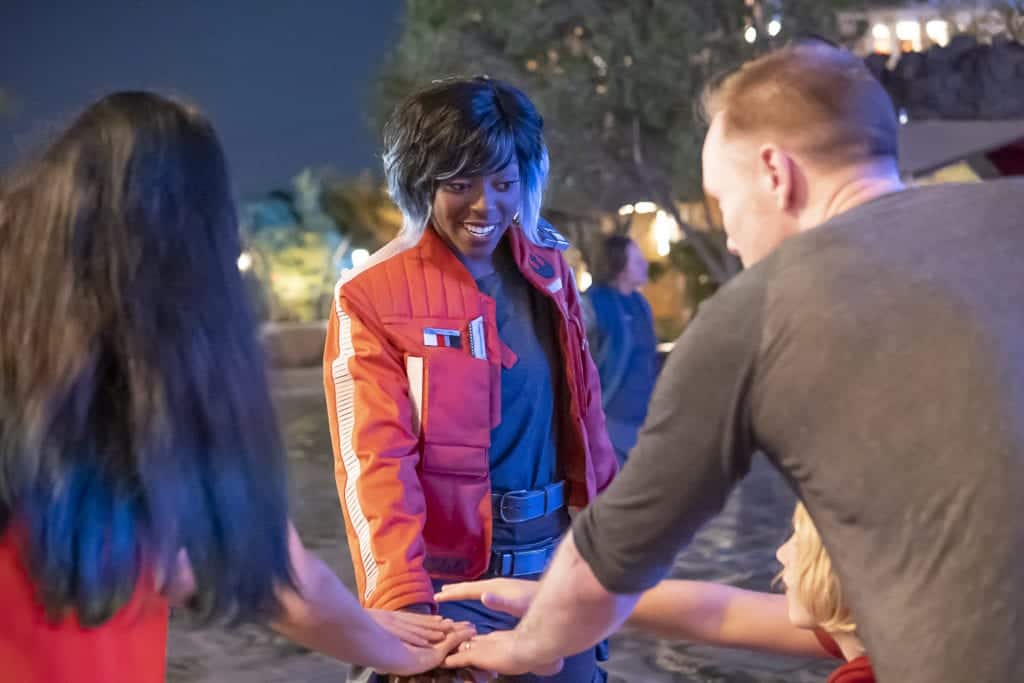 TBPM: To meet Vi and see Batuu/Star Wars: Galaxy's Edge for the first time…what was that like for you?
DELILAH: Incredible! I liken it to how Big Bird knew about Snuffleupagus for years, but the rest of Sesame Street finally got to meet him one day and understood that he was real. Vi is my Snuffie! I love watching Vi draw kids into the story at Galaxy's Edge, and I got to enjoy the fun, too. Vi asked me to distract some stormtroopers so she could escape, and when I was successful, she inducted me into the Resistance. If you say, "Ignite the spark," to her, she'll know you can be trusted!
TBPM: What is your advice to kids out there who want to be writers/authors when they grow up? What helped you along the way?
DELILAH: Well, for one thing, you can start any time. You're never too old or young to write a book! I didn't know I wanted to be a writer until I was 31. The trick to writing is to stop judging your work. Don't go back and read your last paragraph and notice everything that's wrong with it; write the entire draft and *then* look at it critically and fix it. I tell myself that all first drafts are garbage.
If you read Stephen King's book "On Writing," you can even see his first drafts, which are not the same as what you see in finished books. That made a big difference for me.
I also don't start writing until I know the main character, the beginning, the inciting incident where everything changes, the main conflict, the climax, and the ending. If I don't know those signpost moments, I can't start writing—it's like going on vacation with no idea where you want to end up. I always need to keep my characters aiming for that endpoint.
TBPM: What are some of your favorite things to do as a family in Tampa Bay?
DELILAH: Our favorite place is Advent Health Center Ice. My daughter takes figure skating lessons there, and my son and I have our own ice skates and love to join her at public skate sessions. We're members at ZooTampa and especially love the decorations at Halloween and Christmas. We get a lot of mileage out of our season passes at Busch Gardens and Adventure Island Water Park. We're clearly all about adventure!
TBPM: Anything else you want to add that you think our readers would like to know?
DELILAH: In addition to my Star Wars novels, I also have a full backlist of books from Romance, to YA, to Horror, to Weird Western to my humorous Fantasy series The Tales of Pell, co-written with Kevin Hearne. And I write comics in known worlds, like Marvel Action Spider-Man, Star Wars Adventures, and Adventure Time, as well as the creator-owned comics Ladycastle, Sparrowhawk, and Star Pig. You can find all my works on my website, whimsydark.com.
TBPM: What are your favorite things to do as a family at Walt Disney World?
DELILAH: We love staying at Disney hotels, especially when we can get a good deal the night before for a surprise visit. We always schedule a character breakfast—our favorite one is at 1900 Park Fare with Pooh, Piglet, and Tigger, and I'm a big fan of the gluten-free waffles. My son loves thrill rides like Space Mountain and Twilight Zone Tower of Terror, my daughter loves the chill rides like The Haunted Mansion, and my husband and I love Avatar Flight of Passage in the Pandora section of Disney's Animal Kingdom. We all love Disney restaurants, especially Be Our Guest for breakfast in the Beast's parlor and lunch at Jungle Skipper Cantina. We have mastered the Magic Band system and can usually get in three rides we love before dinner.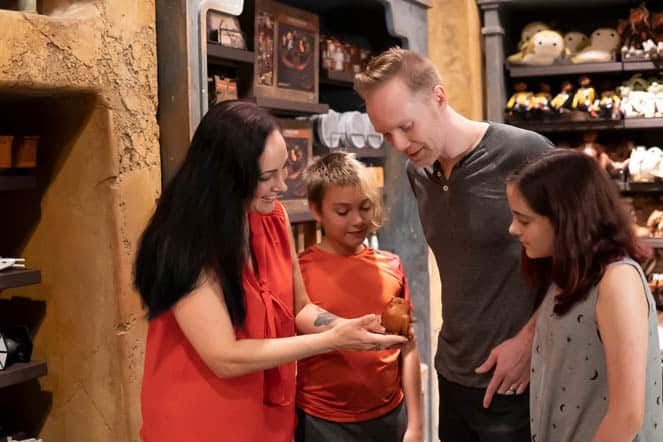 TBPM: What are your family's favorite things to do at Star Wars: Galaxy's Edge at Hollywood Studios?
DELILAH: Everything! Just being there is such a treat. As a lifelong Star Wars fan, I never thought I'd be able to walk through such an immersive world. I love Millennium Falcon Smuggler's Run, of course—my favorite seat is the pilot's seat so I can take the ol' hunk of junk to hyperspeed. I love the food, from blue and green milk to Kat Saka's popcorn to fried Endorian Tip-Yip at Docking Bay 7 Food and Cargo.
I love the market and building a lightsaber at Savi's Workshop was an incredible and moving experience. It's the details that really speak to me—hacking droids with the Play Disney Parks app, talking to the Batuu residents about their thoughts on the Resistance and First Order, and reading the signs in Aurebesh—which I taught myself to read just to make my visits to Galaxy's Edge more real. And don't forget to count the porg nests in the Millennium Falcon!