Shellebrate Spring and Discover Dinos at Clearwater Marine Aquarium!
Just minutes away from white, sandy turf of Clearwater Beach sits Clearwater Marine Aquarium. CMA has dedicated itself to the rescue, rehabilitation, and release of sick and injured marine animals since 1972.
Over the years, CMA has expanded to create more dedicated space for rescued marine animals.
Recently, they unveiled a 1.5-million-gallon dolphin habitat, the Ruth and J.O. Stone Dolphin Complex, which was 14 years in the making. The larger habitat allows room for future rescued animals and features nine viewing areas for visitors to watch the dolphins.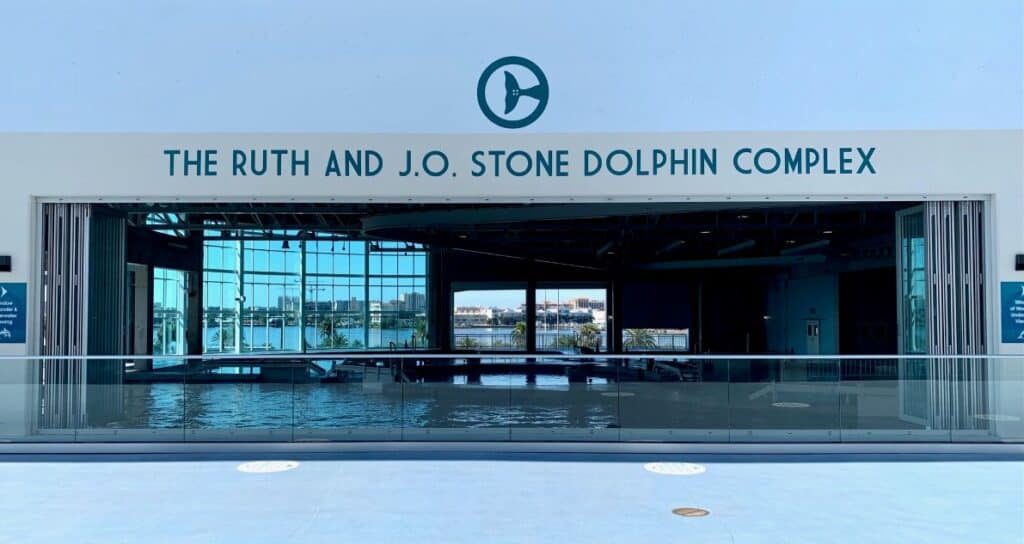 In addition to their animal habitats and permanent exhibits, you can also find some amazing events and travelling exhibits at CMA! Keep reading to learn how to get up close to some prehistoric rescues and "shellebrate" spring!
From March 11 to 18 and April 1 to 15, guests can take a break from the ordinary from 4 to 8pm with CMA's Spring Shellebration! Extended hours give guests more time to enjoy all the extraordinary animals and exhibits CMA has to offer plus tons of family-friendly entertainment sure to make spring break special.
Groove with drummers, a DJ, and party dancers; get in the spring spirit with face painting; be amazed by a spectacular bubble show in the theater; and let the kids test their skills with games and activities throughout the aquarium. Themed foods and beverages will be available for purchase.
Spring Shellebration is the perfect way to close out the day – book an after 4pm Evening Admission in advance and save $3 off regular admission. Staying for the week? CMA's Spring Vacation Admission Special gives unlimited admission for seven days so guests can return and enjoy all the excitement Clearwater Marine Aquarium has to offer.
Dinosaurs are Now Roaring at Clearwater Marine Aquarium!
On October 15th, rescued dinosaurs were brought to CMA to be rehabilitated, just like some of their marine life friends! Dino Rescue, CMA's latest experience, brings guests up close to life sized dinosaurs – some as tall as 35 feet and 65 feet long!
The dinosaurs move and roar as they rehabilitate from various ailments that today's animals face, like habitat loss and entanglement.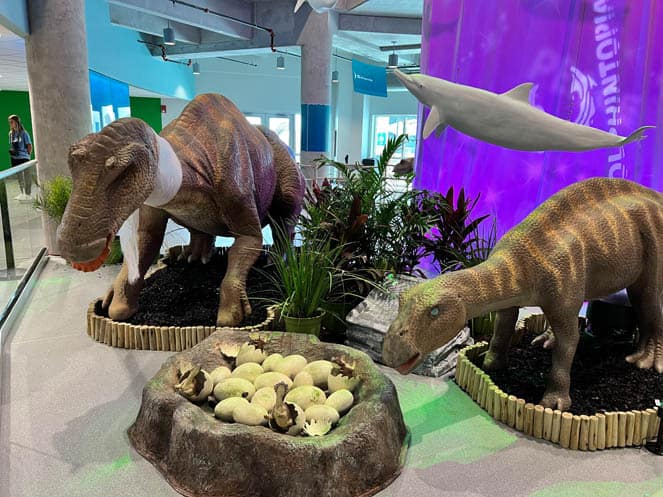 There are twelve species of dinosaurs to learn about, each with a medical patient workup chart with their backstory on display.
"We hope that by applying these real-life challenges to the dinosaurs in a fun satirical fashion, it will bring to light the severity of these ailments which can lead to the very real extinction of an entire species," said COO Lisa Oliver.
Guests can learn why dinos such as velociraptors, Nugget, Popcorn, and Waffle were surrendered by their owner, how Lizzie the T-rex injured her tail, and how Gus the parasaurolophus got sick.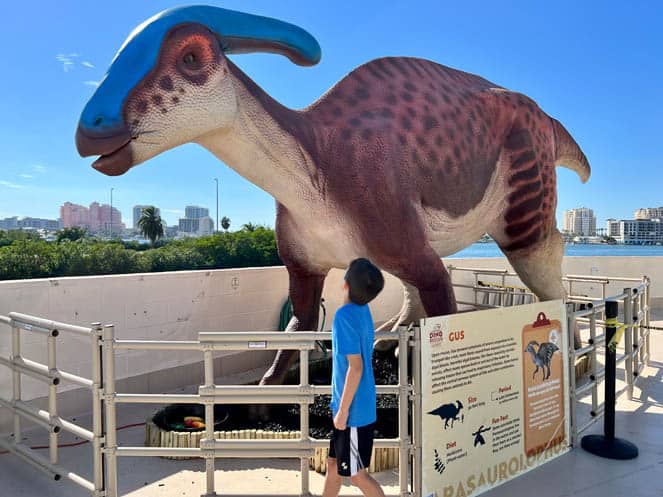 One of the coolest behind-the-scene facts about Dino Rescue is that they were created by "Dino" Don Lessem, a paleontologist who served as a dinosaur consultant on Jurassic Park.
"I'm excited and honored to bring the greatest animals of the past to Clearwater Marine Aquarium," said "Dino" Don of this special exhibition. "We've gone to great lengths to ensure these are the most accurate dinosaur robots in the world and dinosaur fans are going to love them!"
The dinosaurs are on display throughout the facility, giving guests the opportunity to explore different areas of the aquarium that they may not have otherwise seen. You can catch Dino Rescue now through April 15th.
Dino Rescue is included with general admission.
Remembering Winter
Winter the dolphin, CMA's most famous resident, unfortunately passed away on November 11, 2021, due to an intestinal abnormality. Winter was rescued in 2005 when she was found with her tail entangled in a crab trap.
Her story made headlines when she received a prosthetic tail, which inspired the movies Dolphin Tale and Dolphin Tale 2. Though she's gone, her presence is still felt throughout the facility and her legacy lives on and continues to inspire.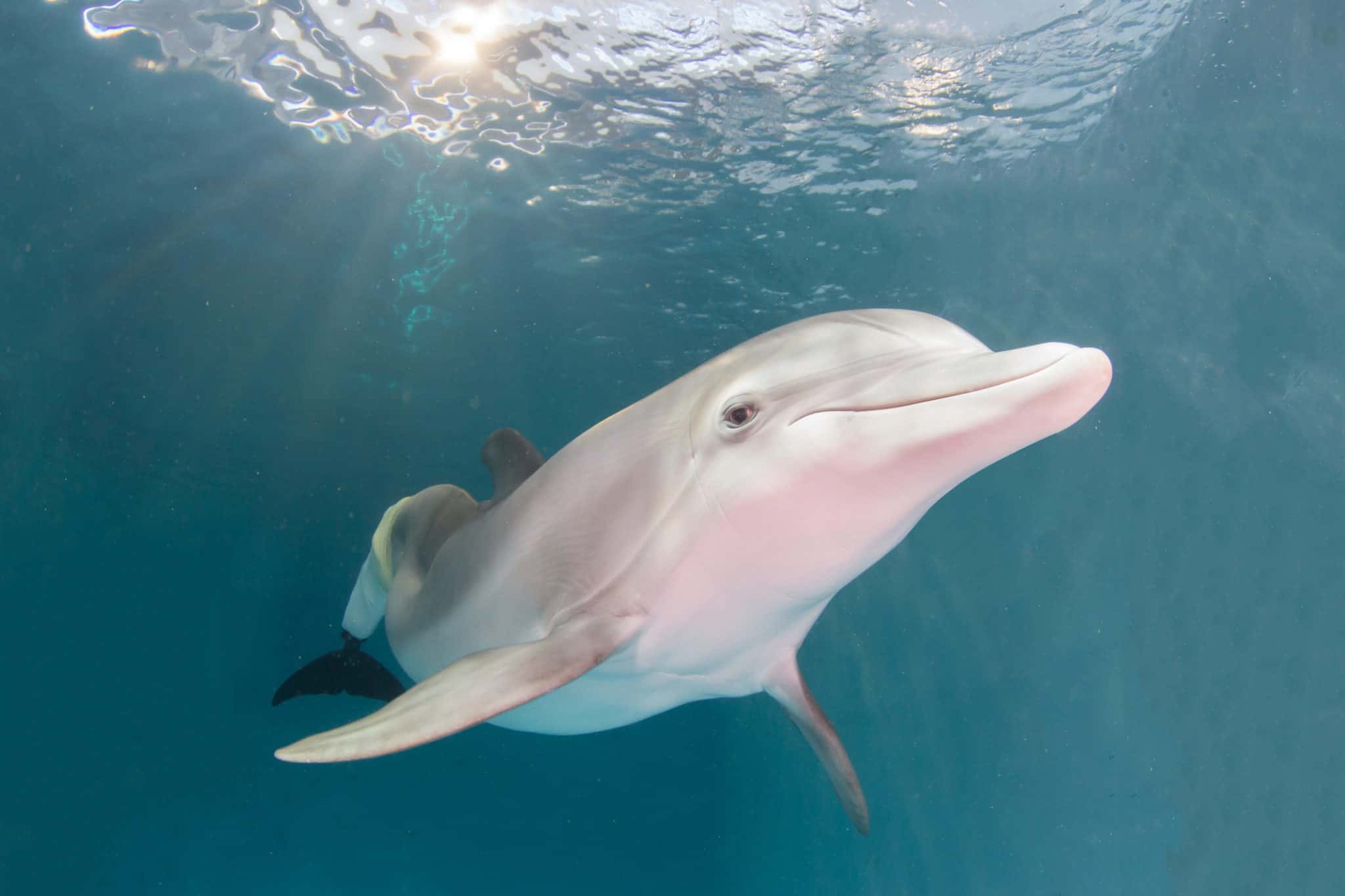 Visitors who are coming from out of town or locals who want a staycation can check out Winter the Dolphin's Beach Club. This hotel is the first eco-friendly hotel on Clearwater Beach. Funds from each room night goes towards animal care, education, research, and conservation of marine animals.
To plan a visit, become a member, or to learn more about their programs, check out cmaquarium.org. CMA is a 501(c)(3) non-profit organization.