Dinosaurs in Motion at MOSI
The traveling exhibit, Dinosaurs in Motion, at MOSI will capture your imagination from the moment you walk through the doors.  The 14 recycled and repurposed steel life-sized dinosaur sculptures, created by the late North Carolina artist John Payne, seamlessly integrate art and technology through the use of robotics, pulleys, levers, and works of art.  This is STEAM (Science, Technology, Engineering, Art, Math) learning in action!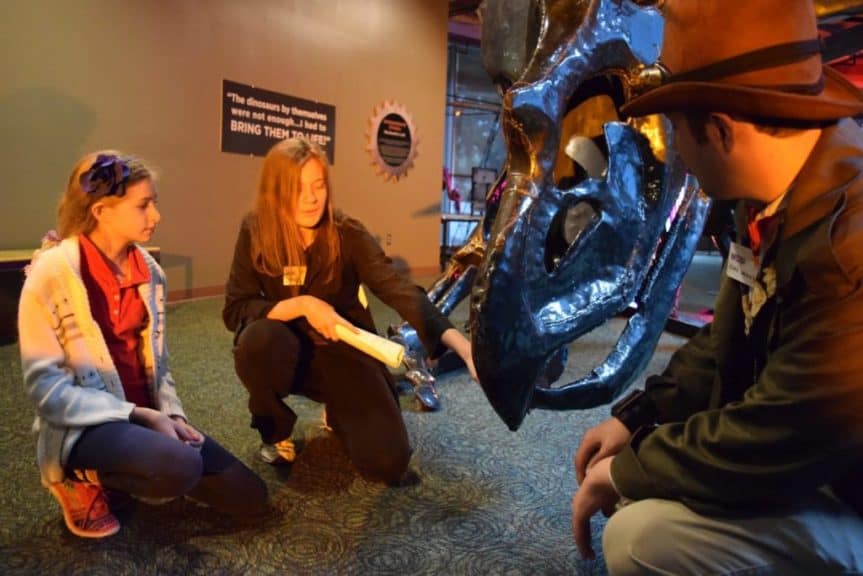 Learning through hands-on play reinforces the science lessons outlined at each display.  We made an enormous 44-foot long T-Rex roar, flapped the fins of a plesiosaur, and counted teeth in the mouth of the herbivore diplodocus and carnivore deinonychus.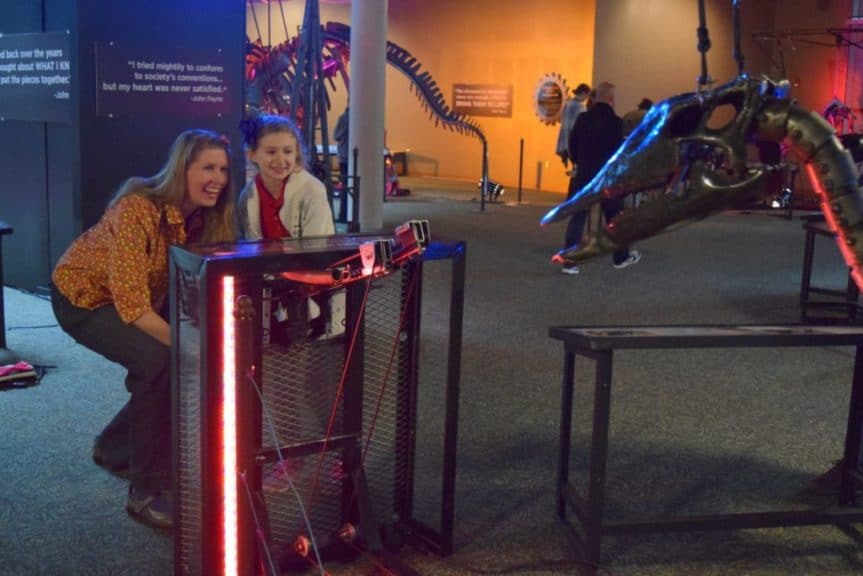 STEAM based learning was a motivating factor for artist John Payne.  "The dinosaurs were not enough. I had to bring life to them." said Payne.  The sculptures utilize exposed pulleys, levers, and robotics to reveal life-sized biomechanical and kinetic principles.  Payne wanted to leave visitors with the motivation "If you can dream it, you can do it."
We were encouraged to touch, pull, push, and engage with these dinosaurs in ways we never could have imagined.  You can, too!
Dinosaurs in Motion opens this Saturday at MOSI and will be on display through Mother's Day (Sunday, May 8, 2016). It's free for MOSI members and included with general admission.
For more information, please visit the Tampa Bay Parenting blog and MOSI.
MOSI, the Museum of Science & Industry, is Tampa Bay's community-supported science center. At MOSI, people of all ages (this means you!) can see and do amazing things every day. MOSI (we pronounce it MOH'-zee) is the largest science center in the Southeast, and a not-for-profit magnet for S.T.E.A.M. innovation and cutting-edge education where we make a difference in people's lives by making science real for people of all ages and backgrounds. At MOSI, explore and discover in the Florida Hospital IMAX® DOME Theatre, Kids In Charge! Children's Science Center, Sky Trail® Ropes Course and Zip Line, Idea Zone creative space, and Mission: Moonbase – funded in part by NASA. MOSI is the proud winner of the 2009 National Medal for Museums from the Institute of Museum and Library Services, the nation's highest honor for museums, and a recipient of the NOYCE Foundation's Bright Lights Community Engagement Award. For more information on MOSI, visit mosi.org.
Imagine Exhibitions is the global resource for all things related to exhibitions. From design to creation, placement to presentation, marketing and operations, Imagine has the experience and inspiration to bring the best possible exhibition to any venue. Imagine is currently producing over 25 exhibitions around the world. For more information, visit www.imagineexhibitions.com .