5 Reasons We LOVE the Disney Character Breakfast at Topolino's Terrace
Perched high atop the magical expanse of Walt Disney World Resort is Topolino's Terrace. This rooftop restaurant at Walt Disney World is one of the key features of Disney's Riviera Resort. And the character breakfast at Topolino's Terrace is one of the best experiences of them all.
We're dishing all the goods about this unique Disney character dining experience. Besides sharing five reasons we love Topolino's Terrace for character breakfast, you can take advantage of our expert tips!
By the way, in case you're wondering, Topolino is Mickey Mouse's name in Italian.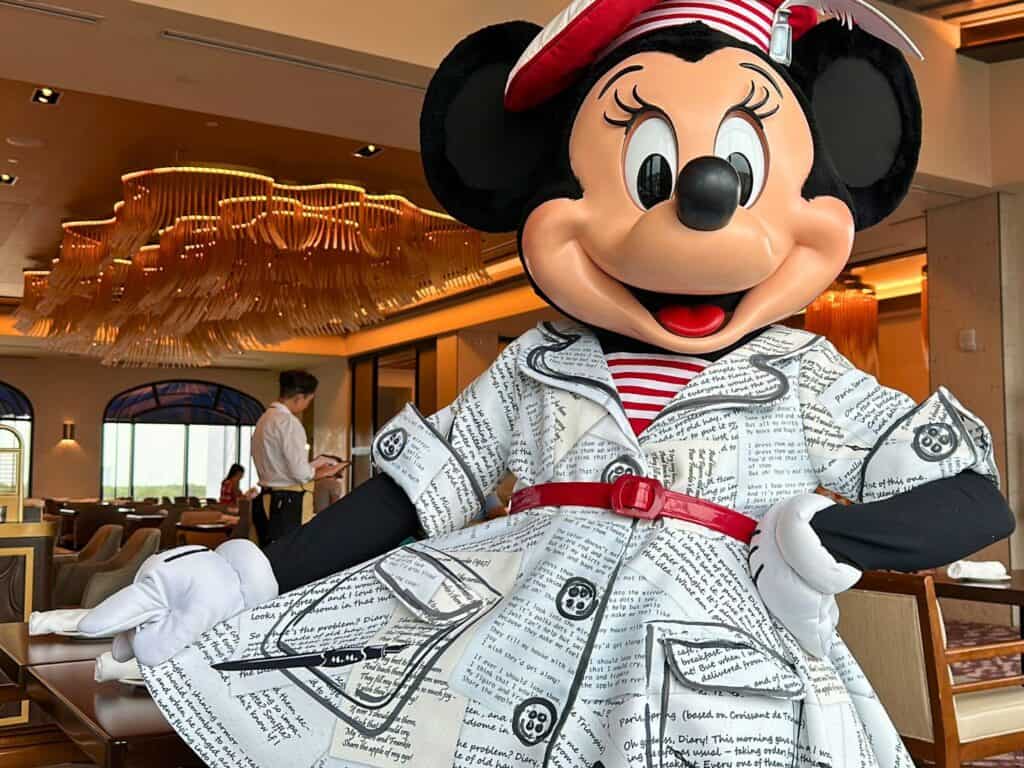 Breakfast is available as early as 7:30 am for early risers
Mickey, Donald, Goofy, and Daisy appear in adorable artistic outfits
Delicious gourmet entrees
Unique pastry basket included
Rooftop location with panoramic views of Disney property
Important Info about Topolino's Terrace Character Dining
Character dining occurs during breakfast only
Is Topolino's breakfast all you can eat? No, it is one entree per person, but it also includes a generous pastry basket (made in-house)
Character breakfast at Topolino's Terrace is $45 per adults, $29 per child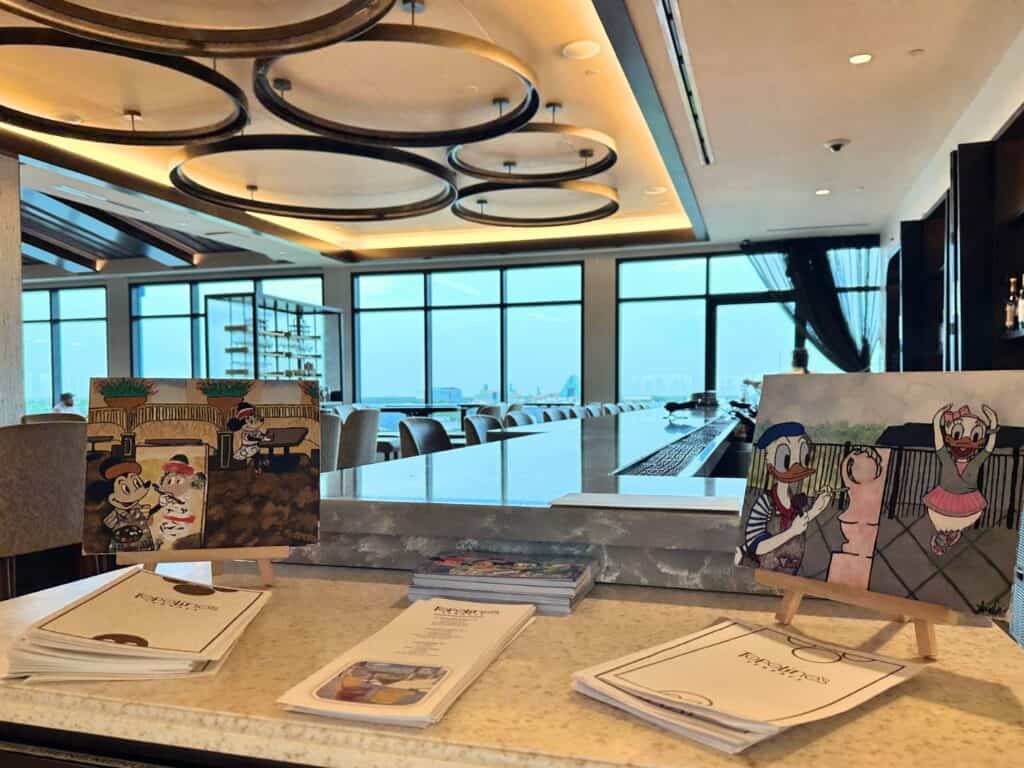 The price for character breakfast at Topolino's Terrace seems a bit high at first, since it is not all you care to eat dining. After all, this is the same price as other character dining experiences that offer a buffet or family dining.
But in many ways, it is worth it.
Topolino's Terrace Characters
Get ready for visits and hugs with Mickey, Donald, Minnie and Daisy. Each character dons a fantastic art-inspired outfit to fit.
Mickey is a painter, Donald is a scuplter, Minnie is a poet, and Daisy is a ballerina. This is such a unique Disney character dining experience, and perfect for any kiddos with an artistic side.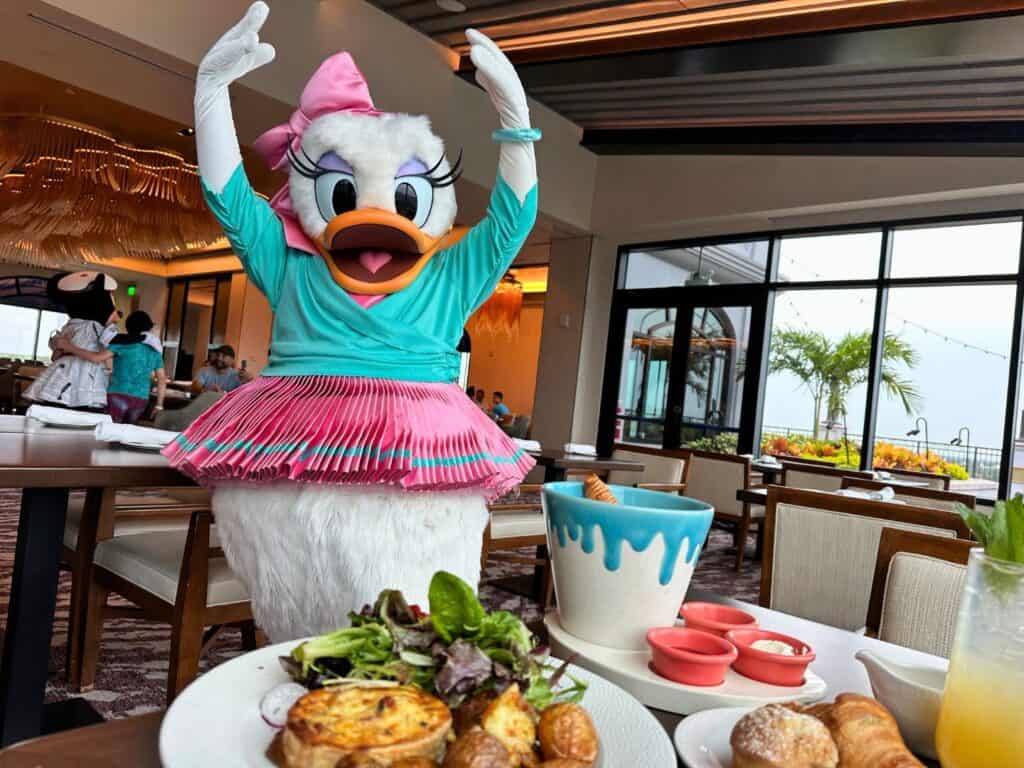 Food at Topolino's Terrace Breakfast
Breakfast is delicious and high quality. Each table receives a large pastry basket with freshly made in-house pastries. Croissants, chocolate chip muffins, and fresh apple cake fill a basket that resembles a paint bucket.
Each pastry is fresh and they are served with incredible strawberry preserves plus vanilla sweet butter, and chocolate hazelnut spread.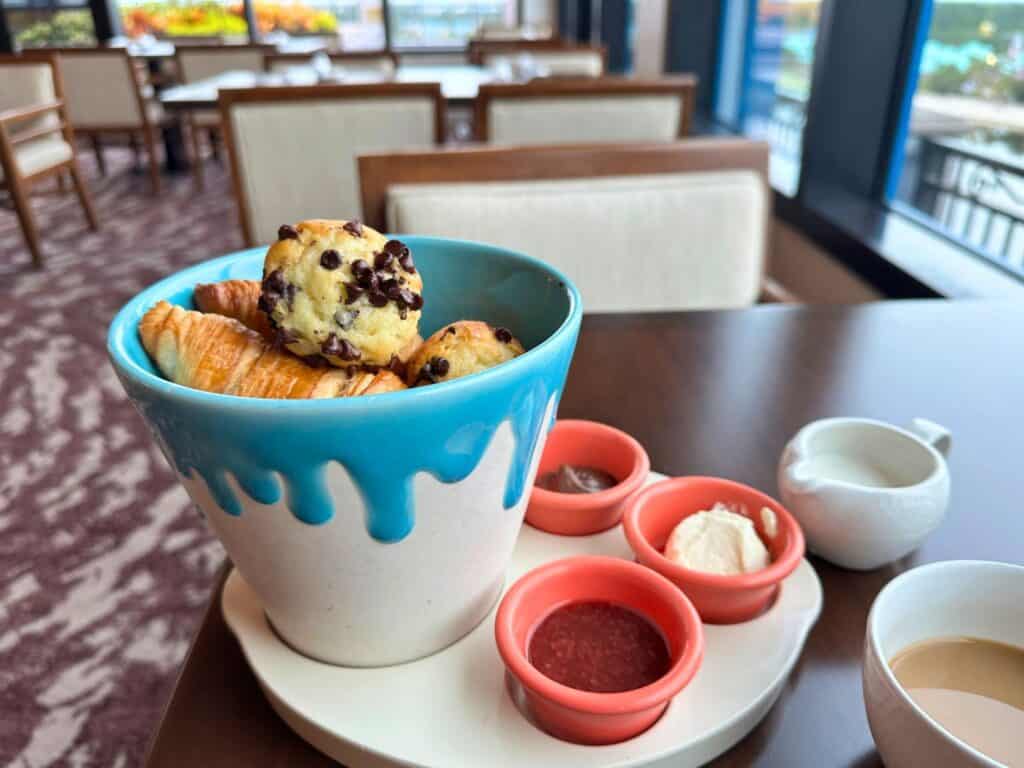 Breakfast entrees for adults:
Quiche Gruyère: House-made Pancetta, Roasted Potatoes, Field Greens, Lemon Vinaigrette
Avocado Toast: Prosciutto, Poached Egg, Toy Box Tomatoes, Fennel, Harissa Vinaigrette, Ciabatta
Fruit Plate: Fresh Fruit, Honey Yogurt, Seed Granola
Two Eggs-Any Style: Roasted Potatoes served with choice of Smoked Bacon, Ham, Sausage, or Plant-based Sausage
Wild Mushroom Scramble: Spinach, Plant-based Eggs, Plant-based Sausage, Tomatoes (Plant-based)
Sour Cream Waffle: Roasted Apple, Chantilly, Orange-Maple Syrup, and served with choice of Smoked Bacon, Ham, Sausage, or Plant-based Sausage
Smoked Salmon: Everything Bagel, Tomato, Red Onion, Cream Cheese, Capers
Wood-fired Butchers Steak: Polenta, Pomodoraccio Tomatoes, Roasted Onions, Wild Mushroom Conserva, Watercress
French Toast Brûlée: Seasonal Compote and choice of Smoked Bacon, Ham, Sausage, or Plant-based Sausage
The most popular and best things to order for breakfast at Topolino's Terrace are the Sour Cream Waffle, the Quiche Gruyère, or the Wood-fired Butchers Steak. All 3 of these entrees are generous servings and absolutely delicious.
Because of the lovely basket full of sweets, I opted for a savory entree. The Quiche Gruyère is the perfect savory compliment to the sweet pastries, and it is not heavy. I hesitated to order the quiche thinking it might be salty or heavy, and I am happy to report it was neither.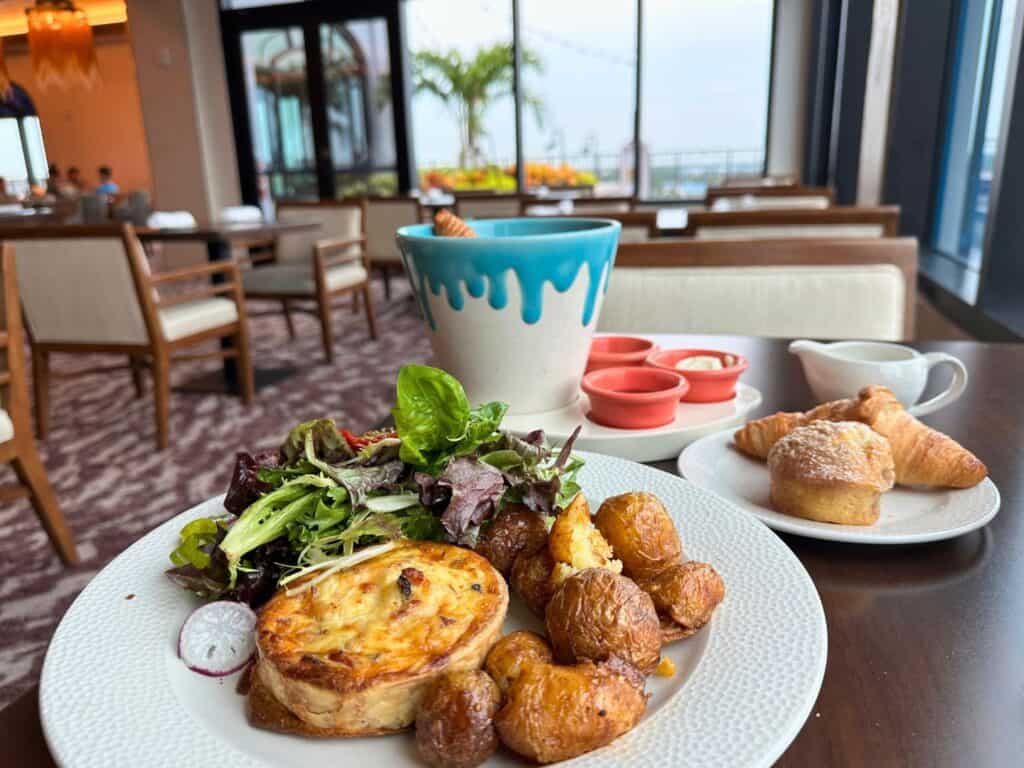 The egg, cheese, onion and pancetta provide rich flavor without being overbearing or dense.
Parenting pro-tip: Have one parent sit facing the entrance to the dining room (the way you came in) so they can keep an eye out for the characters. That way you can let your kids know who is on the way and get ready.
What to Expect
Each character arrives with a special announcement, and enters near the same entryway guests use to enter the restaurant.
The dining room is beautiful. This is the most sophisticated Disney character breakfast of the, all! You can easily see all the characters as they make their way through the restaurant.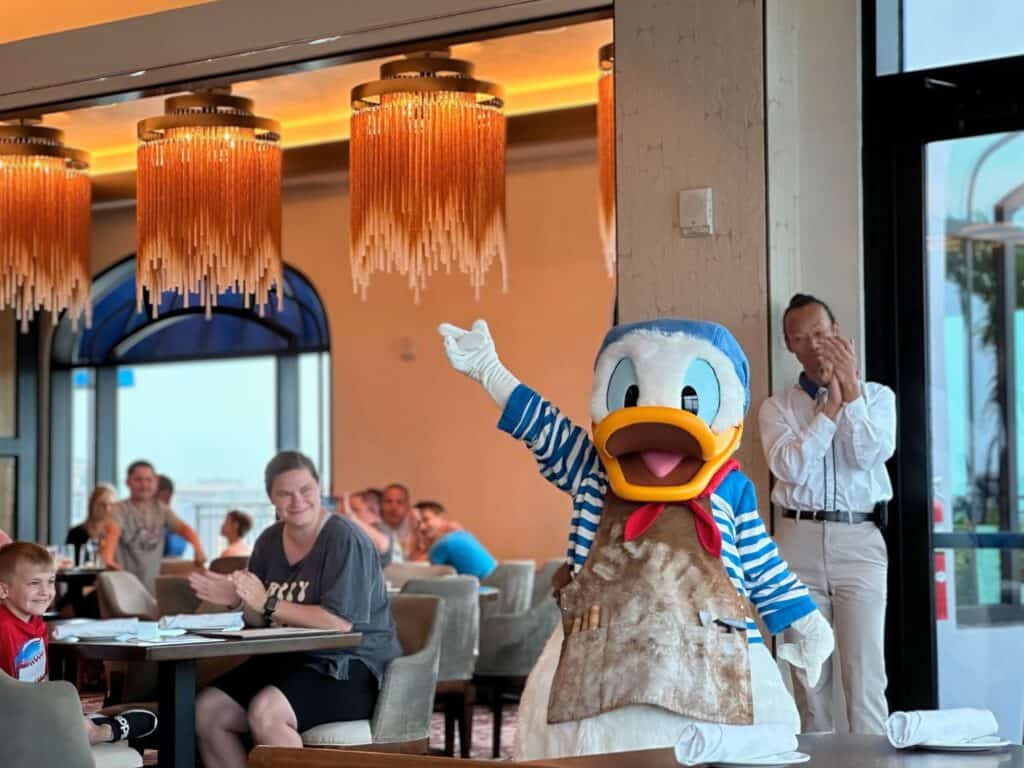 Each character spends 2-3 minutes with each table. You can use an autograph book if you wish, but since each table receives a special colorful postcard with the characters' autographs, you may want to avoid the distraction of getting the books signed. Just enjoy the delightful dining experience.
Before you leave be sure to head out to the outdoor terrace. There is a door to access the terrace located in the back right corner of the dining room. Enjoy sprawling views of Walt Disney World Resort.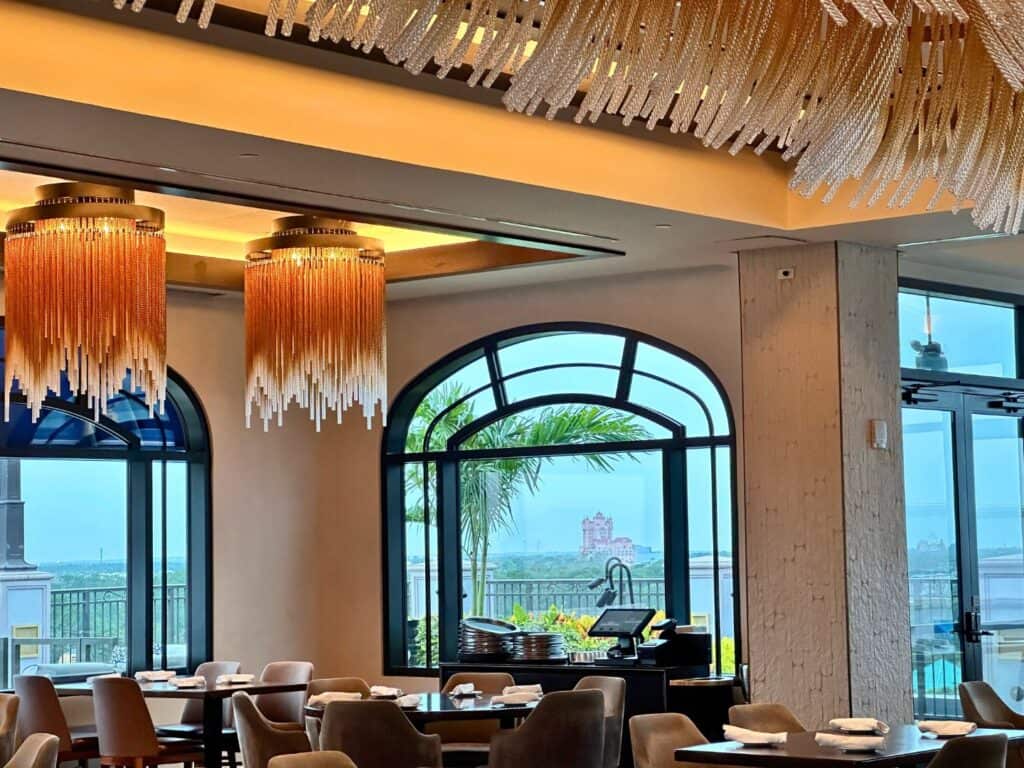 Tips
Topolino's Terrace is located on the 10th floor using the East Elevators
Check-in for your meal using the MyDisneyExperience app, or the host stand
Make sure your phone number is provided to be texted when your table is ready
Turn on your notifications for the MyDisneyExperience app to be notified that your table is ready
Strollers need to be parked in the restaurant's waiting area
There are restrooms plus a family restroom near the waiting area
Make sure your kids are comfortable and ready to interact with the characters
If they've never interacted with characters before try to walk them around first so they can see the other interactions taking place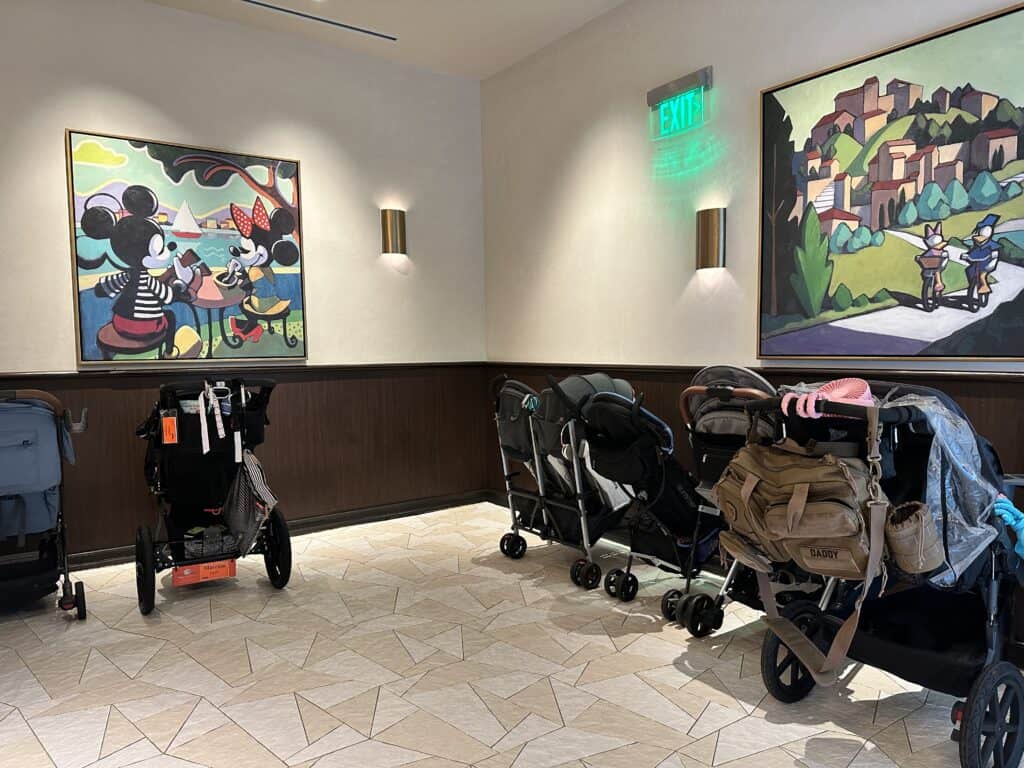 Getting a Topolino's Terrace Reservation
If you have trouble finding a reservation for breakfast at Topolino's Terrace, try checking the night before you want to dine. Or even on the morning you want to visit you may find some availability in the very first timeslots of the day around 7:30 am.
You can explore options on What To Do If You Can't Get a Disney Dining Reservation at our sibling site OrlandoDateNightGuide.com