Where to Take Pictures with the Easter Bunny, Easter Egg Hunts + MORE
It's hopping this Easter in Tampa Bay with tons of fun Easter events, photos with the Easter Bunny, Easter egg hunts and more! To help you find your event even faster, we've divided our listings up into three categories:
Where to take pictures with the Easter Bunny
Easter Egg Hunts and Events
Easter Brunches in Tampa Bay
Here are some of our favorite 2023 Easter events in Tampa Bay and beyond. We hope you have a hoppin' good time!
*Check back as more events will be added as information becomes available.
---
Best Places to Take Pictures with the Easter Bunny in Tampa Bay
There are many events around town where you can snap a photo with the Easter Bunny (keep scrolling for our list of top picks), but for this section we're focusing on the places where the picture days are ongoing.
Pictures with the Easter Bunny at International Plaza | March 10 – April 8

2223 N. Westshore Blvd, Tampa
Hop on over to Bunnyville in the Grand Court at International Plaza for a special photo with the Bunny! Photo packages start at $39.99 and you can reserve your spot ahead of time. Photos for Pets will be on March 19 from 6:30pm-8pm and Sensory-Friendly photos are available on March 26 from 9am-10:30am. shopinternationalplaza.com/events
Easter Bunny Photos at Westfield Brandon | March 18  – April 8
459 Brandon Town Center
Hip, Hop, Hippity Hop – the Bunny is back! Visit the Easter Bunny at Westfield Brandon for family photos with packages starting at $39.99. They are also offering special events including a Sensory-Friendly Bunny on March 26 from 9:30am-10:30am and pet photos with the Easter bunny on March 27 from 4:00pm-7:00pm. Reservations are encouraged. westfield.com/Brandon
Easter Bunny Photos at Westshore Plaza | March 24 – April 8
250 Westshore Plaza, Tampa 
We 'carrot' wait for our Easter pictures! Hop on over to Westshore Plaza for a special photo with the Easter Bunny! Pet photos with the bunny are scheduled for March 27 from 5pm-7pm. Photo packages with kids start at $34.99. westshoreplaza.com
Easter Bunny Photos at Tyrone Square in St. Petersburg | March 24 – April 8
6901 Tyrone Square, St. Petersburg
Hop on over to the Dillard's court for a special photo with the Easter Bunny! To save time, you can reserve your photo session ahead of time. Book your time slot here and learn more.
Bass Pro Shops Photo with the Easter Bunny | Select days April 1-9
Hop online to book your reservation at Bass Pros Shops in Brandon for your chance to meet the Easter Bunny and snap a cute FREE photo! You'll get a FREE 4 x 6 photo, but you can upgrade for more images. Click here to reserve your spot.
Take part in an aquarium themed Easter egg hunt by stopping by guest services to pick up a card for a scavenger hunt and find all the eggs hidden around the aquarium. Then, head to the second floor Mosaic Center for photos with the Easter Bunny during your visit to the Florida Aquarium. Bring your own camera! Bunny times are: 10am-10:30am, 11am-11:30am, 1pm-1:30pm, 2pm-2:30pm, 3pm-3:30pm. There will be a Sensory Friendly Bunny on Saturday, April 8 from 8am-9:30am.
---
Easter Weekend Events and Easter Egg Hunts in Tampa Bay:
Listed in order of date of event. As always, check with event organizer prior to attending to ensure dates and times have not changed.  We will continue to add to this list as events are announced.
Easter Weekend Egg Hunts and Events
We picked this event as a top pick since it's so unique! There will be an Easter Egg hunt in the sand, photos with the Easter Bunny and bagged breakfast. It's $10 for visitors and FREE for Beach Club guests.
Raprager Farms is hosting a three day long Easter festival featuring hayride Easter egg hunts, pictures with the Easter Bunny, farm activities, pony rides, pictures with baby rabbits, and much more. More than 50,000 eggs will be given away throughout the event. Tickets must be pre-purchased online–tickets start at $15 each. Kids 2 and younger are free.
DK Farms and Nursery is hosting several Easter egg hunts each day for three different age groups. There will also be plenty more farm activities like a free petting zoo, bunny zone, photo opps and of course, meet and greets with the Easter Bunny. You can also pay extra for pony rides. Learn more here and book your ticket since a pre-ordered ticket is required to participate in the Easter egg hunt.
Take a ride on a mini train that's been decorated for the Easter holiday, but that's not all! In addition to the Eater themed train ride around Crews Lake Park, there will be Easter egg hunts, pictures with the Easter Bunny, crafts and more! Tickets are $6 per person. Babies12 months and younger are free.
The Grand Course Railroad is hosting an Easter egg hunt and celebration at The Concourse. There will be an Easter egg hunt, pictures with the Easter Bunny , rides on the Easter Eggs-press train and more! Tickets are $8 per person.
The Cotton Tail Express is back at the Florida Railroad Museum for a unique Easter outing with the kids! The 2.5 hour experience includes a half hour train ride to the Easter egg hunt location. There will be plenty more to do as well along with hayrides, arts and crafts and pictures with the Easter Bunny! Tickets start at $22.
The Underwater Egg Hunt is back for kids ages 5 and older! Kids who cannot swim without a life jacket will need to wear once since parents are not allowed in the pool during the hunt. Wristbands are $5 for kids and $3 for spectators.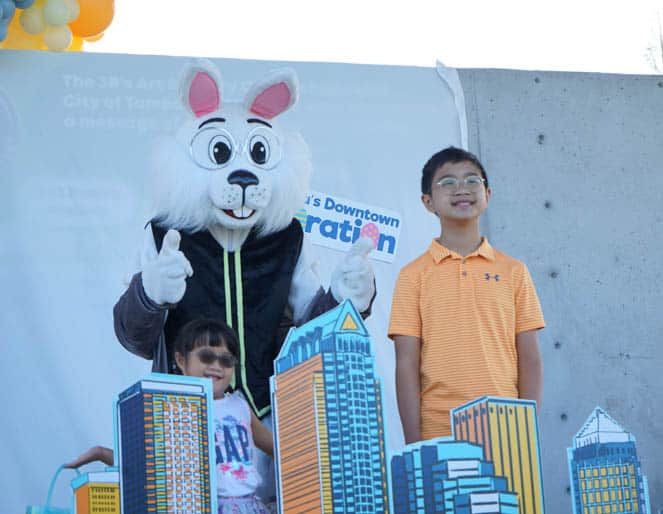 Downtown Tampa's largest Easter egg hunt is back for 2023! It was such a success during last year's inaugural event, the Downtown Tampa Partnership decided to bring it back with Ashley Furniture as a presenting sponsor. There will be egg hunts for different age groups with a quest to find a certain combination of eggs to redeem for a prize, including staycations for participates ages 18 and older–so yes, adults can play too! The Easter Bunny will also be there for photos and there will food trucks, family-friendly activities and more. Alcohol will not be served at this event. You are encouraged to bring your own basket, but kids can also decorate their own bag while supplies last.
The St. Pete Pier recently announced this new event that will feature two days of family-friendly fun in the Spa Beach Park area of the Pier, including a massive Easter egg hunt on Sunday with more than 20,000 eggs for kids ages 12 and younger to find. Throughout the weekend event, there will be bounce houses, fun activities for kids, and of course…the Easter Bunny!
Busch Gardens will be hosting an Easter egg hunt this weekend with timed egg hunts with four hunts between 1pm and 2:30pm each day. While it is free to participate, you must register online first. There will also be special animal enrichments for the holiday weekend and the park will be hiding 40 golden eggs throughout the park in guest areas. If you find one, bring it over to guest relations to claim your prize!
This is a bit of a different Easter egg hunt….Adventure Island water park will be hiding 20 Golden eggs throughout the guest areas! If you happen to find one, bring it to guest services to collect your prize!
Chick-Fil-A on Waters Ave is one of our favorite spots to see holiday lights and now they're hosting a fun and unique drive-thru Easter egg hunt. When you visit on April 8, have the kids count all of the hidden Easter eggs as you make your way through the drive-thru. Then, tell the team member at the window to receive a prize.
Honeyside Farms is hosting a unique Easter egg hunt at their farm–the hunt begins at 10am sharp, so plan to arrive early. It's 7 for kids ages 5 and older and adults are $12. While you're there, stay and pick some farm fresh organic veggies like squash, cauliflower, kale and more!
The Harley-Davidson store is hosting an Easter event that will feature free photos with the Easter Bunny from 10am-12pm and then timed Easter egg hunts beginning at 12:30pm. Make sure to bring your own basket. There will be 1,000 Easter eggs for kids to find!
We love the events hosted by Horsepower for kids and Spring Fest is a favorite! There will be pony rides, a petting zoo, Easter Egg hunt, anima encounters, live music and activities and so much more! Make sure to bring your own Easter basket.
Armature Works will be once again hosting its annual Easter egg hunt, but you'll want to purchase your Eventbrite tickets in advance for Hop on the Lawn to secure your spot. The egg hunt will take place on the West Lawn and there will be multiple time slots to ensure it doesn't get overcrowded. Each wave will include 100 kids between the ages of 3 and 10. There will be separate egg hunts for kids younger than 3. You can also purchase a $10 pass for unlimited bounces in the kid zone, take free photos with the Easter Bunny and more!
*Many community churches are hosting Easter egg hunts too, so there is more than likely one near you if you can't attend one of these events.
---
Easter Brunch in Tampa Bay
*Written in partnership with our sister site, TampaBayDateNightGuide.com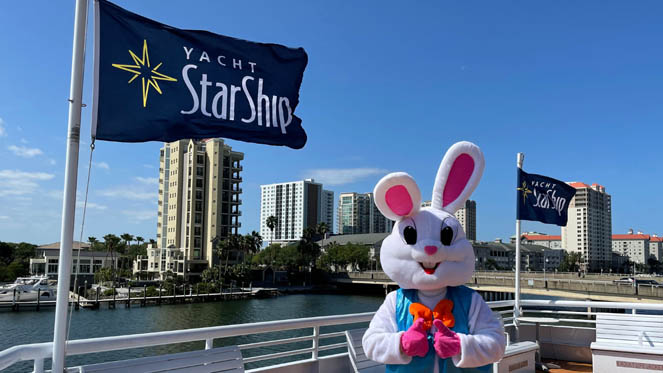 Easter Brunch Cruise on Yacht Starship in Tampa & Clearwater | Sunday, April 9 
The Easter Bunny is ready to welcome you and the family aboard the Yacht Starship for a family-friendly dining cruise! In addition to your meal and live entertainment, the Easter Bunny will be hopping around to take photos with everyone. There are brunch and dinner cruise options at the Tampa and Clearwater locations. Prices start at $69.95 plus taxes and fees for adult brunch cruises and $54.95 plus taxes and fees for kids. Yachtstarship.com
Easter Brunch is back at Maestro's! You can expect chef attended omelette and carving stations, bottomless mimosas and champagne, and a wide selection of breakfast and lunch items. The Easter brunch is $55.50 per person.
Gather at Wyndham Grand Clearwater Beach this Easter Sunday for a special brunch at Ocean Hai! The brunch buffet features multiple food stations from fresh sushi and charcuterie to brunch classics like pancakes, waffles, and omelets. Enjoy fun for the whole family with Easter Egg Hunts available at select times. $65 per adult | $30 per child (12 and under) *Children 5 and under are complimentary with a paying adult.
Reserve your table HERE.
SHOR American Seafood Grill at a the Hyatt Regency in Clearwater Beach is hosting an Easter brunch buffet and dinner for locals to enjoy. Take in the beautiful views of the Gulf of Mexico as you select a buffet of your favorite brunch items and chilled seafood. For dinner selections include your holiday favorites and decadent surprises. Price for adults is $45 and kids is $25.
The TradeWinds restaurant properties are offering Easter Brunch at the Grand Palm Colonnade at TradeWinds Islands Grande and at RumFish Grill at RumFish Beach Resort. You can explore their entire Easter line-up here and maybe even make it an Easter staycation!
---
Easter Events that have already happened. Stay tuned for 2024 events!
Celebrate early at these pre-Easter weekend events:
Kids and families can enjoy a wide array of activities to celebrate the holiday at the Florida Pioneer Museum. The Easter bunny and egg hunts for each age group will be available. Beyond this, families can expect a petting zoo, games, food vendors and complimentary family photos. Tickets are $10 for adults and $5 for kids.
Head to the farm to celebrate the holiday with photo opps with the Easter Bunny, an Easter cow, egg hunts, farm animals, farm tours and more! General admission tickets are $15 for all guests 2 and older. It's an extra $5 for the Easter egg hunt. They are also offering a Tea Party with Alice and White Rabbit for an additional $15 as well!
Celebrate Easter and snap photos with the Easter Bunny (pets are welcome, too!) for a suggested $10 donation. There will be other fun activities including an Easter egg hunt for $5 for dogs and kids -there will be several timed Easter egg hunts for kids, toddlers and dogs!
KRATE and Life Church are teaming up to host a free community egg hunt along with a day filled with fun family-friendly activities! There will be 100,000 eggs hidden throughout KRATE for you to find, a rock climbing wall, obstacle course, carnival rides, and more!
Take a tour of the Mary-Stringer House and take part in one of two timed Easter egg hunts! It is free to take part in the Easter egg hunt, but you can also go on a tour and experience the indoor bunny hunt for $10 (ages 13 and up) and $5 (ages 6-12). Make sure to bring your own blanket and snacks.
Head to Safety Town for an evening of Easter themed fun! There will be a glow-in-the dark Easter egg hunt, free Easter bunny photos, dinner, face painting, a petting zoo, touch-a-truck and so much more. Tickets are $18 for adults and $7 for kids.
This year's Spring Fling with feature a sensory-friendly Easter Bunny, egg hunt, a critter encounter and more. It is free for special needs families.