Kids to Know: Emersyn Southwick
September is National Childhood Cancer Awareness Month, a time to shed light on the stories of incredible young warriors who demonstrate unparalleled strength in the face of adversity.
I have the honor of sharing one such remarkable journey – that of 7-year-old Emersyn, who bravely confronts medulloblastoma with her family, the community and the Children's Cancer Center by her side.
"This month also reveals the unique ways that the Children's Cancer Center is there for families," says Patty O'Leary, Executive Director of Children's Cancer Center. "It's important to remember that children need more than medicine to beat childhood cancer. While other organizations are working to find a cure tomorrow, the Children's Cancer Center is committed to helping families cope today."
Emersyn's story reminds us of the extraordinary fighting power of love and the strength in numbers when a community joins for children like her in September and every day after.
Please tell us about yourself and what you love to do.
Emersyn Southwick: I'm Emersyn but my favorite people call me Emmie Cakes. I am going into first grade and I can't wait! I love building with my Duplos, playing board games with my parents, and playing pretend (I love to be a doctor or chef).
What do you want other families to know about your experience with medulloblastoma?
Emersyn Southwick: That having cancer sucks. I take medicine every day, and even though I've been doing it for two years, I'm still not cancer-free. I hate that I have to be super careful when I just want to run and jump like everybody else.
Mom: Childhood cancer is massively underfunded. If you can attend a fundraiser or a charity run, do it. Smaller organizations have saved us time and time again, and the organization funding her clinical trial is one of those. We need to find better ways to treat tiny humans and research cures for the incurable. There is so much attention on wearing pink in October but what about September?
Can you share some of the things that helped you feel better during your treatments?
Emersyn Southwick: I love it when I'm not in the hospital, I can go to Children's Cancer Center and see some of my favorite volunteers there. We play and make music (I love to perform for them) and I love their parties. On my really crummy days, I like having a stuffed animal to snuggle, and if I'm at the hospital, I like to see my Child Life Specialist, Hannah, and her new dog Revere.
What are some positive moments you've experienced in your journey with cancer? 
Emersyn Southwick: The Christmas party at Children's Cancer Center was so fun! Last year, I saw Anna and Elsa, and I even met Santa! Also, I love learning sign language at school because my friends learn with me and we can communicate together. I learn it with my sign language teacher, but a few people sign at school and that makes me so happy!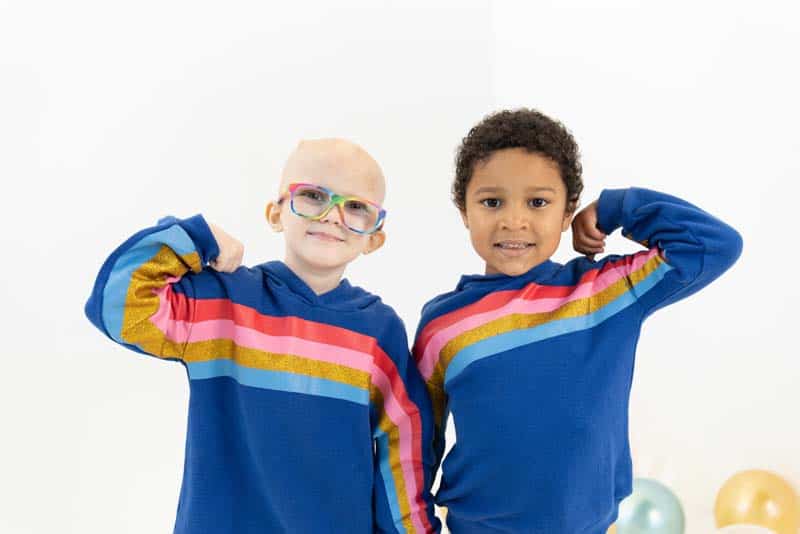 Who are the people that have made you feel really happy or extra brave over the past two years since your diagnosis? How have they made a difference?
Emersyn Southwick: My mom and dad make me feel happy and brave. They help me take my medicine, they tuck me in at night, and always take care of me. My grandparents also make me feel happy because they help me learn to swim.
September is not only Childhood Cancer Awareness Month but also your birthday! How do you want to celebrate turning 7 on Sept. 27?
Emersyn Southwick: I finish my clinical trial medicine in September too! We're having a birthday party but also celebrating finishing this treatment, because it kept my cancer asleep for two years! My party will be 'Finding Dory' themed and I can't wait to see my family and friends.
What do you love most about school? 
Emersyn Southwick: I love my friends and my teachers. I love all my special teachers: my sign language teacher, my physical therapist and my occupational therapist. I love trying to get help to be my best, and my teachers help me so much.
Your mom, Gabby, told us that your motto is to "live life to the fullest." How would you explain this to other kids that may be facing challenges?
Emersyn Southwick: Just keep swimming. My parents call me Dory because I forget a lot (from my treatments) and we always say to just keep going. You will get through the hard stuff, and you can be strong.
What do you want to be when you grow up?
Emersyn Southwick: I'd like to be a doctor or a veterinarian. I like that I could help animals or humans.
---
Originally published in September 2023 of Tampa Bay Parenting Magazine.