Endless Kid-Friendly Fun at SeaWorld's Christmas Celebration
There is so much to do this holiday season, both in Tampa Bay and in Orlando. It can be hard to decide what to do. If you have younger kids, especially preschool age, SeaWorld Orlando's Christmas Celebration is a must-do.
I've visited every single Orlando theme park this holiday season, as I tend to do every year, and SeaWorld's Christmas Celebration ranks towards the top for our family. For younger kids it is hard to beat the amount of activities and entertainment. The Sesame Street offerings combined with the Rudolph the Red Nosed Reindeer elements make it an unbeatable comibination.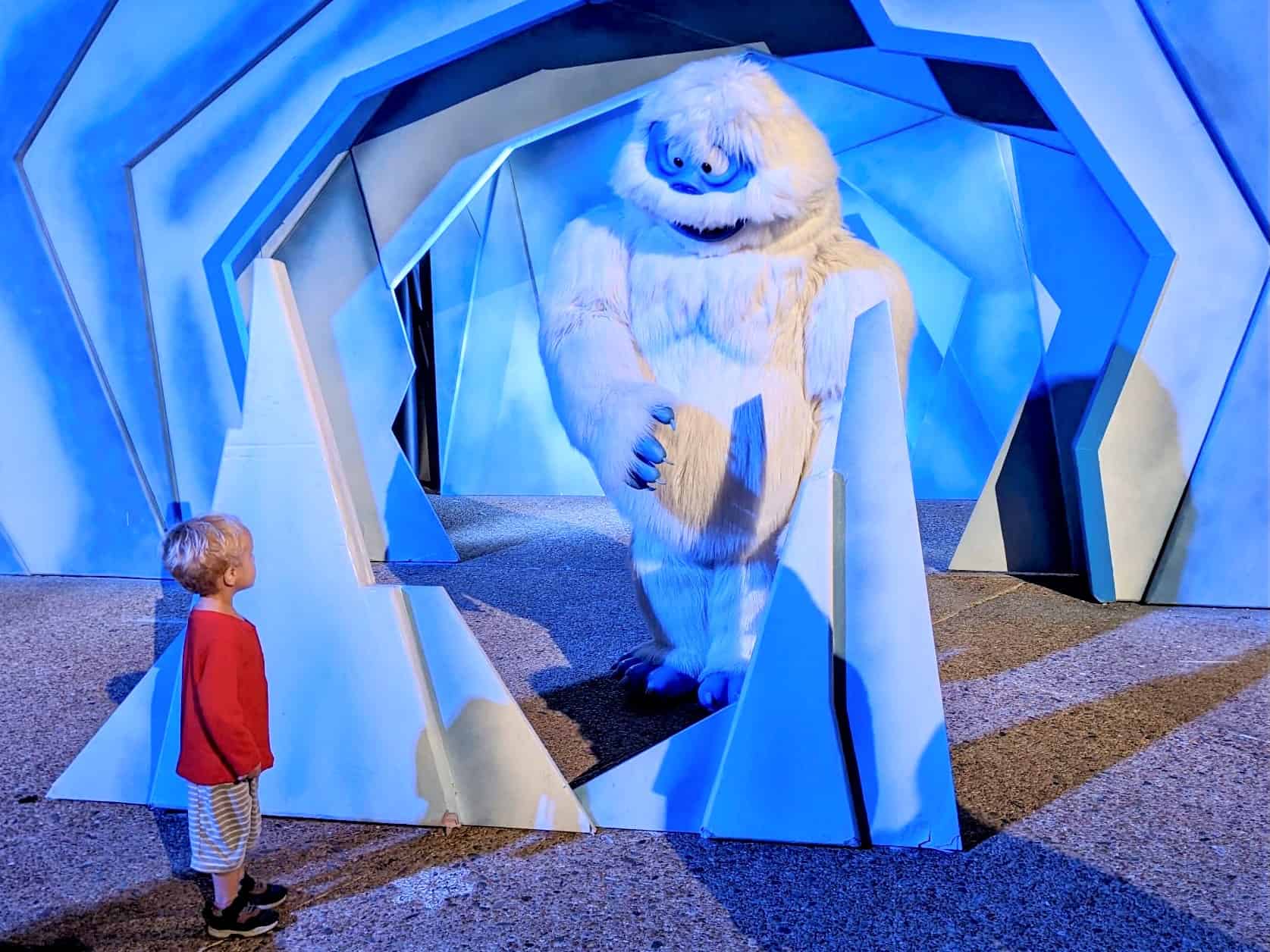 This complete guide to SeaWorld Orlando's Christmas Celebration looks at the decor, entertainment, food and beverage, and overall must-dos for kids. Plus, I've put together an itinerary to help you plan the perfect visit to SeaWorld Orlando during the holidays.
Christmas Decorations at SeaWorld
There is decor everywhere, and I mean everywhere. Even before you walk through the park gates there is decor on the parking booths and park entrance. Once inside the gates you'll find decor covering nearly every last inch of the park.
There are two areas in particular that are over-the-top with holiday decor. First is The Waterfront. The decor here is peppermint and candy cane inspired. You'll also be able to enjoy live entertainment in the evening, snow flurries, and a nice view of the Sea of Trees.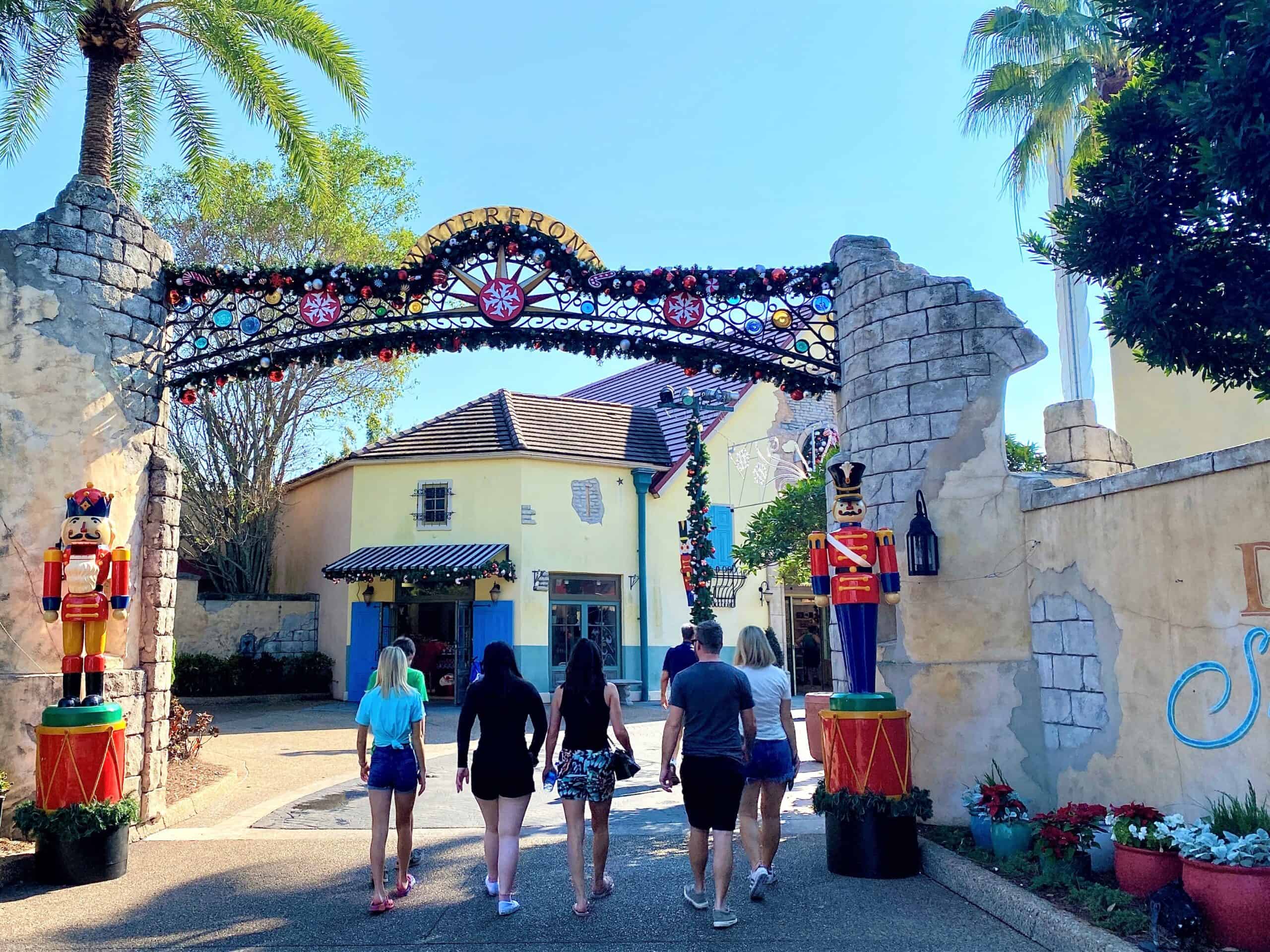 The other section is the Christmas Market. This area opens up in the evening. For years this has been my favorite part of SeaWorld's Christmas Celebration. There are lights everywhere, splendid views of the dazzling Sea of Trees, an inviting firepit, carolers, and delicious treats.
SeaWorld's Christmas Food and Beverage
Speaking of food and beverage, at the Christmas Market there are multiple booths each offering sweets and drinks only available during the holidays. Multiple flavors of specialty hot cocoa are available here as well as a few booths throughout the park. We enjoyed sharing the Warm Cinnamon & Sugar Mini Donuts from the North Pole Bakery booth.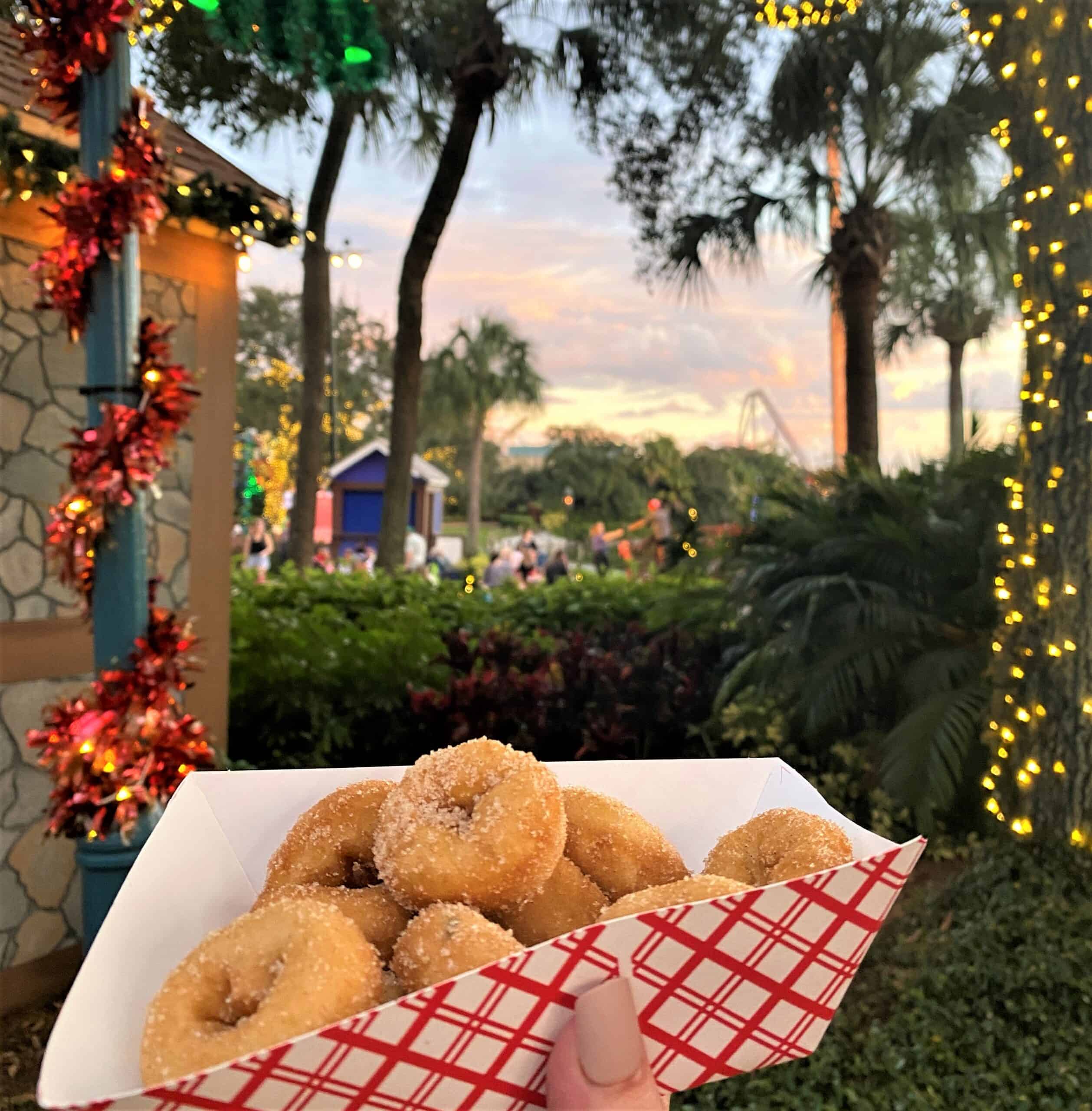 Beer, wine, spirits, and specialty cocktails are also available. My favorite of the cocktails we tried was Santa's Sleigh, available at the Merry Mixes booth, made with Sailor Jerry Spiced Rum, Baileys, Gingerbread Monin, cream and served with a chocolate edible straw.
The easiest and most affordable way to enjoy the SeaWorld Christmas Celebration food and beverage is with the Tasting and Brews Sampler Lanyard. I recommend going with the ten items for $50, that's just $5 an item! Our family of three used one lanyard and were well fed, with some adult beverages too. If you're an annual passholder, buy the tasting lanyard online and redeem it at any Christmas booth — you'll get two additional items on your lanyard.
Live Entertainment at SeaWorld's Christmas Celebration
The amount of live entertainment during SeaWorld's Christmas Celebration is absolutely the best. In addition to all the regular SeaWorld Orlando shows including the Orca Experience and the Dolphin Adventures, there are six Christmas shows, plus smaller performances throughout the park.
Here are some the must-do entertainment experiences at SeaWorld's Christmas Celebration that your little kids will love:
Rudolph the Red-Nosed Reindeer meet and greet area
Rudolph's Movie Experience
Elmo's Christmas Wish
Sesame Street Christmas Parade
Meet Santa at Wild Arctic
Elmo's Christmas Wish is especially fun for preschoolers. It's just long enough to feel like a substantial show, without being so long that it loses the kids' attention. Sesame Street characters sing and dance on stage, and also come out into the audience, so no matter where you're seated, you'll have a good view. Arrive about ten minutes before showtime.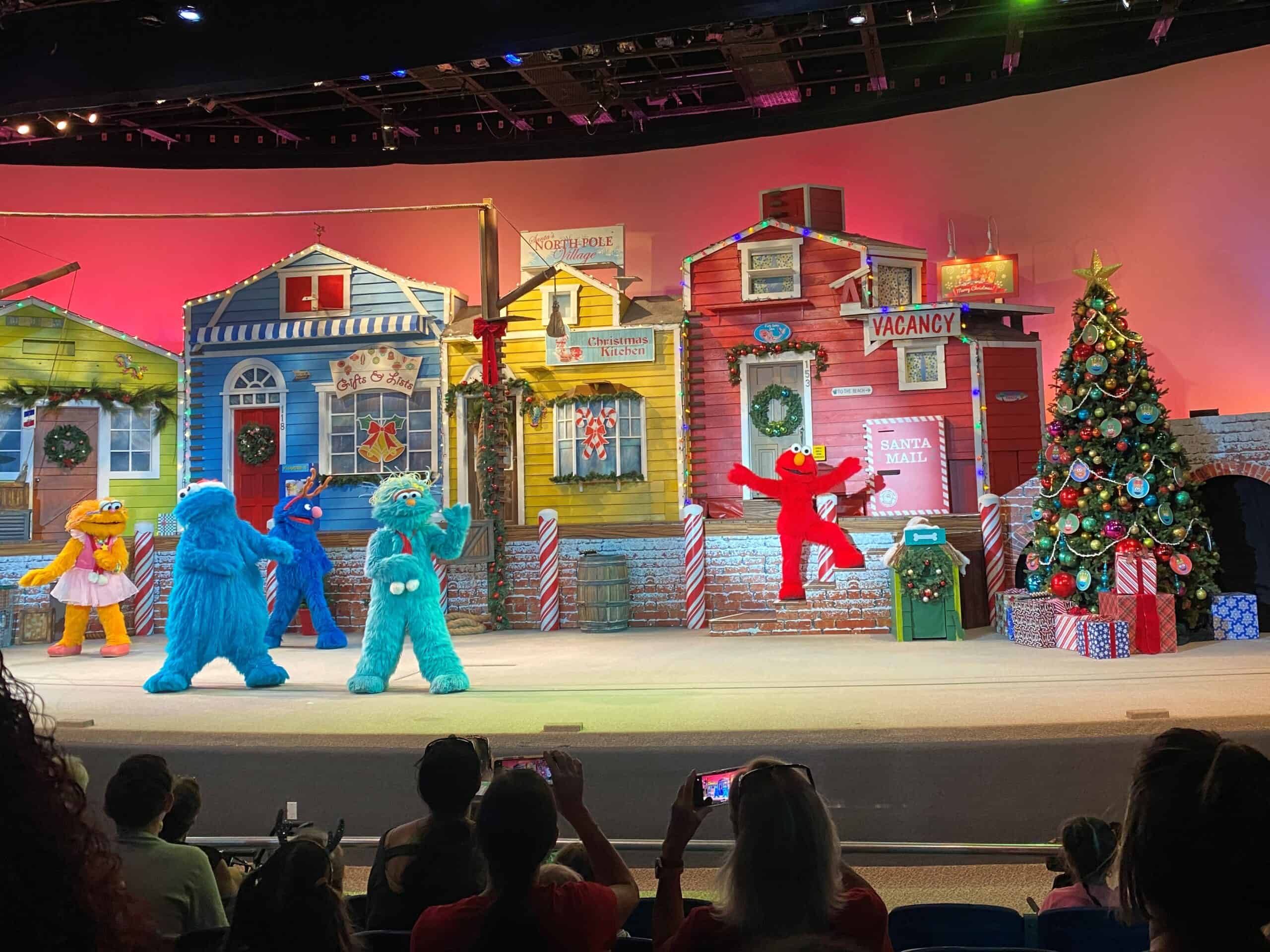 The Sesame Street Christmas Parade is another must-do at SeaWorld Orlando for young kids. I love that there are multiple performance times, both in the afternoon and into the evening. It is less stressful knowing there are multiple opportunities to catch the parade.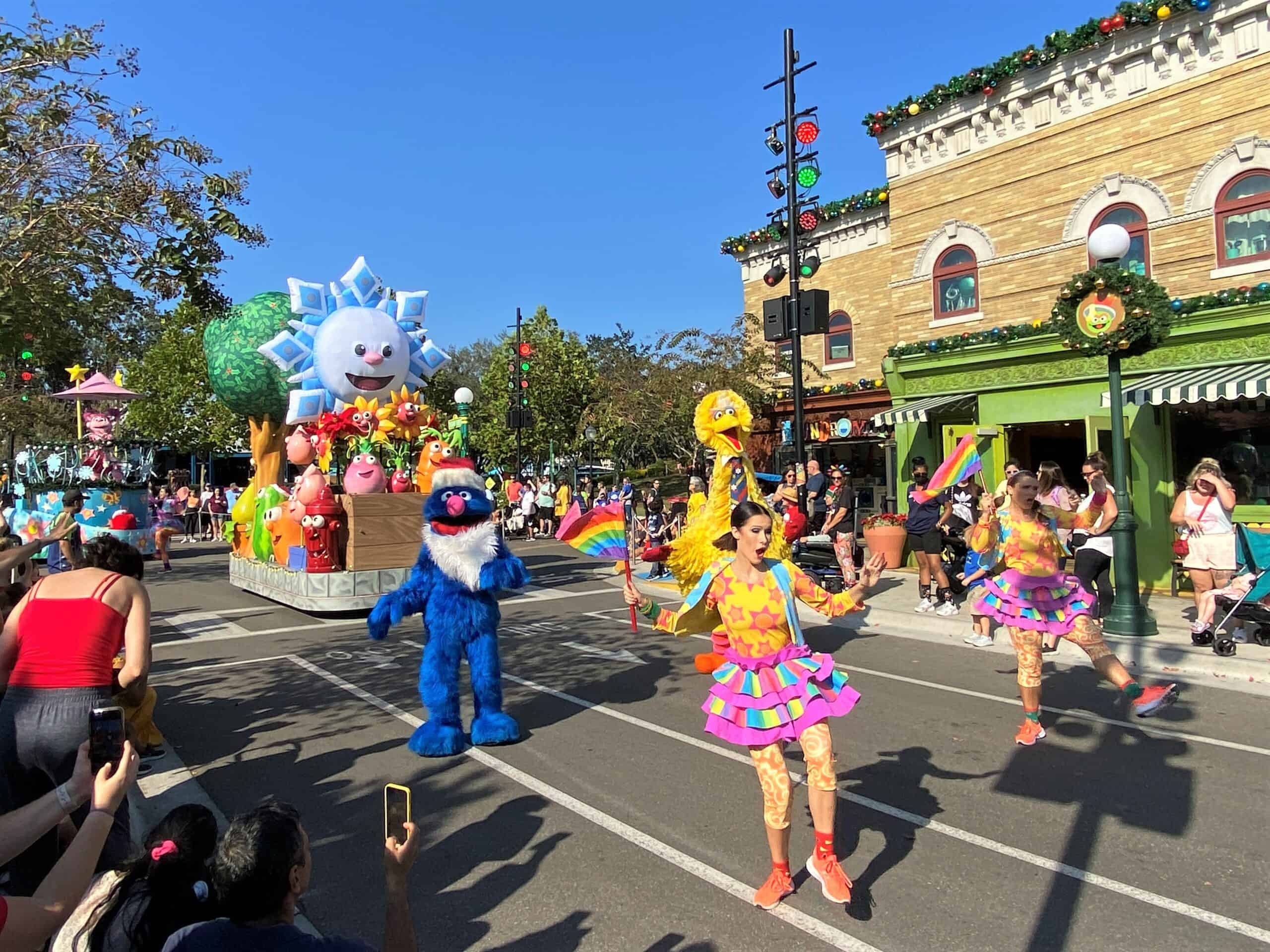 Pro-tip: If you want to see the daytime parade, be sure to look for sure and face with the sun to your back so it is not in your eyes as you watch the parade. 
The Sesame Street Christmas Parade does take up the entire curving road inside Sesame Street Land so be forewarned it takes over most of the land. There is a bypass through the merchandise shops as well as on either far end of the parade. It does stop for about ten minutes for performances and songs.
If you have kids in the 7 – 11 years old range, they may enjoy these activities at SeaWorld's Christmas Celebration:
Public Ice Skating at Bayside Stadium
Winter Wonderland On Ice
Jump Roping Toy Soldiers, Located at The Waterfront
Sea of Trees
Holiday Reflections: Fireworks and Fountains Finale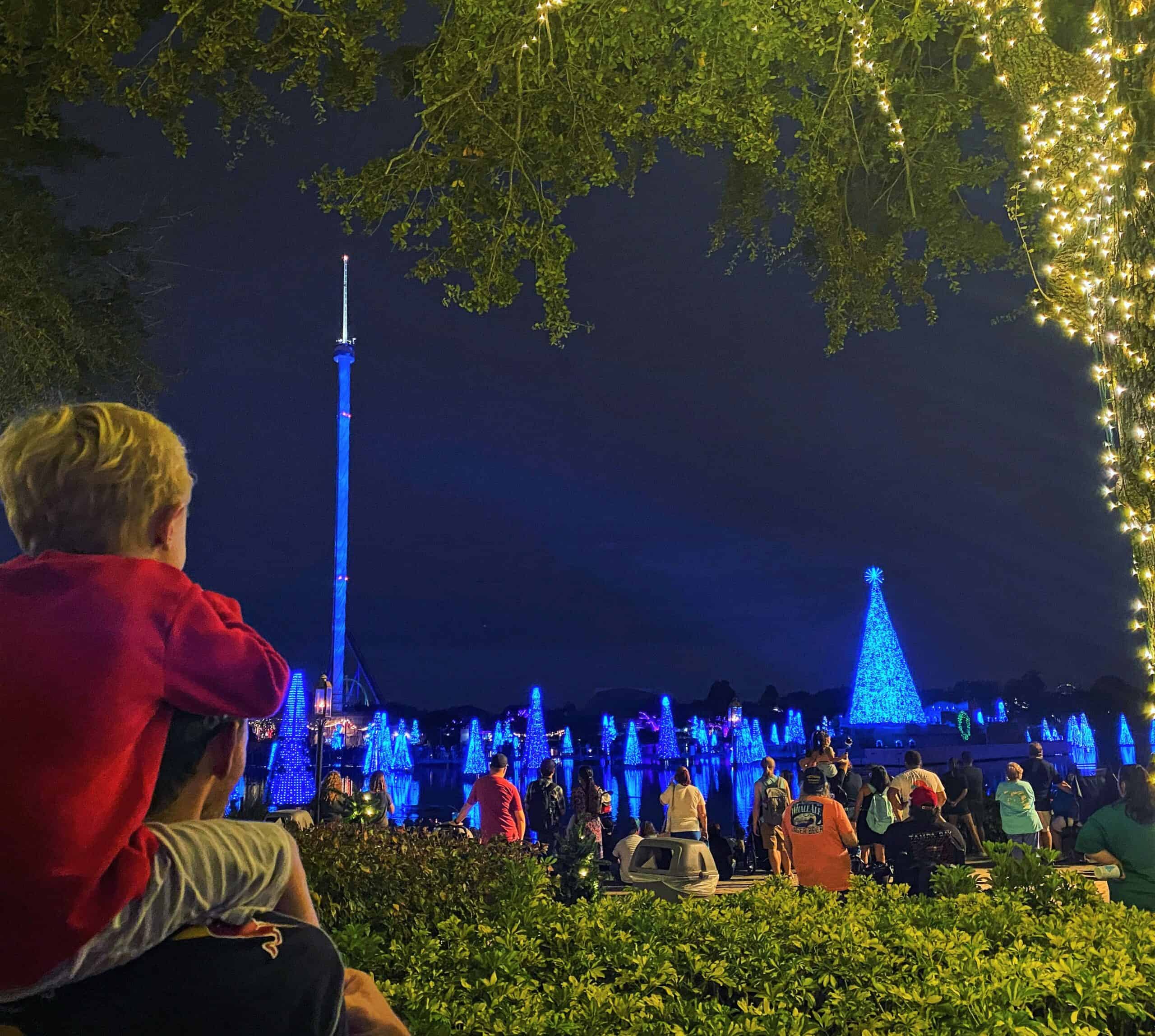 Tips for SeaWorld Orlando's Christmas Celebration with Young Kids
Take breaks from all the shows and give your kids some active time. Feeding the sea lions at Pacific Point Preserve is fun and interactive. Or pack a swimsuit for the Sesame Street splash pad.
Review the SeaWorld Christmas Celebration food and beverage menus ahead of time to get an idea of what your kid(s) will like.
The Christmas Comforts booth, Sliders That Sleigh booth, and the Tottin' Around the Christmas Tree are especially kid-friendly.
If you're having trouble getting your kids fed, head to Seafire Grill which has a simple menu and offers Rudolph's Movie Experience — continiously playing movie clips while you eat.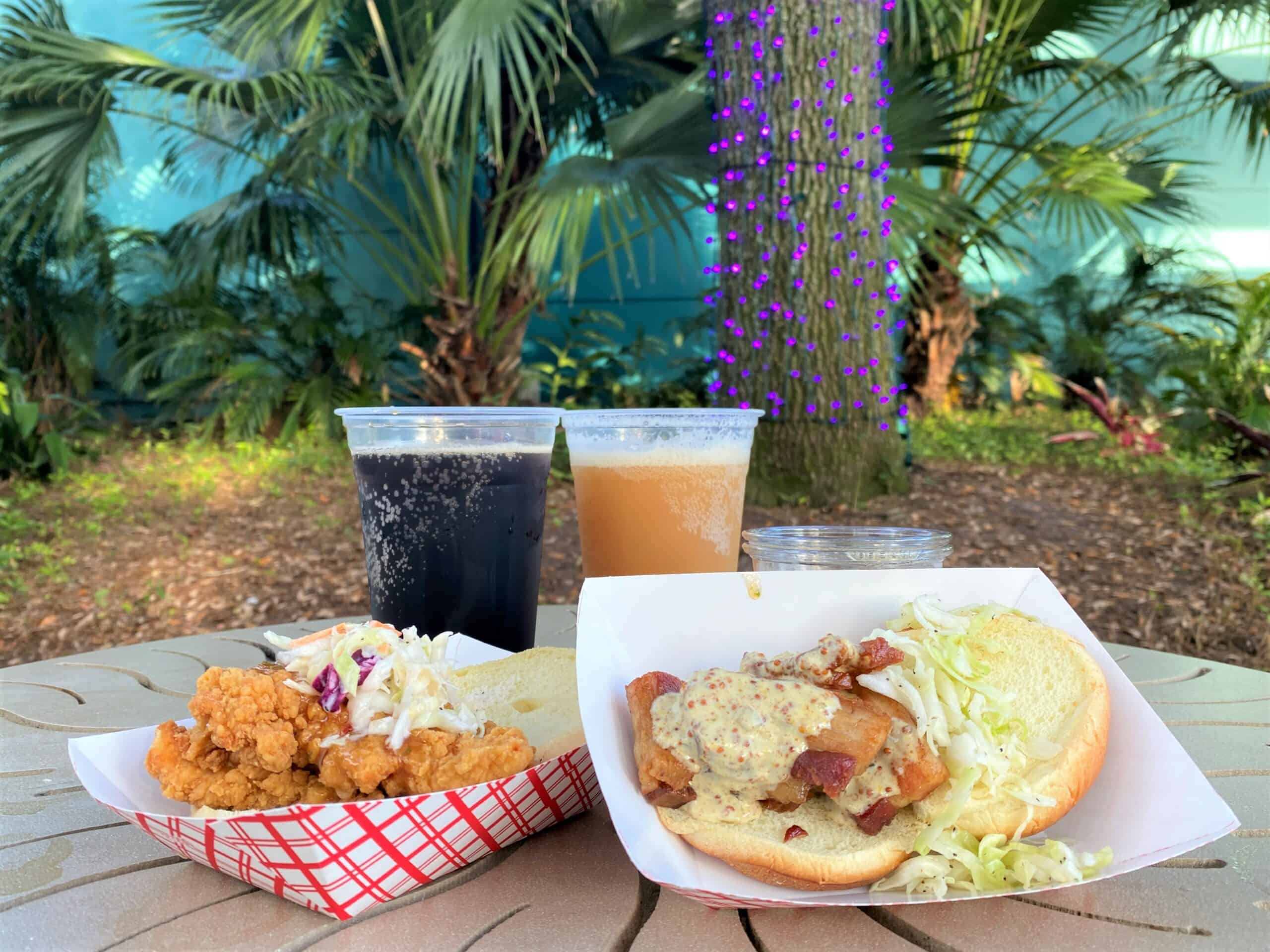 SeaWorld Orlando Christmas Celebration Itineraries
Most of the SeaWorld Orlando Christmas Celebration offerings do not start until 3:00 pm or 5:00 pm. However, you can make a full day of your visit if you wish.
If anyone in your party wishes to ride any of SeaWorld's roller coasters it is best to do so first thing in the morning or towards the end of the day. Wait times usually do not go above 35-45 minutes, which is not bad. For showtimes arrive about 15 minutes beforehand. Be sure to keep yourselves hydrated and wear sunscreen.
Here is my suggested itinerary if you plan to spend the entire day and night at SeaWorld Orlando. This itinerary is geared towards families with young kids.
10:45 am Dolphin Adventures Located in Dolphin Stadium
11:30 am Elmo's Christmas Wish Located in Seaport Theater
12:00 pm Sea Lion & Otter Spotlight, Located in Sea Lion and Otter Stadium
12:30 pm Lunch at Seafire Grill with Rudolph's Movie Experience
1:15 pm Sea Lion Keeper Talk at Pacific Point Preserve, feed sea lions
Browse SeaWorld Christmas Celebration food boths on your way to Shamu Stadium
3:30 pm Orca Encounter, A Killer Whale Experience
4:15 pm Sesame Street Christmas Parade
Meet Santa at Wild Artic and view animal areas
5:30 pm browse the Christmas Market and enjoy live entertainment
6:00 pm get seats for Winter Wonderland on Ice, you can view Sea of Trees from here and catch the 6:30pm ice skating show
7:00 pm Rudolph the Red-Nosed Reindeer meet and greet area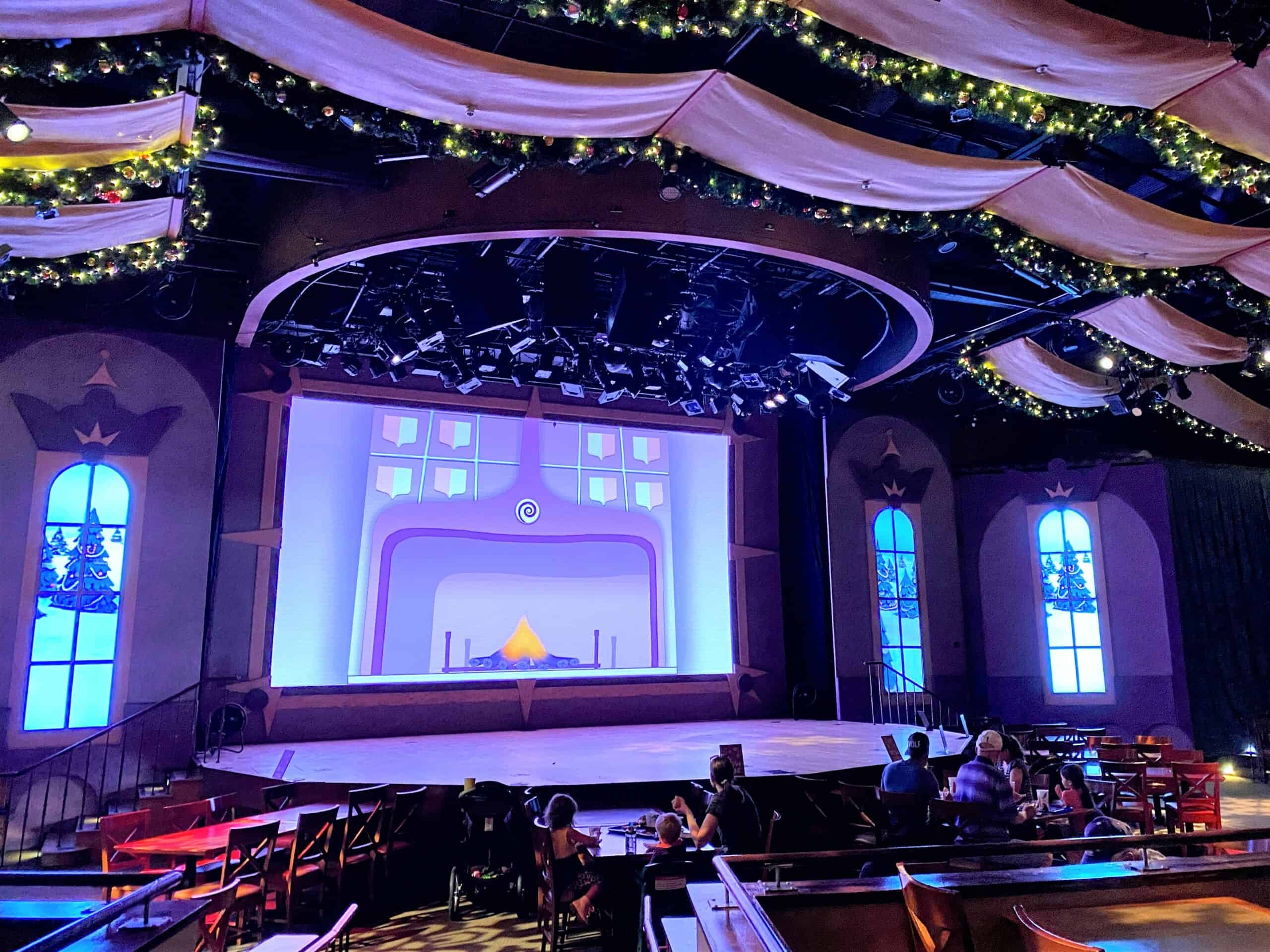 If somehow you and your kids still have energy to keep going you can catch live entertainment in the Christmas Market and along The Waterfront, as well as explore more of Sesame Street Land, and end with Holiday Reflections: Fireworks and Fountains Finale, usually at 10:00 pm.
There are also upgrades available like Dinner with Santa and priority access + photo packages for Santa and the Rudolph characters.
One last tip! Be sure to dress your family in something festive. You will find plenty of great photo opportunities perfect for capturing momentos of a wonderful day and night in SeaWorld Orlando.