Entertainment Revue Empowers Young Voices in the Performing Arts for 33 Years
Like a trending remix of a favorite 90's song, Tina Novak Robles' involvement with Entertainment Revue has come full-circle in the most harmonious way!
As a member of the founding cast of the singing ensemble, Tina is now the Creative Director of the group that is celebrating 33 years of show-stopping singing and dancing acts, a history of sisterhood in the performing arts, and a legacy of scholarship awards to cast members that have grown as leaders in the business and beyond.
To kick off National Music Week, we learn more about a local group that honors the art that allows for the best form of self-expression and group-unity all at once…and how to join their movement this month!
Please tell us about your background and how you became the current Creative Director of Entertainment Revue.
Tina Novak Robles: I'm an original cast member of Entertainment Revue from back in 1989. Growing up in Entertainment Revue had such a profound impact on both my personal and professional life. I went on to pursue music as a career and I truly feel much of my experience in Entertainment Revue provided me with an opportunity to hone my artistic skills, that ultimately landed me a record deal with Arista Records.
After a career in the music business with moderate success in the U.S. and 3 top 10 singles and big success in Japan, I settled back down in Tampa, FL to start a family.
Over the years I have always stayed connected to the group, the founding director, Cynthia (Gries) Nekvasil is one of my dearest friends, whom I learned so much from over the years. I knew it was a matter of time before my own daughter would want to not only accompany to watch the shows, but would eventually want to be in them. This brought me back even closer to the group volunteering as a backstage mom, and when the vacancy for the position of director presented itself, I was thrilled to accept it.
As a nonprofit 501c3 organization, Entertainment Revue provides a unique opportunity for girls who love to sing and dance to pursue their passion for performance. But it's so much more than that. What is the mission of the group, and what can girls expect from the experience? 
Tina Novak Robles: Originally the mission was to simply provide girls who love to sing and dance the opportunity to do so. Over the years the group has indeed become so much more than that. I have watched over 500 alumni, over 3 decades of young ladies achieve not only amazing growth as singers and performers, but as confident leaders in their schools and communities, and grow to be successful adults.
Entertainment Revue is more of a sisterhood, or a family of girls with common interests in the arts who each share a strong work ethic and are goal oriented. It's a place where the girls feel safe to be themselves, and push themselves to be better at what they do.
All of this is what makes my mission for the group, "empowerment and leadership for girls through the performing arts."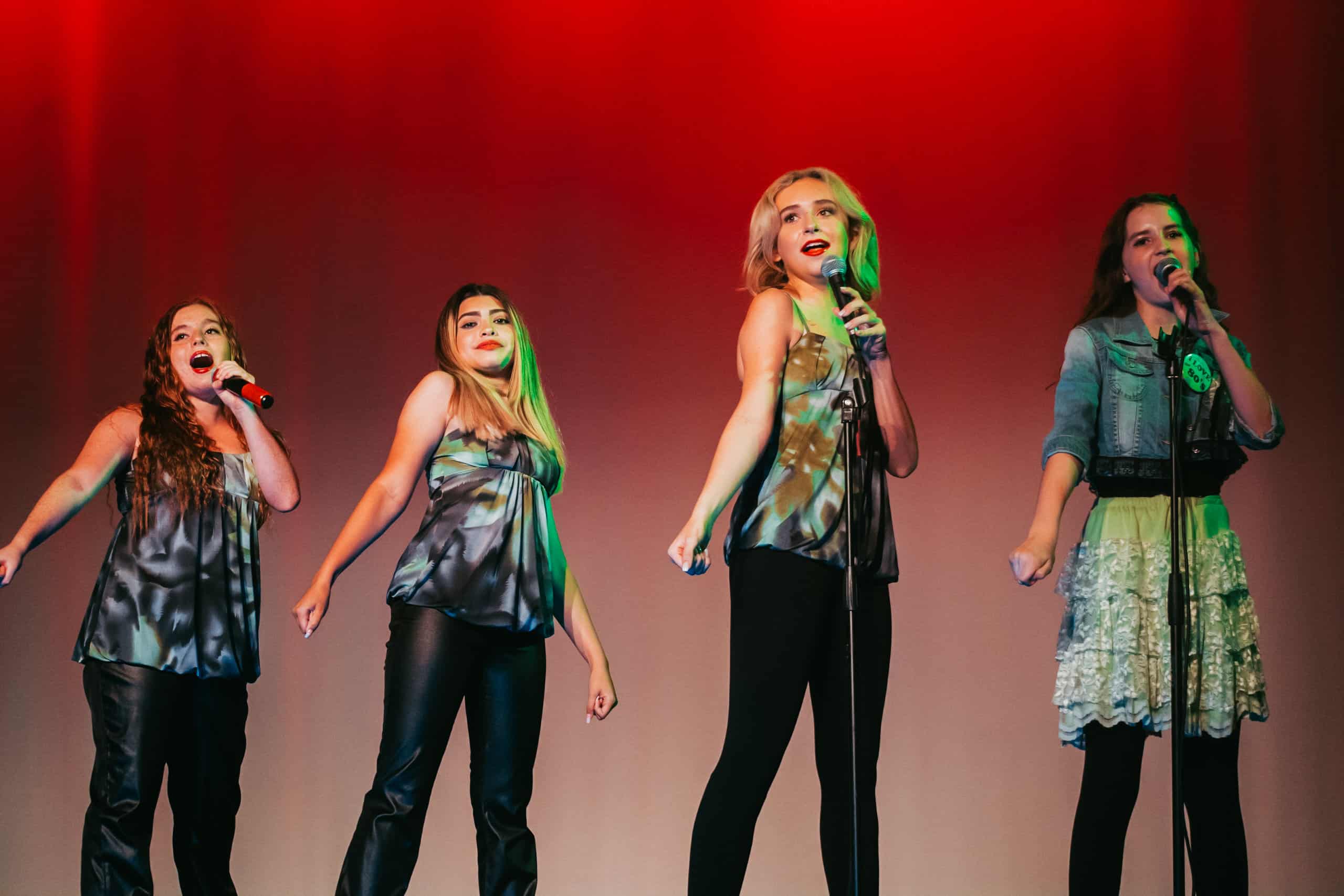 How do you balance teaching the girls proper vocal technique with fostering their creativity and individuality as performers?
Tina Novak Robles: As a private voice coach for over 20 years, I always put a big emphasis on vocal health. When we audition vocal parts within our show, I encourage the girls to put their own individual spin on it, and not to necessarily try to sing it like the girl who sang it before her.
I try to expose the girls to different genres and musical legends so they can learn which artist they connect with. It's important for me to point out to the girls qualities within their voice that make them unique, and teach them to embrace those qualities and nurture them.
Given the pressures and challenges of being a young girl today, how do you create a supportive and inclusive environment for the girls in the ensemble?
Tina Novak Robles: I think in order for us to be our best creatively, we have to feel we are in an environment where the girls can push themselves beyond their comfort zone, be able to mess up, and to be able to laugh at themselves. Mistakes are part of the creative process. When we are all in the same boat, there's really no room for negativity, and I have zero tolerance for negativity within our group.
I want to teach girls that it's important for women to support other women, and it starts when they are young. We are all working hard to make our show and our group the best it can be, and I think it's something the girls are proud of. An occasional bad egg will usually, very quickly realize this isn't the place for them and they don't last long within our organization.
What are your goals for the future of Entertainment Revue? 
Tina Novak Robles: Personally I want to continue to mentor the girls, and watch them mentor each other, foster friendships, and make lifelong memories. Developing them into dynamic performers and vocalists, and help them reach their potential and artistic goals.
I'd love to see our group perform more within our community at family-friendly events through the Tampa Bay Area and beyond, and I hope to increase the amount of performance opportunities. I'd love to see the group perform at more charity galas and fundraisers to tie in service with their talents.
I believe if you have a gift, it's your responsibility to share it for a good cause.
Currently, we have performed the National Anthem for almost every professional sports franchise in Florida but we have not yet performed for The Tampa Bay Rays, so if my old high school buddy Kevin Cash is reading this…you know where to find me!  I have my sights set on some big shows, but I don't want to jinx anything before I get it in the works. Cross your fingers!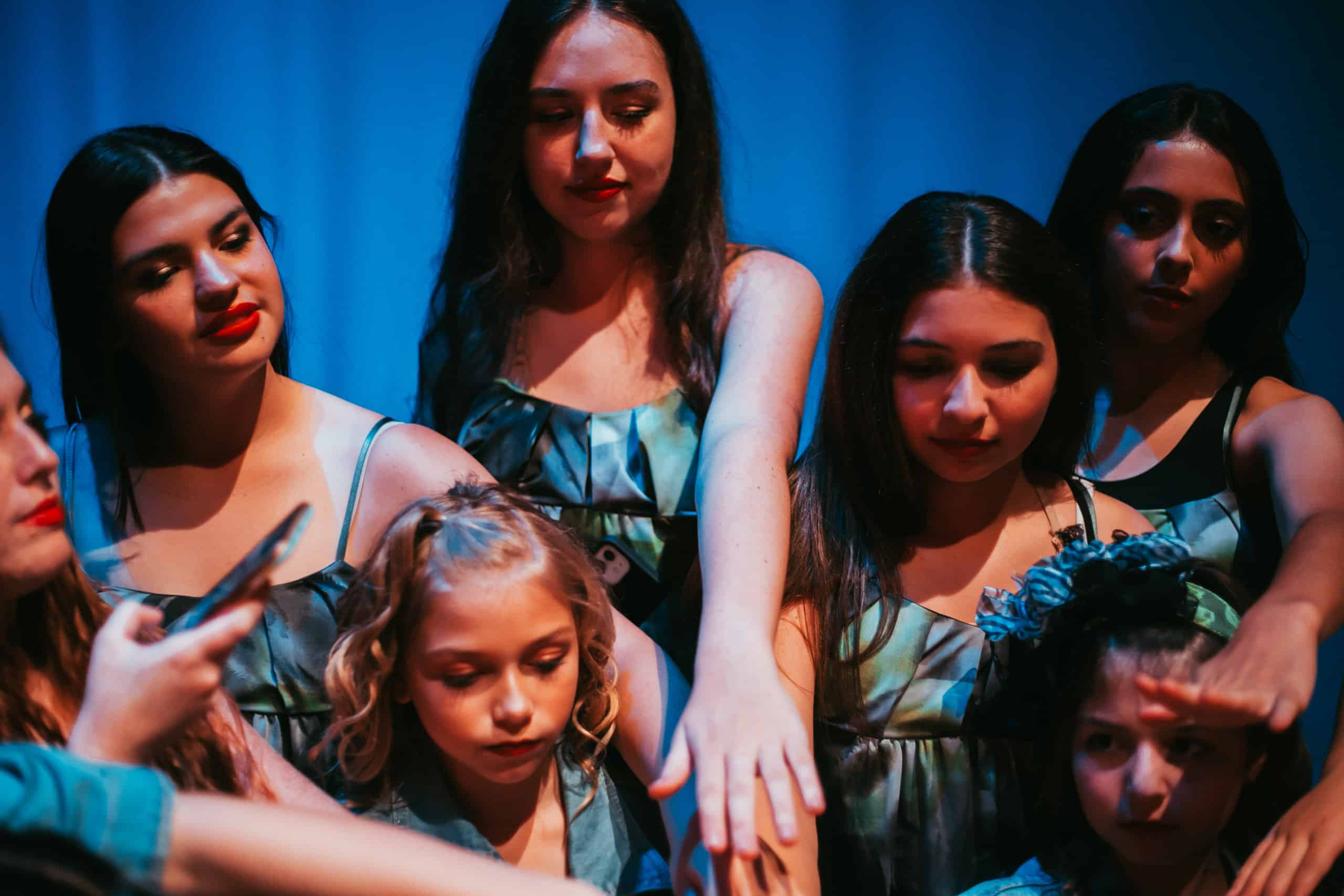 Based on your experience that you share with your daughter who is also a cast member now, what advice would you give to parents of young girls who are interested in pursuing a career in music or the performing arts? 
Tina Novak Robles: My biggest piece of advice is to communicate with your child and let THEIR level of interest steer the ship. If you have a child that is willing to put in the work on their own, support them 100%. Find them as many opportunities to perform as you can, this is really important for kids to develop their voice and artistry.
Make sure they study voice lessons with a reputable instructor who will teach them about vocal health. Teach them to advocate for themselves artistically and personally.
But if a parent has to nag to get their child to practice, meet deadlines, make rehearsals, then maybe it's time to rethink things. With my own daughter (as well as with my students), I often talk about the side of the music business that people don't see. How it takes several "no's" before you get a "yes," but also how that builds character. How it's long hours in the recording studio and long periods of time on the road touring, missing your family.
I also tell them about all of the amazing parts, traveling the world, watching people from other countries sing your song lyrics, performing in beautiful, historic theatres, etc. I want to see my girls pursue music because it's their passion, not because they want glamour and fame. That's such a small, superficial part of it.
It should be an informed decision, and they should go into it knowing the impacts a music career can have on their life, and how much work it takes. This is in no way to discourage them, you need that "I can do it" attitude to pursue a career in music or performing arts. For those who really want it, I will support and encourage 100%, I love to see young people with drive and passion! Another important piece of advice is to acquire good legal representation early on.
Auditions are coming up for new performers to join your casts on May 20th at your South Tampa studio location. Can you describe the process and provide more details? 
Tina Novak Robles: We make our auditions fun and relaxed. Our cast members from our professional cast are present to help the auditionees settle in and guide them through the events of the day. Our judges panel is made up of mostly alumni who remember auditioning themselves, again making the process comfortable.
Singers will sing in front of the judges, 90 seconds of any song they choose, either with musical accompaniment or a capella (without music). All auditionees will be taught a basic dance combination to access their dance level. Auditionees who are trained dancers, will be taught a more difficult dance combination.
You don't have to be a rock star already to be accepted into the group. We have 3 cast levels, (Rave Revue, ER2, and ER1), so I am looking for raw talent that I can develop. Depending on the child's talent level, determines which cast they will be accepted into. No one is accepted directly into our professional cast, girls must spend time in our beginner (Rave) and/or intermediate (ER2) cast first.
If anyone is on the fence, just come audition! Once you see what the group is all about and learn more details at our parent meeting, if your child loves to sing, dance and perform, this will be the place for them to grow as performers and make lifelong friendships and memories. I met my best friend in Entertainment Revue, we were each other's maid of honor at our weddings and at the birth of our children.
I never thought when I joined the group at 12 years old, it would have such a profound impact on both my professional and personal life. Come be a part of the #sistERhood!
Auditions for girls ages 5-15 will be held on May 20, 2023 at the South Tampa studio. Kids will be split up into three groups so they audition with kids in their age range (based on grade they will be entering next school year).
K-4th grade: 9am-12pm –

PINK

5th-7th grade: 12pm-3pm –

BLUE

8th-10th grade: 3-5pm –

YELLOW
Entertainment Revue Studio location:
3802 B-1 South Dale Mabry Highway, Tampa (Britton Plaza – closer To Himes Entrance)
To secure your child's spot for this May's auditions, please email erfiwings@gmail.com
Feature Photo Credit: Susan Jeffers Photography
---
Related stories we think you'll LOVE: