A Parent's Guide to EPCOT International Flower and Garden Festival 2023
If you like to inspire your kids to appreciate nature and the outdoors, then the EPCOT International Flower and Garden Festival is a must-do. This festival runs from March 1 to July 5, 2023 giving you four whole months to plan a great time together.
Although Disney still requires park pass reservations, I have been seeing the parks get busier and busier as each week goes by. As an Orlando mom, I love helping parents have a great time at Disney.
This Parent's Guide to EPCOT International Flower and Garden Festival is built to help you plan ahead and find the best things to do with kids. We've also got the 2023 Topiary Lineup and Locations – keep reading!
Some of our TOP Picks for the EPCOT International Flower and Garden Festival with kids:
Spike's Pollen-Nation Exploration Scavenger Hunt: Pick up the card for $9.99 at the gift shops and search for Spike the Bee in the different gardens around the park! There will be an Easter egg theme hunt for a limited time too.
Butterfly Landing presented by AdventHealth –  near Imagination!: This festival favorite is back and now located near Imagination! Butterflies are everywhere. Enough said.
Family Friendly Play Garden presented by OFF! – near World Discovery: Sit back and relax while the kids play in the playground. It's a great spot to get the wiggles out.
The Topiaries: Challenge yourself to spot as many of the 100+ topiaries scattered throughout the park that are snipped to look just like your favorite Disney characters including NEW additions like Encanto and Princess Tiana.
Cool Gardens: There's something inspirational about each of the 20+ gardens in the park. The Miniature Garden near Germany features a mini village and the Prehistoric Plants garden near Mission: Space is pretty cool to see!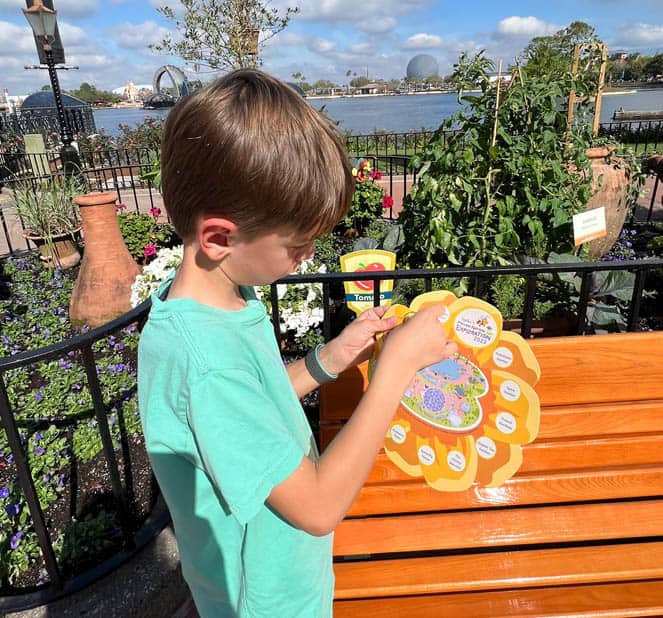 Pro-parenting tip: don't miss the Family Friendly Play Zone near the Creations Shop in World Discovery. Before my son and I left Epcot for the day, we enjoyed playtime. I love that this is completely fenced in and I could find some shade and rest while he played.
Pro-parenting tip #2 – Visit Butterfly Landing presented by AdventHealth right when it opens. The line moves fairly quickly and the butterflies are more active first thing in the morning.
Best Epcot Flower and Garden Festival Foods For Kids
Below are our picks for 2023
Fried Cinnamon Roll Bites with cream cheese frosting and candied bacon – BRUNCHCOT (Near Test Track)
Grilled Street Corn on the Cob with savory garlic spread – Florida Fresh (Near Disney Traders)

My son preferred this corn once I nibbled off the topping

Potato Pancakes with house-made applesauce (Gluten/ Wheat Friendly) – Bauernmarkt: Farmer's Market (Germany)
Toasted Pretzel Bread topped with black forest ham and melted Gruyère cheese – Bauernmarkt: Farmer's Market (Germany)
Orange Sesame Tempura Shrimp with orange chile sauce – (New) Citrus Blossom Odyssey Building
Florida Strawberry Shortcake (New) –  Florida Fresh near Disney Traders
Chicken and Waffles: Crispy honey-brined chicken and honey sweet cornbread waffle with whipped honey butter and spicy honey (New) – The Honey Bee-stro Hosted by National Honey Board (Near Port of Entry)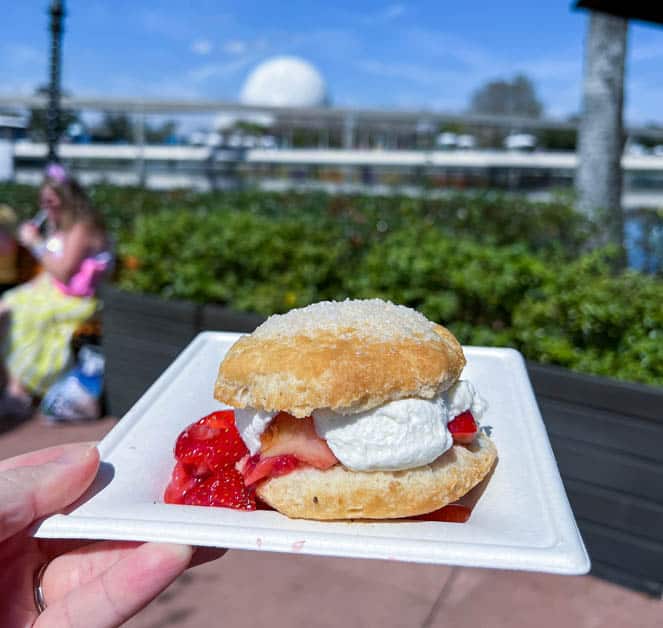 The Land Cart hosted by AdventHealth
Food Items:
Fruit and Cheese Plate: Grapes, strawberries, cheddar, and Mini Babybel Snack Cheese
Vegetable Plate: Broccoli, carrot sticks, and tomatoes with dip (Plant-based)
Pretzels with Hummus Dip (Plant-based)
Cookies 'n "Cream" Chocolate Mousse Cup (Plant-based)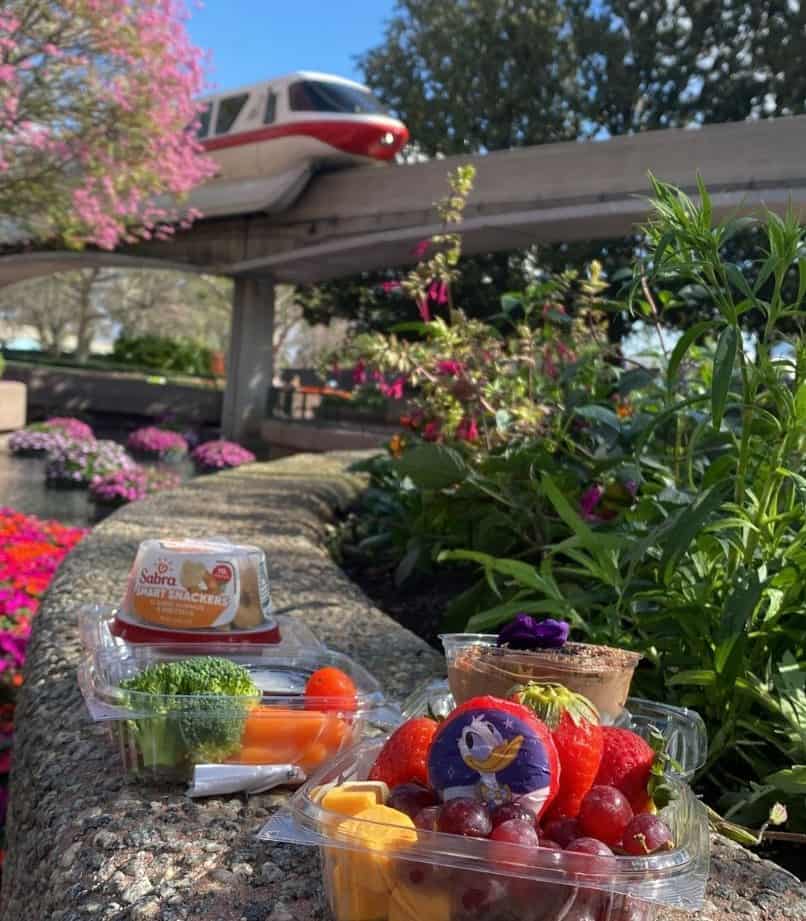 Keep reading for this year's 2023 Topiary Lineup and Locations!
Topiaries at Epcot Flower and Garden Festival 2023
The Flower and Garden Festival topiaries are sure to be a hit with everyone, especially your kid(s). Each section of Epcot has at least one topiary display. So, no matter where you roam, you'll find delightful Disney springtime magic. My four-year-old loved the Toy Story topiaries, with Buzz Lightyear near Mission: SPACE and Woody with Bo Peep near The Land Pavilion.
This year's favorite was clearly the NEW Encanto topiaries at the front entrance – there was pretty much a crowd of people waiting to take pictures throughout the day, so be patient here!
The NEW Princess Tiana topiary in American Adventure is another 2023 festival favorite!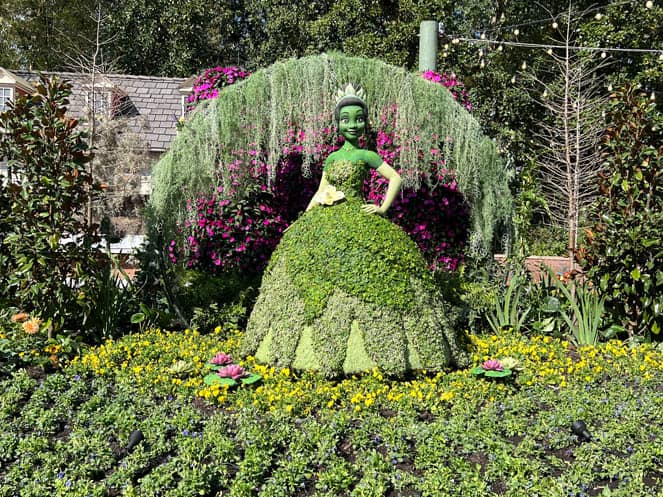 2023 Disney Character Topiary Lineup and Locations
Encanto Characters – Main Entrance
Mickey Mouse, Minnie Mouse, Chip, Dale & Pluto – Bridge to World Showcase
Woody, Bo Peep and her Sheep – World Nature near The Land
Goofy – World Showcase
Princess Tiana – The American Adventure
Buzz Lightyear – World Discovery near Mission: SPACE
Donald and Daisy – Community Garden Near Connections Café, World Celebration
Figment – near Imagination!
The Three Caballeros – Mexico Pavilion
Anna and Elsa – Norway Pavilion
Simba and Friends – Between Imagination! and The Land
Pumbaa and Timon –Between Imagination! and The Land
Snow White and the Seven Dwarfs – Germany Pavilion
Lady and the Tramp – Italy Pavilion
Beauty and the Beast – France Pavilion
Lumiere and Cogsworth – France Pavilion
Kermit the Frog and Miss Piggy – Between France and Morocco
Peter Pan, Captain Hook and Tick Tock Croc – Between United Kingdom and Canada Pavilions\
Winnie the Pooh and Friends – United Kingdom Pavilion
Tinker Bell's Fairy House Garden – United Kingdom
Bambi and Friends – near Imagination! Refreshment Port
Global Gardens Throughout Epcot
Besides the adorable topiaries, make time to explore the Global Gardens. These garden displays throughout Epcot are beautiful and inspiring. I personally do not have a green thumb, at all, but it is nice to dream what I could create if I did.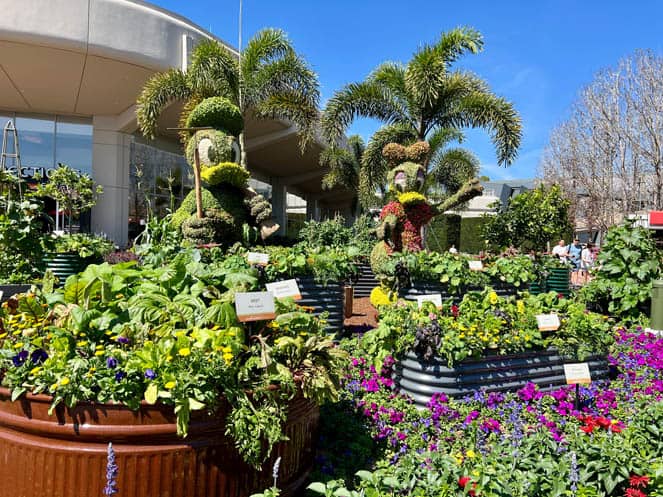 My four-year-old loved looking at some of these gardens. Here are the new and returning favorites for 2023:
China Zodiac Garden – China Pavilion
Discover your favorite zodiac with while visiting clever creations.
Bamboo Garden – China Pavilion
Visit this garden to see bamboo in a variety of colors, patterns and sizes.
Miniature Garden – Germany Pavilion
Appreciate the little things in this showcase of diminutive dwellings nestled in a forest of fine shrubs.
Garden Italiano – Italy Pavilion
From fresh spaghetti sauce to pizza toppings, this Tuscan kitchen garden features all the produce and herbs needed to create a classic Italian feast.
Bonsai Collection – Japan Pavilion
Learn about the art of bonsai, some of the finest living sculptures. Bonsai masters carefully shape and tend these miniature works of art, creating peace and balance with the earth.
NEW! Shishi-odoshi – Japan Pavilion
Contemplate the methodical movement and soothing rhythm of this traditional Japanese bamboo water fountain.
Rediscover Shakespeare in this idyllic garden featuring excerpts from some of the Bard's most famous sonnets—and the dazzling flowers that influenced them.
English Tea Garden Presented by Twinings – United Kingdom Pavilion
Unearth the history and art of tea-blending at this elegant English tea garden––featuring plants used in some of Twinings' finest blends.
NEW! Songbird Meadow Presented by Wild Birds Unlimited – World Discovery Songbirds are an important part of many ecosystems—including the one in your own backyard! Discover simple steps you can take at home to help these feathered friends thrive.
NEW! The Community Garden – World Celebration
Connect with the earth and each other at this celebration of a diverse and thriving communal garden plot.
NEW! Family-Friendly Garden Presented by OFF!
Explore a camp-themed garden where little ones are invited to jump, play and climb.
Blossoms of Fragrance Presented by Scentsy – World Showcase Bridge
Follow your nose and form lasting memories with the help of fresh, unforgettable fragrances.
Butterfly Landing Presented by AdventHealth – World Nature Near Imagination!
View a kaleidoscope of butterflies up close, in all their extraordinary color. Learn about butterfly lifecycles and maybe even see one emerge from its chrysalis. Closes at dusk.
Prehistoric Garden – World Discovery near Mission: SPACE
Imagine life on Earth 65 million years ago with astounding plant life that's thrived since the age of the dinosaurs.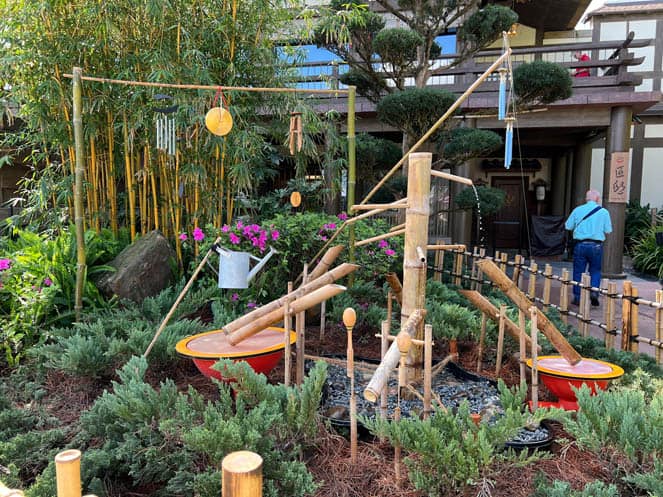 Garden Rocks Concert Lineup and Tips
The Garden Rocks concert series probably won't interest your kid(s). Quite honestly, not many of the performers interest me either. But, each family is different. Maybe you and your kid(s) just love music of any kind and will enjoy experiencing a concert together.
You'll need to be in the American Gardens Theater at least 15 minutes before showtime to at least get a seat.
2023 Epcot Garden Rocks Lineup
March 3-4 – Journey former lead vocalist STEVE AUGERI
March 5-6 – Daughtry
March 10-11 – Tommy DeCarlo
March 12-13 – Smash Mouth
March 17-18 – Mike DelGuidice
March 19-20 – Blue Oyster Cult – NEW
March 24-25 – Berlin
March 26-27 – The Pointer Sisters
March 31 – Luis Figueroa – NEW
April 1-2 – Piso 21 – NEW
April 3 – TBD
April 7-8 – STARSHIP featuring Mickey Thomas
April 9-10 – Don Felder, formerly of the Eagles
April 16-17 – Switchfoot – NEW
April 21-22 – A Flock of Seagulls
April 23-24 – Jo Dee Messina
April 28-29 – Ambrosia with Peter Beckett, The Voice Of Player
April 30, May 1 – Kool and the Gang
Garden Rocks Dining Packages
There is a dining package available in which you purchase a meal at a participating Epcot restaurant and then enjoy reserved seating for the performance. If you see a performer or band in the lineup above that is a must-see for you, then I recommend booking the dining package.
Choose from 4 unique eateries at EPCOT offering Garden Rocks Dining Packages at lunch and dinner. Each package includes:
An appetizer, entrée and dessert or one (1) full buffet (where applicable), along with a non-alcoholic beverage, one (1) guaranteed seat per person to one Garden Rocks concert performance on the same day; the concert time will be assigned at the time of booking.
Tips and Reminders
Park reservations are required
Epcot's hours are typically 9am – 9pm during the Flower and Garden Festival
Most of the festival-related activities start at 11am
Hours vary so please check Disney's calendar before making plans
Weekends are especially busy and crowds build as the day goes on
Pack a tray or plastic plate that's flat to help you carry food and drinks as you search for a spot, and corral your kid(s)