A Parent's Guide to EPCOT International Flower and Garden Festival 2022
If you like to inspire your kids to appreciate nature and the outdoors, then the EPCOT International Flower and Garden Festival is a must-do. This festival runs from March 2 to July 4th, giving you four whole months to plan a great time together.
Although Disney still requires park pass reservations, I have been seeing the parks get busier and busier as each week goes by. As an Orlando mom, I love helping parents have a great time at Disney.
This Parent's Guide to EPCOT International Flower and Garden Festival is built to help you plan ahead and find the best things to do with kids.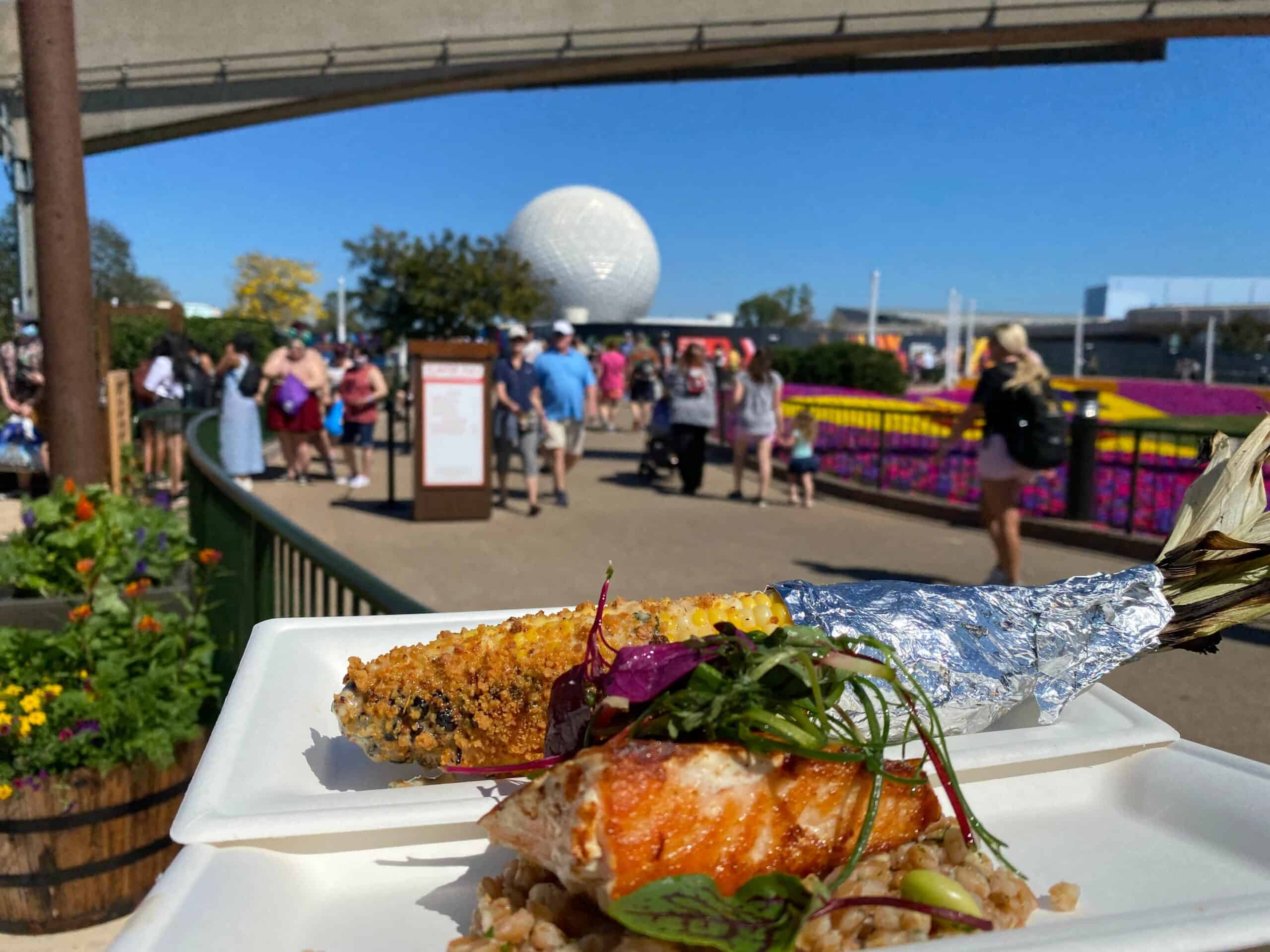 Some of our TOP Picks for Flower and Garden Festival with kids:
Spike's Pollen-Nation Exploration Scavenger Hunt: Pick up the card for $9.99 at the gift shops and search for Spike the Bee in the different gardens around the park!
Bambi's Butterfly House – World Nature near Imagination!: This festival favorite is back and now located near The Land. Butterflies are everywhere. Enough said.
The Topiaries: Challenge yourself to spot as many of the 100+ topiaries scattered throughout the park that are snipped to look just like your favorite Disney characters.
Cool Gardens: There's something inspirational about each of the 20+ gardens in the park. The Miniature Gardens near Germany feature a mini village.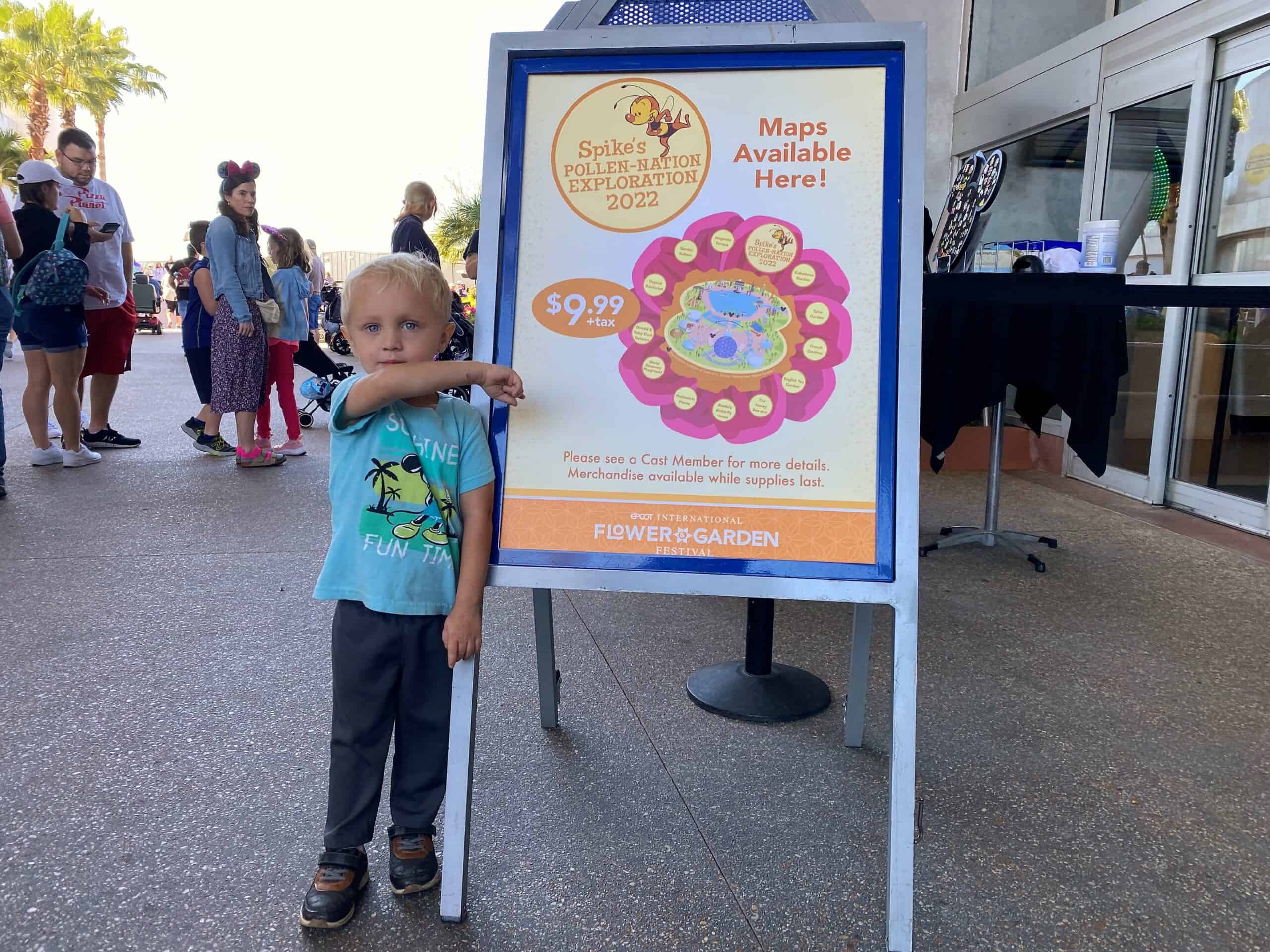 Best Epcot Flower and Garden Festival Foods For Kids
Fried Cinnamon Roll Bites with cream cheese frosting and candied bacon – EPCOT Sunshine Griddle (Near Test Track)
Grilled Street Corn on the Cob with savory garlic spread – Flavor Full Kitchen Hosted by AdventHealth

My son preferred this corn once I nibbled off the topping

Cookie Butter Worms and Dirt (non-alcoholic drink) – Flavor Full Kitchen Hosted by AdventHealth

I was really hoping my son would dig this (pun intended) but the only thing he liked was the gummy worm topping

Potato Pancakes with house-made applesauce (Gluten/ Wheat Friendly) – Bauernmarkt: Farmer's Market (Germany)
Toasted Pretzel Bread topped with black forest ham and melted Gruyère cheese – Bauernmarkt: Farmer's Market (Germany)
House-made Cheesy Crab Wontons – Lotus House (China)
Frushi: Strawberry, pineapple, and cantaloupe wrapped in sweet rice and pink soy wrap served with whipped cream, berry sauce, and toasted coconut – Hanami (Japan)
Orange-Lemon Smoothie in a Souvenir Orange Bird Sipper Cup (non-alcoholic) (Limit 2 per guest) – The Citrus Blossom (Near Port of Entry)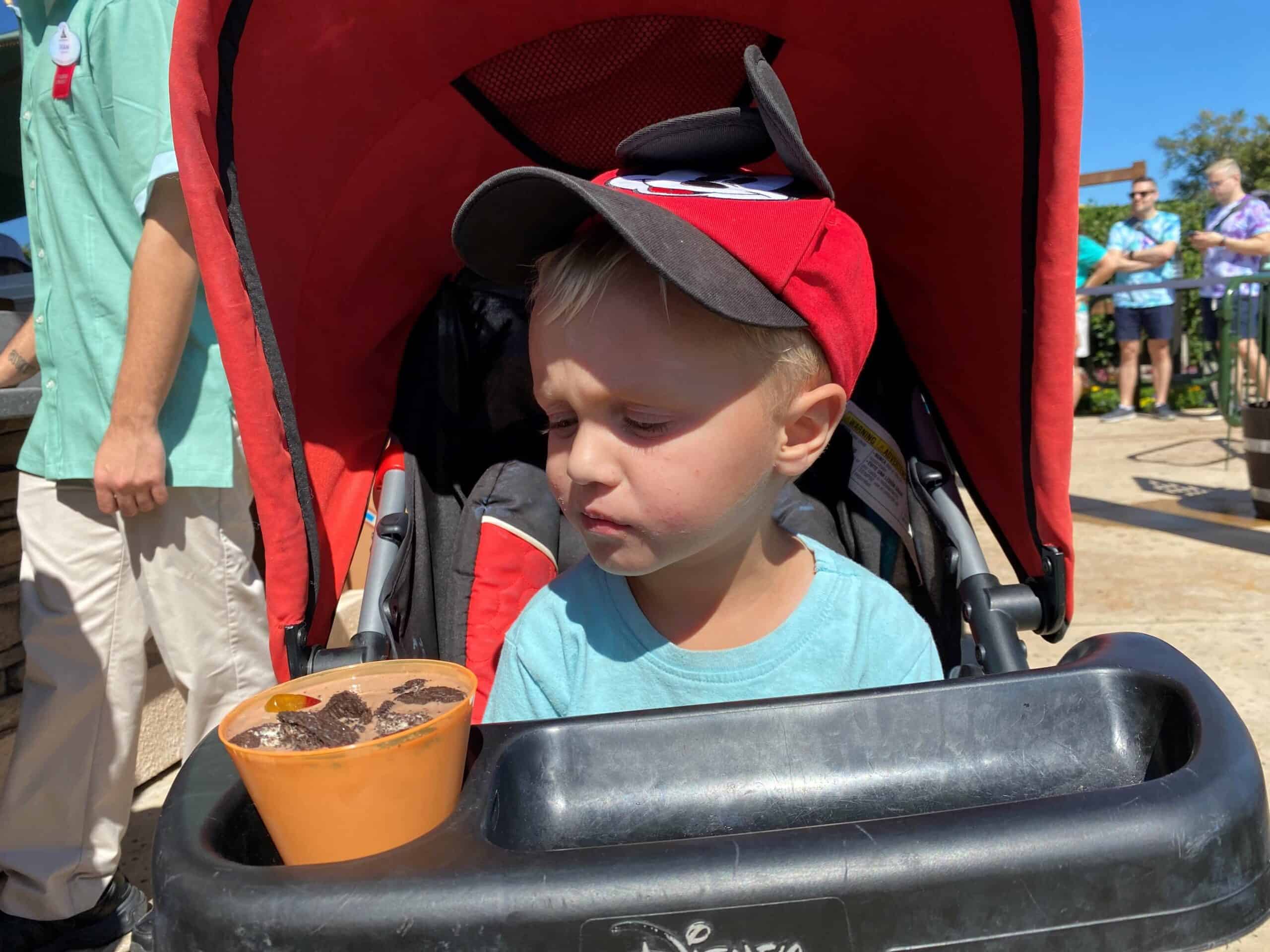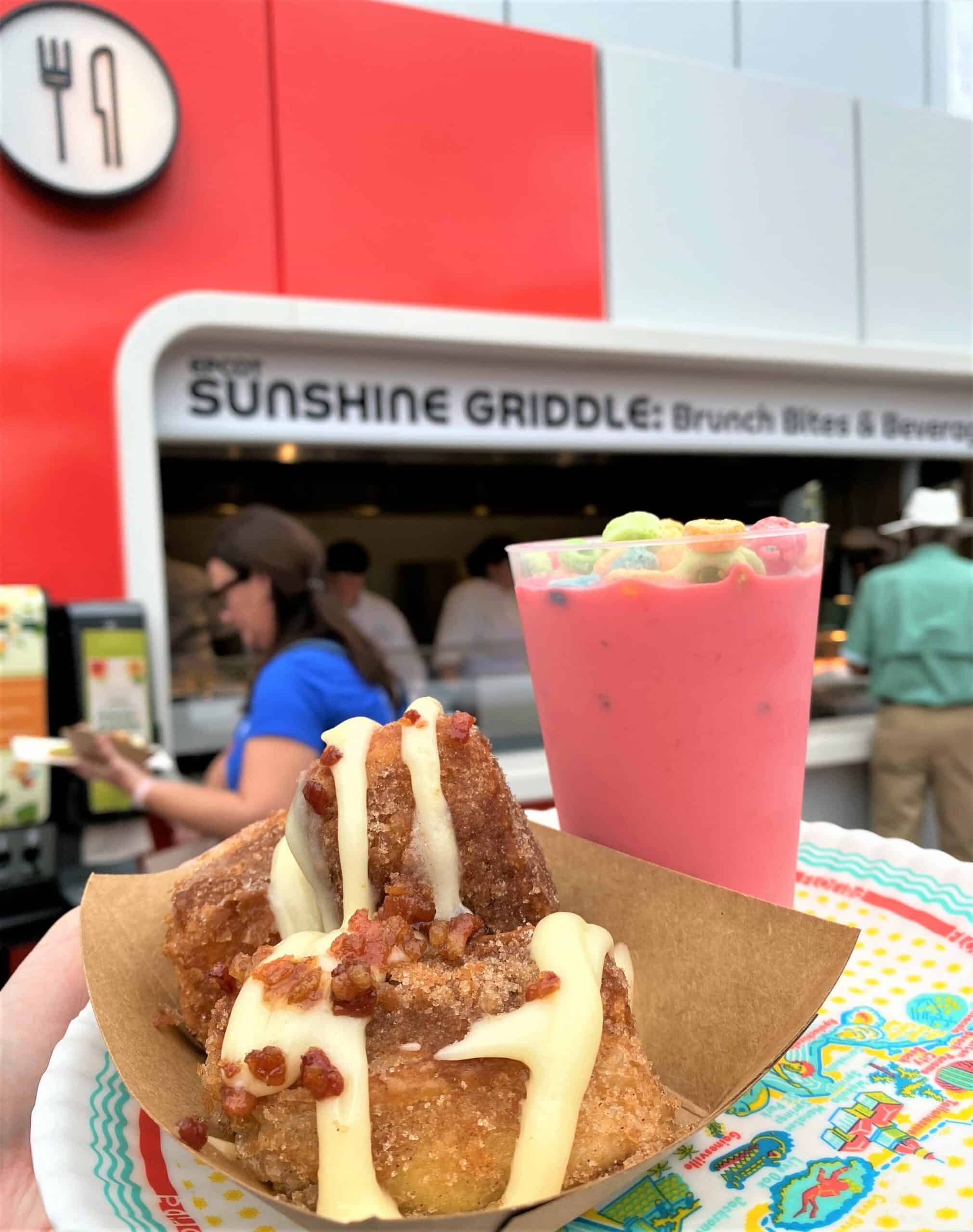 Cinnamon Bites are kid-friendly treats at Epcot Flower and Garden 2022Important note about EPCOT Farmers Feast booth (Near Test Track) – For 2022 the Farmers Feast booth has a menu that changes throughout the festival. Be sure to check Disney's official Foodie Guide to the 2022 EPCOT International Flower & Garden Festival to see all the menus including the dates of the menu changes at this booth.
Currently, the Summer Solstice menu is in season, through the end of the festival. Tomato & cornbread panzanella with burrata cheese, Barbecue seared pork tenderloin with summer succotash, herb butter, and grapefruit vinaigrette, and A Whole Lotta Melon: feta cheesecake with watermelon curd, pickled watermelon rind, watermelon caramel, and compressed watermelon are all refreshing and delicious.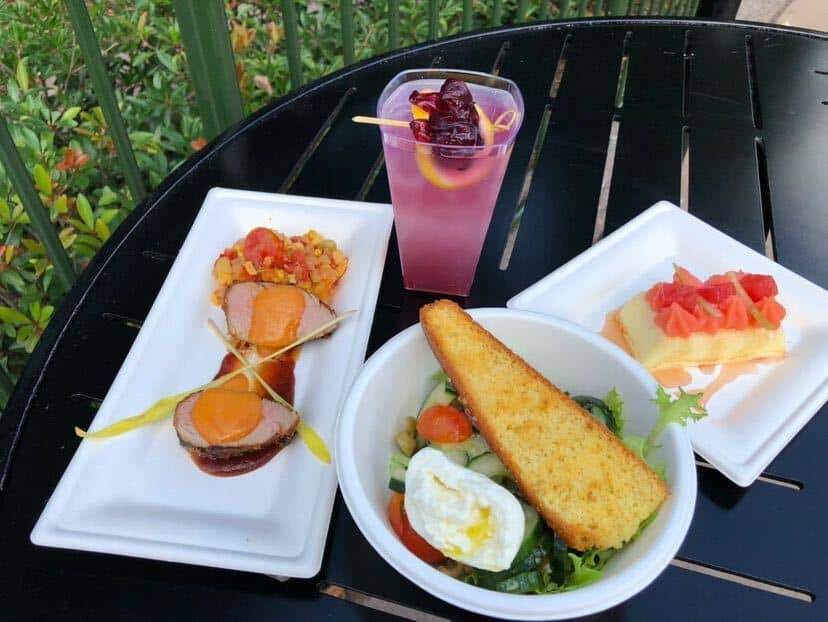 DISNEY'S ENCANTO AT THE FLOWER AND GARDEN FESTIVAL AT EPCOT
The breakout hit, "Encanto" is taking Disney families by storm. To celebrate, there is a food and drink booth inspired by Colombia and "Encanto." This booth is one of the most popular of the 2022 Flower and Garden Festival. It is located between the France and Morocco Pavilion.
During the Festival of the Arts, we were surprised to see this booth not serving arepas. Anyone who has watched "Encanto" knows the importance of arepas to the Family Madrigal. Fear not! The La Isla Fresca features three different styles of arepas!
Arepas topped with melted queso fresco (Gluten/ Wheat Friendly)
Arepa topped with shrimp, crushed avocado ají, and tomato sauce (Gluten/ Wheat Friendly)
Arepa topped with chorizo
Kids will most likely enjoy the arepas with melted cheese, and perhaps the chorizo version too – though it is a tad spicy.
Topiaries at Epcot Flower and Garden Festival
The Flower and Garden Festival topiaries are sure to be a hit with everyone, especially your kid(s). Each section of Epcot has at least one topiary display. So no matter where you roam, you'll find delightful Disney springtime magic. My four year old loved the Toy Story topiaries, with Buzz Lightyear near Mission: SPACE and Woody with Bo Peep near The Land Pavilion.
Here are the topiaries that are must-dos for kids:
Goofy Topiary and Walt Disney World 50th Anniversary Celebration Cake – Main Entrance
Woody, Bo Peep and Her Sheep – near The Land Pavilion
Mickey Mouse, Minnie Mouse, Donald Duck, Daisy Duck, Huey, Dewey and Louie – Bridge to World Showcase
Buzz Lightyear – near Mission: SPACE
The Three Caballeros (Jose, Donald and Panchito) – Mexico Pavilion
Anna and Elsa – Norway Pavilion
Simba and Friends (Rafiki, Simba, Mufasa and Sarabi) – Between Imagination! and The Land Pavilion
Pumbaa and Timon – Between Imagination! and The Land Pavilion
Snow White and the Seven Dwarfs – Germany Pavilion
Peter Pan, Captain Hook and Tick Tock Croc  – Between the United Kingdom and Canada Pavilions
Winnie the Pooh and Friends (Rabbit, Eeyore, Piglet and Tigger) – United Kingdom Pavilion
Tinker Bell's Fairy House Garden – United Kingdom Pavilion
Global Gardens Throughout Epcot
Besides the adorable topiaries, make time to explore the Global Gardens. These garden displays throughout Epcot are beautiful and inspiring. I personally do not have a green thumb, at all, but it is nice to dream what I could create if I did.
My four-year-old loved looking at some of these gardens. Here are some of our favorites:
Tropical Rainforest Garden – Mexico Pavilion
Discover the rich biodiversity of the Mexican rainforest and learn about its highly adaptive species.
Extraordinary Orchids – Mexico Pavilion
Set eyes on these spectacular plants blooming in radiant color.
China Zodiac Garden – China Pavilion
Discover your favorite zodiac with while visiting clever creations.
Alpine Miniature Garden – Germany Pavilion
Appreciate the little things in this showcase of diminutive dwellings nestled in a forest of fine shrubs.
Kokedema Garden – Japan Pavilion
Admire fresh expressions of an ancient Japanese art at this tranquil garden.
Bonsai Collection – Japan Pavilion
Learn about the art of bonsai, some of the finest living sculptures. Bonsai masters carefully shape and tend these miniature works of art, creating peace and balance with the earth.
Shakespeare Garden – United Kingdom Pavilion
Rediscover Shakespeare in this idyllic garden featuring excerpts from some of the Bard's most famous sonnets—and the dazzling flowers that influenced them.
Prehistoric Garden – World Discovery near Mission: SPACE
Imagine life on Earth 65 million years ago with astounding plant life that's thrived since the age of the dinosaurs.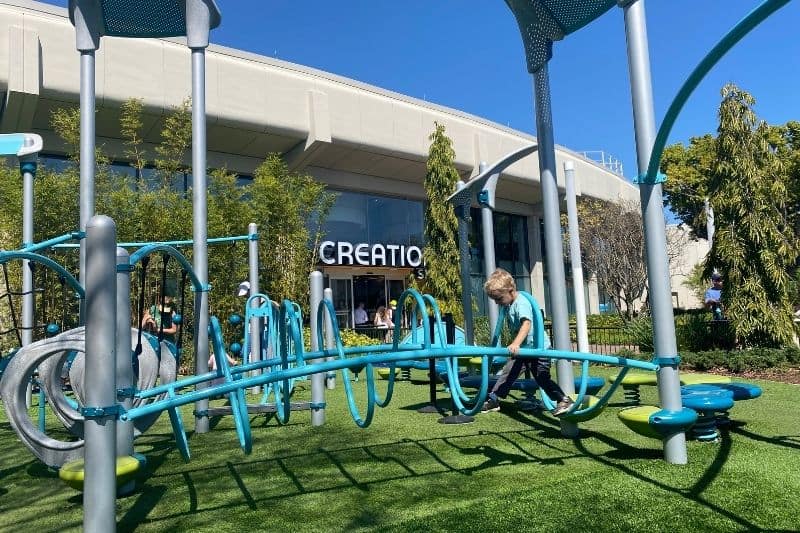 Pro-parenting tip: don't miss the Green Landing Family Play Zone near the Creations Shop in World Discovery. Before my son and I left Epcot for the day, we enjoyed playtime with WALL-E and his eco-friendly garden. I love that this is completely fenced in and I could find some shade and rest while he played.
Pro-parenting tip #2 – Visit Bambi's Butterfly House right when it opens at 11am. The line moves fairly quickly and the butterflies are more active first thing in the morning.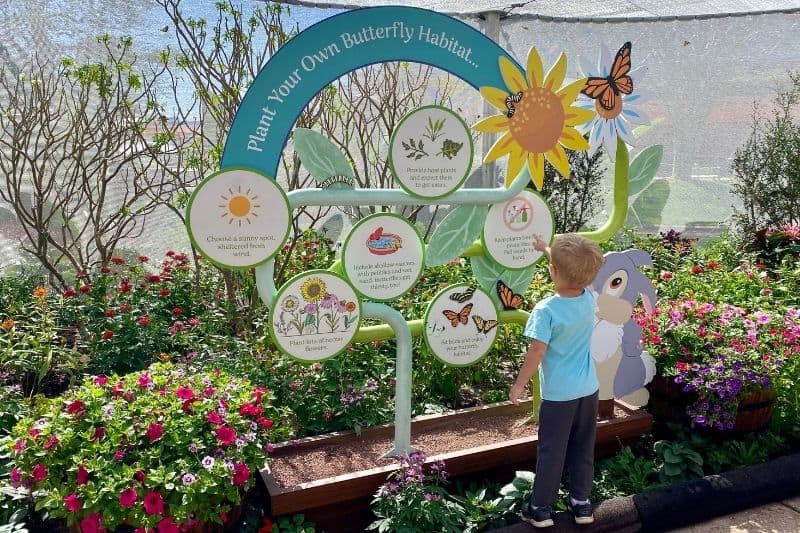 Don't miss the Health Full Trail Presented by AdventHealth (near Imagination! Walkway). This whimsical area is a awesome playground for kids, with some seating for adults. The whole family can learn ways to stay healthy at this Outdoor Kitchen and garden. Closes at dusk.
Garden Rocks Concert Lineup and Tips
The Garden Rocks concert series probably won't interest your kid(s). Quite honestly, not many of the performers interest me either. But, each family is different. Maybe you and your kid(s) just love music of any kind and will enjoy experiencing a concert together.
You'll need to be in the American Gardens Theater at least 15 minutes before showtime to at least get a seat.
2022 Epcot Garden Rocks Lineup:
The Guess Who
March 4 & 5
Rick Springfield
March 6 & 7
Melina León
March 11 & 12
CeCe Winans
March 13 & 14
Mike DelGuidice, currently on tour with Billy Joel
March 18 & 19
Kool & The Gang
March 20 & 21
The Orchestra starring former members of ELO
March 25 to 28
The Spinners
April 1 & 2
The Pointer Sisters
April 3 & 4
Blue October
April 8 & 9
Don McLean
April 10 & 11
Tommy DeCarlo, singer of the band BOSTON
April 15 & 16
Don Felder, formerly of The Eagles
April 17 & 18
STARSHIP featuring Mickey Thomas
April 22 & 23
Claudia Leitte
April 24 & 25
Berlin
April 29 & 30
TobyMac
May 1 & 2
Blood, Sweat & Tears
May 6 & 7
The Commodores
May 8 & 9
Ambrosia with Peter Beckett
May 13 & 14
MercyMe
May 15 & 16
A Flock of Seagulls
May 20 & 21
Collin Raye
May 22 & 23
Thelma Houston
May 27 & 28
Little River Band
May 29 & 30
Simple Plan
June 3 to 6
Herman's Hermits starring Peter Noone
June 10 to 13
Plain White T's
June 17 to 20
War
June 24 & 25
Daughtry
June 26 & 27
Epic
June 28 to 30
M-80's
July 1 to 4
Garden Rocks Dining Packages
There is a dining package available in which you purchase a meal at a participating Epcot restaurant and then enjoy reserved seating for the performance. If you see a performer or band in the lineup above that is a must-see for you, then I recommend booking the dining package.
Choose from 4 unique eateries at EPCOT offering Garden Rocks Dining Packages at lunch and dinner. Each package includes:
An appetizer, entrée and dessert or one (1) full buffet (where applicable), along with a non-alcoholic beverage, one (1) guaranteed seat per person to one Garden Rocks concert performance on the same day; the concert time will be assigned at the time of booking.
Tips and Reminders
Park reservations are required
Epcot's hours are typically 10am – 9pm during the Flower and Garden Festival
Most of the festival-related activities start at 11am
Hours vary to please check Disney's calendar before making plans
Weekends are especially busy and crowds build as the day goes on
Pack a tray or plastic plate that's flat to help you carry food and drinks as you search for a spot, and corral your kid(s)
Read up on important information about the newest ride, Remy's Ratatouille Adventure
All images by Dani Meyering