Farron's Unexpected Blessing: Daytime Co-host Farron Hipp welcomes her first child through adoption
An unexpected blessing entered Farron Hipp's life at 12:39 a.m. on July 12, 2022 when her adoptive daughter, Ezra Michelle Hipp, was born. Farron and her wife, Colleen, never imagined they'd welcome their first child in this way, but after two unsuccessful cycles of IUI last year, they learned of a distant relative who was pregnant and not ready to be a mom, and who was looking for a same-sex couple to be the parents. Months later, I'm happy to welcome my friend and Daytime co-host to the "mom club" and chat with her about her adoption journey. 
TBPM: Congratulations on your family of three (well, four, because I know you'd want me to include your dog, Prince Harry!). Tell us about the moment you first met Ezra.
Farron Hipp: Nothing has been the same since I first laid eyes on Ezra. We were in the hospital room next to the birth mom so that we could have skin-to-skin time with her as soon as she was born. The nurse brought her in and the first time I held her against my chest I remember my hand fitting around her whole back as she pressed against me. I wanted her to know my heartbeat and to know that I'd always be there by her side. I cried and whispered a prayer of thanks to God because that just became the greatest moment of my entire life.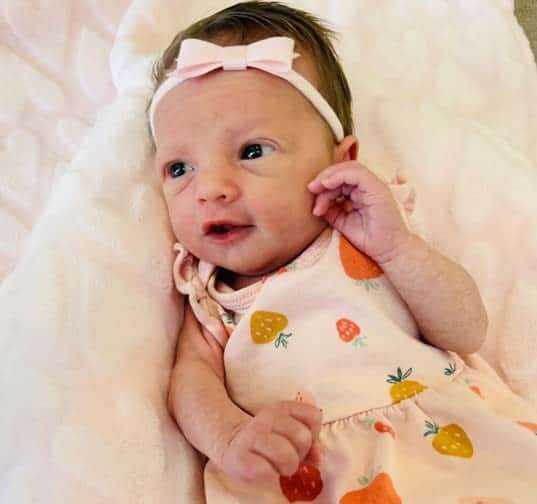 TBPM: What is the most surprising thing about motherhood so far?
Farron Hipp: I can't believe how much she changes every day! I literally look back at pictures from her first week to her third week and I'm in awe of how much her little chin has changed and how her cheeks have filled in. She truly is growing into her own little person. To be honest, I also didn't realize just how many diapers we'd go through on a weekly basis either.
TBPM: What's the hardest thing about motherhood so far?
Farron Hipp: Two of the hardest things about motherhood are things that I was warned would happen, but I had no clue just how intense they'd be: the difficulty of trying to soothe a constantly crying baby and that feeling of missing quality time with my partner. I had one night with Ezra when I felt hopeless because she just kept crying and I'd tried every tool in my belt to calm her down and was unsuccessful. Colleen was asleep and I didn't want to disturb her so I found myself starting to cry a little along with Ezra in a point of utter despair… needless to say she stopped crying shortly thereafter and I took the experience as a hazing process.
TBPM: What is your message for other couples considering adoption?
Farron Hipp: Do it! Adoption can feel a bit daunting due to the extensive legal process and the abundance of fees associated, but it's worth every penny and piece of paperwork. Know that there are resources out there to help you through every step of the way, and the end result of this journey is really just the beginning of one of the greatest stories of your life.
---
Originally published in September 2022 of Tampa Bay Parenting Magazine.