Festive Table: Make your kids table pop this Thanksgiving
If you're hosting Thanksgiving this year, Kid Collective Party Rentals offers tips on decorating your kid's table so it not only looks beautiful, but also helps keep your kids entertained, ensuring a pleasant Thanksgiving meal for all.
Fun-size furniture | Start with a kid-sized table and chairs for your little guests. The kids will be excited to see a table especially for them. Kids Collective Party Rentals offers custom-made wooden tables and a variety of kid-sized chairs.
Festive table | We're all about making your kid's table just as beautiful as the adult's table and coordinating the looks for a cohesive feel. Begin with a decorative table runner and add arrangements down the center in varying heights. Use pumpkins and fall colors to give it that holiday feel.
Plate it! | Charger plates or placemats are a great way to add more color to your table and make each place setting pop. Even the littlest diners will enjoy an extra splash of color.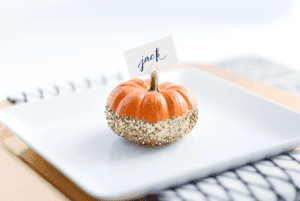 Single-use elegance | Depending on the age of the kids seated at your table, consider disposable plates and cutlery. There are some really stylish and modern options to choose from and it helps cut back on all those dishes to clean after your big meal.
Your name, please! | Just because they're little doesn't mean they won't appreciate the formality of a place card. This DIY glittered pumpkin place card is a great way to wow your guests. They also serve as small keepsakes for the kiddos.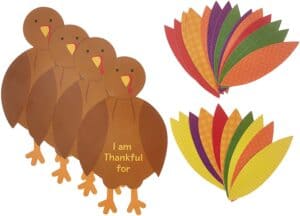 Stylish seating | Think off the table when it comes to where you can add decorations. The backs of chairs can be festooned with fun wooden leaves and mini wreaths for an extra wow.
Décor with purpose | Thanksgiving is a great time to gather with family and reminisce about everything we are thankful for. While adults are chatting, this turkey craft from Amazon is a great way to keep your kids occupied. When they are finished, have them go around the table and share what they are thankful for, and ensure that everyone around the table has a Happy Thanksgiving!
---
Kid Collective Party Rentals offers unique and stylish kids party rentals, décor, props and slumber party tents. Email info@kidcollectiveparties.com to book your event!
---