Florida Fun: Where to go for that perfect mini vacation!
This article is sponsored. It was originally published in the June 2017 issue of Tampa Bay Parenting Magazine.
As a traveling mommy, I love exploring new places, but sometimes I also just want to relax. I don't want to think about cooking, cleaning or really doing anything. I want to sit on a beautiful beach or recline in a pool chair watching the kiddos play. And that's exactly what you do at a resort! Lucky for me—and you!—we have several amazing resorts within a reasonable drive of home for a weekend away.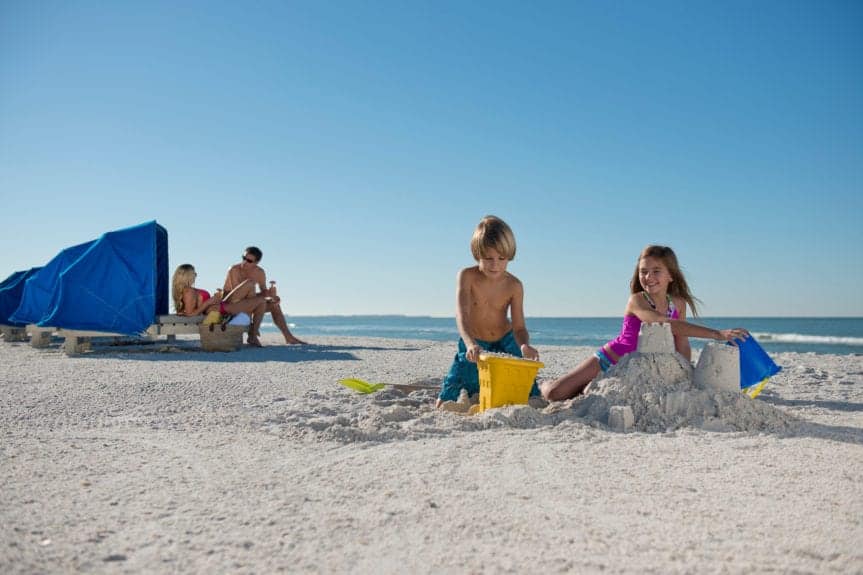 Tradewinds Island Resorts, 5500 Gulf Blvd, St Pete Beach, FL 33706
This kid-friendly resort is so close to home that we've visited many times. I love it because it's located on beautiful nearby St. Pete Beach and the activities for kids are endless. Imagine going down an inflatable slide that's three stories high. It's a kid's dream. And, the best news for parents: It's included in the resort amenity fee so the kids can go down it as many times as they'd like. There is even a floating water park (like an obstacle course in the water) in the Gulf water just off the resort's beaches. For rainy days, kids can hang out at the painting studio or Konk Activities Center where they can create cool beach-themed crafts. The Konk Club drop-off program allows adults to enjoy time off while the kids have fun with other kids, and when everyone's ready to hang out together again, families can roast s'mores, paddle a paddleboat around the Island Grand Resort, watch a free family pirate show or enjoy a dive-in movie on an inflatable big screen at a beachfront pool. Because Tradewinds is an Autism Friendly Resort, employees have training on how to better meet the needs of guests who have autism. Food options are exhaustive, with 14 restaurants on property that range from grab-and-go to sit-down experiences. If you are looking for a restaurant with or without the kids, I recommend The Rumfish Grill. It has an impressive menu and you can sit next to a 33,500 gallon aquarium which goes across the entire wall of the dining room—an incredible attraction in itself.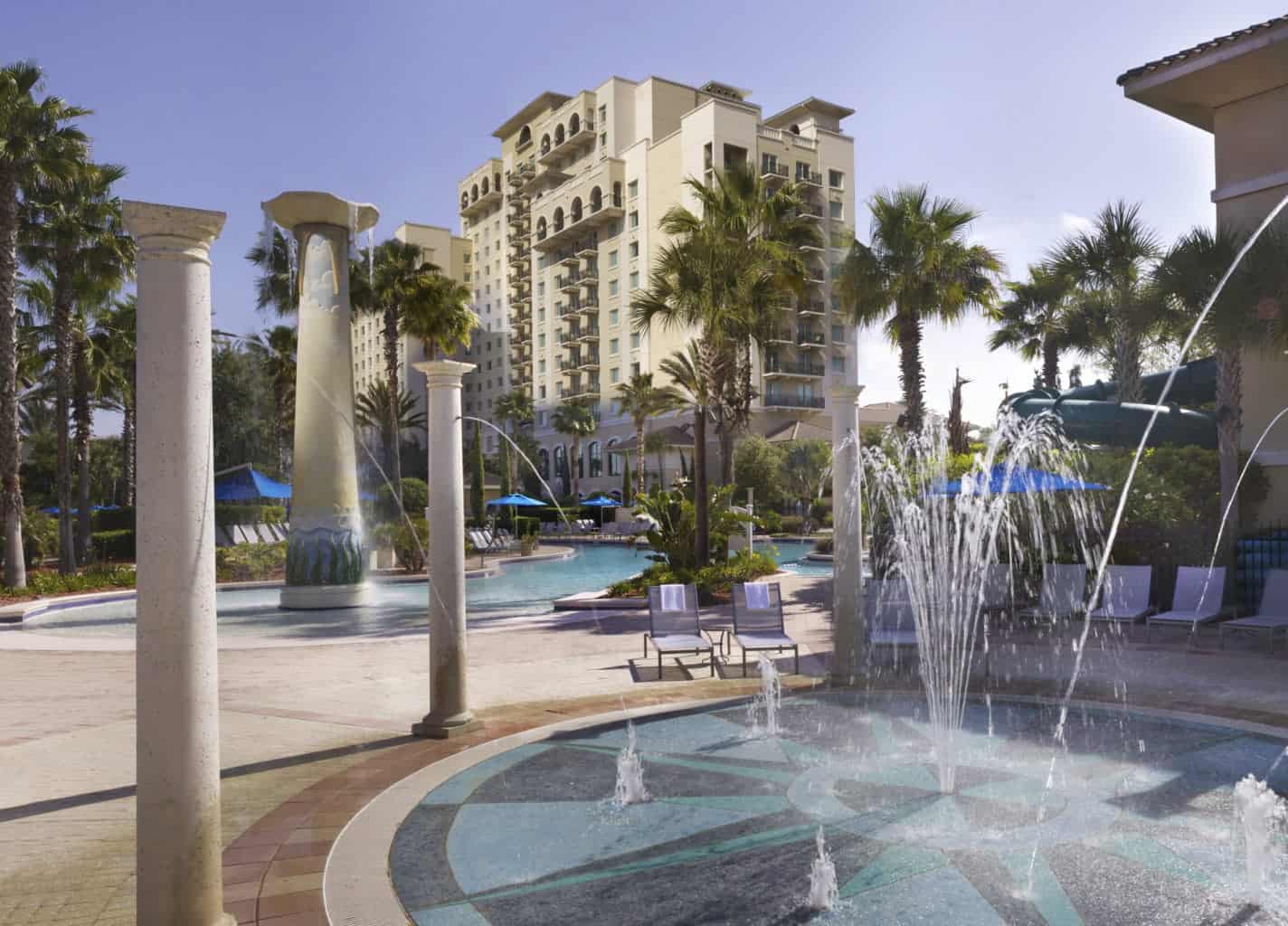 Omni Orlando Resort at ChampionsGate, 1500 Masters Blvd, ChampionsGate, FL 33896
This resort perfectly combines secluded luxury with proximity to Orlando's attractions and complimentary scheduled shuttle transportation to the theme parks. However, with the plethora of activities on-site, your kids may never want to leave. The Omni Orlando Resort has 15 acres of pools; an 850-foot lazy river with a shooting water cannon, arched waterspouts and a waterfall; a zero-entry family pool with a 125-foot corkscrew water slide and water tower; a brand new wave pool; and a kids' pool area with slides. At Camp Omni Kids Escape, your rugrats can enjoy kid-friendly dinners, movies, video games, board games and other activities, while parents enjoy an adults-only dinner, a round of championship golf, a visit to the European-style Mokara spa or a peaceful afternoon at the formal pool with private cabanas. Spread out in between activities at one of the spacious two- and three-bedroom villas you're staying in while the kids enjoy milk and cookies delivered to their room the first night or play with the backpack full of goodies they get from the Kids Club. At dinner time, choose from options such The Zen Restaurant which offers authentic Chinese cuisine and a sushi bar.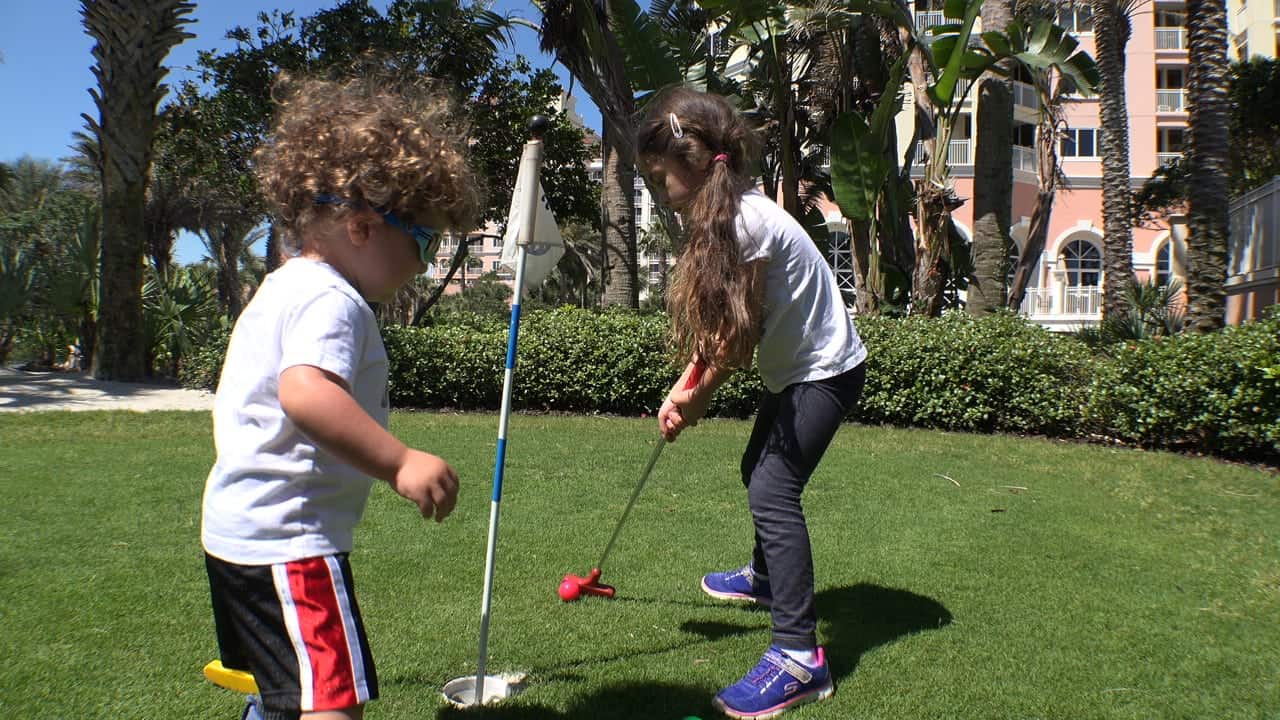 Hammock Beach Resort, 200 Ocean Crest Dr., Palm Coast, FL 32137
Hammock Beach is a beautiful area in the Palm Coast, nestled between Daytona Beach and St. Augustine. We left on a Friday afternoon for the 3-hour car ride to Florida's east coast; two kids' movies in the car and we were there. As soon as we checked in, we were pleasantly surprised to find that our accommodations weren't hotel-like; rather, it was like staying in a home away from home. We had a three-bedroom, three-bathroom condo with a full kitchen, dining room and living room. The kids instantly felt at home. That night we enjoyed dinner at Delfinos, an upscale restaurant that surprisingly has many options for the children and a remarkably kid-friendly staff who not only made sure we enjoyed our dinner, but that our kids were happy too. Later, cookies and milk were delivered to the room—a perfect night-time snack. The next morning, we were ready to enjoy a day of fun. We began by playing golf with the kids on the putting green, which they loved. Then we decided to rent bicycles to enjoy some nearby trails. I must say I was impressed they even had a bicycle trailer for my 2-year-old to ride along. (Everything from the golf to the bikes is included in the resort fee.) The rest of the stay consisted of relaxing in the amazing pools and on the beautiful beach. The Hammock Beach Resort has many water options, from a 1/8-mile long lazy river to a 3-story water slide and even an indoor heated pool. Family can enjoy movies on the lawn and family bingo, and if adults want to spend time in the spa, fitness center, two championship golf courses, sushi bar or cigar bar, they can drop their children off at one of the morning or evening Kid Crew Programs. The Hammock Beach Resort is truly a fantastic resort for those looking for a relaxing getaway and a great way to create lasting memories with the family.