Flying with Car Seats | Expert advice on what you need to know before you go
Up, Up and Away! Fly safely with your littles this holiday season and all year long!
If you are flying this holiday season, then you must have already concluded that the fun you will have at your destination will outweigh the challenges of getting there. Here are Safe in the Seat's Top 10 tips for flying with your littles.
Don't be a Scrooge. Buy a plane ticket for your child, even if they are under 2 years old. Bonus, you won't be their human jungle gym. Your sanity is more valuable than the cost of the extra airplane seat.  
Bring a car seat with you. It's not worth the risk of renting one, being delayed overnight and not having one, or of damage or loss. Don't make me say, "I told you so."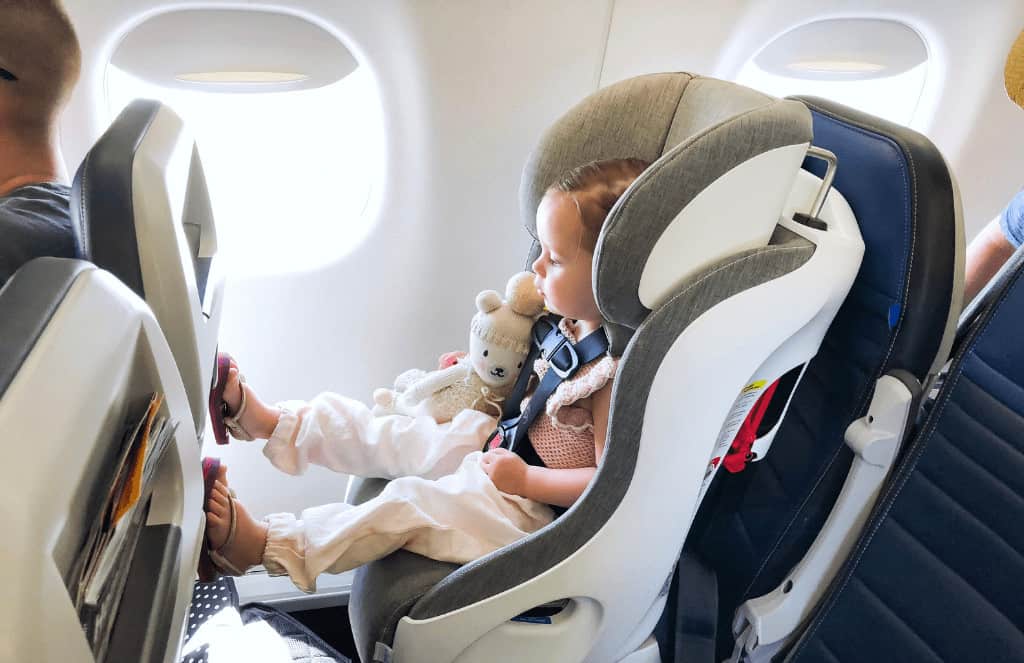 Sorry, Santa's sleigh is full. If your child is under 40 pounds, the car seat needs to be ON the plane with your child harnessed in it. It's the safest way for your child and seat to travel. Yes, it's heavy, awkward and annoying but so is life with kids. You've got this!  
According to the Federal Aviation Administration (FAA), if your child is over 40 pounds, it's safe for them to fly using the lap belt. That said, if you're lugging along a convertible car seat, go ahead and use it on the plane too.  
Frequent flyer? Consider adding a just-for-travel car seat to your wish list. Most everyday use car seats are big and bulky. Check your list twice to be sure yours is FAA Approved (check for a sticker on the car seat) and just so you don't get your tinsel in a tangle, it's worth doing some research to be sure it fits in the airplane seat.  
Nothing about this is easy but simplify where you can. Book a direct flight and check your suitcases. Wear a backpack to free up your hands. Consider purchasing a wheeling car seat carrier like the GoGo Kidz Travelmate or the Traveling Toddler.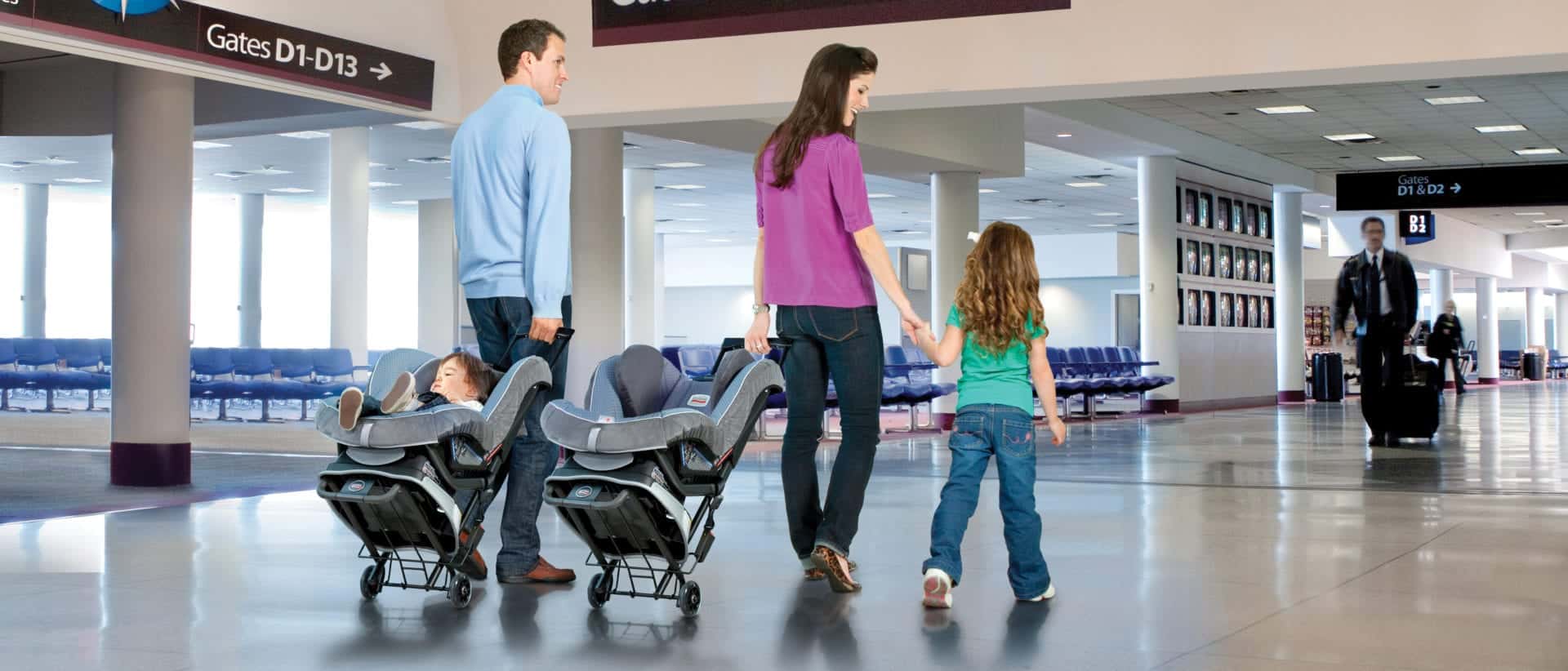 Protect your carseat. If you still aren't convinced to take the seat on the plane with you, at least pack your car seat in the original box it came in or one like it with substantial padding to protect it from being damaged.  
Keep them busy! Snacks, Pinterest activities and knowing how to seatbelt-install your seat are all equally important when preparing to travel with small children. Practice before the big day!  
Plan ahead. If a family member is picking you up, another option is to send them a car seat in advance and suggest they find a child passenger safety technician in their area and learn how to install the seat in their vehicle correctly.  
Review child passenger safety laws. Before you take flight, review the child passenger safety laws specific to your destination. It's the most wonderful time of the year—don't get caught off guard.  
Related: Car Seat Safety: You're probably doing it wrong. Admitting it is the first step to safety.
While we can't promise a stress-free travel experience, we can assure you with proper planning, research and maybe a glass of wine in flight, you CAN do this! For more information about traveling with children this holiday season, make sure you are following @safeintheseat on Facebook and Instagram!
---
Tampa Bay Parenting's pick: We love the Cosco Scenera car seat for flying. It is lightweight and affordable! You can usually pick one up at Walmart for about $40 or less.