Frozen's Jeremy Morse Talks Parenthood While Touring and Gives Us a Glimpse of Frozen the Musical
On stage, Jeremy Morse is entertaining fans as the notorious villain, the Duke of Weselton in Frozen the Musical. The conniving and manipulative Duke from the neighboring kingdom to Arendelle seeks to exploit their goods for his own benefit.
In real life, Jeremy is anything but villainous. When he's not making audiences laugh, he's taking on his biggest role so far – dad to his new 6-month-old daughter, Clementine.
This week, Frozen the Musical makes its way to The Straz Center in Tampa, March 23-April 2, 2022. Jeremy talked to us about navigating parenthood, going on tour with an infant, and what we can look forward to as Frozen takes the stage.
Does your family join you on tour?
Jeremy Morse: We're doing the whole tour together. As the tour kind of moves on, we might have some time where my wife (Alex Tripp) is in New York for like a little bit or at home with her family. But right now, we're all together out here.
What's it like being a new parent and being on tour with a baby?
Jeremy Morse: It is both absolutely amazing and incredible and also literally the most exhausting thing I've ever experienced in my life. I think the biggest part of it recently – and I know all parents can say this – is sleep. She just went through her four-month sleep regression, and it was like a three weeklong affair. And then we had two weeks of glorious sleep after that.
She just like figured out how to roll over from front to back and she's babbling so she loves to practice that at three in the morning and then also at four, five and six! Sleep is definitely the challenge, but my wife is incredible. We take shifts and the teamwork aspect of it is the only thing that makes it doable.
The Duke of Weselton is a fun character but is not as big a role as say, Elsa or Anna. So I'm very fortunate that I don't have such a huge role on my shoulders right now. So if I only get three hours of sleep, I can still function and do the show. I feel very fortunate about where I fit into the puzzle of Frozen and how I can fit it into my life as a parent.
The other challenge on the road is that we're moving. Right now we're in a phase where we move cities every two weeks. So the packing up of everything and then the unpacking is a lot. But we're figuring it out. We're paring down little by little, seeing what we actually need and then shipping everything else back to family or friends who also have little kids.
Was she born when you had already started the Frozen tour?
Jeremy Morse: No. But Disney is such an incredible company and was so supportive. When I let them know in April, when the timeline of returning back to the tour was decided, they let us know we were starting back up in August or September. I told them that my wife was due on September 1st, and they said they would work something out.
They did some magic on their back end and they actually got Robert Creighton who originated the role on Broadway to come back and do three months. It was very, very wonderful.
Recently within the pandemic, they increased their parental leave, so it was something that was worked out perfectly.
We rejoined when the tour was in Chicago and Clementine was two months old. At that point, right when we got into Chicago, it was a wild experience. It seems like years ago and also just a flash that she was two months old and we were freezing in Chicago.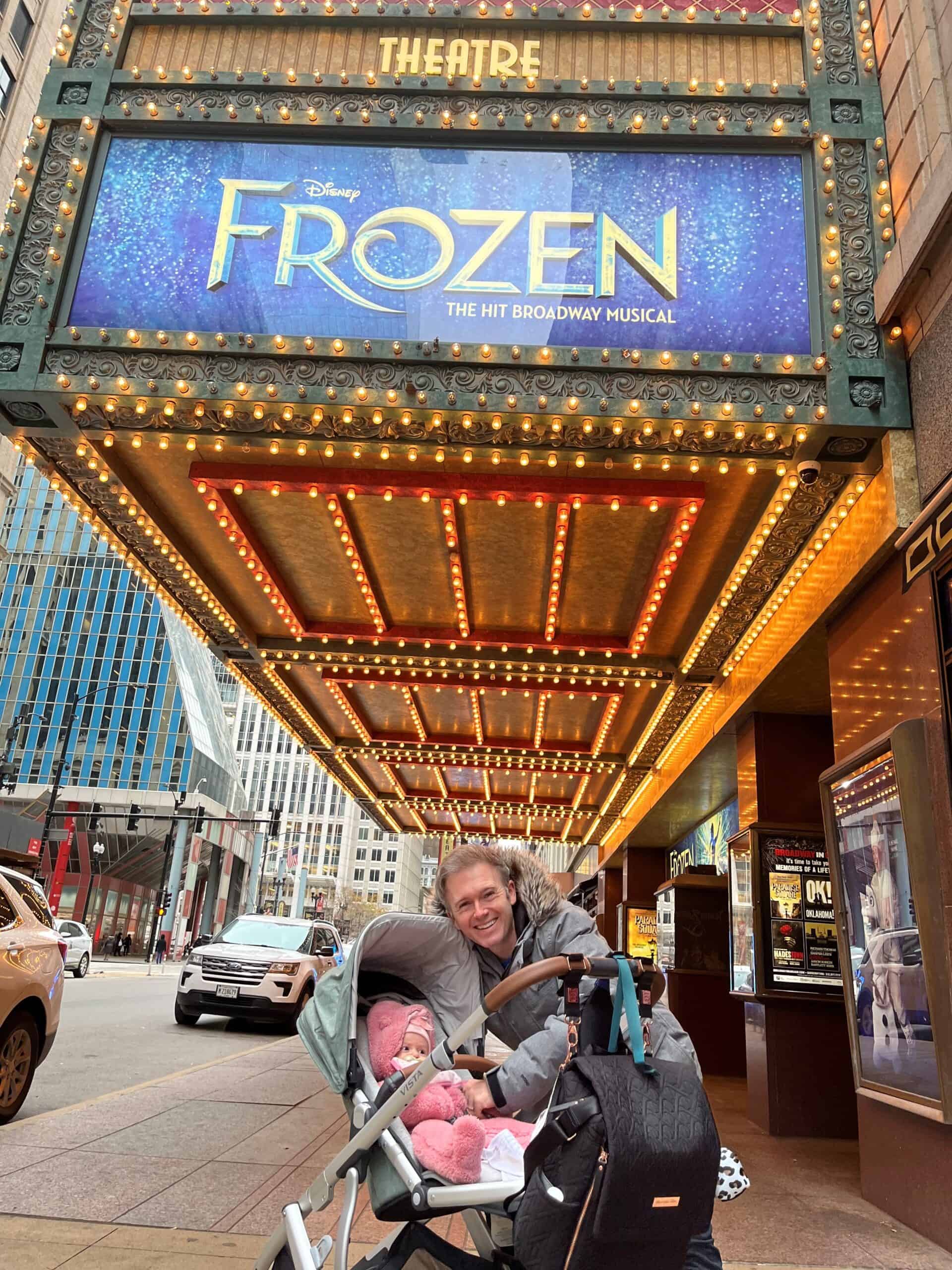 What does your wife normally do come with your daughter when you're rehearsing or during the day?
Jeremy Morse: Being able to get out is shifting with COVID kind of moving in a in a good trend trending downward. But now being in Florida with this gorgeous weather, we can just pop her in the stroller and go for a walk.
My wife has actually now just started a new job as a casting director so she's been navigating that virtually on the road and taking care of Clementine as well. So yeah, we're always praying for those really good long naps.
But most of our shows, like six of our shows a week, are usually at night. A lot of them are at 8:00, and her bedtime is around 7:00 so I get to be around for bath time and right around bedtime. Then Alex has some time to herself at night. I haven't had too much rehearsal, so we've actually got to spend a lot of time exploring together in these cities which has been really awesome. Lots of aquariums, lots of zoos, which is very fun.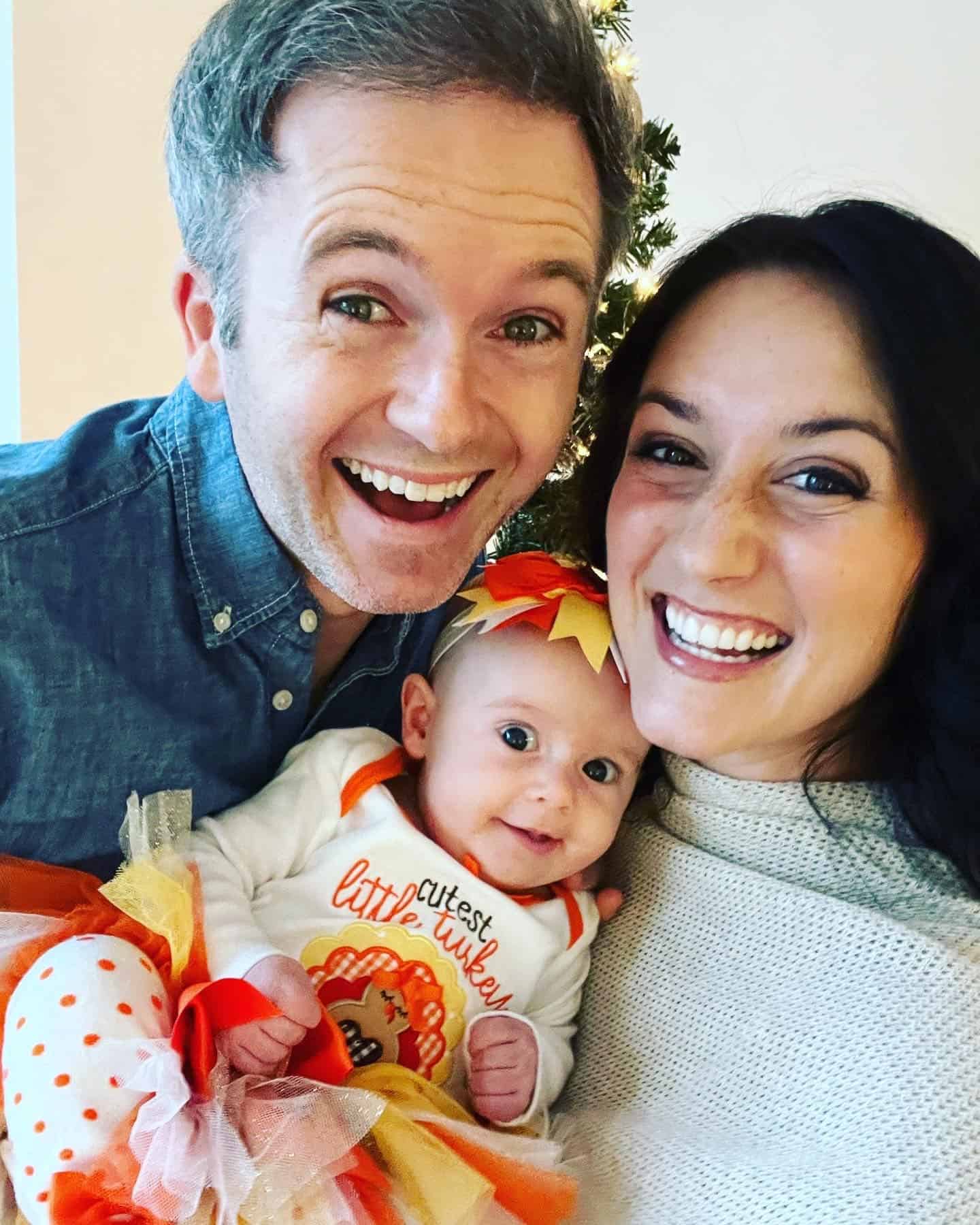 Let's talk showtime. Tell us about your first big role on Broadway.
Jeremy Morse: It was in Waitress the Musical. I was so fortunate and that was right around when I met my wife. We met in 2014/2015 it was New Year's Eve and New Year's Day. Six months later I did the out of town tryout for Waitress the Musical. I got the role of Ogie and it went to Broadway and I went with it so yeah, that was definitely one of my big breaks career wise. Definitely a launching point.
I did that show for a couple years on Broadway and then I went and I did the national tour of Waitress where I played Ogie and was on that for two years. It was an awesome experience and my wife got to be in that show with me. We got to travel around the country for a year together in the show which was absolutely magical.
We actually came through Tampa and it was so fun! We're staying two blocks away from Armature and I can't wait to walk along the Riverwalk and walk to the theater. Very excited for that.
What drew you to Frozen?
Jeremy Morse: I guess in all honesty, my agents were like, 'we think you're perfect for this. We saw the show in New York on Broadway and we think you're very right for this role.'
I was on tour with Waitress actually and at the time coming through Florida – we were in West Palm Beach. So I flew up and I had my audition. I love doing character work and the Duke of Weselton falls squarely into like this complex like comedic villain.
Not to give any spoilers for anybody who hasn't seen this show or doesn't know the story, but he's so much fun and I love a comedic villain and he checks off all those boxes. I'm still trying to get the Lopezes to write a song for like a full song for the Duke of Weselton so I'm still waiting on that! But, he's such a fun character, and that's definitely what drew me to it.
It was also the Disney name. I mean working for Disney is such a huge, huge thing as a performer and the job security that comes along with a Disney show is massive and that definitely played out through the pandemic where they were such a great supporting company to all of us as we all navigated such uncertainty. So that was incredible.
It's like a corporate job in in the theater world, which you don't really come across very often. For a show to have the brand power that Disney shows with productions like Aladdin, Lion King and Frozen. It's very powerful and that was very comforting to me, especially on the back end of the pandemic with a family and wanting to have that security with a job so I can support my little one and my partner.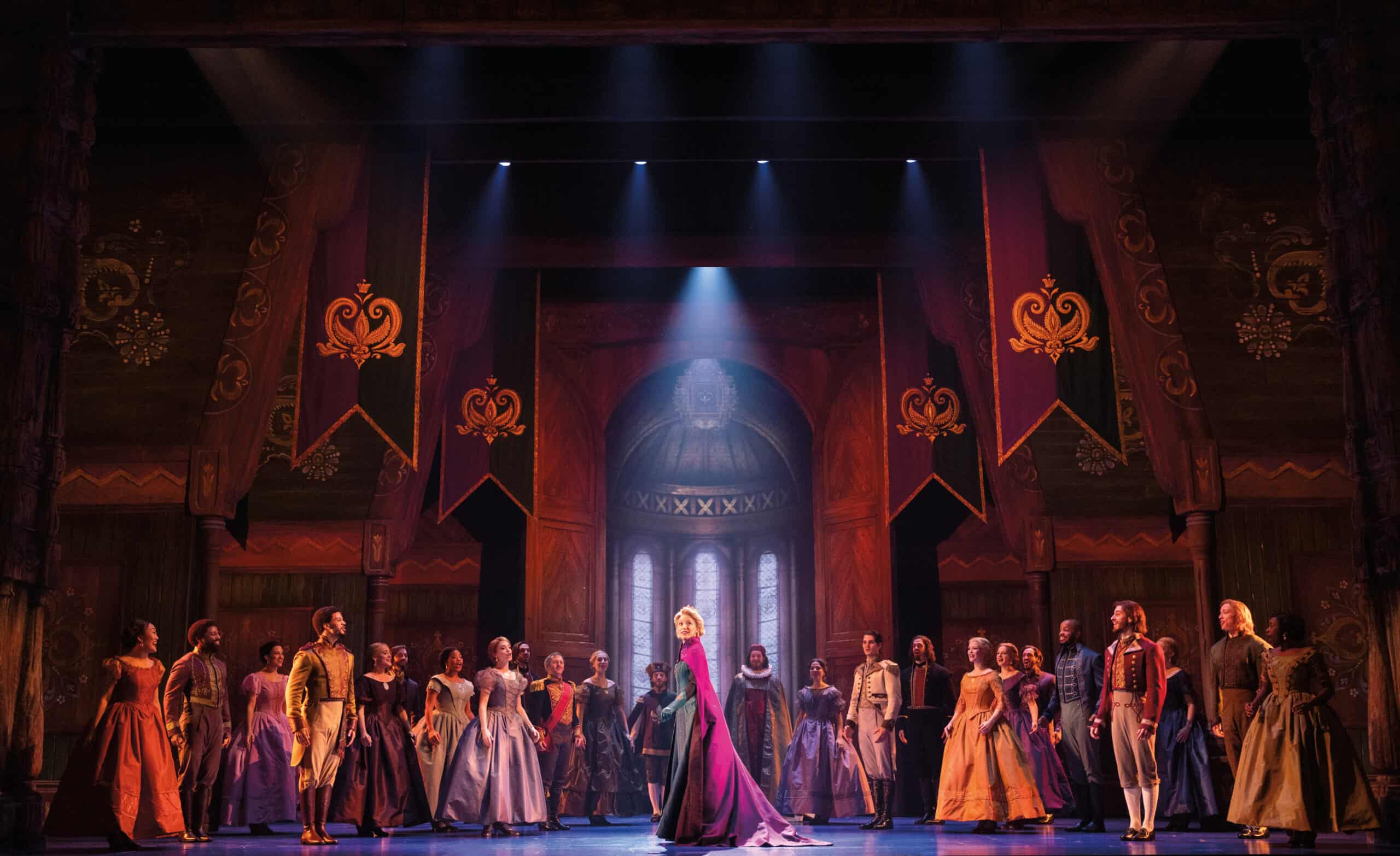 Tell us about Frozen the Musical.
Jeremy Morse: I think that the stage version is so incredibly good and unlike the movie, you get to actually see real people and not animated figures navigating issues. I feel like that in and of itself is so amazing about live theatre.
We don't just sit at home and watch movies because we want to see something in real life, we see something that changes us with a story that is being told. I think this show does an incredible job of doing that, not just with the writing but through the direction, staging, lighting, and special effects. They all come together in such an incredibly cohesive way to tell this story about two sisters who are navigating fear, uncertainty and moving through that together.
And I think that our leading ladies do such an incredible job with that. McKenzie Kurtz and Caroline Bowman and the ensemble is some of the best singing and acting and dancing you will see literally anywhere in the world.
In the stage version, there's also a new song. There are several new songs that have been written specifically for the show and one of which is actually brand new to the tour, separate from the Broadway production. It's a duet called "I Can't Lose You" that's sung between Anna and Elsa, which is absolutely gorgeous. It really focuses in on that relationship between those sisters.
I would say it's easy to draw a costume but knowing how the animation product process works for these, it's actually incredibly complex. These costumes are so beautiful. I mean, I could talk about this forever!
Are there any other people on the tour who have to bring their kids along with them as well?
Jeremy Morse: No, we are the only set of parents with a tiny little baby, but there are actually two young Annas and two young Elsas who travel with their parents. The moms have been so supportive. They often have come over to help during shows sometimes to help my wife. That's been an amazing support system to have.
Just to have other parents out here who can see us and understand what we're navigating. Before your parent, you literally have no idea how much goes into taking care of a little life. You can pretend like 'Oh yeah, I understand what goes into this.' But you just don't.
You can catch Jeremy and the cast of Frozen the Musical March 23-April 3 at The Straz Center. Click here for tickets and information. 
Featured image credit: Jeremy Morse
Related stories we think you'll LOVE: