Your Guide to the Gasparilla Parade Season in Tampa
Argh! Gasparilla season is officially upon us! It's that time of year when Tampa locals and visitors from all over gather together in their swashbuckling best to party like a pirate. And what better way to celebrate than with a festive pirate parade?
Gasparilla has been a Tampa tradition since 1904 when a newly formed group called Ye Mystic Krewe of Gasparilla gathered on horseback to "invade" the May Parade in honor of legendary pirate, Jose Gaspar. Today, there are more than 70 Krewes along with hundreds of local groups and organizations that participate.
What's great about Tampa's parade season is that there is something for everyone. Whether you want something kid-friendly or are looking for some adult time, here's what's coming up.
Gasparilla Parades in Tampa Bay
Children's Gasparilla Parade
Parade of Pirates
Knights of Sant' Yago Illuminated Night Parade
Rough Riders St. Patrick's Day Parade
January 21, 2023 from 12pm-7:30pm
Celebrating their 76th year, the Ashley Children's Gasparilla presented by Chick-Fil-A features several events that pint-sized pirates will love. The event features a Bicycle Safety Rodeo, Preschooler's Stroll, Air Invasion, and Piratecnic Fireworks Finale.
But the main event is the Children's Gasparilla Parade which will kick off at 4:00 p.m. on Bay to Bay and Bayshore Boulevard and head north. Be prepared for appearances by Tampa's sports teams, mascots, favorite characters, and beads, beads, and more beads!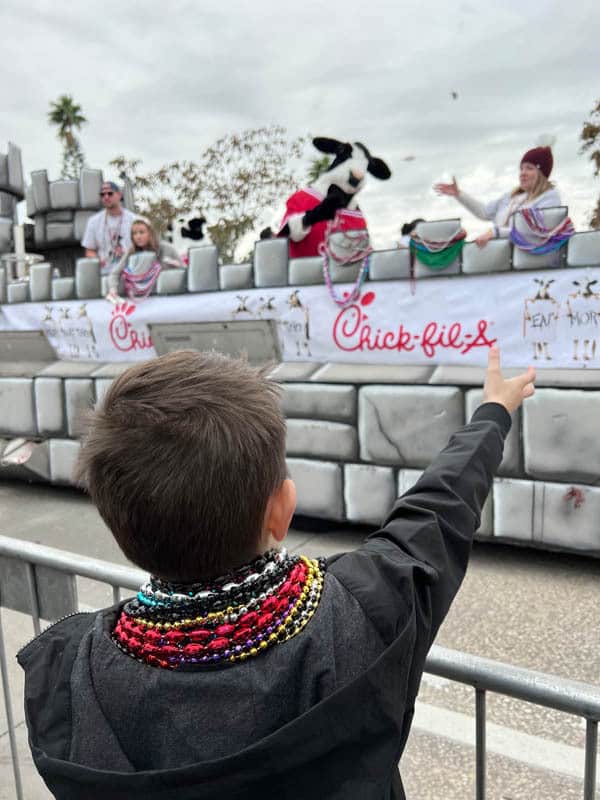 January 28, 2023 from 10am-8pm
Gasparilla Pirate Fest is an all-day event that features two major events – the Invasion and Parade of Pirates. The Invasion will begin at 11:30 a.m. and will feature over a thousand boats and watercraft of every kind in the water along Hillsborough Bay as they prepare to meet the invading pirates. 
The Parade of Pirates kick off at 2:00 p.m. at Bayshore Boulevard and Bay to Bay. The 4.5-mile parade will make its way down historic Bayshore Blvd. and into downtown Tampa and will boast over 140 units including over 103 floats, 5 marching bands, over 50 krewes and the YMKG pirates!
Knights of Sant' Yago Illuminated Night Parade
2023 Date TBD
The Knights of Sant' Yago Illuminated Knight Parade is the largest illuminated parade in the south. The unforgettable bead-throwing spectacle leads many of Tampa's illustrious Krewes, prominent businesses, and other social organizations down 7th Avenue in Ybor City. The parade typically takes place in mid-February.
St. Patrick's Day Parade
March 17, 2023 at 7pm
Though this parade is not necessarily associate with Gasparilla, it's a great way to end parade season in Tampa Bay! The annual parade will march down Ybor City's 7th Avenue. You can even take a Streetcar from downtown after the River O Green Fest and head to Ybor to continue to the St. Patrick's Day celebration. Given the start time of the parade, it's probably best for older kids or even a date night after dropping off the kids with a sitter!
How to get ready for Gasparilla Parade Day
One of the most fun things about celebrating Gasparilla is being able to dress the part! Pirates big and small are encouraged to wear their buccaneer best to go along with the festivities. From beads to costumes, there are tons of spots around town where you can shop and get ready to say "Argh!"  
You'll also want to make sure your little swashbucklers are well fed and have snacks on hand during the parade. Check out these Gasparilla Party Snack Ideas for Pirates of All Ages for some adorably tasty treats.