Looking to Give Back? 3 Ways Your Family Can Serve This Holiday Season
Something about the holidays sparks a desire to give back — and teach our children the importance of serving others.  
Growing up, my parents held leadership roles in our church and constantly reached out to people in need across our community. I have vivid memories of volunteering with my family throughout my early years.  
When I became a mother, I wanted to instill those same values of volunteerism and philanthropy — empowering my children to see firsthand the change we can make when we give our time, talents, and treasure.  
I'm fortunate to put this into practice every day as Chief Development Officer at Feeding Tampa Bay.  Serving more than one million people across the Tampa Bay region, we fight for the most basic human right: consistent access to healthy food.  
Give Back, and Start Today
Hunger hides in plain sight, among thousands of children and families right here in our community; your child's classmate, a neighbor or colleague, maybe even a close friend.  
Families in need especially feel the strain over the holidays. With the cost of living, gas, groceries and more on the rise, many wonder how they will get through the end of the year.  
You can make a direct impact by serving people in need this holiday season and beyond. Here are 3 easy ways you and your family can get involved:   
1. Feed the Season 
Looking for an easy way to make a big impact? Give to our Feed the Season holiday fundraiser, running through 12/31. Everyone deserves an opportunity to make memories around the table with friends and family. By donating to supply holiday meals, you will play a pivotal role in giving the gift of cheer and good health this holiday season.  
2. Raise Children to be Changemakers 
It's important to understand the value of money – not only what it can buy, but what it can give. That's why Feeding Tampa Bay started Changemakers, a program for children to learn about financial literacy, get involved in volunteerism, and strengthen their powerful voices through advocacy. Saving money alongside them is philanthropic fun for the whole family! Learn how you can get your family involved here.  
3. Serve Up Memories & Volunteer 
Giving time through volunteering not only brings a smile to your face – it's a powerful core memory to see how your work makes someone's life a little brighter. One of my favorite parts about our Family Night volunteering is looking across a sea of smiling faces; parents and children working together to make sure families in our community have the food they need to thrive. Sign up for Family Night volunteering and experience this firsthand!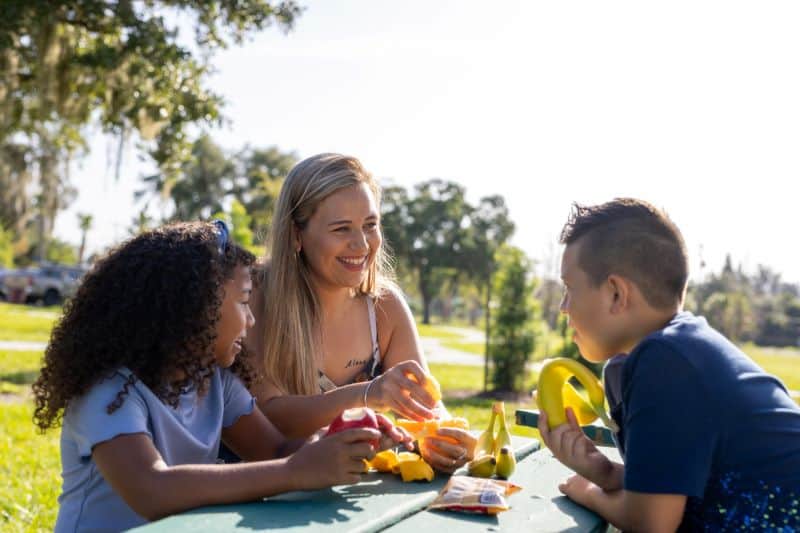 Even brighter futures are coming soon. 
Through these programs, Feeding Tampa Bay is working toward a future without hunger in our community. We have big plans on the horizon and can't do it without the support of our partners and local families, like you.  
Learn more about what we have in store: visit feedingtampabay.org/bignews. 
---
*Presented by Feeding Tampa Bay
Read More Holiday Content