Do You See What I See? A Vision for Eye-Quality
My son was born with a congenital cataract. The chances? About one in 10,000. Becoming the one in 10,000 broadened my view of pediatric vision health. As a classroom teacher and a mother, I see the need for adults and children to understand eye health. As parents excitedly set their eyes on August's biggest prize, sending kids back to school, ophthalmologist Dr. Amy Martino and optometrists with the Glazer Vision Foundation (GVF) share their expertise.
TBPM: There are vision screenings and comprehensive eye exams. What key differences should parents understand?
Glazer Vision Foundation: Vision screenings detect vision issues. Not passing a screening indicates needing a comprehensive eye exam from an eye doctor. Comprehensive exams, offered by GVF's Mobile Vision Clinic, check eye health; doctors prescribe glasses as needed. Screenings identify issues and exams find solutions.
TBPM: What ages should screenings and exams start?
Glazer Vision Foundation: Vision screenings are typical at age three and prior to kids starting school. Eye exams are recommended at 6-12 months, 3 and 5 years, and annually as recommended by an eye doctor.
Dr. Martino: Newborns' eyes are checked while they're still in the hospital. Once kids can read the eye chart (around pre-school), exams can be more comprehensive. Autorefractors can aide in determining the need for glasses.
TBPM: What are the most common pediatric eye issues?
Glazer Vision Foundation: Refractive errors requiring glasses such as myopia (nearsightedness), hyperopia (farsightedness), astigmatism (blurry at distance and up close), and strabismus (eye turns). Untreated, they can lead to amblyopia and permanent vision loss.
Dr. Martino: With adolescents, be mindful of eye trauma connected to paintball, sports and fireworks.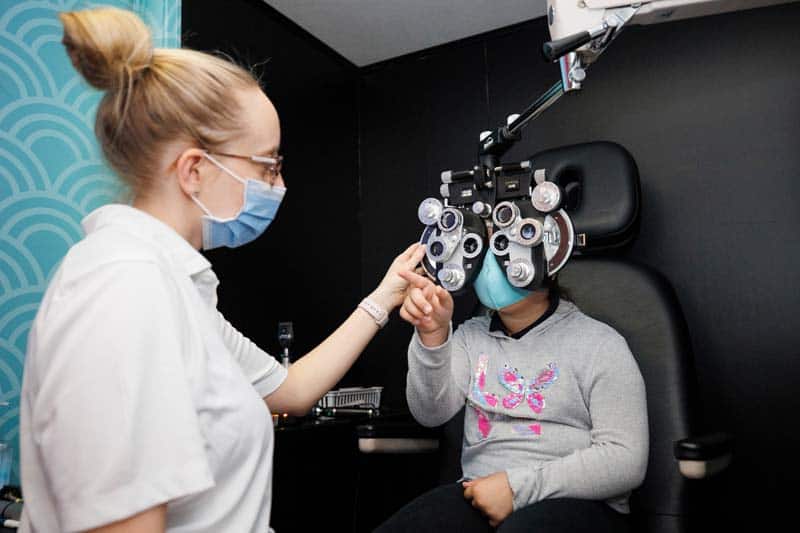 TBPM: How can parents be proactive in kids' eye health?
Glazer Vision Foundation: Comprehensive eye exams, the only way to identify certain eye issues, are as important as regular dentist visits. During screen time, encourage 20 second eye breaks every half hour. Underscore the importance of protecting eyes from the sun with hats and sunglasses.
Dr. Martino: While most are nonspecific—rendering it difficult to isolate whether kids' symptoms are related to vision—they are signs parents can monitor. Eye squinting or rubbing; head tilting to compensate for decreased vision in one eye; sitting too close to screen; headaches; clumsiness in sports; and difficulty in classroom.
TBPM: What can caretakers do to help kids develop their visual abilities?
Glazer Vision Foundation: Reading early on helps develop ocular skills like tracking. Reduce screen time. Research points to the myopia-epidemic: looking at devices up close and for disproportionate amounts of time negatively impacts far vision and leads to needing glasses.
TBPM: What's effective in helping kids wear their glasses?
Glazer Vision Foundation: Fun styles. Let kids pick their own frames; make it their choice. Stay positive about glasses. A parent's support is huge in a kid's eagerness to wear glasses, and many kids are excited to wear them and see better. Teachers' encouragement is key for the child with glasses and for his/her peers to witness.
Dr. Martino: Young children are mostly motivated to wear glasses because they realize glasses help them see. It's especially important for children 7 and younger, years when the eyes and brain form key connections, to wear their glasses because not doing so can cause amblyopia.
TBPM: What resources are available to learn more about eye health?
Glazer Vision Foundation: Visit the Association for Pediatric Vision's website, myapv.org to find resources dedicated to helping kids 5 and younger. Online resources like InfantSEE offer free eye exams for babies 6-12 months old. Apps like BabySee show how young infants see as their eyes develop. 
---
Glazer Vision Foundation's Mobile Vision Clinic
The Mobile Vision Clinic is the centerpiece of the Foundation's commitment to providing critical eye care services to children needing them most.
The Mobile Vision Clinic takes doctors and eye care specialists, along with an on-site prescription lens lab and a full selection of eyeglass frames, directly to the students at Tampa Bay area schools.
The Mobile Vision Clinic hits the ground running when students return for the 2022-23 school year.
Visit GlazerVisionFoundation.org to learn more about providing glasses for all children.
---
Photos provided by the Glazer Vision Foundation | Originally published in August 2022 of Tampa Bay Parenting Magazine