Hillsborough Strong: Trailblazing Students Doing Incredible Things in Music, Media and Technology
These four award-winning students from Hillsborough County Public Schools are sharing their successes and advice for doing the things they love.
---
Justice Jones
Rising fifth-grader, Hunters Green Elementary, Tampa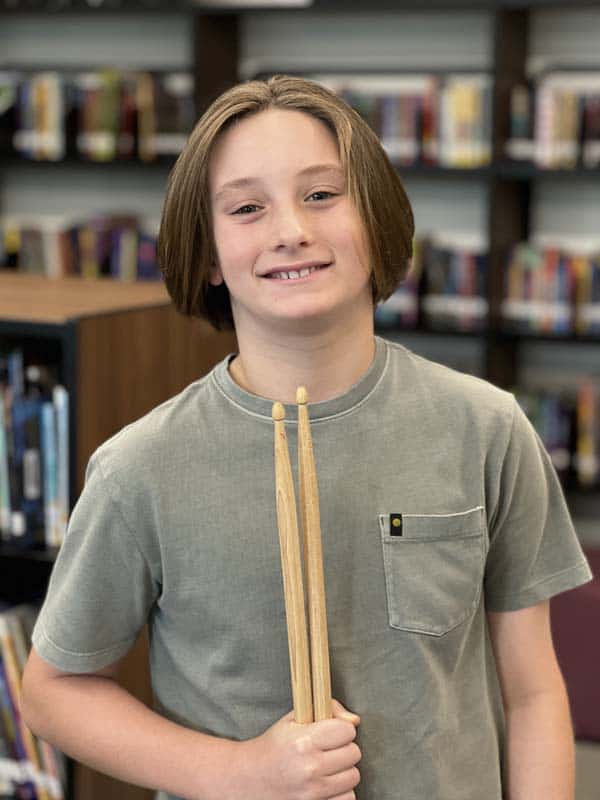 Award: Hillsborough County Elementary Fine Arts Festival, All County Modern Band Drummer
On his passion for music: "I love to do what I do because I just love music entirely. It's a big thing in my life."
Advice to other kids who want to reach big goals with their music: "For sure you need to persevere every single day, and you need to practice every single day.
Plans for the future: "I'd probably like to get into a really good band."
Reflections about his teachers: "My music teacher inspires me because she pushes me through and practices and practices with me."
---
Bridget Bohan
Rising seventh-grader, Randall Middle School, Lithia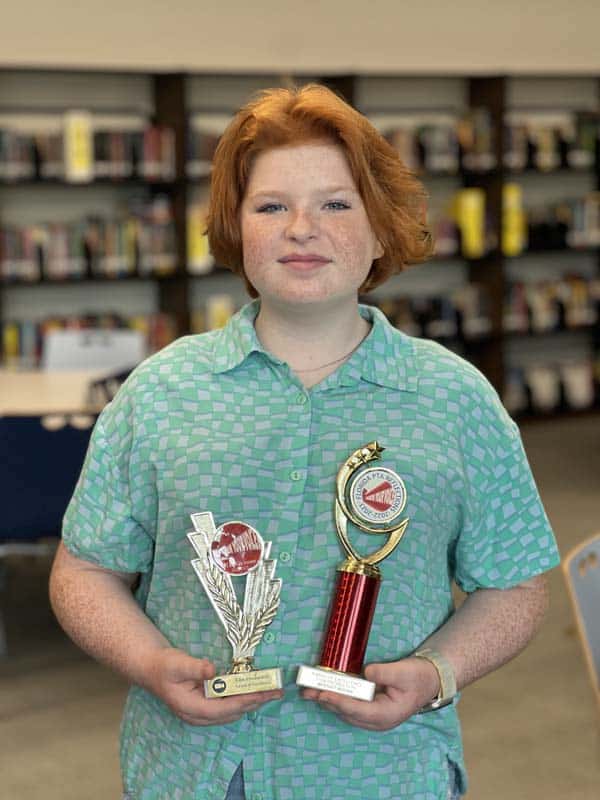 Award: Florida first-place middle school winner for her film "Finding Your Voice" at the Florida State Reflections Art Contest hosted by the National Parent Teacher Association,
How her school helped support her: "My entire school is really supportive of me. My friends helped me with the video a lot, and I think that just all of them being excited that I was doing it was really helpful."
Plans for the future: "I've always loved theater and film and I'd love to do something like that as an adult. I think this definitely helped me realize my potential."
Advice to kids about achieving big goals: "Just find something you love and if you really do love it, put your soul into it. Just do it. Find something you love and stick with it. Don't give up. The only way you are going to find that is if you keep trying."
---
Arin Motte
From Rogers Middle Magnet School, rising freshman, Middleton High School, Tampa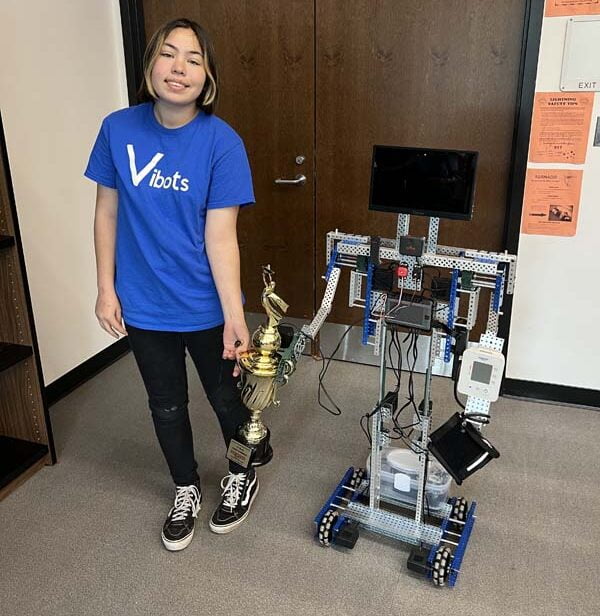 Award: Member of the Rodgers Middle Magnet School Robotics team that placed won First Place in the Junior Exhibition at the 2023 Robofest World Championship: Vito the Medical Helping Robot
About Vito the Robot: "He's designed to track the color of a scrub the nurse is wearing and using the color sensor from the VEX V5 kit to track the color of that scrub and follow a program that is set to follow the nurse into a room based on a range of the size of that color. He's also designed to help kids feel more calm and safe in a hospital environment because a lot more kids nowadays are a lot more inclined to technology, and he normally has a friendly face on his monitor and he also demonstrates what's going to be happening."
Inspiration to create Vito the Medical Helping Robot: "My parents work in a medical environment. My dad works in a hospital and they've seen patients scared of things such as blood pressure (cuffs) because of how it squeezes on the arm, so I wanted to make something that would help with that fear."
Thoughts on why kids need access to programs like robotics in public schools: "I think it's very important for kids to have access to these resources so that they not only get to try things out, but also get to experience it for the future and be able to do a lot more than they ever thought they could."
What she'd like to study in college:  Aerospace engineering
---
Suchi Patel
Rising senior, Middleton High School, Tampa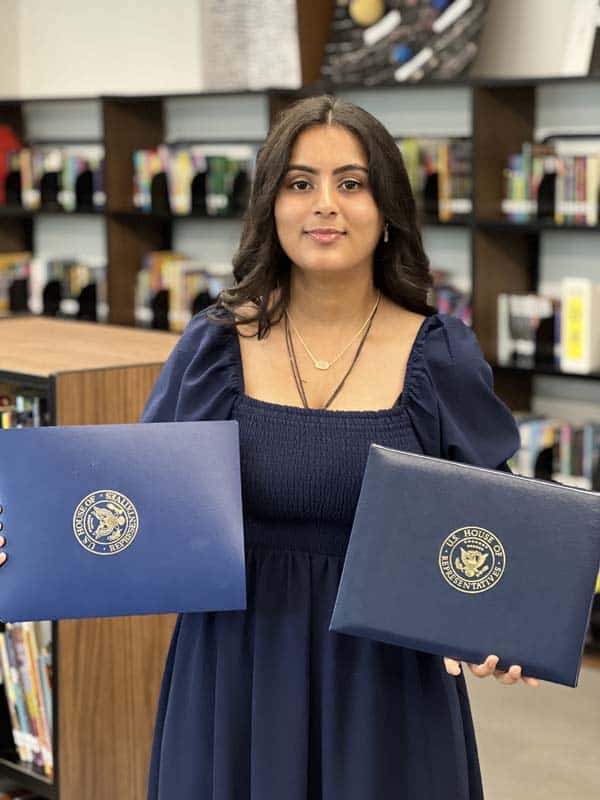 Award: Winner of 2022 Congressional App Challenge for District 15 Florida for her myRx app
About the myRX app: "It's a prescription usage tracker. It allows users to put in their prescriptions and any other medications and track adverse drug to drug interactions, adverse drug to food interactions and really be a platform for older patients that are not technologically nuanced to really understand the ins and outs of prescriptions and manage them in a cohesive way. It allows them to take care of themselves through technology without struggling to read labels or having to ask doctors—and really have that one-on-one support on the app."
App launch: "The first week of November is when I'm going to do a big launch and I'm really excited for that because I know that it will bring so many people in the community a key resource that will help them."
How her school help support her goals: "My school's programs really gave me the rigor and academic excellence I needed to first of all come up with this idea and, in the end, pursue it, because it's one thing to have an idea, but to move forward with it and fulfill it to the best of your ability, that is something my school's programs really instilled in me."
What inspired her to create the myRX app: "My grandfather—he's a diabetic patient. He had to visit the ER due to an adverse drug interaction we weren't aware of. That really opened my eyes to how many patients must be in the ER or facing complicated risks just due to this simple mistake that could have been avoided."
On what motivates her everyday: "I'm inspired by my gurus Mahant Swami Maharaj and Pramukh Swami Maharaj. Mahant Swami Maharaj's life motto was 'In the joy of others lies our own.' I really want to take care of our community like he did. And Pramukh Swami Maharaj motivated me to 'Do the best and leave the rest.' Those two quotes really inspire me every single day to wake up and think about how I can impact the real world and how I can be a person of change."
What she'd like to study in college: Public health policy and computer science
Long term career goals: To create cutting edge medical devices and reduce the medical inequities that face the world today.
---
Behind every great kid is not only a great teacher, but a great family too!
A job well done, parents!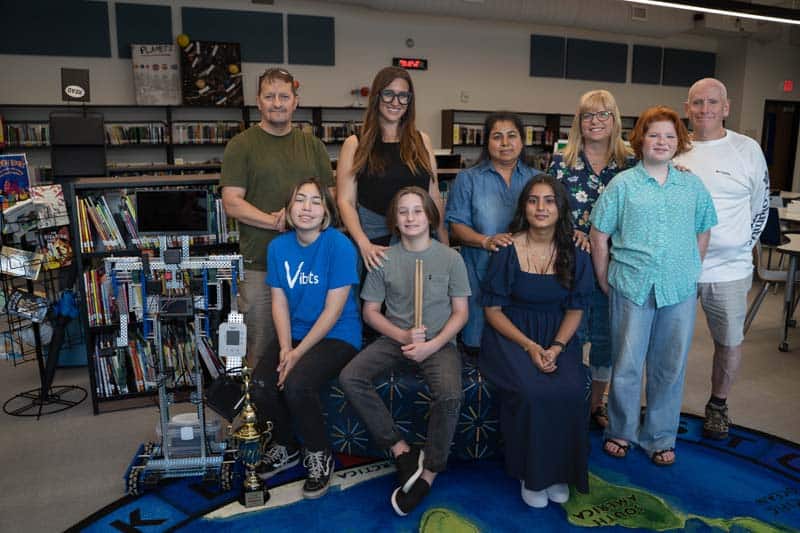 ---
Originally published in August 2023 of Tampa Bay Parenting Magazine.