Holiday Break Camps in Tampa Bay 2022
School's out, but you still have to work. We get it. We've been there! Which is why we're sharing some pretty awesome holiday break camps to get you through those days when you need the extra coverage. And bonus…your kids are guaranteed to have a great time!
This year, most of the school holiday breaks in the Tampa Bay area kick off on December 23rd, so here are some fun camps to help get the wiggles out after all that post-holiday excitement!
*Camp information from each camp location. Camp, dates and times subject to change.
---
2022 Holiday Break Camps in Tampa Bay:
2022 Dates TBD
Ages 5-14
This ice-skating camp is perfect for kids from beginner to intermediate levels. Each day includes 2.5 hours on the ice, group on-ice lessons and choreography with a figure skating coach, off-ice fitness activities, and practice skating time with friends. There will also be a last day themed performance for the parents!
December 27-30, 2022/January 3-6, 2023
Ages 6-17
$49-$179
Beginner, intermediate, and advanced boys and girls welcome. Kids will work under the guidance of professional golf instructors and the first tee counselors. Activities will include golf skill stations, contests, special events, and on-course play. Campers do NOT need their own golf clubs but are welcome to bring them if they have them.
November 21-23, 2022/December 27-30, 2022/January 2-9, 2023
Ages 5-11
Members – $56-$228/Non-Members – $70-$285
Learn about sea animals from across the country, discover the unique and bizarre animals from afar and those found at the aquarium, and check in from animals from across the world. This fun day camp session includes animal encounters, science experiments, exploration time in the Aquarium, crafts and, weather permitting, time at The Splash Pad.
January 2-6, 2023
Ages 5-10
$350 per week, per child
Let your children embrace their imagination and curiosity! During Camp Imagination: Merry Makers, campers will complete design and building challenges while learning the basics of engineering, robotics, and coding.
December 26-30, 2022/January 2-6, 2022
Ages 7-15
$300 per child
These camps are perfect for children who like to discover the outdoors. During camp, kids will ride horses in designated riding areas and interact with and learn how to care for farm animals.
December 27-30, 2022/January 2-6, 2023
Ages 6-12
December: $260 per child/January: $325 per child
Play animal themed games, make animal themed crafts and, of course, spend lots of time with the shelter animals at this winter break camp! Camp at HSTB is supervised by a Florida state-certified teacher.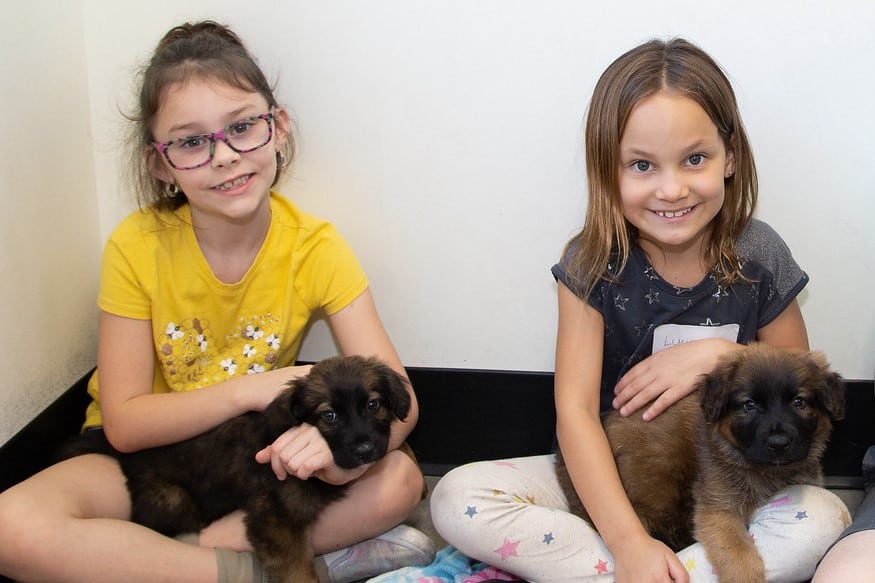 December 19-23, 2022, December 26-30, 2022/January 2-6, 2023
Ages 5-12
Your child will be immersed in gymnastics-based activities led by a team of certified, caring instructors. Activities take place in their newly renovated, air-conditioned gym Physical fitness games are designed to both excite and challenge your child no matter their ability. Children will work on their sportsmanship, agility, strength, hand-eye-coordination, and so much more.
2022 Info TBD
Ages 6-14
The Lesson Company offers music, art, and robotics camps. At Winter Rock Band Camps, children will go over a variety of different instruments and learn how to play as a band.
During Winter Art Camp, they'll learn a variety of different techniques and products throughout the week. At Winter Robotic Camp, each kid will learn a variety of techniques as well as coding and building using LEGO.
2022 Info TBD
Ages 6 and up
This family-run equestrian center specializes in Saddlebred Show horses, as well as pleasure English and western lessons and trails of along their 15-acre property.
December 26-30, 2022/January 2-6, 2023
Ages K-8th Grades
Members – $217/Non-members – $289
There is no better place to spend your break than MOSI doing STEAM (Science, Technology, Engineering, Art and Math) hands-on activities! Bring two snacks, lunch and wear clothing that can get messy. Create your own Christmas tree, tackle some snowy science experiments, make ice cream, launch rockets into the sky, and become a digital artist!
2022 Info TBD
Ages 5-13
Play at Sky Zone on their Ninja Warrior Course, Free Climb, Sea of Trampolines and more! Kids will enjoy healthy physical fitness and FUN including crafts, movies, and science experiments. Full and half-day camps available.
January 1-3, 2023
Ages 6-15
$450-$500
Take a spin around the ice at this theme-styled camp at Amalie Arena where the Lightning play! There will also be a one-day Girls Only Clinic on November 21 ($100 per person) for girls ages 5-10 and 11-16.
2022 Info TBD
Ages 4 and up
Through their nonprofit, My Brother Rocks The Spectrum Foundation, they provide social skills groups and activities for children across the spectrum. Children are placed in a fun and motivational environment to help them in the areas of strength, movement, sensory processing, communication, positive behavior modification, social interactions, and self-care skills. Their Winter Break Camp includes snacks, open play, and crafts.
2022 Info TBD
Ages 5 and up
Kids will enjoy Nerf wars, Roblox and Minecraft themed mat games, Ninja Warrior and more! They will also learn leadership skills and will learn to develop a more confident, disciplined, and successful life! Full and half days available.
November 21-23, 2022/December 27-30, 2022
Ages K-5th Grades
Cost TBD
Bring out your inner artist at this creative art enrichment winter camp! Camps last for 3 hours and can be taken from 9am-12pm or 1:30pm-4:30pm.
December 26-30, 2022/January 2-9, 2023
Ages 5-12
Members – $38 per day/Non-Members – $54 per day
Children will make new friends and have fun in a safe and structured environment. All camp activities take place under the guidance of trained Tampa Y counselors who embrace the values of their organization. Their holiday day camp program includes games, crafts, swimming and more! Available at multiple Y locations throughout Tampa. Please see location for exact dates, times, and availability.
Looking for more Winter Fun? Check out 15 Awesome Holiday Parades and Lighted Boat Parades in Tampa Bay
---
2022 Thanksgiving Break Camps for Kids in Tampa Bay:
November 21-23 from 9am-4pm (extended hours available)
Kindergarten-8th grade
$180 for non-members | $135 for members
MOSI is offering themed camp days for kiddos this Thanksgiving Break! Kids in kindergarten through 1st grade will enjoy a 'Going Green' camp and explore the woods around MOSI and learn about the creatures that call the green space home. 2nd to 4th graders will get to learn more about 'Turkeys in Space' –they'll dissect a turkey wing to learn more about muscles and ligaments, use chemistry to create the colors of fall, and even launch rockets! The 5th to 8th graders group will experience 'Robotics 101' with LEGO robotics. It'll be a fun-filled few days for all!
November 21-23, drop off is 8:30 am-9 am and pick-up is 4:30 pm-5:00 pm
Ages 5-10
$70 per day, per child (Glazer Children's Museum members receive a 15% discount) $82 per day, including lunch, per child
At GCM, your little learners imagine, discover, and connect to the world around them. Register your kids to play with purpose and embrace curiosity at Camp Imagination! During Camp Imagination: Campsgiving, campers will learn all about autumn and will practice gratitude.
November 21-23 from 9:00 am-4:00 pm (extended care available)
Kindergarten through 5th grade 
$160 for members | $200 for non-members
The Florida Aquarium works hard to protect and restore our blue planet. See how the Aquarium supports conservation and is part of the solution. School year camps also include animal encounters, science experiments, exploration time in the Aquarium, crafts and, weather permitting, time at The Splash Pad. 
November 21-23 from 7:00 am-6:00 pm
Ages 5-12
$38 per day for members | $54 per day for non-members
Kids' Day Out is a chance to spend the day at their local YMCA and experience the best of what the Y has to offer. Of course there will be games, sports and crafts – but there is so much more planned as well!
November 21-23 from 9:00 am-4:00 pm (extended care until 5:00 pm is available)
Ages 6-12
$195 per day (lunch is included. Add $10 for extended care)
All kids want to have fun… especially when they are out of school! No School Days at the Humane Society of Tampa Bay offer just that, lots of FUN for kids ages 6–12. Camps offer a wide variety of age-appropriate activities including animal-themed games, arts & crafts and of course spending lots of time with our shelter animals! No School Days is supervised by a Florida state-certified teacher.
November 21-23 from 9:00 am-4:00 pm
Ages 6-15 
Players: $450-$500
Lightning Made Hockey operates several themed style camps at different rink locations in the Tampa area throughout the year. This Thanksgiving, they are offering a camp for kids ages 6-15 at the TGH Ice Plex in Tampa. Kids will be divided up into two age groups: 6-11 and 12-15. This is open to all skill levels, so don't worry if your kiddo is new to the sport! There's no better way to learn than through the staff and alumni of the BACK to BACK Stanley Cup championship team!
November 21-23 from 8am-3pm
Kindergarten through 5th grade
$175
We will begin with learning activities and games. This will be followed by a daily bug hunt to look for all the things we learn about and hopefully discover more all around the nursery (weather permitting). We have several reptiles and some amphibians that the kids will see and a couple ambassador animals they will be able to touch. Children will participate in art projects and also plant native plants in the garden behind the nursery that we are expanding. It will be a busy 3 days with lots of hands on activities. Every child will get an opportunity to release a butterfly by the final day of camp.
November 21-23 from 9am-12pm and 9am-4pm
Ages 4.5-12 
$175 for all three days or $75 per day full day/$45 per day half day
If your child loves LEGO, they'll love spending a few days of Thanksgiving break with Bricks for Kidz! They will get a chance to build with LEGOS, make crafts and more. Each child will also end the week by picking out their very own LEGO minifigure. There are locations throughout the Tampa Bay Area, so find one near you!
More Thanksgiving Break Camps in Tampa Bay:
---