Holiday Hosting: Pro Tips from the Zakarian Family
Hold on to your hats: The holidays are here! We are two busy working parents with three children, and these are a few of our favorite ways to keep it easy and stress free.
The Drinks
Put out an oversized metal bowl and fill it with a variety of wines and champagne. Let your guests help themselves and have fun trying different types of wine. It also gets everyone talking and interacting if they don't already know each other.
Gifting
Opt for a charity donation in someone's name for a local charity like Metropolitan Ministries. This cuts down on waste like wrapping paper and boxes, saves you time running around and most importantly, does a load of good for others in need.
Schedule
We tend to over schedule ourselves during this time of year which causes the most stress of all, and we fail to plan time in the calendar to handle the things we need to … hence late nights spent wrapping or crazed errands crammed in to a too short time.
Give yourself a hand by blocking out dedicated chunks of time to do these types of tasks. You will be more productive at work and at home and be able to properly accomplish what you need to.
Home Decor 
We always order fun seasonal items from a site called Jamali. Our favorite go-to item is the Julep Cups. They double as silverware holders for a buffet line, a flower vase or even a fun item on a crudité platter to stand veggies upright. These julep cups never fail to dress up the table or room.
Cooking
Make a wow dish! This is the time of year to go for it, and when we like to make a wow, we make souffles! This is so much fun to do with the children as the whipped egg whites and the rising of the dessert makes it seem like a magic trick. It's really not that hard to do and is such a fun sweet to serve for Christmas dinner. Check out the recipe below from our cookbook, The Family That Cooks Together.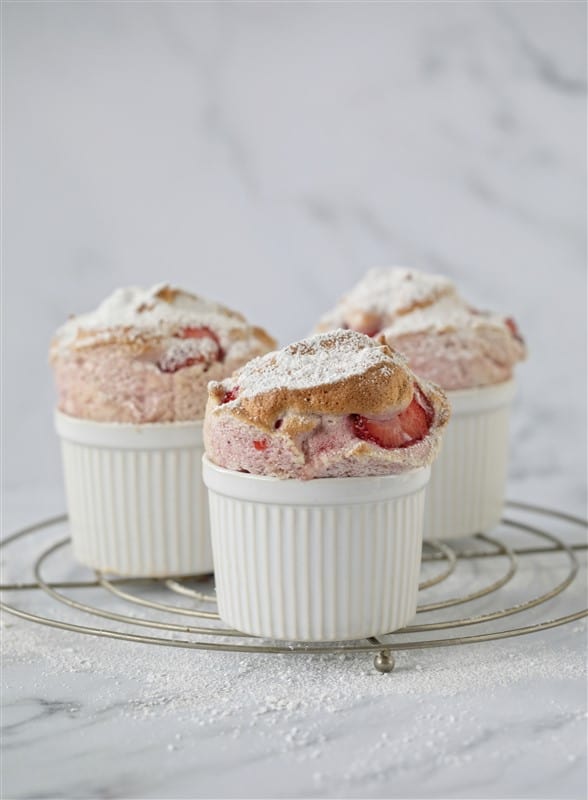 Classic French Strawberry Souffles
By: The Zakarian Family
Ingredients:
3 tablespoons unsalted butter, softened, for brushing ramekins
½ cup granulated sugar, plus more for coating ramekins
½ cup strawberries, hulled and sliced, plus more for topping
1 teaspoon vanilla paste or vanilla extract
8 large egg whites, at room temperature
½ teaspoon cream of tartar
½ cup powdered sugar, plus more for dusting
Helpful Tools:
Pastry brush, optional
8-ounce soufflé ramekins
Sheet pan
Blender
Silicone spatula
Stand mixer with whisk attachment
Instructions:
Position a rack in the lower part of the oven, leaving plenty of room above for the soufflés to rise. Preheat the oven to 375°F.
With a pastry brush or your hands, generously butter the insides of six soufflé ramekins. Add some granulated sugar to each ramekin, and swirl and turn the ramekin to evenly coat the interior with sugar. Place the ramekins on a sheet pan.
In a blender, puree the strawberries with the ½ cup granulated sugar. Add the vanilla. Process until very smooth, then scrape the puree into a bowl with a silicone spatula.
In the bowl of a stand mixer fitted with a whisk attachment, begin to whip the egg whites and cream of tartar on medium speed. Gradually add the powdered sugar. Continue to whip until the meringue is very firm, stands up straight when the whisk is lifted, and the appearance is shiny. This could take 5 to 10 minutes or longer, depending on the temperature of the egg whites.
Remove the bowl from the mixer. With the spatula, gently fold half of the strawberry puree into the egg whites. (Reserve the other half for serving.) Divide the strawberry meringue among the prepared ramekins; they should be slightly overfilled. Lightly tap each ramekin against the counter. Decoratively place strawberry slices on top of the soufflés.
Place the sheet pan in the oven and bake the soufflés for about 15 minutes, or until very puffy and set. Dust with powdered sugar and serve immediately with the remaining strawberry puree.
Tips:
Room temperature egg whites whip best. Separate the eggs an hour before starting and leave the whites out on the counter to warm up.
If you don't have a stand mixer, you can use a handheld mixer.
In a stand mixer, egg whites could take approximately 10 minutes to beat.
Butter is ideal, but nonstick cooking spray maybe substituted to grease the ramekins for a dairy-free option.
Once ramekins are filled with the meringue, try not to shake or move them too much.
Leave the oven shut once the soufflés go in.
Try the recipe again if they do not rise on the first try.
---
Originally published in the December 2021 issue of Tampa Bay Parenting Magazine.