How to Pick and Wear a Backpack
Backpacks are a back-to-school staple and necessity, but they tend to get heavier each year as students get older, which can be concerning for parents. Ryan Fitzgerald, M.D., a fellowship-trained pediatric orthopaedic surgeon with Children's Orthopaedic and Scoliosis Surgery Associates (COSSA), treats patients at Johns Hopkins All Children's Hospital. He shares backpack safety tips to help teach parents how to pick and wear a backpack to prevent injury.
Picking a Backpack
Choose a backpack with wide shoulder straps and a padded pack.
Narrow straps can dig into shoulders, causing pain and restricting circulation. They are also less sturdy and more likely to rip after just a few weeks or months of use. Wider straps that that clip across the chest help spread the force/weight of the backpack across your child's shoulders. The part of the pack that rests on your child's back should be well padded to provide comfort and protection from any sharp edges or objects inside the pack.
Select a backpack that is lightweight, but sturdy.
Look for strong zippers and tough nylon fabrics that will resist rips and tears without adding extra weight. Reflective fabric is a good idea, especially if your child will be walking, riding their bike or going to and from the bus stop.
Consider wheels.
This can be a good option, but make sure your child will use the wheels, otherwise they will add more weight to the backpack. Also, double check that the school allows this type of backpack.
How to Properly Wear Backpacks
Location of the backpack.
The form of wearing a backpack is critical. The heavier the backpack, the more stress it puts on your body. Carrying the backpack too low puts more stress on the body by pulling the force further away and tiring other parts of the body. Adjust the shoulder straps so that the backpack is 2 inches above the buttocks, which helps to evenly distribute its force through the shoulders.
Make sure your child uses both shoulder straps.
Wearing a backpack on one shoulder may strain muscles. If a child prefers a messenger-style bag, make sure they wear it across the body instead of on one shoulder.
Empty the backpack frequently.
A filled backpack shouldn't weigh more than 10 pounds. Parents of younger students should clean out the backpack on a regular basis to see if there are unnecessary items adding to the backpack's weight. Encourage teens to do the same. Only carry items that are required for the day, and pack heavier items at the top and toward the front.
Lastly, do not ignore any back pain in children or teens and encourage your student to tell you about any numbness, tingling or discomfort in the arms or legs. This may indicate a backpack that is too heavy or does not fit well.
For more tips on heading back to school, visit HopkinsAllChildrens.org/Stories.
Ryan Fitzpatrick, M.D. is on the medical staff of Johns Hopkins All Children's Hospital, Inc. ("JHACH"), but is an independent practitioner who is not an employee or agent of JHACH.
---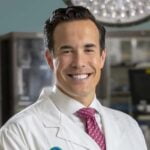 Dr. Fitzgerald is a pediatric orthopaedic surgeon at Johns Hopkins All Children's Hospital and COSSA, L.L.P. He sees patients in St. Petersburg, Tampa, East Lake and Pasco. He earned his medical degree from the University of Illinois College of Medicine, completed a residency at Summa Health System and a fellowship in pediatric orthopedic and scoliosis surgery at Rady Children's Hospital. He currently is an active member of the Scoliosis Research Society, the Pediatric Spine Study Group and the Pediatric Orthopedic Society of North America. COSSA is the exclusive provider of pediatric orthopaedic services at Johns Hopkins All Children's Hospital.
---
*Presented by Johns Hopkins All Children' Hospital | Originally published in August 2023 of Tampa Bay Parenting Magazine.