Birdie's Surprise | Life with Congenital Diaphragmatic Hernia
There was something different about this pregnancy.
Mary couldn't put her finger on it, but she felt it intuitively.
She showed up in the emergency department of a Tampa hospital on a Saturday evening in October, days before her scheduled induction. Would the doctors think she was just being dramatic?
They didn't.
Mary was in labor.
Baby girl Birdie entered the world at 11:03 p.m. that very same evening.
But Birdie's arrival date wasn't the only surprise.
Something wasn't right.
"When she came out, she was blue," Mary says. "I started pounding her back. I knew she wasn't breathing."
The delivery team took the baby and immediately began to manually resuscitate her. Mary's husband, Rob, followed as their newborn was rushed to the hospital's neonatal intensive care unit (NICU). She was put on a ventilator.
What was wrong with Birdie?
Congenital Diaphragmatic Hernia
Soon, a devastating diagnosis: Birdie had congenital diaphragmatic hernia (CDH), a hole in the diaphragm that results in abdominal organs migrating up into the chest — choking off lung growth.
"I had never even heard of CDH," Mary says. "In the blink of an eye, our lives just shifted."
CDH is increasingly diagnosed before a baby's birth — typically, during the 20-week ultrasound. But sometimes, particularly if the heart appears to be in a normal position and the liver hasn't moved up into the chest, this life-threatening birth defect can go undetected.
Now Mary and Rob had an urgent decision to make. Should Birdie remain for care at the Tampa hospital — or was there another choice?
A doctor at the hospital told Mary about a special center in St. Petersburg.
The Center for Congenital Diaphragmatic Hernia (CCDH) at Johns Hopkins All Children's Hospital is an inpatient center dedicated solely to the treatment of CDH. It was the first of its kind in the country and remains a place where survival rates exceed national benchmarks.
"He told me, 'If my son or daughter were in this situation, I'd send my child there,'" Mary says.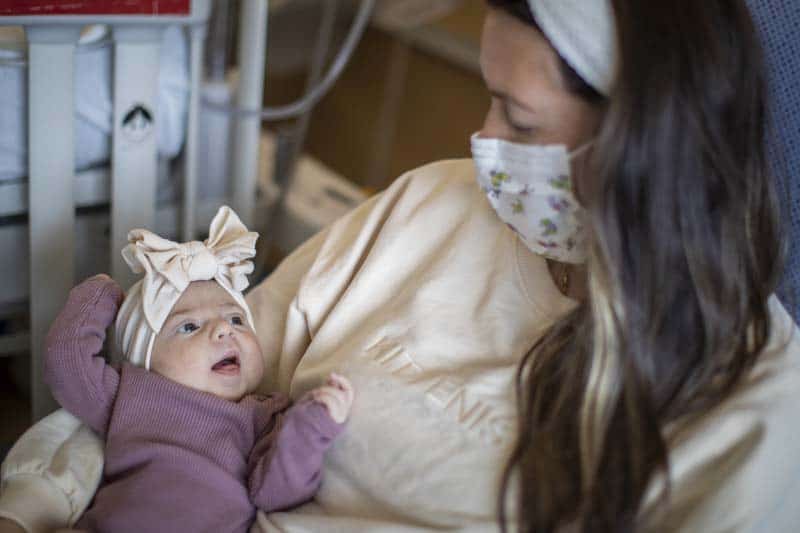 CDH Care at Johns Hopkins All Children's
When Birdie was 12 hours old, she was transported by LifeLine ambulance to Johns Hopkins All Children's Hospital.
The highly skilled CDH team, under the direction of David Kays, M.D., was both confident and comforting. They immediately worked to stabilize Birdie and then communicated the plan for care to the family.
"Dr. Kays was so kind, from the very first moment he came in and sat us down," Mary says.
Some babies born with CDH are very sick right away. Others do moderately well the first day and then develop problems on day two.
"We've been able to refine techniques to considerably reduce the risks of that second day instability, which can often result in the need for extracorporeal membrane oxygenation (ECMO) support," Kays says.
ECMO is a form of heart-lung bypass. It can't always be avoided, especially in severe cases, but it does come with inherent risks. Nationally, the survival rate of babies with CDH who need ECMO support is about 50 percent. The ECMO survival rate at Johns Hopkins All Children's is much higher than that, above 90 percent.
Birdie did not require ECMO support. But she would need surgery, and some very specialized care.
On her sixth day of life, Kays and his team performed the delicate repair surgery — moving the infant's organs out of her chest and into place and closing the opening in her diaphragm.
The surgery went smoothly, and Birdie recovered well. But she had a long way to go.
Eating Like a Birdie
About a week after surgery, a milestone: Birdie's breathing tube was removed.
Now she needed time to heal. Time for her lungs to grow and get stronger. And she needed to learn to eat, a common challenge for babies with CDH.
"She struggled at first," Mary says. "She would eat some, but then tire easily and lose weight overnight."
The team members at Johns Hopkins All Children's are experts at helping these babies learn to eat. That means a higher percentage of patients go home eating on their own, without a feeding tube.
Day by day, Birdie learned to eat a tiny bit more. She was proving to be a fighter.
Home
It had been a difficult journey, but one Mary and her family travelled with deep gratitude.
"Not a single nurse or doctor or staff member was anything less than amazing," Mary says. "We want other CDH babies to have the same opportunities we were given."
Forty-six days after her arrival, this baby was going home.
Home to her own room. Home to her adoring dad, and big sisters Nellie and Olive, who were so excited to welcome her.
Home to life.
Time for this Birdie to truly take flight.
---
*Presented by Johns Hopkins All Children's Hospital | photos by Johns Hopkins All Children's Hospital | Originally published in April 2022