A Parent's Guide to the BEST Kid Friendly Water Parks in Orlando
It's easy to make a splash in Orlando. Being the vacation destination that it is, you can find lots of ways to cool off, including water parks. To help you sort through the great water parks for families in Orlando, here are our top picks for family-friendly water parks.
Orlando Water Parks for Kids
There are five major water parks in Orlando. Each one has something suitable for kids, but some are better than others depending on the age of your kids and what you enjoy as a family. And some are a little more budget-friendly than others too.
Which Orlando waterpark is best for kids?
It depends. Each family is different and the needs of your family vary. In this guide we will cover which Orlando waterpark is best for younger kids, which one is better for older kids, and everything in between.
Youngest Children and Toddlers: Disney's Typhoon Lagoon and Blizzard Beach
Older Toddlers/Young Kids: Aquatica Orlando
Tweens, Teens, And Adults: Universal's Volcano Bay
Budget-friendly: Island H2O LIVE
Which is better for kids Typhoon Lagoon or Volcano Bay?
I see this question a lot. Disney has two water parks: Typhoon Lagoon and Blizzard Beach. Generally when one is open the other is closed for the season.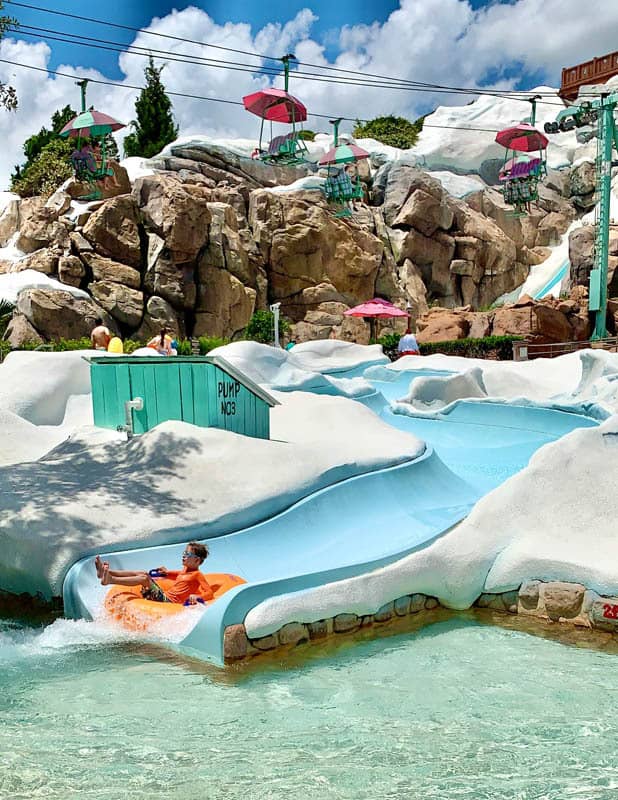 Disney's Typhoon Lagoon has a special place in my heart. It is one of the first water parks to ever open in Orlando. The tropical theming is spot-on and it has the most natural shade of any water park in Orlando. If you have younger kids, say ages 2-6 you'll enjoy the small kids area and small water slides for kids.
Overall, Universal's Volcano Bay has a more impressive lineup of water slides and more play areas for kids. My family picks Volcano Bay as the best water park in Orlando because of the immersive environment, cool features, great food and drinks, and the ability to avoid standing in long lines (included in admission). Getting in and out of Volcano Bay requires a bus ride and a parking fee, however.
As a mom of an elementary-age boy, I have my own expert advice for you.  Keep reading for tips and info, after all – I have been lucky enough to visit every single water park in Orlando.
So let's dive in! We'll explore what makes each water park best for each age group and helpful info to know.
Best For Youngest Children and Toddlers
Disney's Typhoon Lagoon and Blizzard Beach
For over-the-top themes and storytelling, no one does it better than Disney. The two water parks at Walt Disney World are usually not open at the same time. At least this way you do not have to choose between the two water parks since they are rarely both open.
Usually, Disney's Blizzard Beach is open in the fall and winter (which makes sense given its snowy theme). And Disney's Typhoon Lagoon is usually open in the spring and summer.
Both have water slides and play areas for young kids. They each have a relaxing lazy river and wave pool. If your little tykes are hesitant to splash with the big waves there are quieter waters near the entrance of each wave pool.
Disney's Typhoon Lagoon and Disney's Blizzard Beach water parks are the only ones in Orlando with free parking! This in itself is a big plus. And entering Disney's water parks is pretty seamless and hassle-free.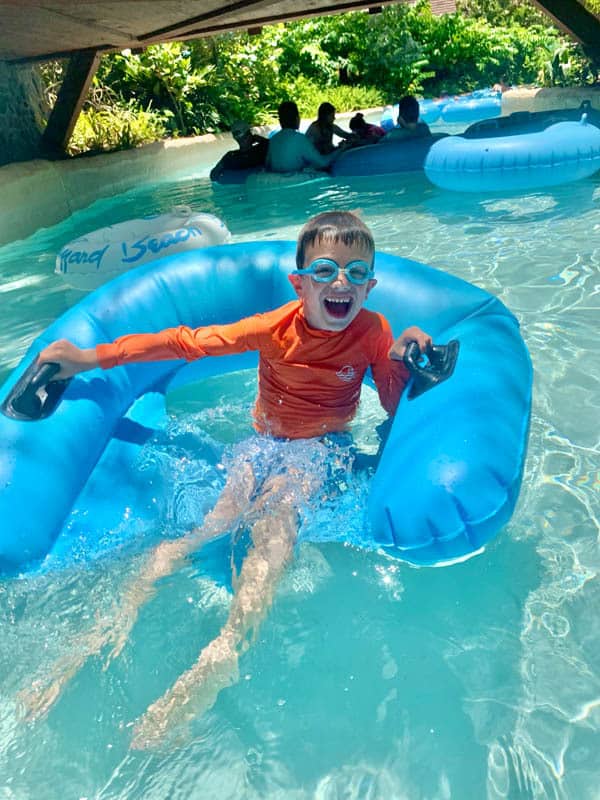 Which Orlando water park is best for toddlers?
Disney's water parks are best for the youngest children and toddlers because the kids' areas are not overly big. The kids' areas do not have so much going on in them that little kids would be intimidated.
The selection of foods for kids is the best at Disney's water parks compared to the other Orlando water parks. Disney also has the most allergy-friendly and dietary restrictions options of all the water parks. Plus it has the best mobile ordering system.
Best For Older Toddlers/Young Kids
Aquatica Orlando
Venture over to SeaWorld Orlando for a great day together at Aquatica Orlando Water Park. This spot is full of bright colors, sea life theming, and chock-full of waterslides. Aquatica Orlando is our pick for best water park for older toddlers and young kids because it has the largest collection of water slides in Orlando.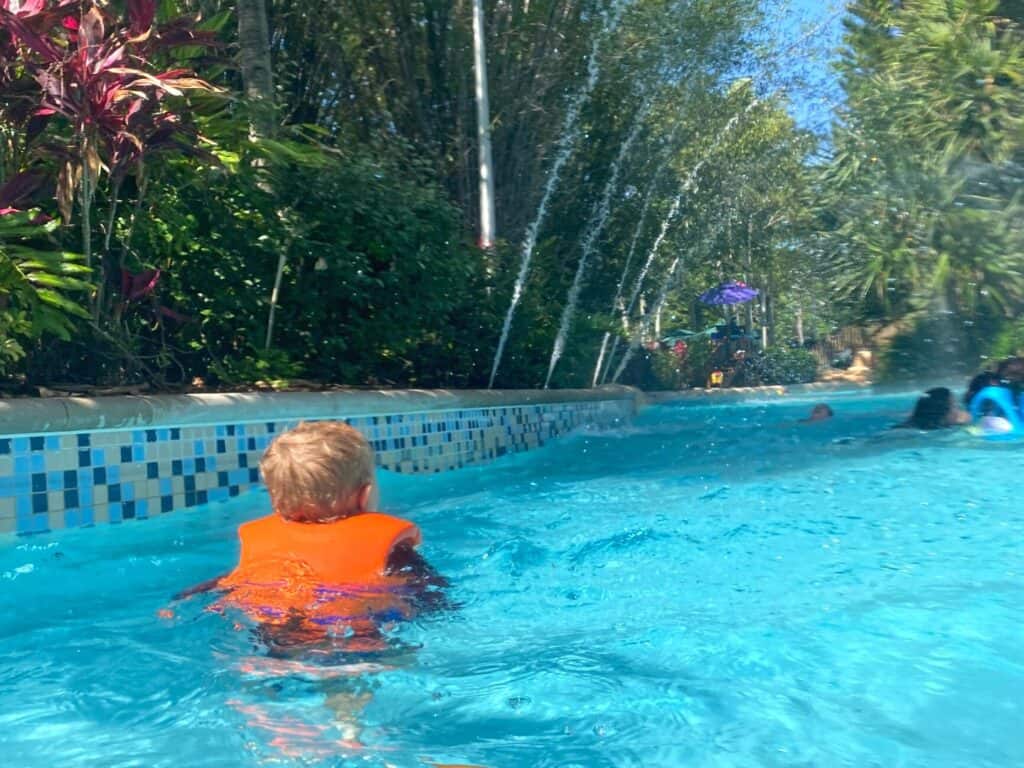 Plus there are multiple attractions that preschool kids can do. My five year old and I absolutely loved going through Roa's Rapids together. Imagine a lazy river that isn't lazy at all and actually moves rather swiftly. We made some core memories splashing in this river together and laughing as the waves rolled us along.
Many of the attractions require children under 48″ of height to wear a complimentary provided life jacket (other Orlando water parks are this way too). And although our boy actively participates in swim lessons, the life jacket helped set my mind at ease.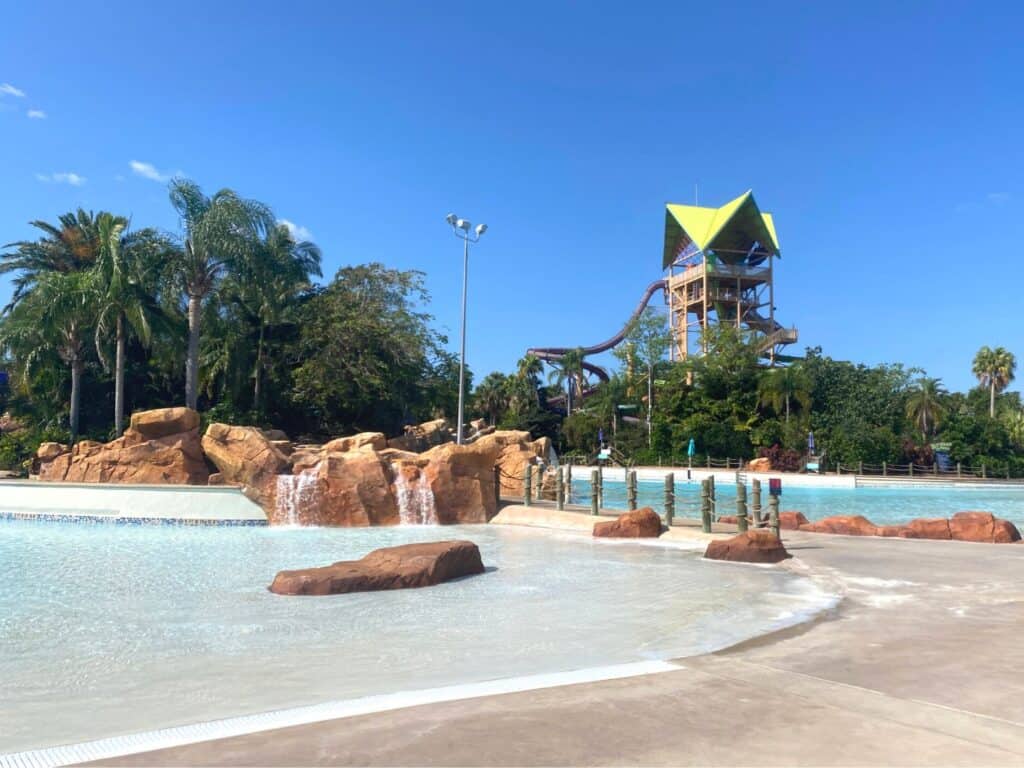 Must do water slides and fun for kids at Aquatica Orlando:
Cutback Cove & Big Surf Shores: wave pool and beach
Walkabout Waters: massive water play area for kids
Commerson's Dolphins: underwater viewing area
Loggerhead Lane: lazy river with a few pleasant surprises
Tassie's Twisters: a family friendly water slide shoots you into a giant bowl, where you'll spin (accessible from the Loggerhead Lane river)
Taumata Racer: a high-speed competitive mat ride (42″ height requirement)
Parenting pro-tip: children under 48″ of height should wear a complimentary provided life jacket on many of the attractions.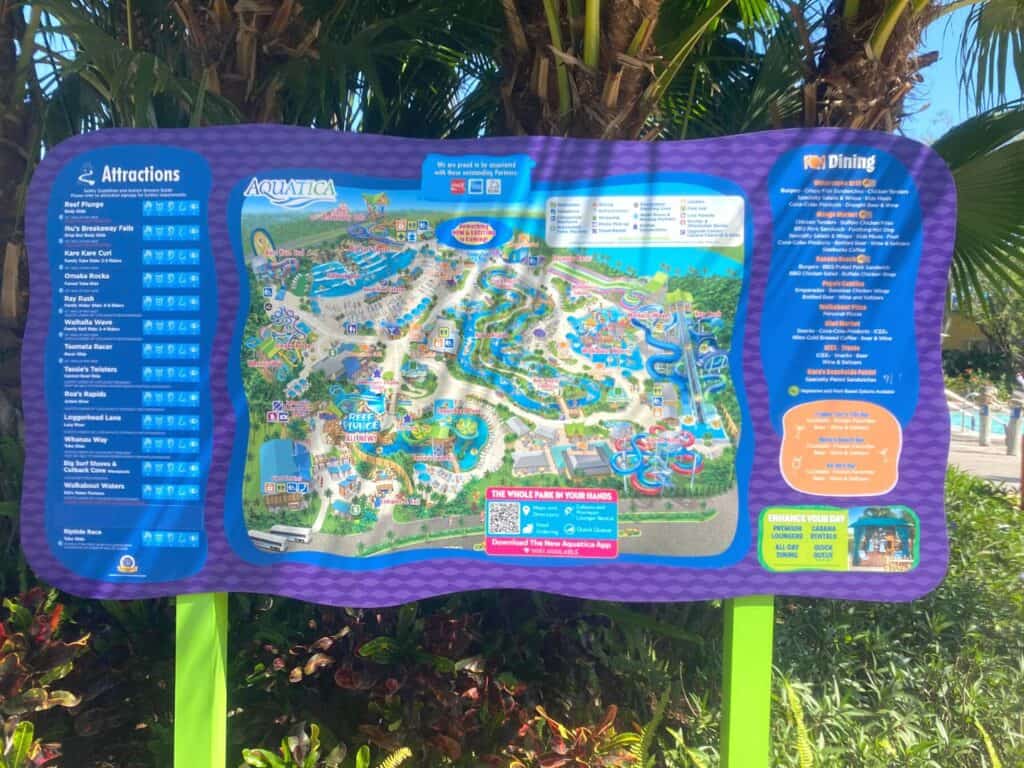 Turi's Kid Cove is now open – and it's awesome! This ALL-NEW water play features watering palms, tipping buckets, spraying jets, water bobbles, and more. Plus, kids can grab a tube and slide into fun on the ALL-NEW Tamariki Twirl water slide featuring a pint-sized half pipe just for them!
This new play area is located between Big Surf Shores and Mango Market and will be the perfect place for the youngest guests to cool off with plenty of splashy water fun and ample seating all around for rest and relaxation.
Best For Tweens, Teens, And Adults
Universal's Volcano Bay
Getting to and entering Universal's Volcano Bay is part of the adventure. After a very short bus ride from Universal Orlando's parking garage, you'll arrive to an immersive water park. Volcano Bay is massive and full of awesome experiences.
Is Volcano Bay good for toddlers and little kids?
I could easily include Volcano Bay as a great water park for little kids. Our five year old son has been visiting Volcano Bay with us since he was two years old. The Reef Pool is the only leisure pool in any water park in Orlando. By leisure pool I mean there are no waves or other big features, other than some wonderful theming, the Reef Pool is a simple pool great for relaxing and working on your kiddo's swimming skills.
Similar there is a second pool that is great just for swimming, though there is a larger water feature here. Puka Uli Lagoon is a great place to relax without worrying of big waves. There are friendly tiki style fountains and features making it a nice place to swim with littles or take a break with tweens.
And the greatest features of all for toddlers and preschoolers are Tot Tiki Reef and Runamukka Reef. These two kids' areas are next to each other and mostly fenced in. There is one entrance/exit to this area making it fairly easy for parents to let their youngest kids let go and have fun here.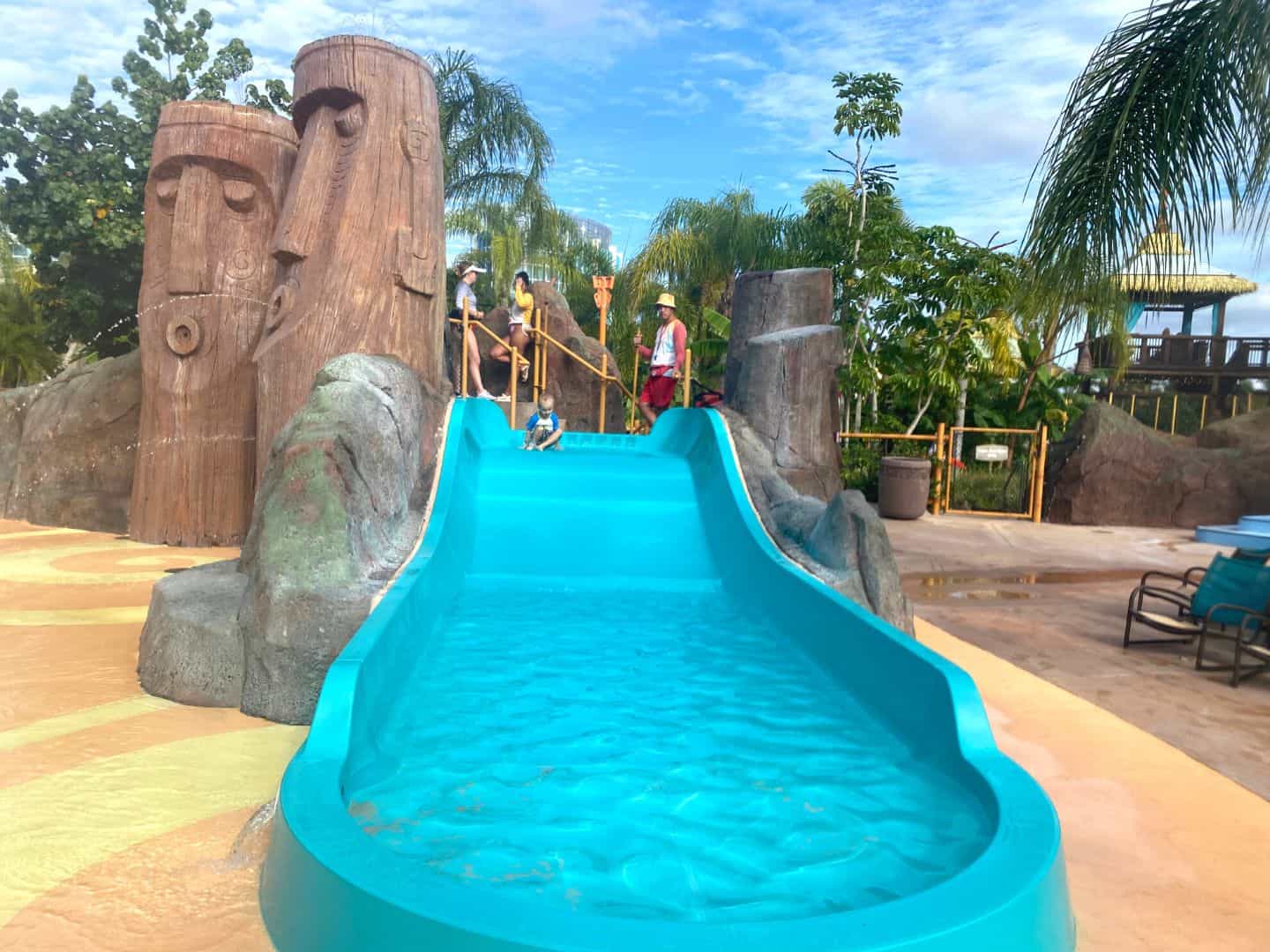 I've gotta admit, I am a little sad that our son has just outgrown the Tot Tiki Reef. There are two wide but short water slides where parents can ride side-by-side with their kiddos. The memories we have of sliding down these with our little guy are priceless. There are also a tot-sized water volcano, a family of friendly tikis with spraying fountains, and adorable little whales.
Now that our five year old is more comfortable in the water, he has started to be comfortable riding some of the water slides at Runamukka Reef. There are multiple levels to this massive kids' area. Splash features are everywhere, water spray guns too! Multiple water slides of varying height and speed make it possible for school-age kids to branch out and have a little thrill.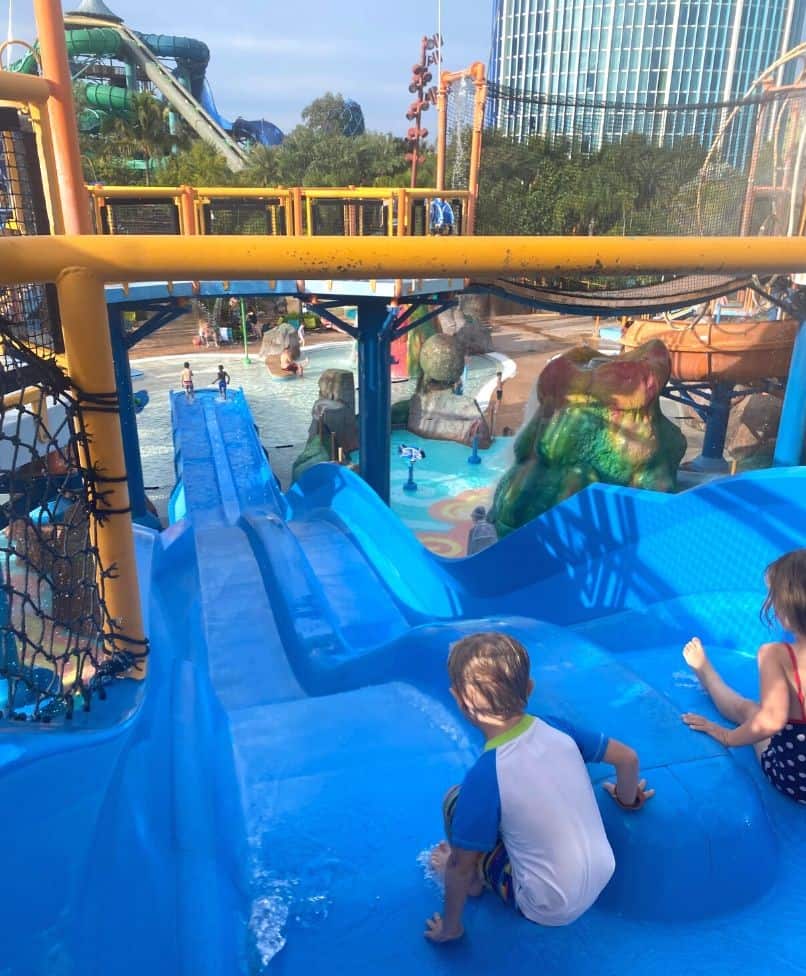 Important note: Guest Under 48″ (122 cm) must wear Life Jackets.
Thrills for Tweens and Teens
Practically all of the water slides at Volcano Bay have a Minimum Height of 42″ or 48″ – which is why it is best for teens, tweens, and adults. There are about 15 different water slides that are great for tweens and teens, and adults too.
Volcano Bay is very spread out and the layout can be a little confusing. So if you're inclined to let your older kids explore on their own, be sure to have a solid communication plan and clear meeting spot.
Must do water slides and fun for kids at Volcano Bay:
Honu and ika Moana slides: twisting, turning, multi-person slide (Minimum Height 48″)
Ohyah & Ohno Drop Slides™: take the plunge down a serpentine adventure that ends several feet above the awaiting pool (Minimum Height 48″)
Krakatau Aqua Coaster: the most popular ride of the park – roller coaster in water slide form (Minimum Height 42")
Maku Puihi Round Raft Rides: five-person raft ride with thrilling surprises (Minimum Height 42")
Taniwha Tubes: raft waterslide with twists, turns, and water jets (Minimum Height 42")
There is a lovely lazy river that winds through part of the park that's great for everyone. It does go through a cave beneath the towering volcano, and can get a little loud and dark.
For more thrills check out TeAwa The Fearless River, a rapids river with a Minimum Height of 42".
Best For Partying
If you're looking to celebrate a birthday party or other fun occasion there's an Orlando water park that is great for the occasion. Island H2O Water Park is located in Kissimmee, in front of the sprawling Margaritaville Orlando Resort.
This water park is relatively small compared to the other Orlando water parks – however, it can also be very budget friendly. Renting a cabana here is about $120 depending on the day of the week and season. The cabanas are also pretty basic compared to the other parks in town. Still, it's great to have options.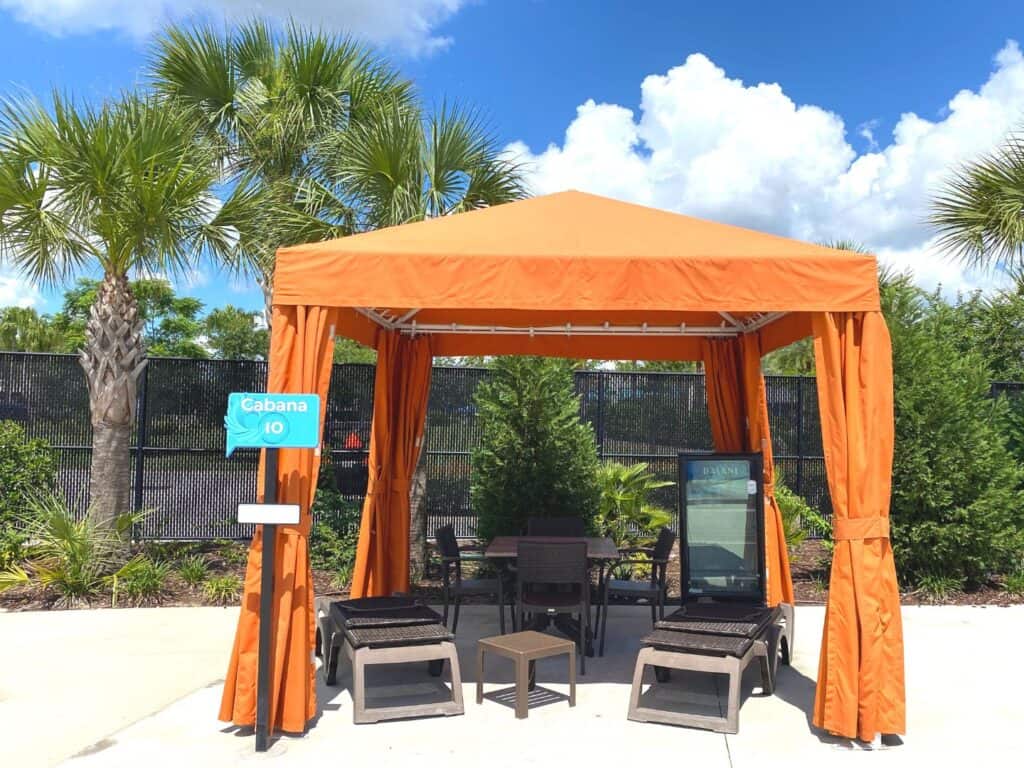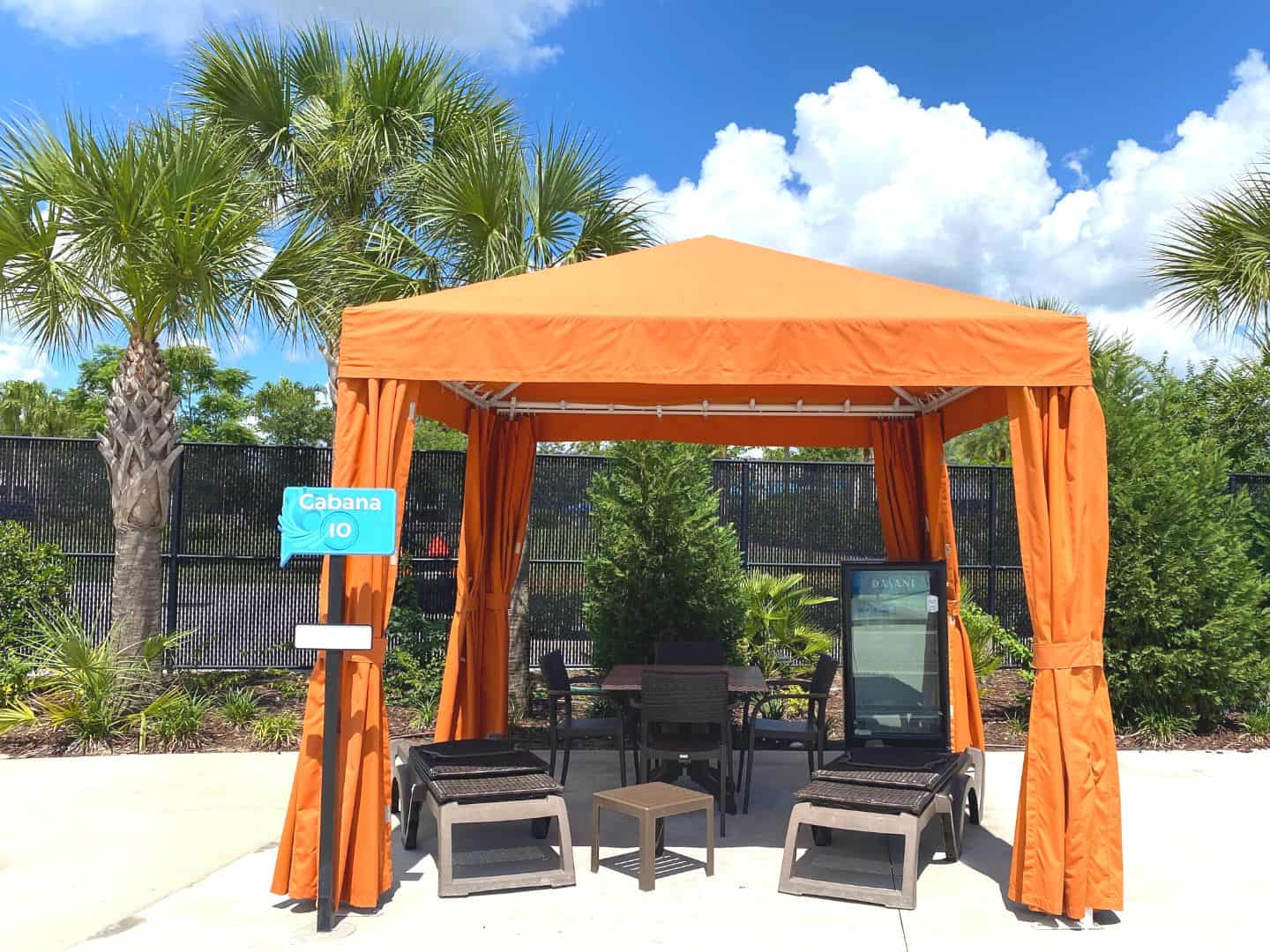 Some of the slides have no height requirement at all, just that a supervising adult needs to be along for the ride. The wave pool is a great place to splash around and the Pelican's Plunge is a fun kids' area. And younger teens will enjoy the Level Up pool with water basketball and other competitive sports fun – in the water!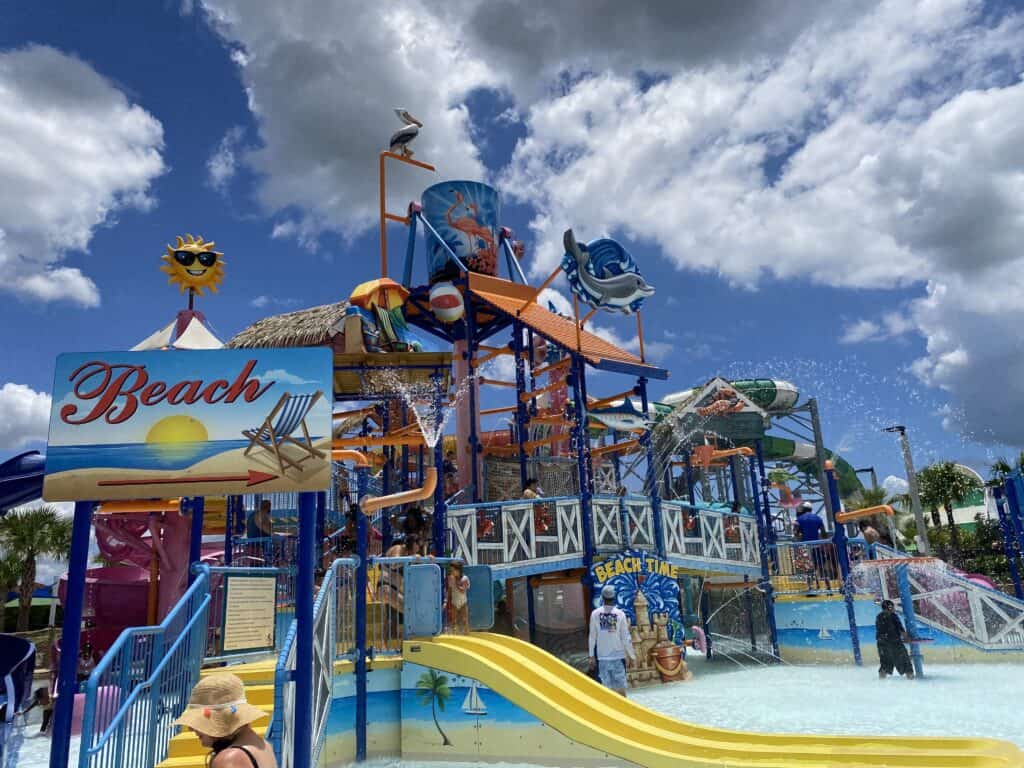 Orlando Water Park Tips:
Apply sunscreen before getting into the parks
Reapply sunscreen often
Stay hydrated
Bring your own towels
A waterproof phone case is a life saver
Talk to your kids about what to expect and plans for staying together or meeting up